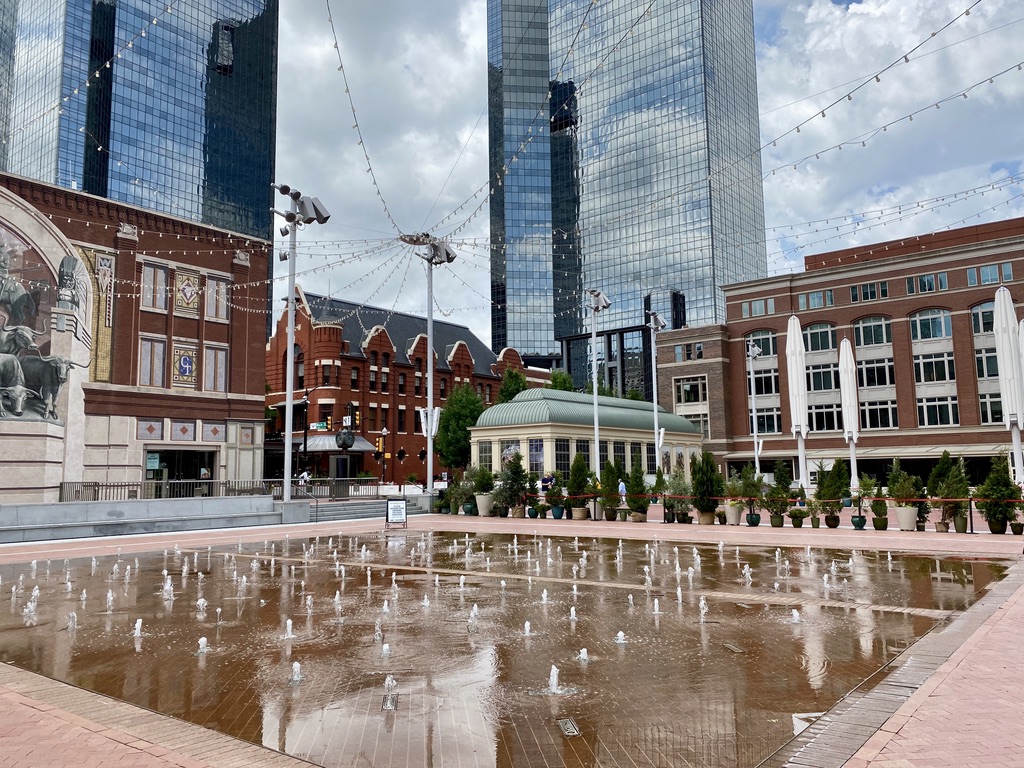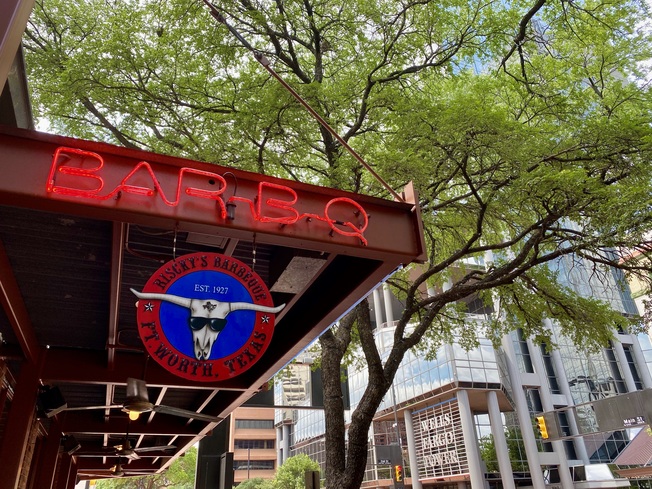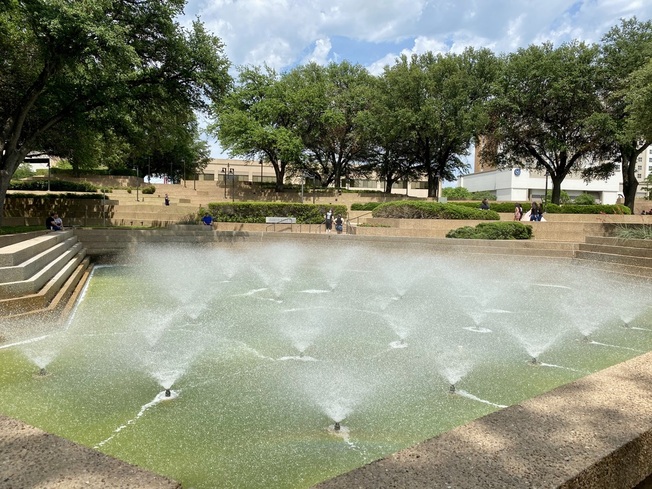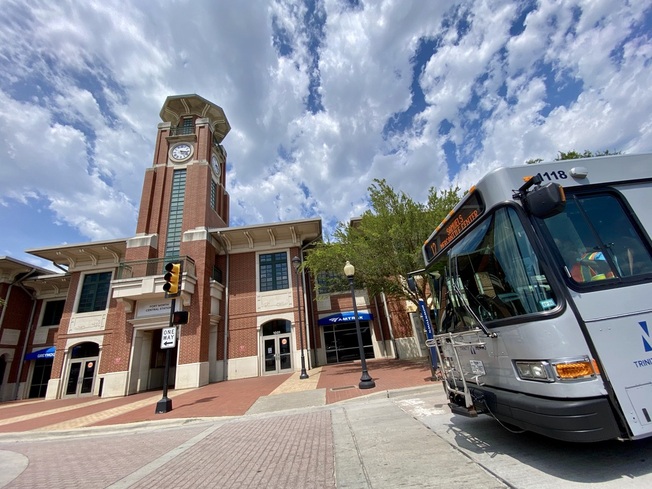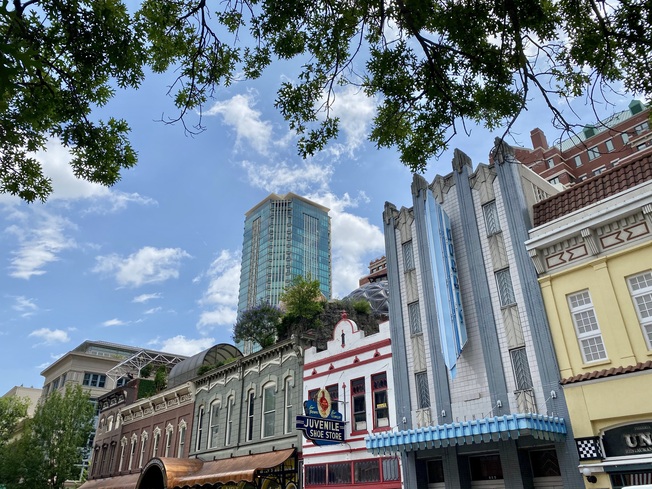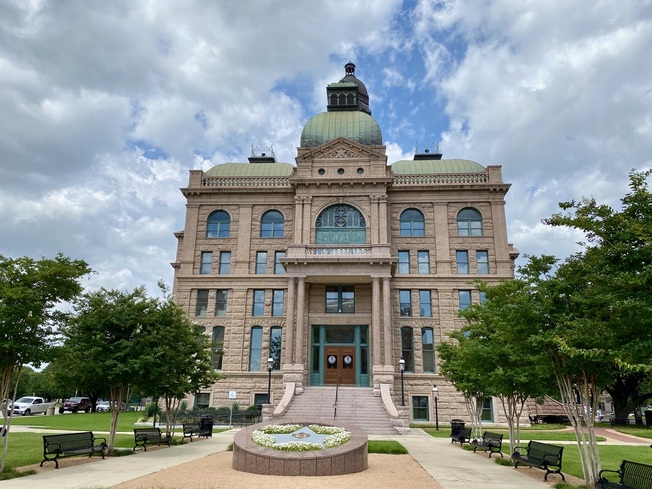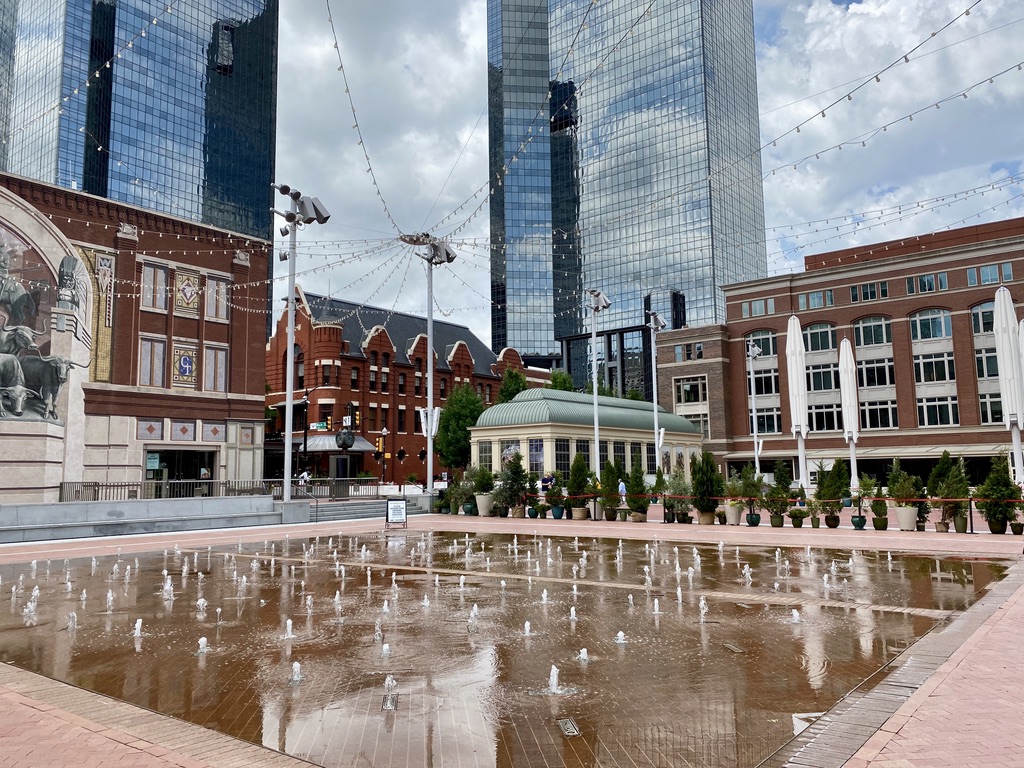 Downtown Fort Worth Guide
---
| | Median Rent | Median Sqft |
| --- | --- | --- |
| Studio | $1,430 | 579 sqft |
| 1 Bed | $1,515 | 765 sqft |
| 2 Beds | $1,920 | 1,164 sqft |
| 3+ Beds | $2,660 | 1,438 sqft |
Downtown Dallas may be more famous and instantly recognizable from its years on that hit TV show about the Ewing Oil family, but Downtown Fort Worth has its own unique star quality.
Fort Worth deftly merges cowboy tradition and an urban lifestyle, a vibe that's abundantly clear to those living in Sundance Square, a 35-square-block entertainment and retail district in the heart of a city that's immensely walkable and bursting with culture. Long before Downtown Dallas became a popular place to live and play, Downtown Fort Worth had an energy about it that felt almost magical with an organically occurring mixture of residences and places of commerce.
Historic buildings line the streets between towering skyscrapers, with apartments in Downtown Fort Worth ranging from the more affordable to luxury high-end. Whether you're seeking a small studio, a sprawling multi-room floor plan, or something comfortable in between, you can find it in Downtown Fort Worth. Restaurants, nightlife, performing arts venues, outdoor spaces, world-class shopping, and art galleries offer a feast for all the senses, a draw for residents and visitors alike. A diversity of cultures and ethnicities makes Downtown Fort Worth a wonderful melting pot of ideas and experiences.
As in Dallas (and most of Texas, really), residents rely primarily on their own vehicles to get from one place to another. Several major interstates can be accessed within minutes from any section of Downtown Fort Worth, including Interstate 30 that travels through Arlington and onto Dallas in the east. And when it's time to venture out of North Texas for a few days, the nation's second largest airport, DFW International, can be reached by car in only 30 minutes.
Within Downtown Fort Worth, you can hop aboard Molly the Trolly, a vintage-style vehicle offering free service every 15 minutes between the Fort Worth Convention Center and Sundance Square, seven days a week. For navigating Downtown Fort Worth exclusively, the convenience of the trolley, walking, or biking make for an enjoyable experience. And while that's convenient for very specific errands and exploration of the immediate area, you'll need to get behind the wheel of your car or head to Trinity Metro's Fort Worth Central Station to get further afield. From there, you can board commuter trains to Dallas through the Trinity Railway Express and within Fort Worth via the TEXRail commuter railroad. It's also a place you can catch a Trinity Metro bus, rent a car, or explore the nation via Amtrak. T&P Station also serves Downtown Fort Worth with most of the same services.
Bodegas and small food stores represent the primary options for getting groceries in Downtown Fort Worth proper. Yet only a few minutes outside the district in any direction, residents can access several major chains, including Tom Thumb, Natural Grocers, Trader Joe's, Kroger, and Albertsons. In less than 10 minutes, you can be inside Texas-based specialty grocer Central Market, with its bevy of chef-prepared foods for gourmet heat-and-serve meals when you feel like eating in but aren't in the mood to cook.
When it comes to dining out, there's no shortage of options. Restaurants in Fort Worth are known for their friendly service and fantastic food. Delicious American cuisine with a view is the top draw for Branch & Bird on the 12th floor of TBD. Little Red Wasp wows at street level, especially during weekend brunch. Across the street, sister restaurant Grace has fine dining covered for special occasions. Hoya Korean Kitchen, Ashim's Hibachi Grill, and TIE Thai focus exclusively on Asian. Smoked meats reign supreme at Riscky's Bar-B-Q and Bailey's Barbeque. Java lovers and caffeine addicts flock to Buon Giorno Coffee, FunkyTown Donuts & Drafts, Corrida Coffee, and the Legal Café. Get your fill of creamy, delicious treats at MELT Ice Creams. For Italian, check out Al Dente Italian Trattoria for pasta and Picchi Pacchi for pizza. Reata Restaurant has long been an icon in Texas for southwestern cuisine and their famous tenderloin tamales. Steaks at Wicked Butcher celebrate top-quality beef with high marks for cooking techniques and presentation, while Waters serves some truly impeccable seafood in Sundance Square. And both Wild Salsa and Tia's On The Bluff specialize in Tex-Mex faves.
Beer aficionados have plenty to celebrate in Downtown Fort Worth with Cowtown Brewing Co., HopFusion Ale Works, and Panther Island Brewing, each making their own. Meanwhile, Flying Saucer Draught Emporium gives guests access to more than 200 beers from around the globe. Acre Distilling crafts a large assortment of whiskies, plus vodka, gin, rum, and limoncello. For a full nightlife experience (or day-drinking festivities), visit Basic Bar, Curfew, Durty Murphy's Irish Pub, Houston Street Bar and Patio, The Library Bar, Studio 80, and Thompson's Bookstore for unbelievably good craft cocktails. If the mood calls for adult beverages with a side of entertainment, check out Pete's Dueling Piano Bar, Scat Jazz Lounge, or Four Day Weekend for some improv comedy.
In addition to patronizing popular national retailers such as H&M, Earthbound Trading Company, and Francesca's, supporting local businesses is one of the joys of shopping in Downtown Fort Worth. Barber's Bookstore represents one of those rare places that still sells books. The Virgin Olive Oiler will help take your cooking to new heights. And Estelle Colored Glass, Camelia Farm Flora, Urban Plantology, and Flowers to Go will help you spruce up your living space, from the kitchen to balcony and every room in between. If you're musically inclined, Steinway Piano Gallery offers one of the best collections in a town famous for the Van Cliburn International Piano Competition.
Book a Downtown Fort Worth Walking Tour to get a comprehensive overview of the best the city has to offer, or get out and discover favorite hangouts on your own. Renowned for being acoustically perfect, Bass Performance Hall is one of the best places in the nation to see a performance, whether it's a touring Broadway show, a concert starring your favorite musician, or an emotionally charged opera. Other Downtown Fort Worth performance spaces include Hyena's Comedy Nightclub, Four Day Weekend (improvisational comedy), Circle Theatre and Jubilee Theatre for locally produced plays, Scat Jazz Lounge, and Sundance Square Plaza, which showcases musical talent with frequent outdoor concerts.
A day prior to his assassination in Dallas, President John F. Kennedy spent the night in Fort Worth, and you can visit the JFK Tribute in General Worth Square to learn more about the historic visit. Musuems are a big draw in the nearby cultural district, but Downtown Fort Worth also has its own free museum, the Sid Richardson, which highlights the art of the American West with permanent collections and temporary exhibits. And Artspace 111 is a contemporary art gallery with an emphasis on Texas artists, both emerging and well-established.
Across from the Fort Worth Convention Center, the Fort Worth Water Gardens offer a 4.3-acre oasis of tranquility with multiple pools and water features, including one you can climb down into and hear the water flowing all around you (it was also featured prominently in the 1976 sci-fi classic, Logan's Run). Other Downtown Fort Worth greenspaces include Burnett Park, a 3-acre park laid out among 24 equal squares of land filled with public art, pop-up art exhibits, and plenty of places to relax and reflect. Hyde Park features fewer grassy areas, but as Fort Worth's first park it has a sense of history that compensates for its smaller size. And just to the west of Downtown Fort Worth, Trinity Park and its series of trails along the Trinity River make for a thoroughly enjoyable morning or afternoon escape from the hustle and bustle of city life.
Downtown Fort Worth has increasingly become a popular residential enclave for college students because of the sheer number of fun things to do when not listening to a lecture or studying in a coffee shop. Easily commutable colleges and universities include Texas Wesleyan University, University of North Texas (UNT) Health Science Center, Texas Christian University, the University of Texas at Arlington (UTA) Fort Worth campus, and Tarrant County College.
We rate and sort every listing based on fair market rent.