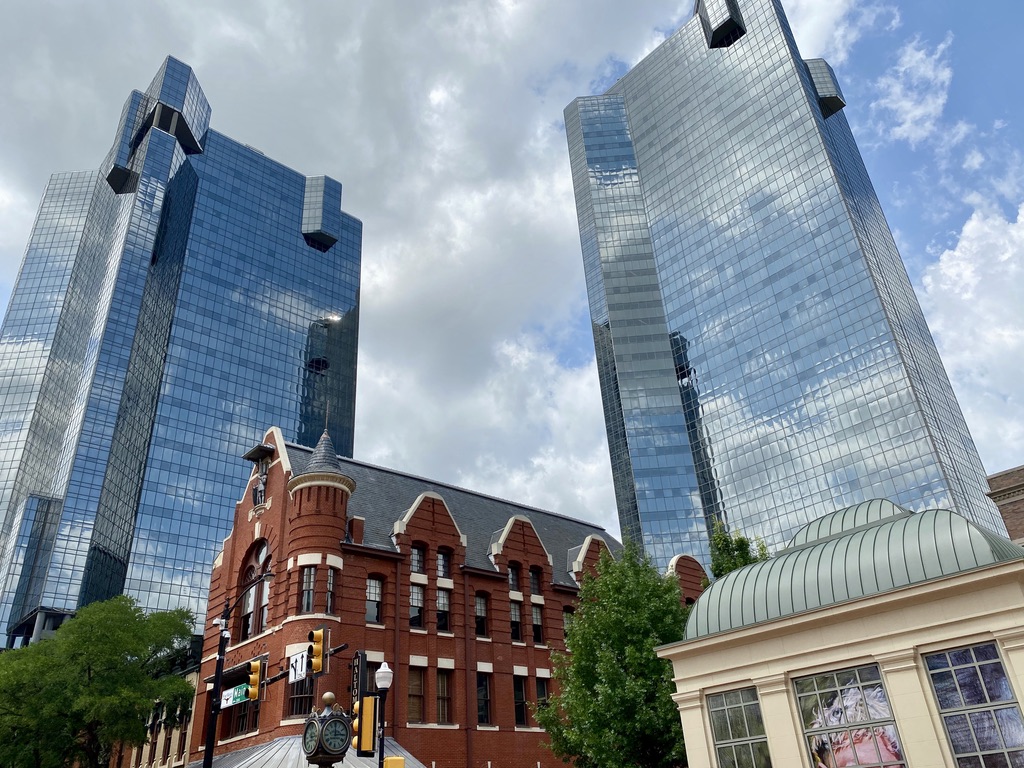 ---
| | Median Rent | Median Sqft |
| --- | --- | --- |
| Studio | $1,318 | 585 sqft |
| 1 Bed | $1,305 | 719 sqft |
| 2 Beds | $1,600 | 1,079 sqft |
| 3+ Beds | $2,150 | 1,702 sqft |
With a population nearing one million people, Fort Worth's continuing growth has made it the fifth-largest city in Texas and the twelfth-largest in the United States. Yet despite its size, it has a decidedly slower pace than neighboring Dallas without losing any of the big-city amenities, including a world-class cultural district and some of the top museums in the nation. In contrast, the Fort Worth Stockyards National Historic District plays a larger-than-life role in the way many people think of the city, which (not coincidentally) often gets referred to by its nickname, Cowtown. The world's only twice-daily cattle drive works its way down Exchange Avenue while bucking broncos and bull riders can be seen every Friday and Saturday night year-round at the Stockyards Championship Rodeo. The world's largest honky-tonk, Billy Bob's Texas, also draws people by the thousands to the district. Because Fort Worth is a place where western heritage intersects with urban life, these two divergent yet surprisingly harmonious personalities can be perfectly summed up in the city's tagline: "Cowboys and Culture."
Fort Worth is a diverse community, with the most recent data showing a demographic breakdown of 39% White, 35% Latino or Hispanic, 19% Black or African-American, nearly 5% Asian American Pacific Islanders (AAPI), and 3% multi-racial. It's also the youngest city in Texas with an average age of 31.5 giving it a vibrant energy that brings a new sense of life to many of the top neighborhoods for young professionals. Favorites include 35-block Sundance Square and other parts of Downtown Fort Worth, the West 7th District, Clearfork, the area around Texas Christian University (TCU), and the city's most eclectic part of town, Near Southside. Apartments in Fort Worth factor heavily into the residential makeup of the city, with high-rises the norm in Downtown and sprawling new apartment communities in other neighborhoods. Rents are slightly more affordable than Dallas, and renters can find something at nearly every price point with the square footage they need to live comfortably. Fort Worth has even been named one of the top 25 places in the country for young professionals by U.S. News & World Report.
Like its companion city Dallas 32 miles to the east, Fort Worth residents enjoy exponentially more days of sunshine than rain, and on average, no more than a single day of snow. Summers here are hot, but mild springs, autumns, and winters balance things out the rest of the year. Outdoor living plays a big part here, with patios and pools some of the most popular hangouts. The Trinity River is an integral feature of the Fort Worth landscape with numerous ways to experience it, from kayaking to activities on its shores.
It's a well-known fact: Texas is huge. So all of its major cities are extremely spread out, making cars (or motorized vehicles of some sort) a necessity for most. Parking in Fort Worth is readily available in abundance and often free, depending on the part of town, with valet service available at an increasing number of restaurants and entertainment venues for extra convenience. Rideshare services can also be summoned with ease.
Downtown Fort Worth and the Stockyards areas are the easiest to navigate on foot or bike. A public bike-share program offers 40 stations throughout the city to easily rent and return bikes.
Public transportation options come courtesy of Trinity Metro for the most part, with bus routes serving the entire city, stopping at popular attractions, including the Fort Worth Cultural District, Sundance Square, and the Stockyards. In Downtown, Molly the Trolley offers riders free transportation within the district. And the Dash electric bus travels back and forth between the cultural district and Downtown. Rail service includes the Trinity Railway Express (TRE), which connects Fort Worth and Dallas. TEXRail can be boarded at T&P Station or Fort Worth Central Station downtown, North Fort Worth, and suburbs North Richland Hills and Grapevine to conveniently reach DFW International Airport's Terminal. Otherwise, DFW can be reached by car in 20 minutes.
As one of the most important stops for cattle drovers wrangling their herds along the Chisholm Trail back in the day, beef has long been an important component of everyday meals here, from home cooks grilling steaks on the barbecue to restaurants of every caliber, from casual to fine-dining. Therefore, it should come as no surprise that BBQ joints and steakhouses are top draws for culinary experiences. Asian, Italian, and southern food restaurants in Fort Worth are also widely available and popular among locals. Top dining districts with a high concentration of restaurants include Sundance Square, West 7th, Clearfork, Near Southside, Cityview, and the Stockyards.
Fort Worth has more than 100 bars and lounges ranging from hole-in-the-wall dives to swanky nightclubs. Many venues feature live music, happy hour specials, and lively patios for turning a couple of cocktails into an event. The Fort Worth Ale Trail rewards craft beer (and cider) lovers with a self-guided tour of breweries with more than a dozen locations around town, making for a fun, interactive way to find that perfect local brew.
If you're in the market for western wear, from custom boots to 10-gallon hats, Fort Worth has some of the top retailers in the nation. Local boutiques and retailers mingle with national brands in nearly every part of town, but the top districts for major shopping excursions include Sundance Square, Clearfork, Camp Bowie, Waterside, and La Gran Plaza de Fort Worth, a regional shopping center featuring more than 200 shops.
Art has a prominent place throughout the city. The Cultural District features five superb museums, including the Kimbell Art Museum, the Amon Carter Museum of American Art, the Modern Art Museum of Fort Worth, the National Cowgirl Museum and Hall of Fame, and the Fort Worth Museum of Science and History. In total, Fort Worth has more than 40 museums and galleries within its borders.
Outdoor adventures await, especially on or surrounding the Trinity River, which was named one of the top 7 places to go tubing in all of Texas by Wide Open Country Magazine. The Fort Worth Botanic Garden and the Fort Worth Zoo (the first zoo in Texas and now ranked in the national Top 5) offer additional ways to experience flora and fauna, some wilder than others, in each location. The architecturally significant Fort Worth Water Gardens in the middle of Downtown provide a feast for the senses and a tranquil place to reflect or sit under a shade tree watching one of the many water features. Nearby Texas Motor Speedway satisfies racing fans (up to 155,000 of them), while Will Rogers Memorial Center and Dickies Arena host a variety of concerts and events, as well as rodeos and other sporting events.
Performing arts in Fort Worth can be found at some truly spectacular venues around town, including the acoustically perfect Bass Performance Hall and Casa Mañana (House of Tomorrow), a theater with a revolving stage in the main auditorium and a 70-seat cabaret theater out front. Panther Island Pavilion is another top spot for concerts, while smaller jazz clubs and speakeasy-style spaces offer a more subdued vibe for music lovers. And on the more obscure side of things, you can tour the U.S. Bureau of Engraving and Printing Western Currency Facility, where 60 percent of the paper money in circulation gets printed.
Texas Christian University (TCU), Texas Wesleyan University, Tarrant County College, and a Fort Worth campus of The University of Texas at Arlington offer everything from two-year degrees and continuing education to doctorate programs in nearly every field of study imaginable. The high per-capita number of colleges and universities is part of the reason that Fort Worth skews a bit younger and explains the variety of apartments found here serving the needs of students during and after their education.
We rate and sort every listing based on fair market rent.