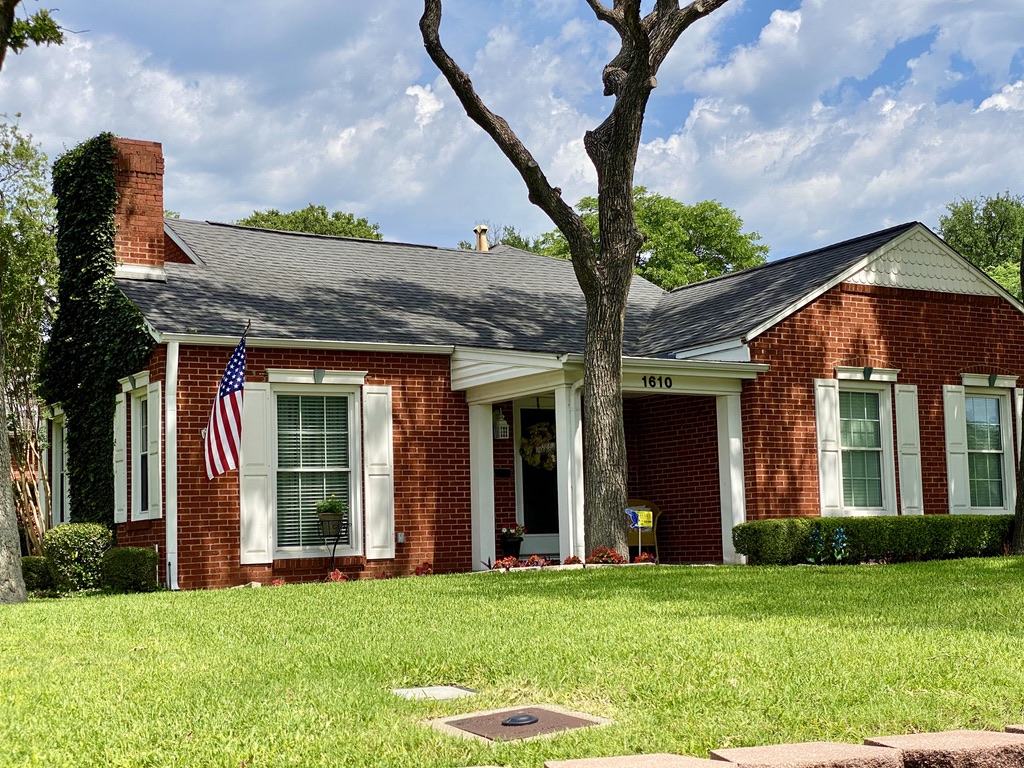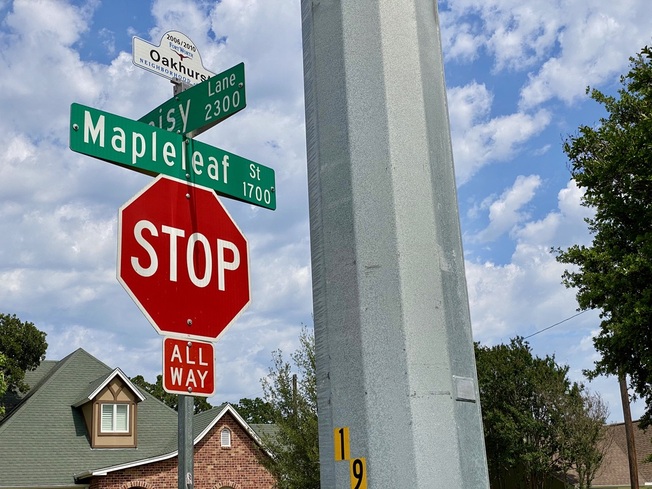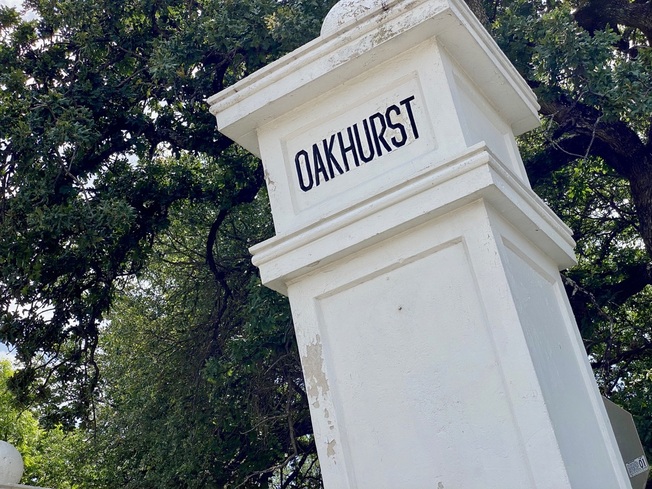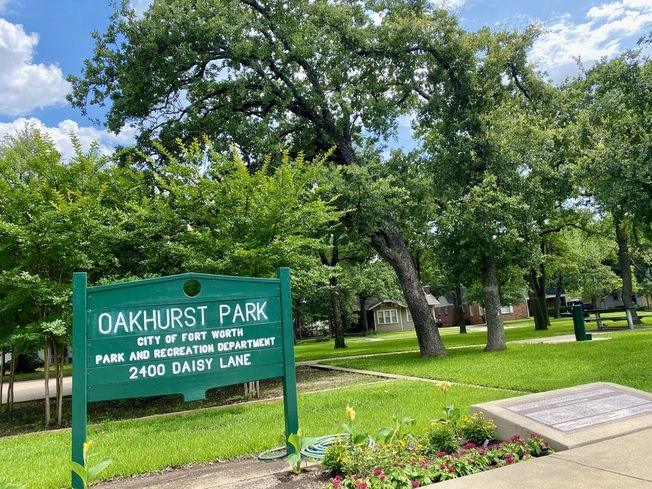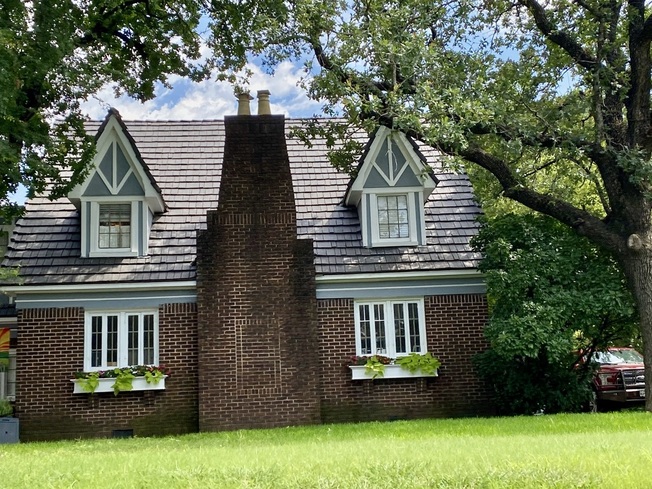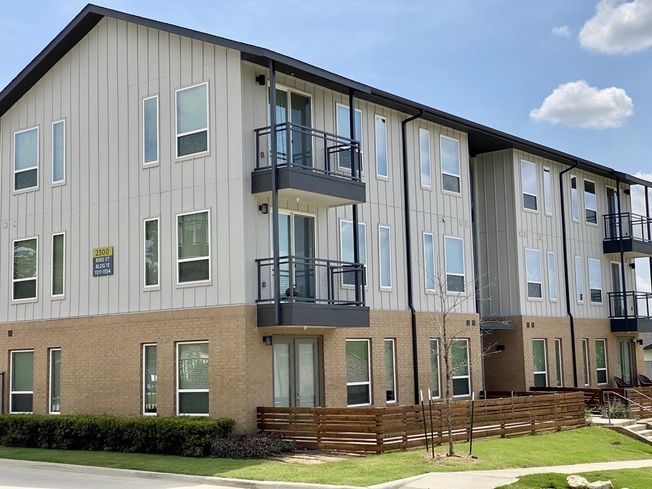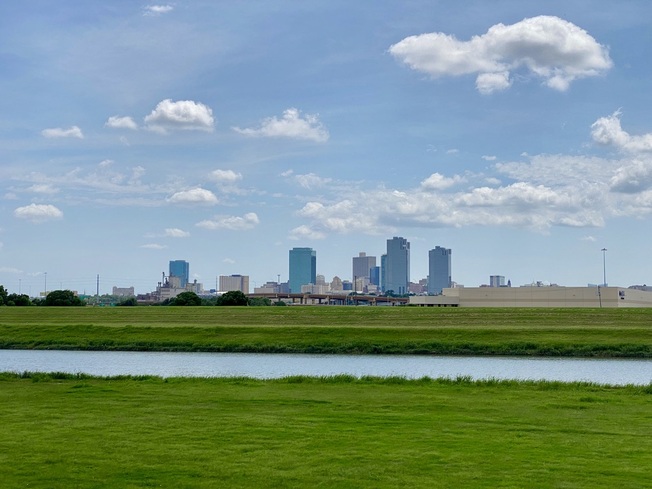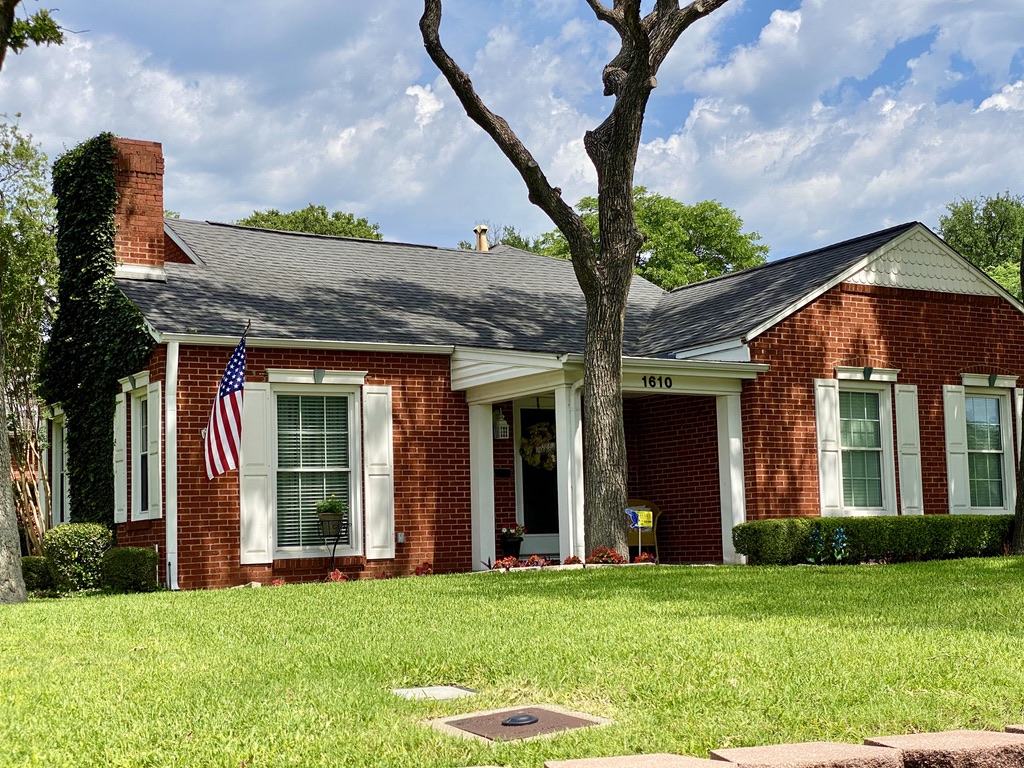 ---
The moment you drive into the exclusively residential Oakhurst neighborhood, you feel a true sense of community and well-established traditions among the residents in this near-century-old area of Fort Worth established between 1923 and 1924. Two developers named the new 175-acre development after their business: Oakhurst Land Company, Inc. Now registered as a historic district on the National Register of Historic Places, Oakhurst has retained much of its original charm with homes both large and small kept as pristine as the well-manicured lawns out front. Passersby will often see residents chatting with other neighbors from their front porches, on a walk with the dogs, or with their kids frolicking on the lawns chasing fireflies. It's rather like a scene out of a Hollywood film about 20th-century Americana.
Nearby, along Oakhurst Scenic Drive, which offers views of both the Trinity River and Downtown Fort Worth, several newer apartment communities in a variety of price ranges have risen among the mature trees and winding roads to usher in a new era of the neighborhood. A strong Latino community makes up the greater Oakhurst area, contributing a diverse selection of authentic restaurants and other businesses. The vibe throughout the neighborhood is quiet and serene, with predominantly higher-priced single-family homes juxtaposed by a variety of apartments, service-related companies, and discount stores among the few businesses located around the official borders of Oakhurst Scenic Drive and Interstate 35W to the west, Yucca Avenue to the South, North Sylvania to the east, and Watauga Road to the north.
However, many Oakhurst residents enjoy the offerings of adjacent Sylvan Heights West, Scenic Bluff, and Carter Riverside neighborhoods. Oakhurst's proximity to Downtown Fort Worth and the medical district make it a popular place to call home for people working in those parts of town who want more affordable apartment rentals.
Located 10 minutes or less from Downtown Fort Worth, Oakhurst life yields almost immediate access to highways and freeways, including Interstate 35W on the border of the neighborhood. Therefore, cars, trucks, motorcycles, and scooters are the most common ways to get around and travel to neighboring areas.
When it comes to public transportation in Oakhurst, North Side Station, which is served by both Trinty Metro buses and its TEXRail light-rail commuter trains, has a park-and-ride lot for anyone who wants to take advantage of the destinations along the route. The single light rail line begins in Downtown Fort Worth, travels past Oakhurst, then on to the city of Grapevine, its signature lake, and wineries. At the end, it stops at DFW International Airport. The TEXRail system at this station only operates every 30 minutes in peak times and every hour during off-peak periods, so planning ahead is crucial to prevent long waits between trains.
Walking and biking are pleasant forms of recreation and fitness in Oakhurst but are not primary modes of transportation. Riverside Park and Trinity Trails are favorite outdoor exercise spots among walkers, cyclists, and joggers living in and visiting Oakhurst.
You won't find any grocery stores in Oakhurst proper. Adjacent neighborhoods are home to small-but-well-stocked Latino and Asian supermarkets, including the Carniceria La Superior meat market, El Rancho Supermercado, American Asian Grocery, and Vietnam Plaza Grocery Store. Otherwise, a full-service grocery shopping experience requires a 10- to 15-minute drive to another neighborhood or the utilization of a grocery delivery service, drivers for which are commonly seen throughout Oakhurst's homes and apartments.
Nearby restaurants skew mainly Mexican and Latin American, with favorites including Tacos Los Irresistibles, Restaurant El Mason Chapin, Super Pollo, and El Puerto among dozens of additional small taquerias and larger restaurants. Harbour Surf specializes in shrimp boxes (fried coconut and grilled butter garlic, lemon herb, or spicy). Lisa's Chicken & Seafood serves up fried chicken, chicken tenders, chicken fried steak, fried fish, and hot wings.
Given the residential nature of the neighborhood, nightlife is not a big draw in Oakhurst. What you will find here is a handful of smaller pubs and watering holes frequented by local regulars. Office Bar and Fort Worth Spot Bar are popular choices, while Fuel 2.0 Bar & Grill also serves up decadent burgers, wings, and trashcan nachos perfect for sharing with friends. Martin House Brewing Company is only six minutes away, along with dozens of other food-and-beverage options in surrounding neighborhoods, including Sundance Square downtown and the Fort Worth Stockyards.
Major shopping trips require venturing outside the neighborhood. Still, Oakhurst does offer a handful of retail complexes giving residents access to a host of services, from barbers and hair salons to nail and lash studios. Flower shops and Riverside Hardware offer ways to spruce up your living spaces, while Barnie's Bargain Barn offers a little bit of everything for resale, from home décor to clothing. Taylor Lane Designs (women's apparel) and Locals Only (a clothing store with a vast shoe selection) round out the top shopping options in Oakhurst.
Oakhurst's proximity to the West Fork of the Trinity River makes its parks and amenities a major draw for local residents and visitors alike. Riverside Park is master-planned and features practice fields for a variety of sports, launching points for canoeing and kayaking, as well as walking, running, and cycling trails that connect to the River East district, as well as the 100-plus miles of the Trinity Trails. Along those trails, you'll discover abundant opportunities to fish, swim, watch monarch butterflies, or sit in serenity as Airfield Falls, the area's largest natural waterfalls, flow over rock formations and into the Trinity River below. Meanwhile, the very small Oakhurst Park sits in the middle of the neighborhood with a few flower gardens and benches, as well as plenty of vibrant green grass for a quick picnic or few moments watching the clouds float by.
Another fabulous feature of living in Oakhurst is the neighborhood's closeness to the Fort Worth Stockyards, one of the key ways the city differs from Dallas. The historic district was added to the National Register of Historic Places back in 1976, but it dates all the way back to 1866 when cattle drovers headed up the Chisholm Trail. It was the last stop for supplies, but by 1876 it had begun to grow into its role as a major destination for the livestock industry and shipping animals to other parts of the country. (It's also the reason Fort Worth often goes by the nickname Cowtown.) Even in 2021, not much has changed here. You can still witness twice-daily cattle drives, Legends of Texas Gunfight Shows, and the Stockyards Championship Rodeo, held every Friday and Saturday night indoors, year-round. Many special events take place here throughout the year, too, and some of the city's top dining and drinking destinations can be found within its borders.
The laidback, secluded lifestyle of Oakhurst makes it a popular community for graduate and doctoral students, as well as those going into the medical field who study and practice long hours and need plenty of peace and quiet. Apartments cater to all students, of course, with affordable rents available for a reduction in square footage and plenty of highly sought-after amenities in all the newer communities. Nearby universities with students calling Oakhurst home include Texas Christian University (TCU), Texas Wesleyan University, the Fort Worth campus of the University of Texas at Arlington (UTA), the University of North Texas (UNT) Health Science Center, and multiple campuses of Tarrant County College.
We rate and sort every listing based on fair market rent.