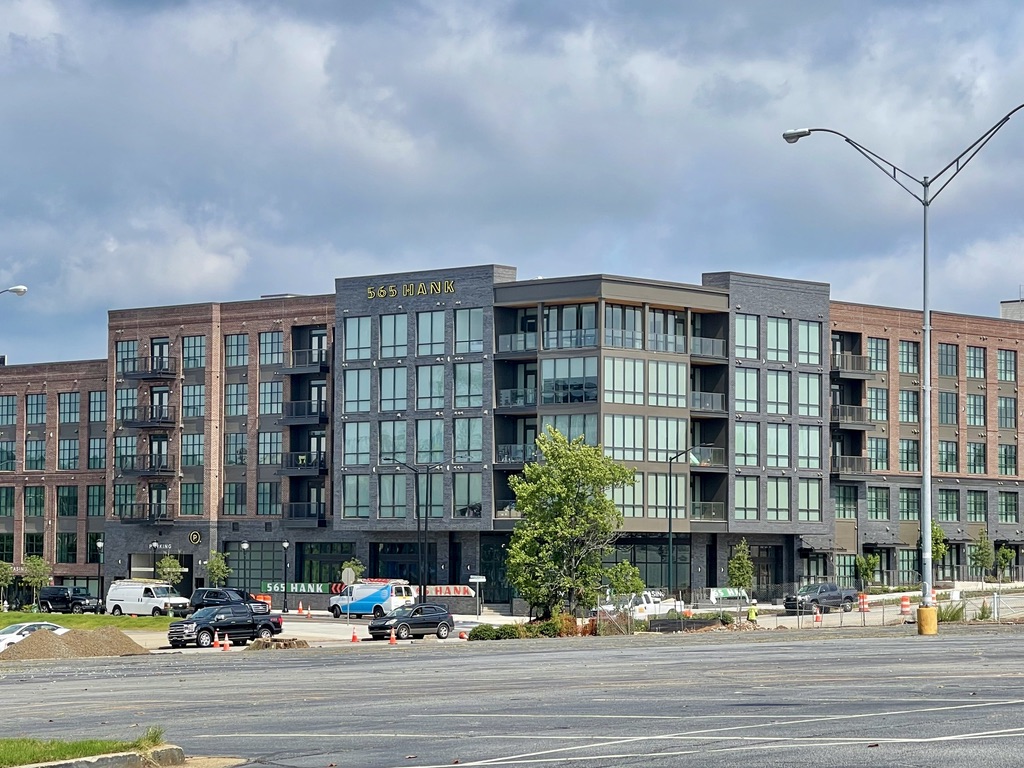 ---
| | Median Rent | Median Sqft |
| --- | --- | --- |
| Studio | $1,515 | 566 sqft |
| 1 Bed | $1,710 | 750 sqft |
| 2 Beds | $2,300 | 1,147 sqft |
| 3+ Beds | $2,795 | 1,639 sqft |
Atlanta goes by several nicknames, including ATL, The Big Peach, A-Town, New York of the South, or simply, The A. No matter what moniker you favor, Atlanta is a great place to call home.
As of the writing of this guide, Atlanta ranks the ninth-largest metropolitan area in the U.S., with a population of nearly 6 million people. The city has a rich arts and culture scene, with the performing arts a big draw. For starters, Atlanta is known for its legendary theaters, the Fox and the Alliance. The city also boasts an acclaimed hip-hop history, and there's simply no separating Atlanta from musicians like Killer Mike, Ludacris, Migos, OutKast, TLC, and Usher. In recent years, Atlanta has become an off-campus of sorts for the film industry, sometimes even being referred to as the Hollywood of the South.
The humid, subtropical climate gives Atlanta a lush tree-canopy and year-round greenery, with plenty of warm, often downright hot, weather. For those looking to have the great outdoors right in their own backyards, Atlanta is a great place to live. Known as "a city in a forest" due to its dedication to parks and greenspaces, Atlanta has two expansive parks within its city limits, with over 400 acres combined. Just one mile north of Downtown, sandwiched between Midtown and Virginia Highland, you'll find Piedmont Park. Dating back to 1895, Piedmont Park includes 189 acres featuring everything from a swimming pool to a pond and a dog park to playgrounds. A second park, Westside Park, opened in the late summer of 2021. With an impressive 280 acres, Westside Park is ADA accessible and offers panoramic views of the Atlanta skyline.
Homes in Atlanta range from stately Victorians with gingerbread fretwork to equally beautiful yet humble Craftsman bungalows. While there are many luxury apartment complexes in Buckhead and Midtown, up-and-coming neighborhoods such as Reynoldstown and Kirkwood offer more reasonably priced apartments in Atlanta. Save even more by exploring options in more suburban-style neighborhoods like Sandy Springs and Dunwoody.
The first thing to know about traveling throughout Atlanta is that cars reign supreme. Atlanta is encircled by the Interstate 285 loop. It connects three major highways: I-20, I-75, and I-85. Locals call this loop "the Perimeter" because it skims the outer parts of the city limits. ITP., or "inside the perimeter," refers to those neighborhoods closest to Downtown Atlanta and within the I-285 loop. OTP, or "outside the perimeter," refers to those neighborhoods that are geographically farther away and outside the I-285 loop. While OTP neighborhoods might eclipse ITP neighborhoods in terms of home acreage and student test scores, ITP neighborhoods are known for their buzzing festivals, gourmet restaurants, and city accessibility.
Atlanta also has a public transportation system called the Metropolitan Atlanta Rapid Transit Authority, MARTA for short. MARTA has a network of both buses and trains, which comprise 48 miles of tracks throughout 38 stations. While MARTA isn't as robust as the public transportation systems in cities like Boston, Chicago, D.C., or New York, it does allow residents to get to and from major Atlanta sites and venues with ease. In fact, many Atlantans choose to take MARTA to and from work or to the airport for business and personal travel. The Red/Gold Line drops you right at airline check-in.
Atlanta's bikeability is a work in progress. The best neighborhoods for bicycle transportation are the Beltline, Decatur, Kirkwood, Midtown, Old Fourth Ward, and Reynoldstown. However, just because there aren't tons of bike lanes doesn't mean there aren't ample trails and neighborhood streets to explore. The Beltline, Atlanta's train corridor turned biking and walking paths, make traveling by bike and on foot a breeze. The long-term plan is that all of Atlanta's major neighborhoods will be connected via the Beltline.
As the premiere Southern city, it should come as no surprise that much of Atlanta's culinary scene is dedicated to comfort food. Whether dining at a farm-to-table restaurant by celebrity chef Hugh Acheson or a soul food eatery like Twisted Soul Chef Deborah VanTrece, gourmet Southern cuisine is ample and varied. When it comes to restaurants in Atlanta, think decadent shrimp and grits, plentiful vegetable plates, saucy barbecue, and handmade breadbaskets filled with crumbly cornbread and fluffy biscuits.
Atlanta has also become a melting pot of worldly fare thanks to its diverse immigrant population. Chamblee and Brookhaven's Buford Highway is packed with international restaurants specializing in everything from pho to dim sum and curry to falafel. In Westend, you'll find a bevy of vegan and vegetarian restaurants. Due to it having one of the largest Hispanic populations in the US, Atlanta is also rich with Mexican and Tex-Mex restaurants that rival those found in Texas.
Craft breweries are a dime a dozen in Atlanta, and we mean that in the best way possible. Nearly every neighborhood has its own brewery featuring unique taps and seltzers. Local favorites include Midtown's Sweetwater, Westside's Monday Night and Scofflaw, and Decatur's Wild Heaven. The city also has two distilleries, Old Fourth Ward Distillery and American Spirit Works.
A huge perk of living in Atlanta is the ability to dine outdoors almost year-round. Thanks to the warm climate (plus suspended fans and heaters for extra temperature control), patio season stretches from March through November. Neighborhoods like Inman Park, Old Fourth Ward, and the Westside offer loads of outdoor dining options, including several rooftop bars and patios.
Atlanta has long been a nightlife epicenter. Whether rocking to classic tunes at Johnny's Hideaway, dancing to DJ mixes at Gold Room, or taking in some adult entertainment at Clermont Lounge, there is something for everyone when the sun goes down.
It's little wonder that Atlanta is a notable shopping destination. After all, one of the world's most storied department stores, Rich's, was founded in Atlanta. While Rich's merged under the Macy's umbrella in 2005, many Atlanta residents still remember the days of Rich's holiday traditions, which included a massive Christmas tree atop the building, essentially Atlanta's equivalent to the tree in New York City's Rockefeller Center. Rich's was also home to the Pink Pig, a kid's train that circled the tree and told the story of Priscilla the Pig. While Rich's is no longer, the Pink Pig is a beloved Atlanta tradition that lives on at Macy's at Lenox Square Mall in Buckhead.
For many years, Buckhead has been the go-to neighborhood for shopping in Atlanta. Lenox Square opened in 1959 with just 60 stores, but today, it hosts nearly 200 of them. Neighboring Shops Around Lenox includes stores such as Lululemon, West Elm, Kendra Scott, and Draper James. Just across Peachtree Road is Phipps Plaza, a luxury mall best known for its designer storefronts like Gucci, Kate Spade, and LK Bennett. Ironically, there is something for kids here too. Legoland takes up a large portion of the second floor. There's no shortage of opulence at Phipps Plaza; interiors feature mahogany walls, marble floors, and crystal chandeliers.
Just a walkable mile and a half southeast sits Buckhead Village District, where luxury knows no bounds. Peruse stores such as Dior, Hermes, Christian Louboutin, Jimmy Choo, and The Real Real. Across Peachtree Road, there's a 70,000 square foot Restoration Hardware.
Buckhead is only the beginning of great shopping in Atlanta. Dunwoody has Perimeter Mall, Georgia's second-largest mall, with 150 stores, including online retailers turned brick-and-mortar storefronts such as an Amazon 4-Star store and a Fabletics. There's also Atlantic Station for even more big-box retailers like H&M and Banana Republic.
For boutique, small business shopping experiences, head to Virginia Highland, where shops dot the tree-lined streets. There's also Ponce City Market for retailers like Anthropologie and J.Crew are alongside local businesses like Citizen Supply. Another unique shopping area in Atlanta is Chamblee. There are over 10 antique and thrift stores within just a few walkable blocks.
As a cultural hub, Atlanta is ripe with art museums, history centers, performing arts centers, and sports complexes. The best example of what Atlanta has to offer is found in Midtown, dubbed by neighbors as "the heart of the arts." There are over 40 arts, culture, and entertainment venues and 30 performing arts groups. Enjoy a Broadway production at the Fox Theatre, be mesmerized by puppeteers at the Center for Puppetry Arts, or see more than 18,000 works of art at the High Museum. In Midtown, there's also the Atlanta Botanical Garden with 30 acres of gardens and annual rotating exhibits.
Downtown also has plenty to offer. Many of Downtown's sites are centered around Pemberton Place, where you'll find Centennial Olympic Park, The Georgia Aquarium, The World of Coca-Cola, and The National Center for Civil and Human Rights. Centennial Olympic Park is a 22-acre park in the middle of Downtown originally built for the 1996 Olympic games but is now a neighborhood hub for exercise, festivals, and even concerts. The Georgia Aquarium is the third largest aquarium in the world and has seven galleries with habitats ranging from freshwater to saltwater. At the World of Coca-Cola, visitors can learn the story of Atlanta's famous soda and taste various international iterations of it. The National Center for Civil and Human Rights features artifacts and interactive exhibits from historic civil rights milestones. Add this stop to a tour of The King Center in Old Fourth Ward.
Sports fans rejoice. Atlanta has five professional sports teams: Atlanta Dream, the women's basketball team, Atlanta United, the soccer team, the Braves (MLB), the Falcons (NFL), and the Hawks (NBA). Catch a basketball game at State Farm Area, a soccer or a football game at Mercedes-Benz Stadium, or a baseball game at Truist Park. Truist Park is a one-stop shop for entertainment and hosts a collection of shops and restaurants.
As previously mentioned, Atlanta overflows with outdoor greenspaces, each neighborhood having various parks within its streets. Beyond Piedmont Park and Westside Park, one of the most frequented outdoor places is the Chattahoochee River National Recreation Area, where a 48 mile stretch of the river allows residents to fish, raft, canoe, and kayak. Powers Island, East Palisades, and Island Ford, parks along the river's shores, offer shaded, riverside walking and running trails.
Atlanta has 57 colleges and universities in its region. While some of those are smaller, specialty schools, Atlanta also has some of the state's major universities. Georgia Tech, known more formally as the Georgia Institute of Technology, has a sprawling campus in the heart of Midtown. There's Savannah School of Art and Design, a sister campus to the main site in Savannah, Georgia. Emory University, Atlanta's 600-acre private research university, is located in Druid Hills in the Decatur area of Atlanta. Decatur is also home to Agnes Scott College, a women-only institution considered one of the South's versions of the prestigious "seven sisters." Georgia State University is located in Downtown Atlanta. The campus is ever-expanding. Recent improvements include the renovated Turner Field, the former home of the Braves, as the school's football stadium. The stadium and apartments with a view of it are located in Summerhill.
The Atlanta University Center Consortium, the oldest and largest contiguous consortium of African-American higher education institutions, is in the Westend neighborhood. The four Historically Black Colleges and Universities (HBCUs) are Clark Atlanta University, Morehouse College, Morehouse School of Medicine, and Spelman College.
We rate and sort every listing based on fair market rent.