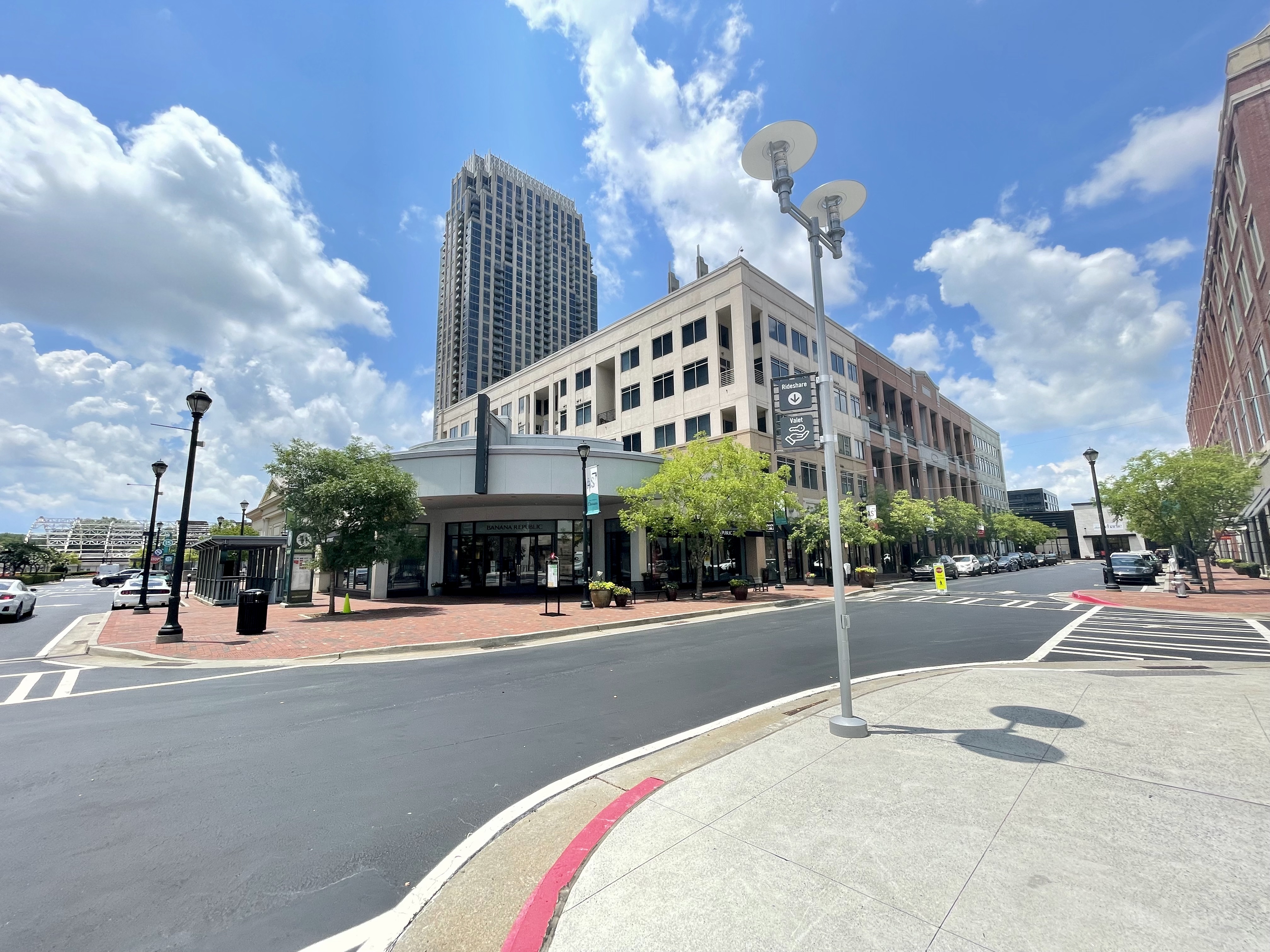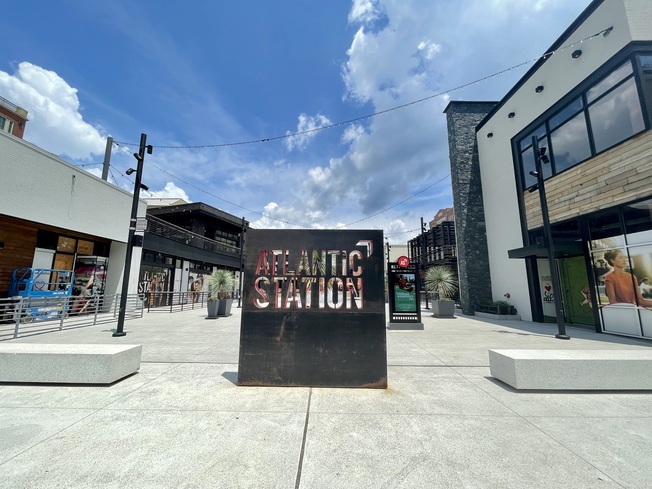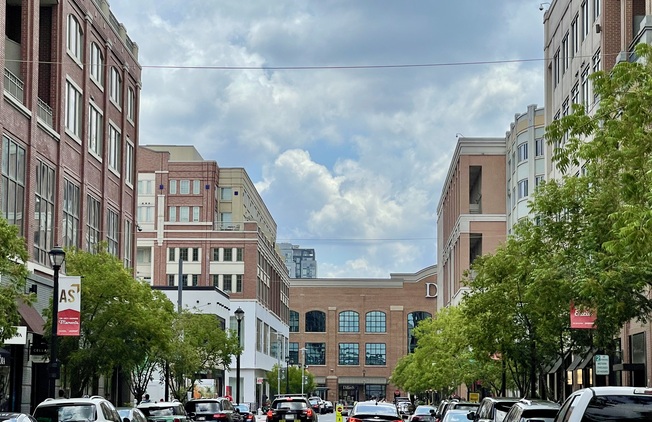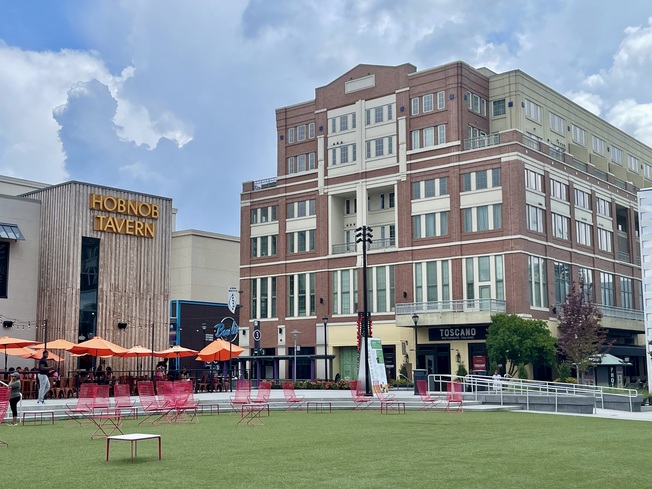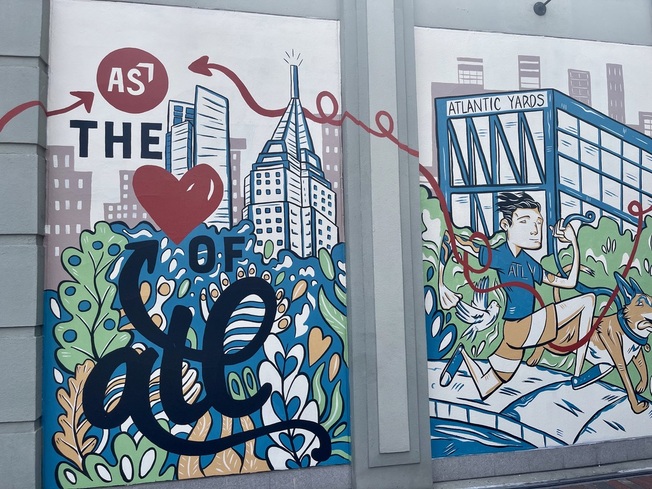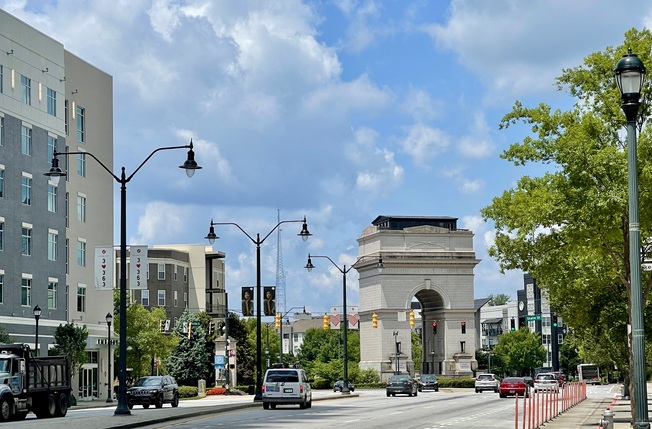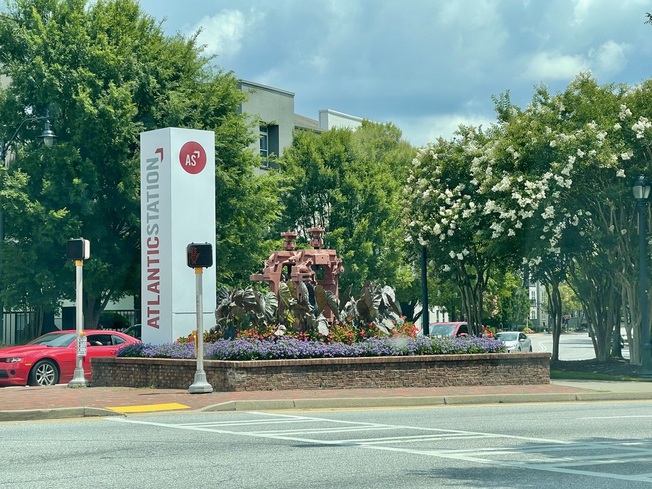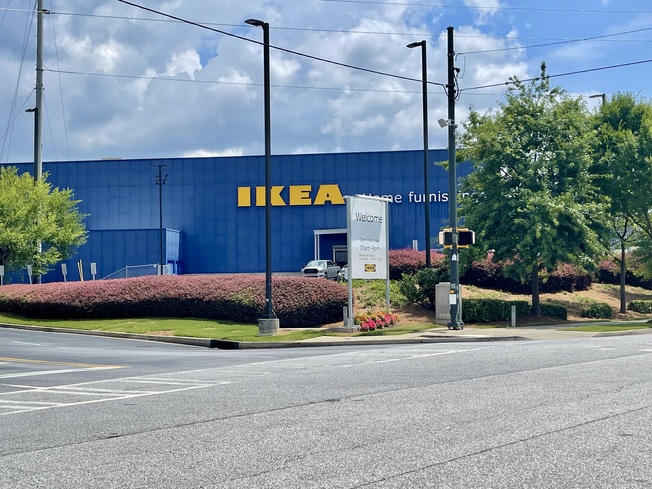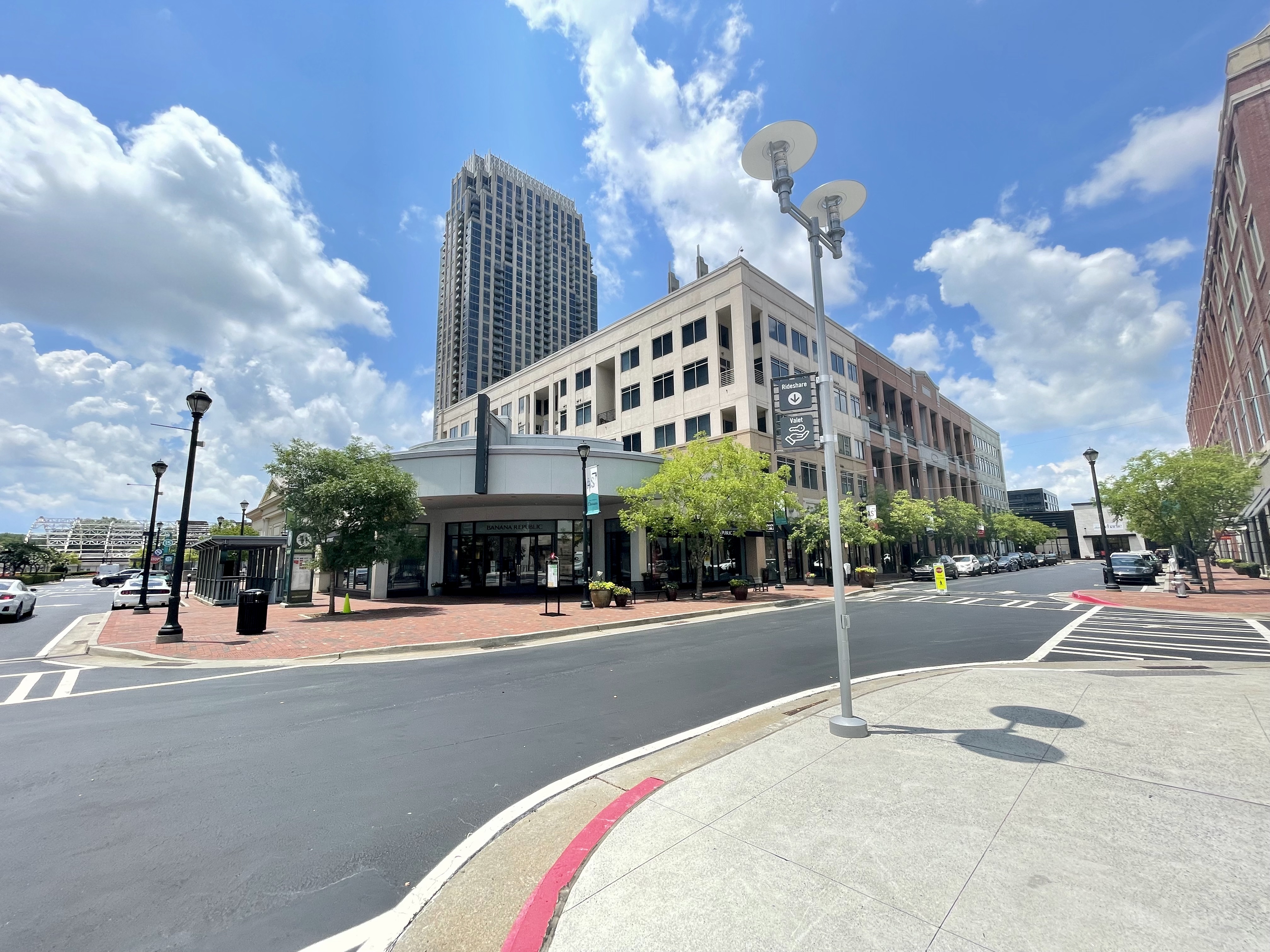 ---
Welcome to 30363, one of Atlanta's leading zip codes. Modern apartments? Check. Top-quality shopping? Check. Incredible restaurants? Check. Unparalleled events? Check. Atlantic Station residents can enjoy all that city life has to offer without ever leaving the neighborhood.
Atlantic Station sits on the former Atlantic Steel Mill site, which was headquartered in Atlanta beginning in 1901. Everything from cotton bale ties and barrel hoops to nails, rivets, and fence posts were produced at the mill, and it was a thriving part of Atlanta's industrial economy. But, when the company was acquired and moved to Canada in 1979, operations here all but stopped. Fast forward to the 21st century: Jacoby Development purchased the mill, reimagined it, and Atlantic station as we know it was born in 2005.
Today's Atlantic Station is a far cry from its mill origins. As one of the first mixed-use development areas, the neighborhood capitalized on the idea that people could live, work, and play with ease, all without adding to Atlanta's already congested thoroughfares. The area was designed to be an environmentally friendly place to live where pollution was minimized thanks to walkability. Many of the buildings in the neighborhood are LEED-certified, too. Since its inception, Atlantic Station has been a desirable place to call home. K-12 students in Atlantic Station attend Rivers Elementary School, Springdale Park Elementary School, Inman Middle School, and Midtown High School.
The neighborhood is smartly divided into distinct areas. There's the Commons, where you'll find many of the residential homes, condos, and apartments in Atlantic Station. There's the District, the central shopping and dining area where residents can enjoy dinner and a movie, visit your favorite retailers or a museum. Finally, there's The Village, anchored by Atlanta's IKEA.
As a planned community, getting around Atlantic Station is well designed down to the smallest details. MARTA (Metropolitan Atlanta Rapid Transit Authority), Atlanta's public transportation system for buses and trains, is a great option for traveling throughout town. Take a MARTA train to the Arts Center station. Next, hop on the free Atlantic Station shuttle that runs from 5 AM - 1 AM daily. Atlantic Station is bike-friendly, with ample racks throughout the neighborhood for parking and safekeeping. The roads in Atlantic Station are also equipped with bike lanes.
Parking in Atlantic Station is found underneath the buildings, but there is metered street parking, too. The meters are run by ParkMobile, an app, which makes it easy to park and load time. There's even free motorcycle and moped parking in Atlantic Station. Spanning 138 acres, the neighborhood has many routes for walkers, joggers, and runners as well.
From Atlantic Station, it's easy to access all of the city's major thoroughfares, including Georgia 400, I-75, I-85, I-20, and I-285, and its proximity also makes it easy for ride-shares and apps such as Uber and Lyft. There's even a dedicated ride-share pick-up/drop-off zone which is just behind Banana Republic. Atlantic Station is also near the beginning of what's known as "the connector," where I-75 merges with I-85 through the city. Locals call this "seventy-five eighty-five."
There are over 20 places to eat and/or drink in Atlantic Station, all within its 138 neighborhood acres. There's a Starbucks, of course, but there are also loads of local restaurants in Atlantic Station. The Pig and the Pearl is a smokehouse and raw bar where smoked brisket is married with oysters on the half shell. Celebrity chef Shaun Doty's outpost, Bantam and Biddy, has a location in Atlantic Station. There's even a bubbly bar, Rosé Bistro & Champagne Bar for the late-night crowd. There's also a centrally located Publix grocery store in Atlantic Station.
The restaurant options continue outside of Atlantic Station thanks to its proximity to nearby Westside Provisions district with 15 of its own restaurants, as well as Buckhead, Midtown, and Downtown. Another dining perk in Atlantic Station? Atlanta's version of Little Italy is right down the street. Here you'll find Atlanta's most famous pizzeria, Antico Pizza, along with its sister restaurants Gio's Chicken Italiano & Maccheroni, Caffè Antico, and Bar Amalfi, residents get a taste of Italy without ever leaving Atlanta.
If you want shopping at your fingertips, there is no better neighborhood than Atlantic Station. Its very core surrounds incredible shopping. Twenty-four stores ranging from big box and small businesses are tenants in Atlantic Station's the District. Shops include national chains such as Athleta and Target but also Atlanta-specific retailers such as Fab'rik and The Atlanta Falcons and Atlanta United Team Store. Free 2-hour parking is validated by any of the stores, too.
Atlantic Station is also close to Buckhead, Atlanta's premier shopping destination. There's Lenox Square, Atlanta's most well-known mall, as well as its sister shopping center, Phipps Plaza. You'll find notable fashion brands such as Gucci, YSL, and Tiffany & Co. there. At nearby Buckhead Village District, there are even more luxury brands such as Dior, Hermes, Christian Louboutin, and Jimmy Choo.
Atlantic Station is often the site of Atlanta's many events. Think traveling shows, sporting events, festivals, and even concerts. When Cirque du Soleil stops for its stint in Atlanta, it raises its big top in Atlantic Station. The Truist Atlanta Open, the first event in the tennis tournament series leading up to the US Open, is held every July in Atlantic Station. More festivals than you can count are also held here. Essentially, Atlantic Station is THE neighborhood for events and happenings.
Beyond events, there's a Regal Cinemas movie theater as well as Bowlero, the neighborhood's event venue and bowling alley. Atlantic Station is also home to Millennium Gate Museum. The Millennium Gate is a classically styled monumental arch in the center of the neighborhood. Not only can visitors see the incredible architecture daily from the street, but they can also tour the inside featuring a Georgia history exhibit. There are often special exhibits too. Imagine having a museum in your backyard!
Atlantic Station's location makes it easy for residents to enjoy some of the larger attractions that Atlanta has to offer. One of the best places to go from Atlantic Station is Downtown to Pemberton Place. It's the convergence of Centennial Olympic Park, The Georgia Aquarium, The World of Coca-Cola, and The National Center for Civil and Human Rights. Centennial Olympic Park is a 22-acre park in the middle of Downtown. Originally built for the 1996 Olympic games, it has since become a huge part of Atlanta's tourism infrastructure. At the park, there is an amphitheater, a playground, a splash pad, a visitor's center, several water features, sidewalks for runners, walkers, and joggers, and plenty of event space for things like outdoor concerts. The Georgia Aquarium is the third largest aquarium in the world. It has seven galleries and many habitats within each one. Here, thousands of marine life live amid 10 million gallons of salt and freshwater. Some of the most visited exhibits are the whale sharks and beluga exhibits. At the World of Coca-Cola, visitors can learn the story of Atlanta's infamous beverage and taste various Coca-Cola drinks from around the world. Rounding out Pemberton Place is the National Center for Civil and Human Rights, where artifacts from various civil rights milestones and thought-leaders are on display.
Other interesting sites in Downtown, which is near Atlantic Station, include the College Football Hall of Fame, a museum filled with interactive exhibits for college football enthusiasts, the CNN Center where budding reporters can tour the CNN studios, and the Children's Museum of Atlanta, a hands-on museum for kids of all ages.
Atlantic Station is a prime place to live for Georgia Institute of Technology students and fans as the university is located in neighboring Midtown. Savannah School of Art and Design is also nearby. Atlantic Station is close to Downtown for Georgia State University too. Thanks to the Arts Center MARTA station, students can also quickly get to and from other in-town universities, including Agnes Scott College, Clark Atlanta University, Emory University, Georgia Tech, Georgia State, Morehouse College, SCAD, Spelman College, and more.
We rate and sort every listing based on fair market rent.