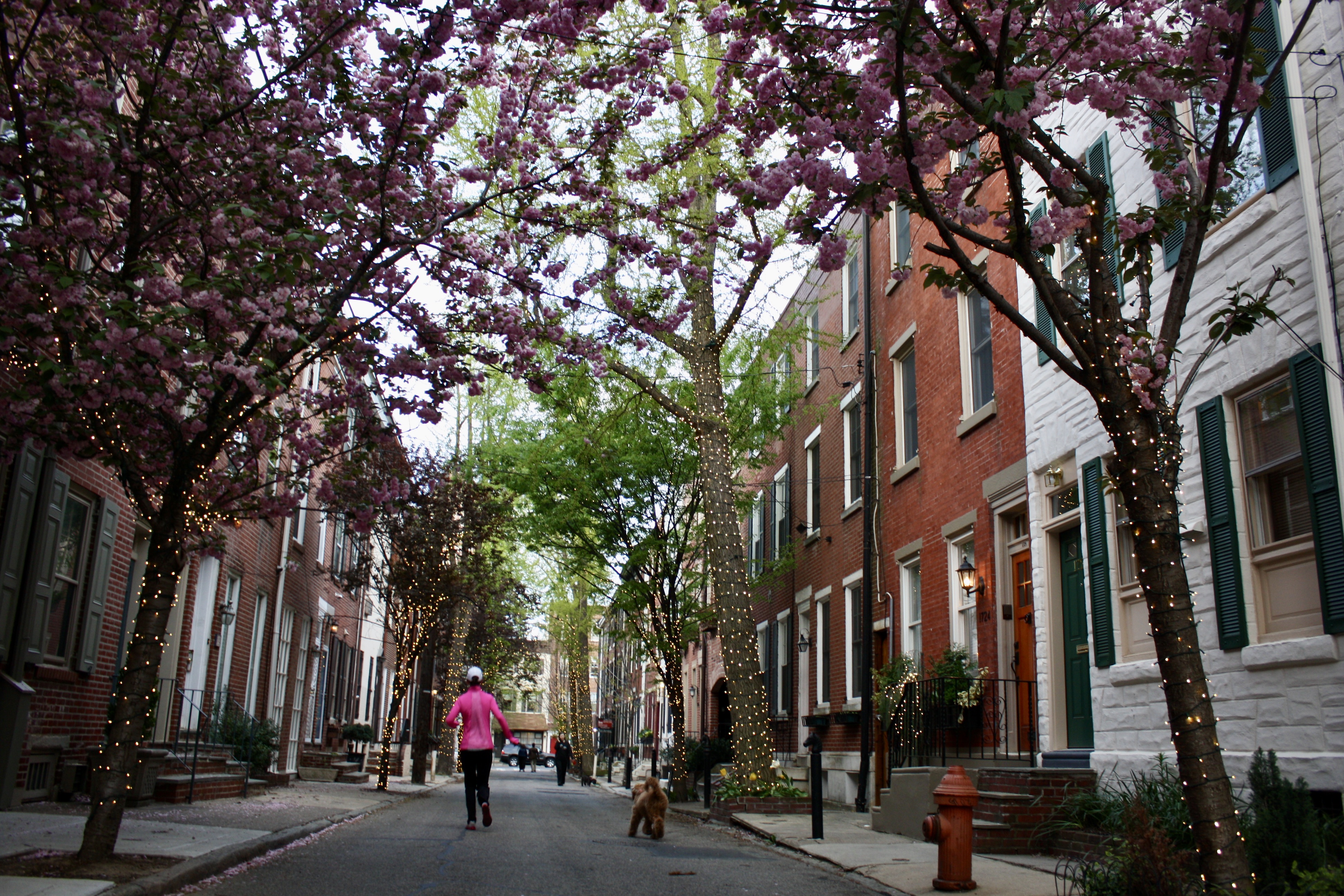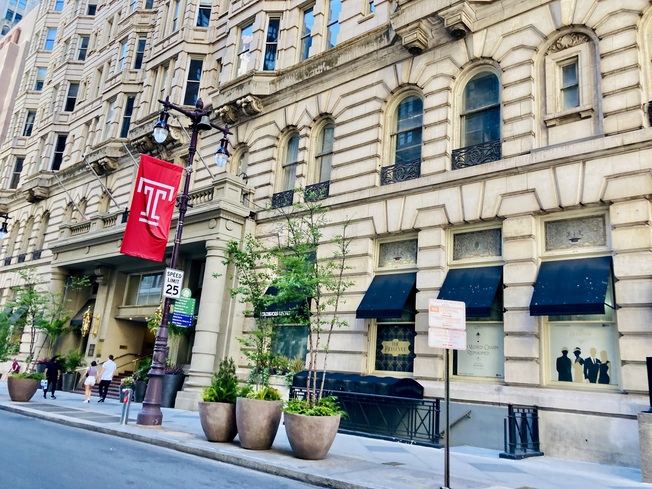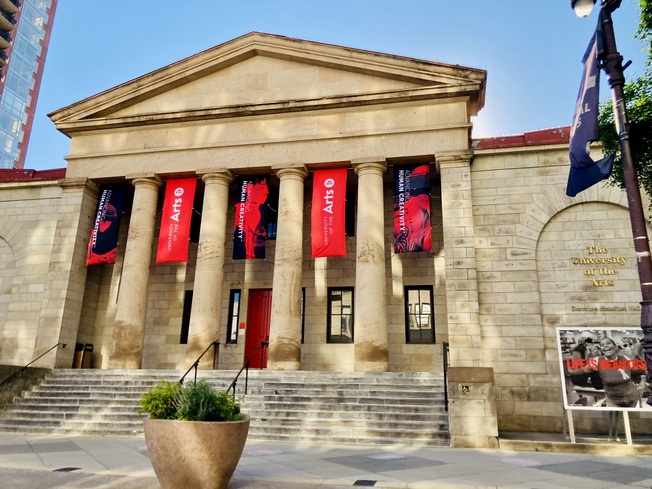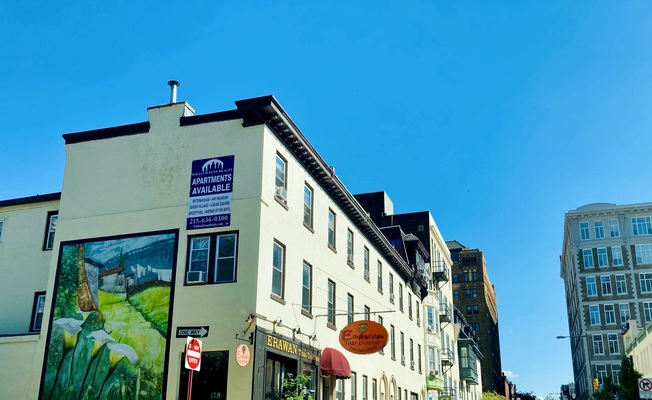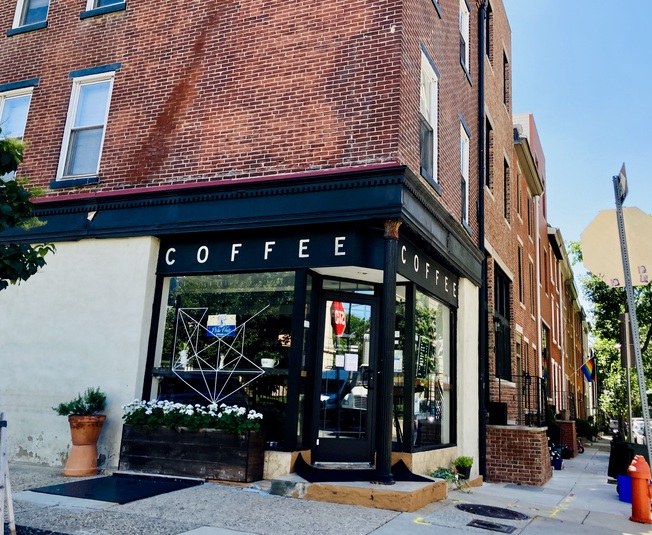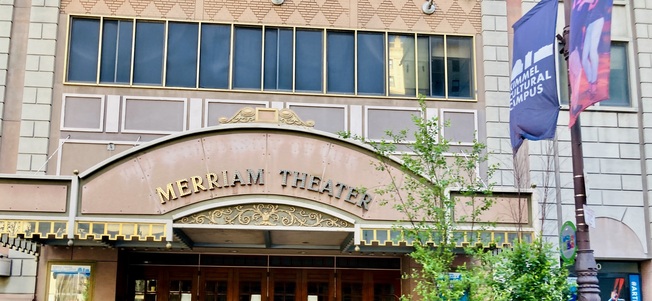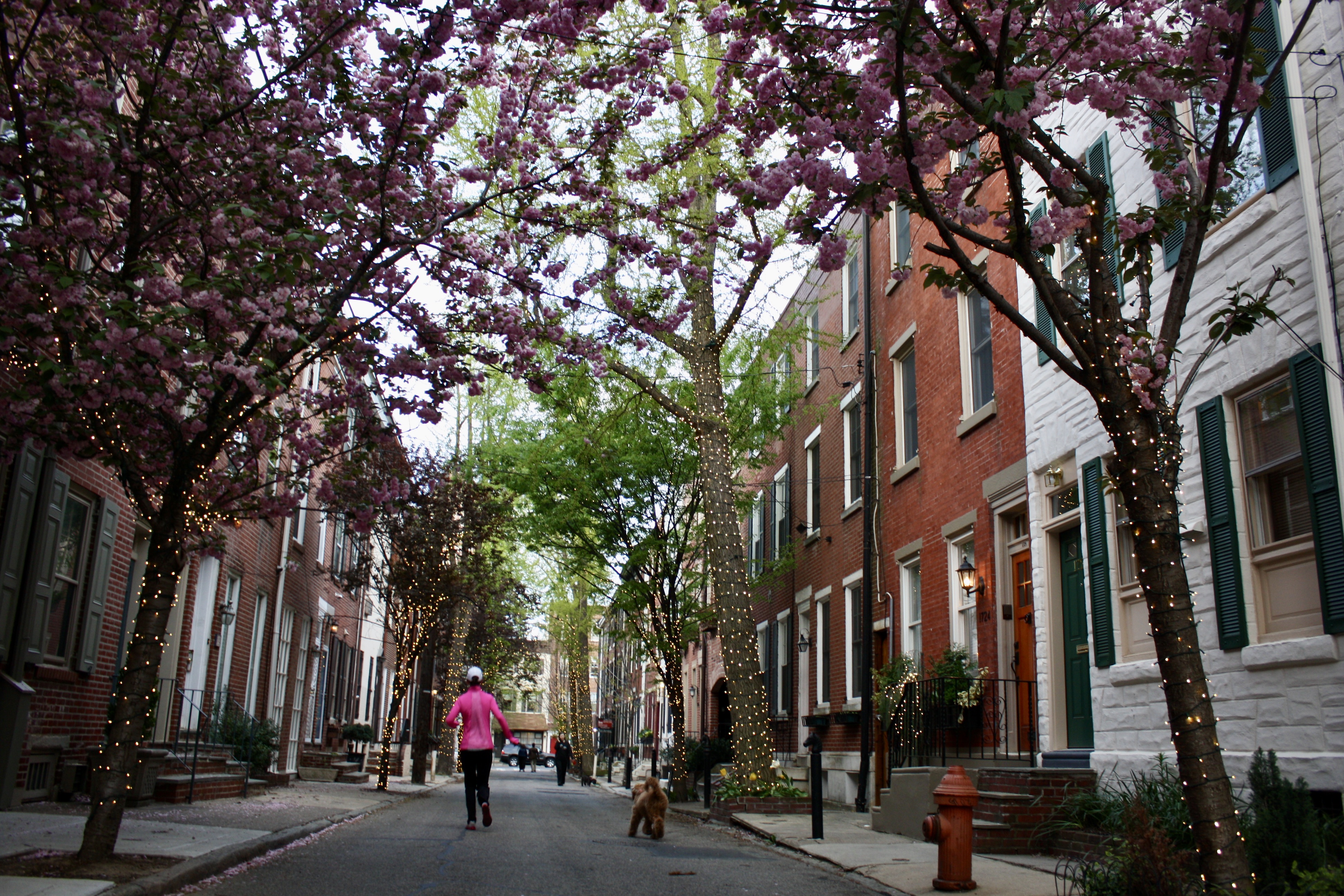 ---
| | Median Rent | Median Sqft |
| --- | --- | --- |
| Studio | $1,350 | 410 sqft |
| 1 Bed | $1,660 | 653 sqft |
| 2 Beds | $2,023 | 800 sqft |
| 3+ Beds | $2,995 | 1,500 sqft |
Bustling Center City is the heart of Philadelphia. It's a large area of the city encompassing various neighborhoods including Rittenhouse Square, Old City, Chinatown, and Fitler Square. Throughout the different parts of Center City, you'll find major historic sites like the Liberty Bell and Independence Hall, world-class museums like the Franklin Institute, leafy squares, cobblestoned streets, gleaming skyscrapers, high-end shopping, and a lively dining scene.
Highlights of Center City include Old City, with its 17th- and 18th-century monuments, elegant Rittenhouse Square, surrounded by shops, restaurants, and cafes, colorful art installations and galleries on South Street, and the Reading Terminal Market, a historic covered marketplace serving everything from pastrami sandwiches to falafels to Amish-made baked goods. Center City is pleasantly framed by water on both sides: on the western edge, by the Schuylkill River, busy with crew teams and kayakers, and on the east side by the wide Delaware River with its shaded waterfront park and promenade. With a good mix of tourist attractions and commercial and residential areas, Center City buzzes with activity day and night and is home to a diverse population from a wide variety of backgrounds. Housing options in Center City run the range from stately brick townhouses and modern condo buildings to older houses divided into less pricey apartments by comparison.
Extending from the Schuylkill River to the Delaware River, Center City is about two miles wide. It's possible to walk right across the neighborhood, and it's very pedestrian-friendly in most areas. On the north side, the area is bordered by Spring Garden Street, and on the south, the boundary is South Street. Bike lanes criss-cross the neighborhood, and lots of locals commute to and from their homes and workplaces on bicycles. The Schuylkill River Trail, a 75-mile mixed-use trail that extends north to Valley Forge National Park, runs along the west side of Center City, while the Delaware River Trail, a recreational path, offers another option for cyclists and pedestrians on the eastern edge. Another convenient biking option is the buffered lane on Spruce Street. Ride it west to connect to the South Street Bridge, crossing the river over to West Philly.
Public transportation offers easy access to and from Center City. SEPTA trains, trolleys, subways, and buses all serve the neighborhood. The Broad Street Line subway goes north and south along Broad Street, leading to South Philly and the sports stadiums (to the south) and the Spring Garden area (to the north). The Market-Frankford Line runs perpendicular along Market Street, heading northeast to the Fishtown area and west to 30th Street Station, the city's main train station, in West Philly. From there, you can catch a bus, trolley, or subway, plus Amtrak trains that serve New York City, Washington DC, and other major cities. PATCO trains also cut through the neighborhood, offering connections between Philadelphia and Camden, New Jersey, and several SEPTA trolley lines run east and west through the area along Market Street.
When it comes to parking in Center City, many residents have driveways or dedicated spots in parking garages, while others do without a car, thanks to the fact that the neighborhood is so easy to navigate on foot, bicycle, and public transportation. Parking garages and paid lots offer convenient (if expensive) options around shopping areas and the Delaware River waterfront. Parking in Old City is almost impossible, but in other areas of the neighborhood, like Callowhill, it's somewhat easier to find metered street parking.
From coffee roasters and beer gardens to street food stands and elegant French bistros, many of Philadelphia's best restaurants and drinking destinations are located in Center City. All of the city's favorite local coffee chains are represented here, some with multiple locations in the neighborhood. These include La Colombe, Ultimo Coffee, Rival Bros. Coffee, and United By Blue. Washington Square West is home to Greenstreet Coffee Co., the Last Drop Coffee House, Cogito Coffee, Capriccio Cafe & Espresso Bar, and more, while Old City features Cafe Square One and Old City Coffee. Around Rittenhouse Square, coffee options are plentiful, too, including Elixr Coffee Roasters, Bluestone Lane Rittenhouse Cafe, and Parisian-inspired Miel Patisserie.
Reading Terminal Market, a historic covered market that's been in operation since 1893, is a hot spot for foodies. Colorful and often hectic, it's the place to pick up a coffee or tea, homemade donuts and pastries, Amish-crafted cakes and candies, and nearly any kind of international cuisine imaginable. Stop in for a pastrami sandwich or falafel; the market is also home to some of the city's best butchers and produce vendors. Right next door and part of Center City, Philadelphia's Chinatown features a range of Asian restaurants and food shops.
In terms of restaurants in Center City, Rittenhouse Square has a high concentration of fine dining venues, including several that sit right on the square. Parc, a French-styled corner institution, is a Philadelphia classic. Rouge and Devon Seafood Grill, on the same block, also offer outdoor dining with views of the square. Other highlights in the neighborhood include stylish Abe Fisher, specializing in modern Jewish food, and Pizzeria Vetri. Near Rittenhouse Square, in Fitler Square, Italian restaurants like Trattoria Carina and Ambrosia Ristorante are great choices for a date night. Washington Square West, nicknamed "the Gayborhood," has lots of dining venues to choose from, too. Bud & Marilyn's, a retro eatery offering modern American dishes and cocktails, is a highlight, as is Talula's Garden, with lovely outdoor seating on Washington Square. Old City is also full of eateries catering to tourists and residents alike. Amada, serving Spanish tapas, and French restaurant Forsythia are both local favorites, and Zahav is hugely popular for Israeli cuisine. A block away from the Liberty Bell, in easy reach of the historic sites, The Bourse is an upscale food hall offering quick but gourmet food options.
There's no shortage of wine bars, beer gardens, pubs, taverns, and cocktail bars in Center City. Tria Cafe, with a few locations around town, serves a wonderful selection of wines by the glass and cheese plates to match. Independence Beer Garden, with ample outdoor seating and games for kids and adults alike, is a fun spot in the heart of the historic center. For LGBTQ+-friendly bars and pubs, head straight for the so-called "Gayborhood" in the heart of Washington Square West. In warmer weather, don't miss the food vendors and beer garden at Spruce Street Harbor Park, on the shaded banks of the Delaware River.
Mainstream supermarkets in Center City are plentiful. There are also several smaller, independently run food stores in the area. Acme, Whole Foods, MOM's Organic Market, Trader Joe's, and GIANT Heirloom Market are all represented here. Neighborhood markets like South Square Market and Rittenhouse Market are great for smaller grocery runs. Di Bruno Bros., with a few locations, is a gourmet deli and food store. The Foodery and Food & Friends both offer a good selection of craft beers, and wine and spirits stores are scattered throughout.
Rittenhouse Square is the main district for shopping in Center City. Near the square itself, find the grand flagship location of Anthropologie, H&M, Barnes & Noble, UNIQLO, Urban Outfitters, Warby Parker, Nordstrom Rack, Target, Buffalo Exchange, and many others. Nearby, the Shops at Liberty Place is a small shopping center with stores like Bath & Body Works. On the other side of City Hall, Fashion District Philadelphia on Market Street is a new shopping center with a range of conventional stores.
Independent boutiques and shops are located throughout the neighborhood. Highlights range from Tselaine, specializing in handmade jewelry, and Shakespeare & Co, a paradise for book lovers, to Philadelphia Independents, carrying unique artwork and objects by local designers. South Street is lined with quirky stores and secondhand bookshops. Old City has lots of souvenir stores as well as designer boutiques carrying high-end clothing and accessories. Nearby, Jewelers' Row is the city's traditional jewelry district.
There's so much to see and do in Center City, from historic sites and world-class museums to riverside parks and bustling urban plazas. Starting in the northeast corner, at the Philadelphia Museum of Art, the grand Benjamin Franklin Parkway cuts through the neighborhood, lined with museums and cultural attractions on both sides. These include the Rodin Museum, the Barnes Foundation, a fine arts museum with pieces by Picasso and Renoir, and the Franklin Institute, an interactive science museum with hands-on exhibits geared to children.
Across Logan Square from the Franklin Institute is the main location of the Free Library of Philadelphia and petite Sister Cities Park, with a cafe, a rock garden, and fountains for kids. Continuing a few blocks further along the parkway, you'll arrive at Love Park with its iconic Love sculpture, a popular photo spot for locals and visitors alike. It's at the foot of towering City Hall, a major Philadelphia landmark. The plaza area around it hosts festivals and special events throughout the year, notably a popular Christmas market during the holidays.
From City Hall, head southeast to the shopping and dining of elegant Rittenhouse Square or south along Broad Street towards the Kimmel Center, a state-of-the-art performing arts space, and various other theaters. Or walk a few blocks northeast towards lively Reading Terminal Market, one of the oldest marketplaces in the country, and busy Chinatown. If you continue east along Market Street, you'll reach the historic heart of Philly. (The African American Museum in Philadelphia, a couple blocks north of Market Street, and adjacent Franklin Square, with a carousel and fountains, are worth a detour.)
The monuments of Old City — including the Liberty Bell, the National Constitution Center, Betsy Ross House, and Benjamin Franklin's grave — attract a steady stream of tourists. On the other side, the Delaware River waterfront offers outdoor space for walking and cycling. The Independence Seaport Museum offers an overview of the region's maritime history, while Spruce Street Harbor Park has food vendors and outdoor lounge space with water views. In winter, Blue Cross RiverRink opens for ice skating.
Several universities and university-affiliated hospitals have buildings in Center City, including Temple University and Drexel University College of Medicine. The main campuses are located in other parts of the city, though: Drexel and the University of Pennsylvania are located in West Philly, while Temple's main campus is in North Philadelphia. There's a lively student presence throughout Center City anyway, thanks to the neighborhood's many bars, shops, cafes, and bookstores, not to mention the main branch of the Free Library of Philadelphia.
We rate and sort every listing based on fair market rent.