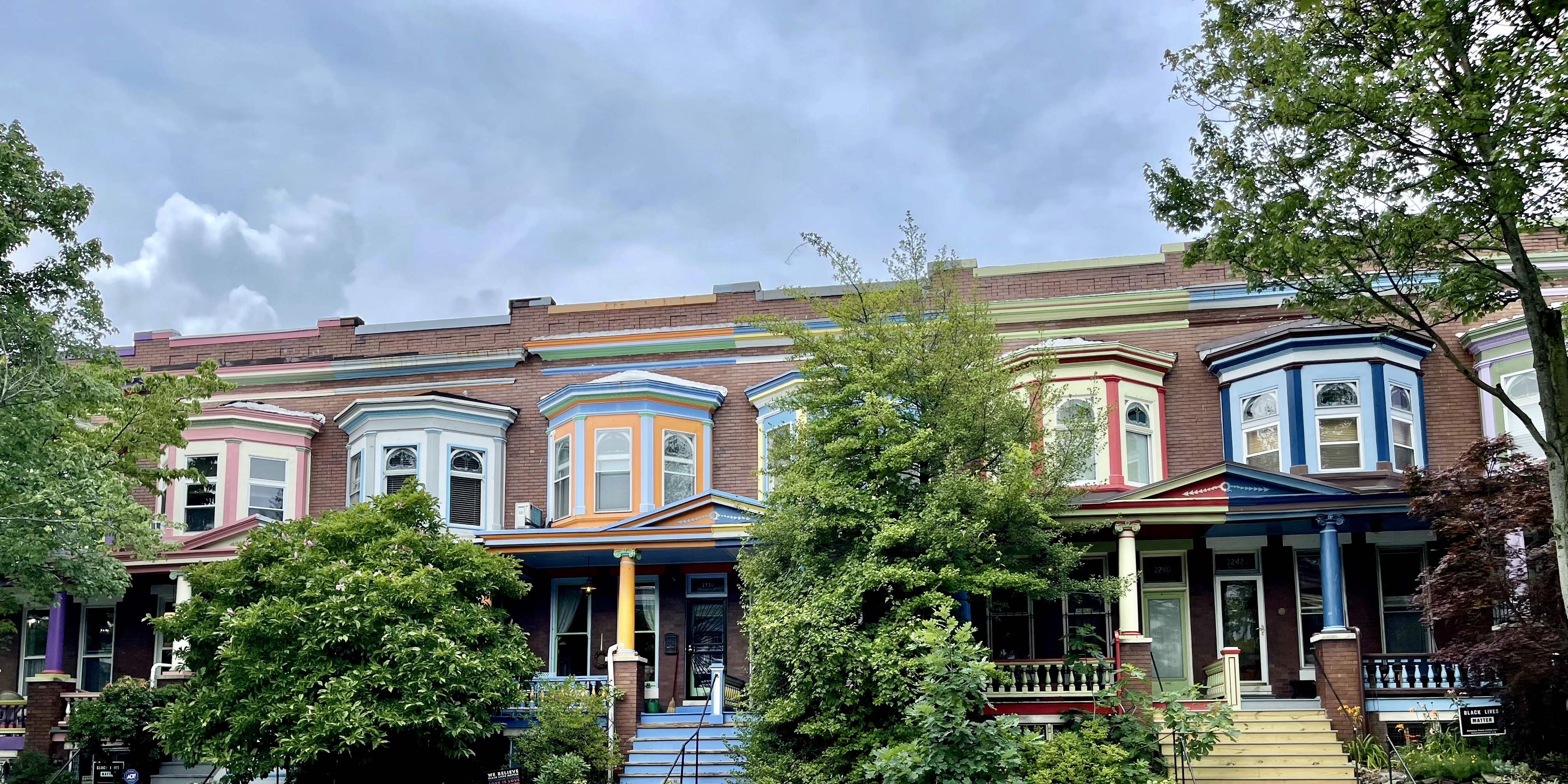 ---
| | Median Rent | Median Sqft |
| --- | --- | --- |
| Studio | $935 | 325 sqft |
| 1 Bed | $1,342 | 600 sqft |
| 2 Beds | $1,688 | 900 sqft |
| 3+ Beds | $1,925 | 2,238 sqft |
Charles Village is distinguished by its residents: the well-educated, creative, and progressive students, alumni, and staff of Johns Hopkins University, which is the centerpiece of the neighborhood, as well as Baltimore's largest employer.
One of the most diverse neighborhoods of Baltimore, this bohemian area is characterized by blocks of beautiful 2- and 3-story Victorian rowhomes, many of which have been subdivided into apartments — their asymmetrical façades, pitched roofs, large dormer windows, and wide front porches adding to the area's undeniable charm and appeal. A stretch of wildly colorful houses, known as The Painted Ladies, resulted from a neighborhood contest in the 1990s to beautify the aging exteriors, and you can enjoy them with a self-guided stroll along Calvert and its side streets between 29th-33rd and east to Barclay Street. In addition to cash prizes, the winner received a dipped paintbrush as a grand prize trophy, and it's still hanging on her porch (see if you can find it).
A new mixed-use development has added a few specialty shops, cafes, and a bookstore along Saint Paul Street and 33rd Street by Medstar Union Memorial Hospital. With its completion in 2017 after nearly a decade of construction, the development, known as Charles Commons, also became home to a number of Johns Hopkins student apartments.
The city's biggest art museum, the Baltimore Museum of Art (BMA), is located smack in the middle of campus, and it's constantly creating headlines with a new art exhibition or initiative. It recently repositioned the location of its front door, and the change made the front page of The New York Times. General admission is free, and the many exhibition talks and hands-on events are fascinating. Plus, Gertrude's is located inside. One of the best restaurants in the city, Gertrude's Chef/Founder, John Shields, has really put Chesapeake cuisine on the map.
Bounded by the north at University Parkway, the south at 29th Street (where the campus begins), the west at Charles, and the east at Barclay, Charles Village is laid out in a grid and easy to navigate by foot or car — during school hours crossing guards will assist.
The inspiration for the neighborhood's name, Charles Street, is one major thoroughfare. St. Paul Street is the other. There are many ways to get from here to there in Charles Village; it's as easy to walk from residences to campus as it is to drive. There are parking garages on the campus of JHU, including a quad-wide underground lot, and also in Charles Commons on 33rd Street ($5 for up to 6 hours). Other Johns Hopkins off-campus parking options include the garages by Union Memorial Hospital, along with the relative ease of its on-street parking. There are dedicated bike lanes on St. Paul Street and University Parkway, and sidewalks for pedestrians are kept in good repair.
Mass transportation options are plentiful, with MTA Routes 3, 11, 61, and 64 serving the area, as does the free Charm City Circulator (Purple Route). Highway access can be found in Hampden, by taking 28th Street to the I-83 interchange.
Consistently ranked among Baltimore's greatest restaurants, reading the menu at Gertrude's is like a history lesson in Baltimore: it's filled with delicious items like Greektown lamb meatballs and the old Hutzler's Department Store Club sandwich. Their cocktail list isn't bad, either: Poe's Last Word is made with luxardo and chartreuse.
Just down the street, Bird In Hand is another must: It's a coffee and tea shop that also doubles as a bookstore. You'll find the most unique gift items here, including music, plus their array of delectable eats from Chef Spike Gjerde (of Woodberry Kitchen fame) will inspire you to order something for yourself, too.
There are more restaurants in Charles Village along Saint Paul Street. Casual eateries here include stir fry at Honeygrow, sushi at Niwana, breakfast (or anytime) sandwiches at Carma Café's, and a Charles Village outpost of the award-winning Towson Hot Bagels (THB Bagelry).
Most of the nightlife in Charles Village centers around the Charles Village Pub, a lovable dive with tasty burgers and an array of local brews on tap. The Peabody Heights Brewery, next door in Abell on 30th Street, is open for fun brewery tours and tastings. And no college town would be complete without some sweets: Insomnia Cookies on 33rd Street even makes late-night deliveries.
Neighborhood grocery stores range from the large (the Giant Food on 33rd Street and the Safeway on Charles Street) to the very small (the Charles Village Discount Mart on 22nd Street, which is well-organized for a convenience store.) Longtime residents were devastated when the Eddie's Market on 33rd Street closed — its deli sandwiches were known far and wide — but the good news is, a Streets Market is set to open in that space by the end of 2021.
Each weekend in the summer, the well-known Waverly Farmer's Market on 32rd Street features more than 60 vendors representing local farms, orchards, and gourmet purveyors such as handmade soaps, aromatics, baked goods, and more.
Befitting a town-within-a-college, there's a great Goodwill Thrift Store on Greenmount open Monday-Saturday for those interested in thrift shopping in Charles Village. If you're looking for newer duds, be sure to try the boutiques along The Avenue in nearby Hampden.
For JHU-themed apparel, there's only one stop: The Barnes & Noble in Charles Commons. It also doubles as the campus bookstore. Meanwhile, the collectively owned Normal's Books is more than a used bookstore — its books, CDs, and small-print treasures make it a Baltimore institution, operating since 1990.
The Book Thing is the largest Little Free Library you will ever dream of meeting. It's the only bookstore we know of whose merchandise is completely free; it accepts donations on the weekends, and shoppers can peruse its shelves and then bring home whatever they want for no charge. Temporarily without a home base during the COVID-19 pandemic, it has operated from two buildings in the Charles Village surrounds, and we have a feeling its next incarnation will be here, too.
In keeping with the city's newest moniker, Bikemore, the Race Pace Bicycles in Charles Commons is always hopping. For unique gifts for even your hardest-to-please crew members, the gift shops at the Baltimore Museum of Arts and the Homewood Museum won't disappoint.
It's easy to spend a day at the Baltimore Museum of Art — exhibitions frequently change, and there's always something cool to see, from BC-era Oceanic figures to Instagrammable illuminations. In 2015, the museum deaccessioned seven works in its collection in order to reframe historical narratives and fund art by underrepresented women and minority artists. Now's the Time is the result of that decision, and it features 125 large-scale and painted works on canvas, mobile sculptures, and more.
John Waters, aka "The Pope of Trash" recently donated his collection to the BMA, and to convey their gratitude, the museum is naming its restrooms in his honor (as well as other spaces). But Matisse is what the museum is best known for; it has the world's largest collection by the French Master, featuring a center devoted to the study of his extraordinary work. BMA also has a lovely outdoor sculpture garden around which lies Gertrude's, and it's hard to think of a nicer spot to enjoy a lump crab cake and glass of iced tea.
The campus of JHU has two other public venues, the Maryland Space Grant Observatory, which hosts Friday night viewings, and the antique-filled Homewood Museum, the 18th Century summer home of the Carroll family. On occasion, the faculty/alumni lounge known as the Johns Hopkins Club hosts jazz performances.
Off-campus, the Charles Village community is dedicated to similarly knowledgeable pursuits, with Baltimore History Evenings and other events at the Village Learning Center and pathways to enlightenment at the Baltimore Shambhala Meditation Center.
Part of the original Homewood Estate, around which sprang Johns Hopkins University, the 88-acre Wyman Park is the neighborhood's largest greenspace, serving as a beautiful and quiet escape from the city's hustle and bustle. Beech, oak, and poplar trees inhabit its wooded expanses, with walking and biking trails throughout and the Stony Run stream winding through its center. Its gateway lies on the eastern edge of campus as a separate 13-acre parcel known as Wyman Park Dell.
Charles Village is home to the Johns Hopkins University Homewood Campus, and several apartment towers along Charles Street also serve as off-campus residences. Undergrad and grad students live in subdivided Victorian rowhomes due to their affordability and proximity to campus. Plus, they're just plain pretty, and they contribute to the homey atmosphere that compels students to remain here long after graduation. A free Hopkins shuttle regularly transports students to the Peabody Preparatory in Mount Vernon, too.
We rate and sort every listing based on fair market rent.