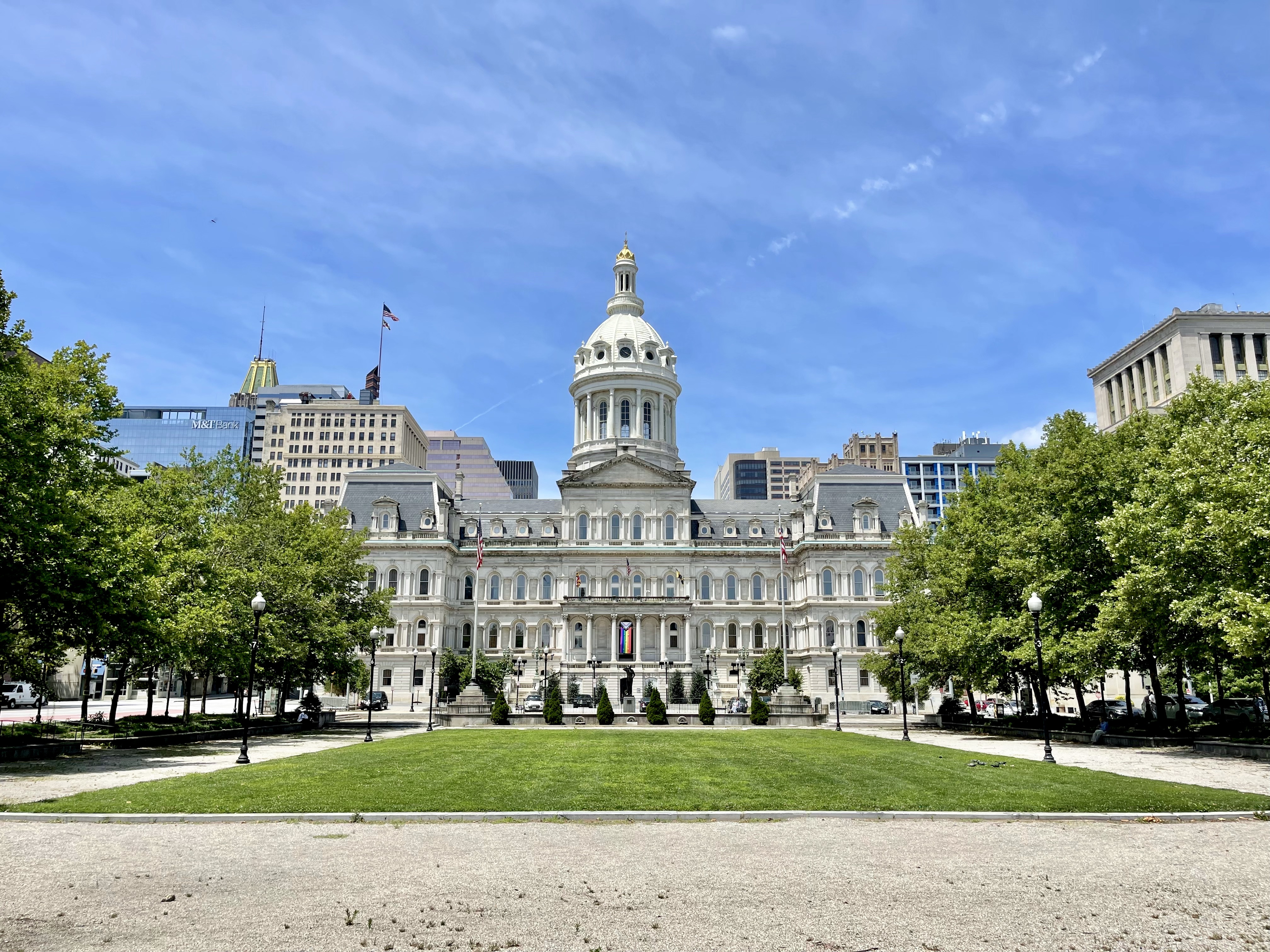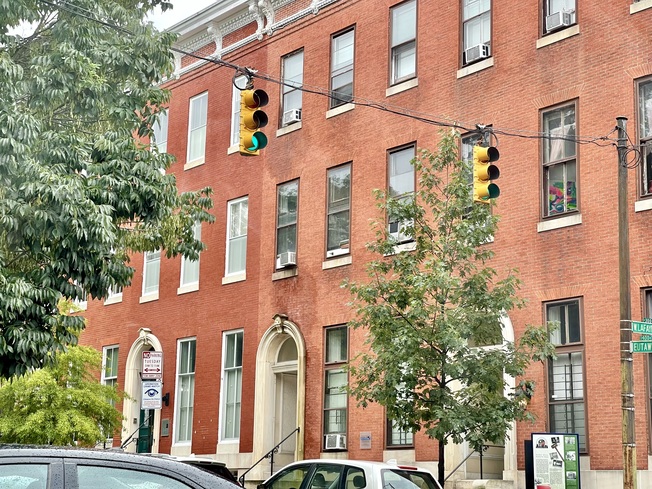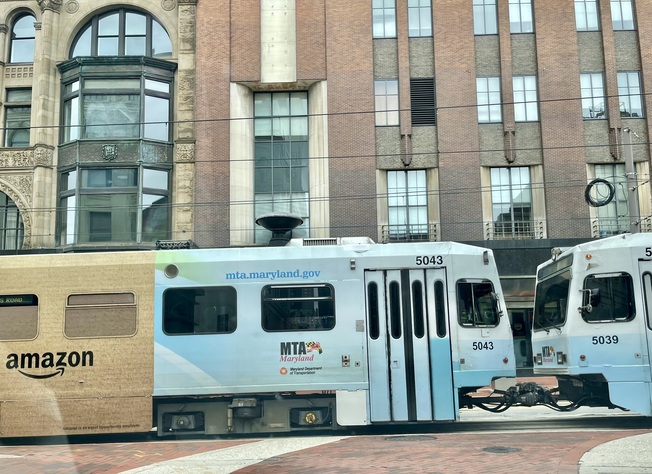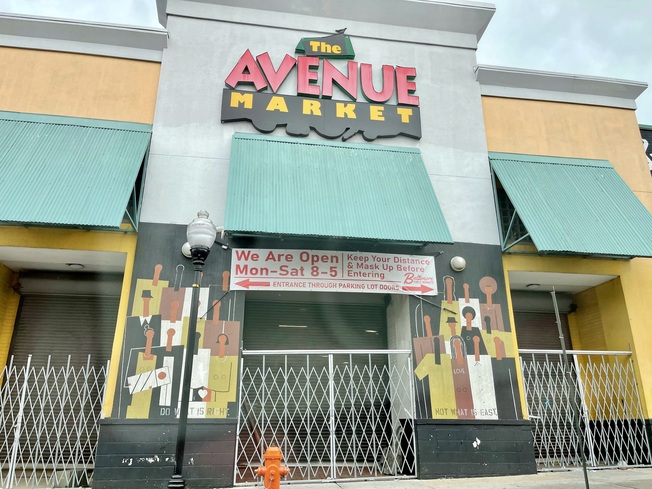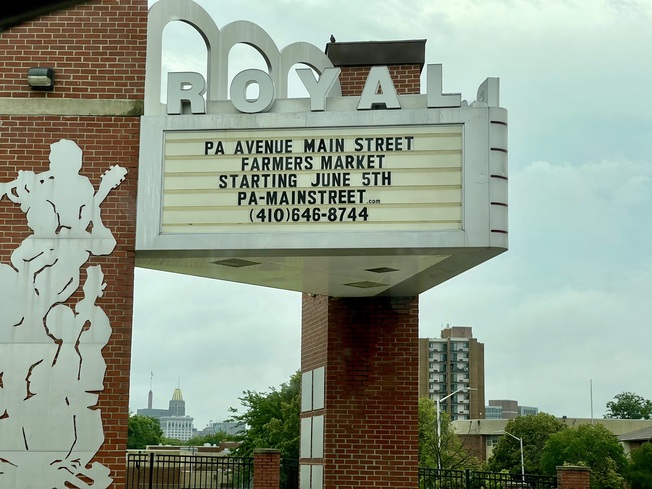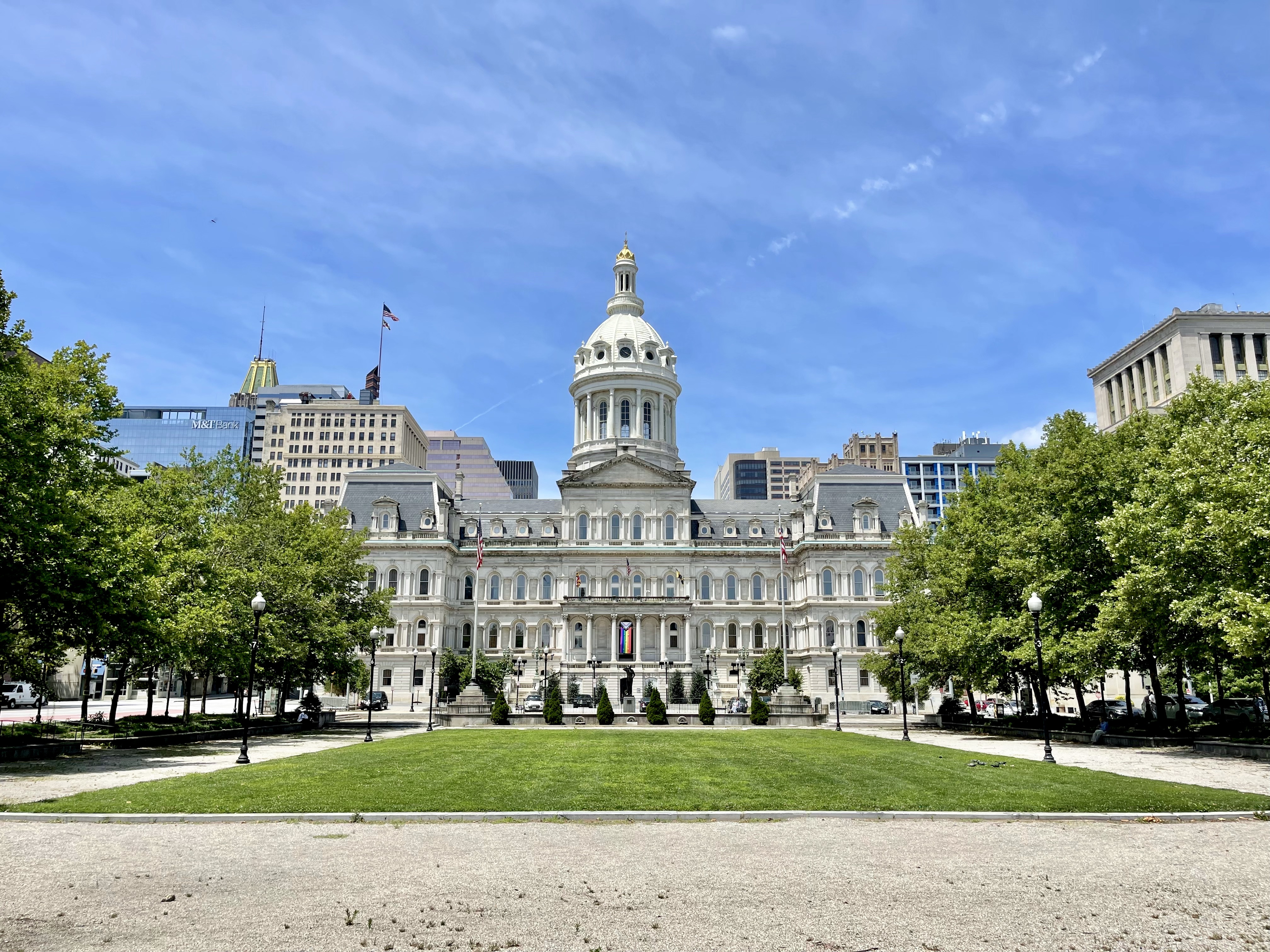 ---
| | Median Rent | Median Sqft |
| --- | --- | --- |
| Studio | $1,090 | 420 sqft |
| 1 Bed | $1,300 | 671 sqft |
| 2 Beds | $1,637 | 923 sqft |
| 3+ Beds | $2,293 | 1,834 sqft |
As the city's industrial past mixes with a tech-forward present, Downtown Baltimore is enjoying a revival. Under Armour's campus has expanded across the city, and new condos and apartments in Downtown Baltimore are being redeveloped from former warehouses. You'll also find a mix of apartment buildings and rowhouses here. Colorful murals signal the arrival of new arts and entertainment districts, and scores of restaurants have set up shop in old factories and mills, serving everything from pierogis to Peruvian food.
Downtown Baltimore is home to a young and vibrant population where residents can and do enjoy the many restaurants, pubs, free festivals, and happenings in the area.
Downtown Baltimore's boundary is Pennsylvania Ave to the West, Franklin Street to the North, the Inner Harbor to the South, and President Street to the East. It's easy to get to destinations around the city from this central spot, and nearly every transportation can be found here.
Penn Station, which links Baltimore to cities along the East Coast via Amtrak's Northeast Corridor, is just a few blocks further north, on Charles Street.
The free Charm City Circulator runs north to Union Memorial Hospital, south to Federal Hill and Fort McHenry, and east through Fells Point. MTA's Express Link Buses, 103, 105, 115, 120, 154, 160, and 164 all stop at Charles Center or Lexington Market and make their way through the east and west. The CITYLINK's Brown, Red, Pink, Orange, Yellow, Lime, Green, Blue, Purple, and Silver Lines cross through the city center as well.
There are Light Rail options, and, few outsiders know this, even a small subway — it offers limited service through the Northwestern part of the city, beginning in Owings Mills and ending at Johns Hopkins Hospital.
A drivable city, Baltimore is laid out in a grid and is relatively simple to navigate. Downtown offers close proximity and convenient access to the I-95 corridor.
As for parking in Downtown Baltimore, there are many garages along its major thoroughfares, such as Pratt, Lombard, Charles, Light, Saratoga, and N. Paca Streets. Most of the apartment buildings in Downtown Baltimore also feature underground garages for an additional monthly fee. Street parking becomes a tight squeeze during the week, but options can be found along the side streets leading down to the Inner Harbor. Be sure to feed the meters if you want to avoid being ticketed.
Walkers will delight in the pedestrian-friendly areas around the Inner Harbor, and streets like Charles, St. Paul, and Calvert provide a changing scene of different architectural styles. Bicyclists will find dedicated lanes along Lombard and Pratt, as well as a sidepath on MLK Boulevard. With streets a bit wider than many cities its age, most of Downtown Baltimore's routes are able to accommodate bikes.
When it comes to restaurants in Downtown Baltimore, you'll find a melting pot of delicious flavors, from Maiwand Grill's grilled chicken Tikka and other Afghan specialties to Puerto 511's Peruvian cassava fritters, fresh ceviches, and seafood paellas. Along Charles Street, you can enjoy a Turkish coffee or Baba Ghanoush at Cazbar (complete with a belly dancer Saturday nights), while the burgers at Mick O'Sheas nearly rival its beers, and the friendly waitstaff will go out of their way to make you feel welcome. Fine dining options include Sotto Sopra's handmade raviolis, with a side of opera from its house singer.
Over on Park Street, Trinacria's Italian sandwiches, piled high with meats from its Seton Hill deli, will have you begging for more, and you'll need to order a dozen of The Avenue Bakery's sweet potato, apple and walnut "poppay" rolls — owner James Hamlin's grandchildren gave him that nickname. For Baltimore's best soul food, visit The Capital Lounge, with standouts like homemade macaroni and cheese, fried seafood, and crabs.
Suspended Brewing is a great spot for brews and vegan eats ironically located in part of Downtown called Pigtown. Suspended Brewery uses eco-friendly techniques to craft its award-winning pilsners, like the Trophies Mexican Lager, and frequently features vegan street food on its menu.
Also in Pigtown is Milk and Honey Market, which roasts local favorite Vagrant Coffee beans in-house. Friendly baristas will whip up a hot or iced espresso concoction, tea latte, or another specialty drink, in a lovely brick-lined setting.
Craving something sweet? Stop by Café Poupon on Charles Street which uses classic French techniques to create eye-popping pastries, cakes, and tarts. If the Pineapple Mousse cake is available, be sure to order a slice.
If art is your thing, you will enjoy shopping in Downtown Baltimore. The artist studios of the Bromo Seltzer tower are open on Saturdays to shoppers. In addition, artworks are for sale in galleries like Resort, Current Space, and the EMP Collective. Downtown is blessed with two of the city's arts districts, The Bromo Seltzer District and Pennsylvania Avenue Arts District, and there are numerous galleries Downtown, many by MICA alumni. The Maryland Art Place showcases exhibitions by Maryland artists as well as workshops and artist talks, and other events.
On North Avenue, Everyone's Place is a black-owned bookstore where you can browse books on topics ranging from religion to intellectual warfare, African world literature, and children's books.
Howard Street was historically known as Baltimore's Antiques Row, and a few shops remain, such as the Imperial Half Bushel and E. A. Mack Antiques. In addition, there is a small indoor shopping mall with a few stalls at 809 North Howard Street.
The AT Jones Costume Shop, opened in 1858, is actually the oldest in the country, and it's amazing what you'll find here, from fine feathered headdresses to the shop's resident parrot, Oliver.
For groceries in Downtown Baltimore, there is a Streets Market & Café on Charles Street, and The Avenue Market, at 1700 Pennsylvania Avenue, features everything from fried chicken to fresh juices to baked goods. Larger grocery stores can be found further north: There's a Safeway at Charles and 24 Streets and a Giant Food by Union Memorial Hospital.
Near City Hall and under the JFX (I-83) highway bridges, the Baltimore Farmer's Market is one of the city's best, taking place every Sunday afternoon from April-October. Its 35 vendors offer fresh fruit, produce, baked goods, and artisanal items for your home and body.
The core of any Downtown is City Hall, and Baltimore's is a grand, Baroque Revival style building located on North Holliday Street. But the real cornerstone of its modern development can be found a few blocks to the west, at Charles Center, a collection of gray-glass Ludwig Mies Van der Rohe-designed office towers rising 30 floors to the sky. The redevelopment of this part of town in the 1960s marked a turning point for Baltimore as it left behind its industrial past, and the Inner Harbor's emergence as a shopping and tourist attraction would soon follow.
But to learn more about its history, you must move away from Baltimore's buildings and down to its streets, like Pennsylvania Avenue, which speak volumes about the city's segregated past.
In the 1930s and 1940s, you could find the city's most prominent black-owned residences, restaurants, and venues along Pennsylvania Avenue, such as the Old Royal Theatre, where Billie Holiday often performed. While the building no longer exists, its marquee still stands, at 1386 Pennsylvania Avenue, and a bronze statue honoring Lady Day, complete with a gardenia in her hair, can be seen at 1400 Pennsylvania Avenue. Holiday is also featured in a mural alongside other Baltimore leaders like Ta-Nehisi Coates at the Arch Social Club, at 2426 Pennsylvania Avenue, which was a meeting place for Civil Rights leaders. The Baltimore National Heritage Area's Pennsylvania Avenue Heritage Trail has a great walking tour of the neighborhood's landmarks and churches; you can pick up a pamphlet at the Baltimore Visitor Center in the Inner Harbor or arrange a tour by calling 410-878-6411.
Pennsylvania Avenue has recently been designated a Black Arts & Entertainment District, which offers tax incentives to area artists and businesses. Jubilee Arts features classes in dance, the visual arts, and ceramics as part of a partnership with MICA and Baltimore Clayworks.
The corner of Howard and Lexington Streets was the site of Read's Drug Store, and one of the country's first sit-ins took place at its lunch counter in 1955. Further north on Eutaw Place, The Lillie Carol Jackson Civil Rights Museum details the founding of the NAACP in Baltimore. On North Avenue, the Great Blacks in Wax Museum showcases Maryland's Freedom Fighters through lifelike depictions of Harriet Tubman, Frederick Douglass, and Thurgood Marshall.
The Underground Railroad had stops in Baltimore, including a tunnel beneath the Orchard Street Church, home of the present-day Baltimore Urban League at 512 Orchard Street. It's said that there are tunnels underneath Pratt and Howard Streets, where slaves would crawl to freedom and, long ago, when the USS Constitution, a familiar sight docked at the Inner Harbor, would sail along the coast of Africa, its mission was to divert slave ships.
Opened in 1782, Lexington Market is the country's oldest meat, seafood, and produce market, and while it's currently under renovation, parts of the market remain open, including Faidley's Seafood — known as having the best crab cakes in the city.
South of Lexington Market is The Bromo Seltzer Arts District, made up of artist studios, art galleries, independent shops and the Eubie Blake National Jazz Institute and Cultural Center. It's also the home of some of the city's best performing art spaces, like the Hippodrome and The Everyman Theatre, plus the Arena Players, which is the oldest African American community theater company in America. The distinctive stone Bromo Tower is open for tours, and its whirring clockface is a visual delight.
Along the Arts District, you'll find Westminster Hall & Burying Ground, the final resting place of Edgar Allan Poe; he has not one but two graves here. You also can tour his tiny home on Amity Street (call ahead to make sure it's open). Not far from Oriole Park at Camden Yards, the Babe Ruth House Museum welcomes visitors weekday afternoons when the Orioles are in town.
There are two parks on the West side of Downtown Baltimore: Liberty Dog Park and Howard's Park. Both let pooches run free. Near the University of Maryland is the University Square Park and flower-filled Koester's Lot. And Mount Vernon Place boasts four lovely Beaux Arts Parks ringing the Baltimore Washington Monument. Across from City Hall, by President Street, is Veteran's Park.
Downtown Baltimore is home to excellent institutions of higher education, such as the University of Maryland Baltimore, the Baltimore City Community College (CCBC), and the University of Baltimore. Due to the affordability of the area, students of all ages call Downtown Baltimore their home.
We rate and sort every listing based on fair market rent.