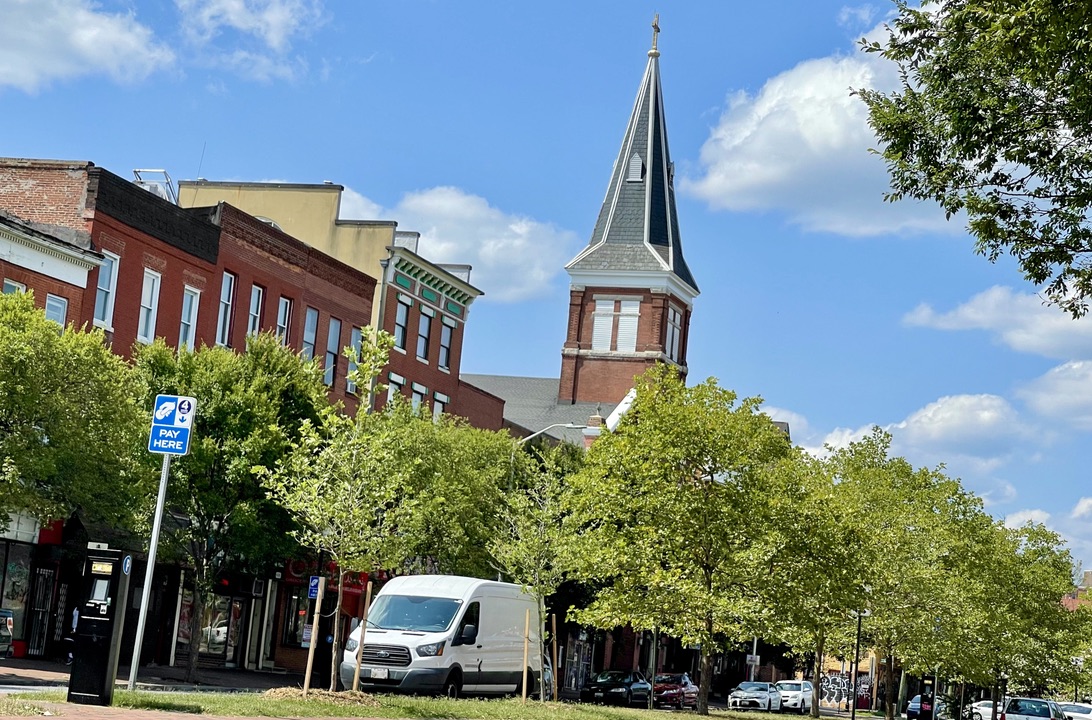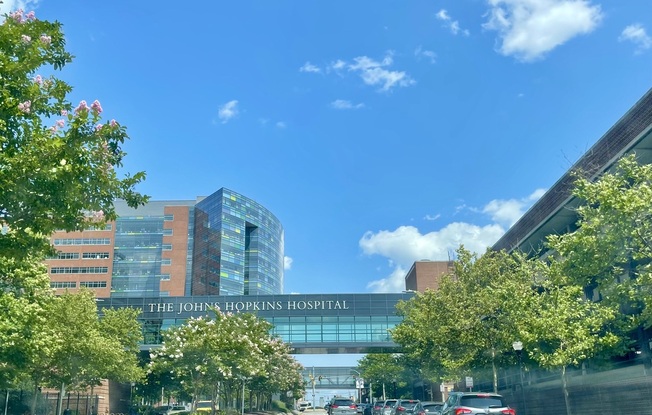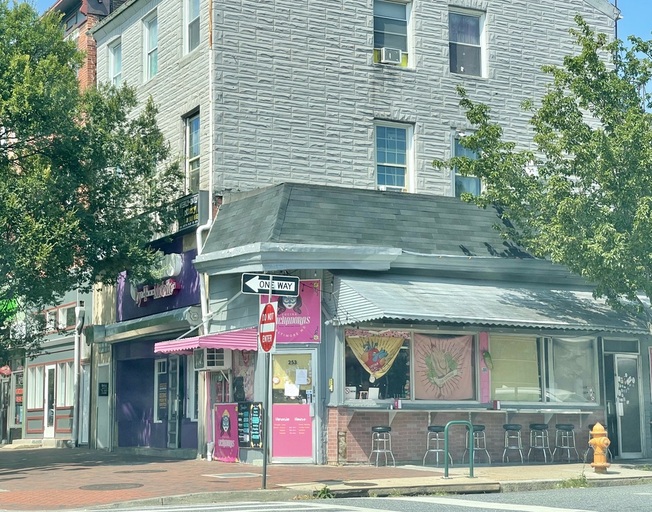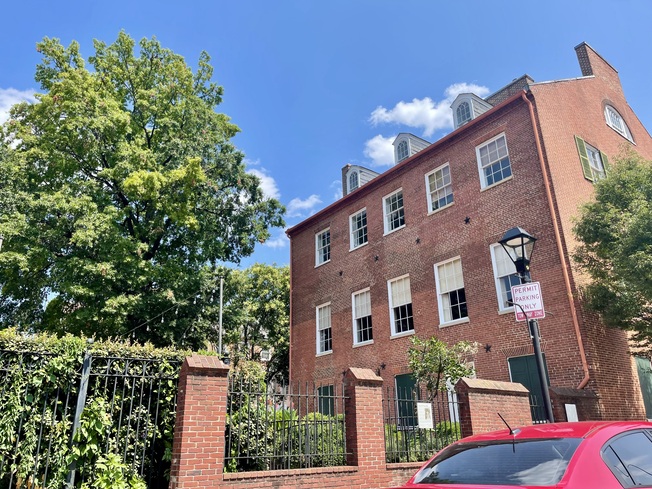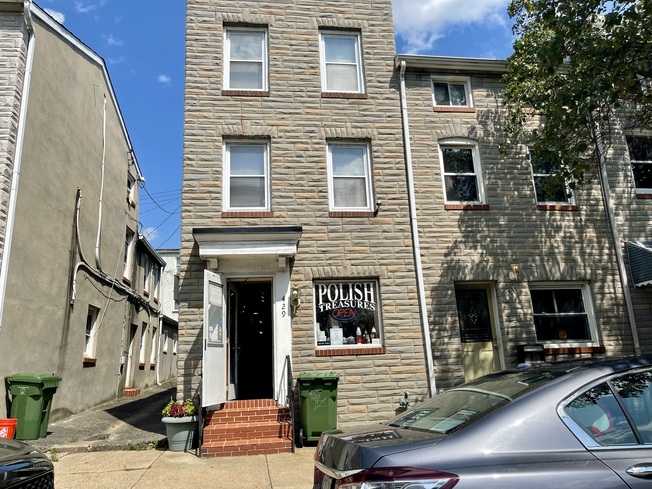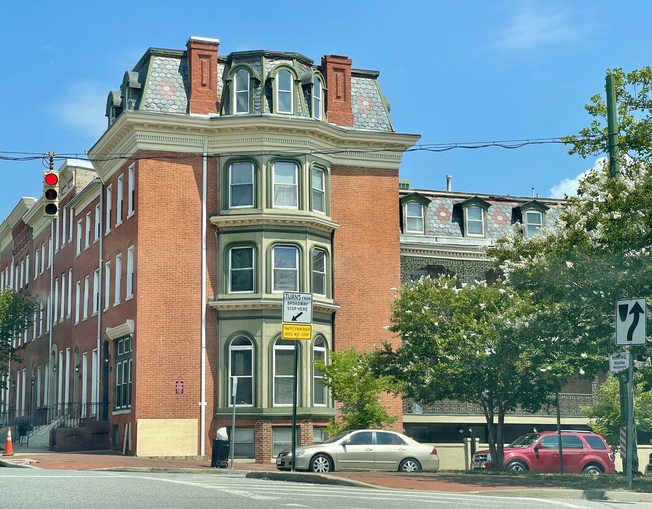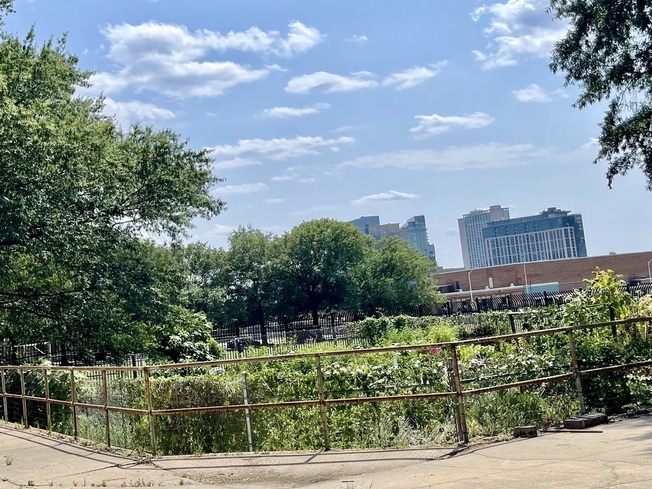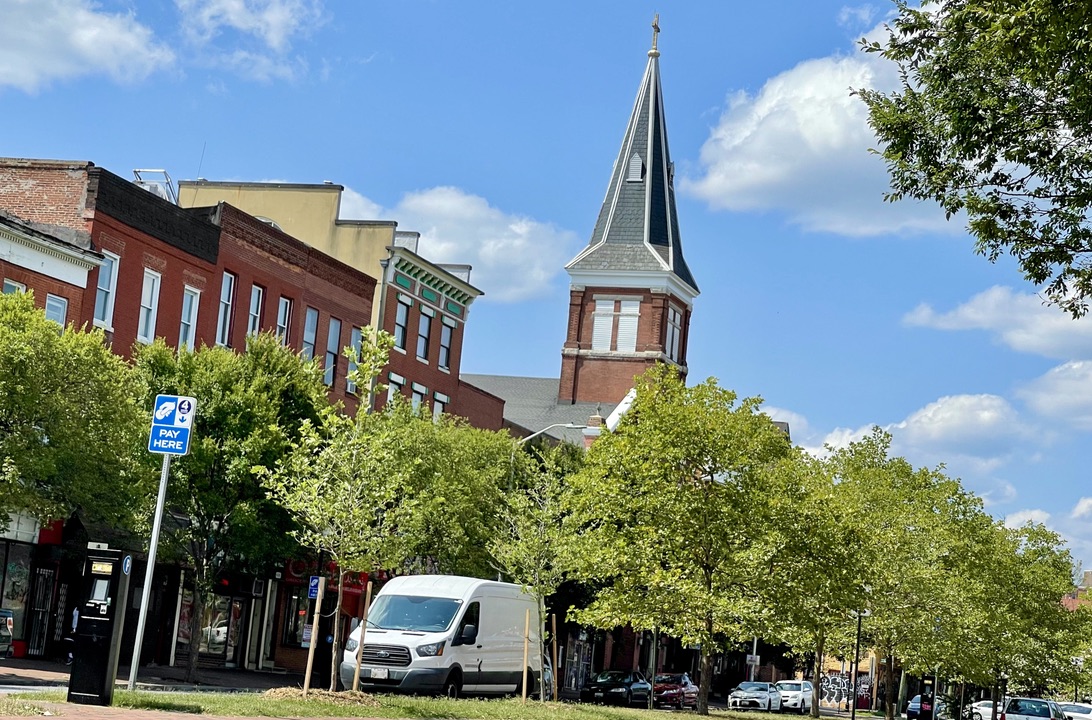 ---
Within East Baltimore, you'll find two main neighborhoods, Upper Fells Point and Butcher's Hill, each with their own distinct architectural style and vibe. A former blue-collar neighborhood, Upper Fells Point has blocks of charming 19th Century brick rowhomes while you'll find grander Victorian townhomes and apartments in Butchers Hill. Its location is prime for Johns Hopkins Medical Students, as the hospital is just a few blocks to the north. In addition, the area's affordability has been a big draw for the city's burgeoning immigrant population, adding a welcome new flavor to the city.
At the water's edge, in the heart of Fells Point, the Recreation Pier stands as a reminder that Baltimore was once the second-largest port for immigrants on the East Coast. It was a stopover point and a community hub; a playground ran along its grassy pier, and within its brick walls was a ballroom that served as a meeting place for many of the Irish, Polish, Russian and Jewish dockyard and factory workers who had crossed an ocean to start a new life. Fast forward one century, and while the old building has been beautifully renovated into the Sagamore Pendry, a luxury boutique hotel, Baltimore's immigration story is far from history. Today, immigrants from Mexico, El Salvador, Puerto Rico, Dominican Republic, Guatemala, Colombia, and even Cuba are adding crucial numbers to the city census at a time when its overall population has declined, comprising an important new part of Baltimore's cultural fabric. Hanging their shingles in the affordable storefronts along Broadway, their restaurants are introducing a melting pot of delicious new flavors, particularly in Upper Fells Point, transforming the quiet neighborhood into a foodie destination.
Just a few blocks north of Broadway and the Recreation Pier, around Patterson Park's green expanses, East Baltimore's neighborhoods of Upper Fells Point and Butchers Hill have been thriving, largely thanks to this new wave of immigrants, although they aren't the only ones enchanted by Baltimore (a.k.a. Charm City). Nursing and medical students from the nearby Johns Hopkins University have been renting and rehabbing rowhomes in Upper Fells Point and Butchers Hill, as they're perfectly situated in two directions: the charms of Fells Point's nightlife are a few blocks to the south while the Johns Hopkins Hospital campus is just a half-mile north.
Rectangular in shape and interlocking like puzzle pieces, Upper Fells Point is bordered by S. Broadway Street to the west and Patterson Park to the East. Butchers Hill lies directly above Upper Fells Point; Patterson Park is also its eastern boundary, and its northern border is E. Fayette Street. The southern boundary of Upper Fells Point is Eastern Avenue, which continues along Patterson Park and through Highlandtown before it meets Interstate 95.
There is a dense, urban feel to this part of town, although old trees grow out of sidewalks, and often their roots elevate entire blocks of concrete, so take care when navigating on foot. It is easy to find your way around this boxy geography: restaurants and church spires serve as landmarks. There are bike lanes on S. Broadway, which runs north and south, as well as lanes on Bank and Gogh Street that head east and west. You'd best brush up on your parallel parking skills here, as parking in East Baltimore is mostly a street affair; the closest public lot is at the Kennedy Krieger Institute, and conveniently, it's free.
Mass transit options include the MTA CityLink Gold, Blue, and Navy Routes and Local Link 65, which runs from the City Center to Dundalk via the Amazon fulfillment center. To catch the free Charm City Circulator, just head to S. Broadway: The Green Route travels from Johns Hopkins Hospital to Fells Point before looping over to City Hall. There are no light rail or train stations in East Baltimore, and getting to Penn Station is about a 15-minute commute via I-83. You can also hop aboard a Water Taxi or Harbor Connector boat, which shuttles riders to destinations around the Inner Harbor. You'll find the landing next to the Sagamore Pendry Hotel in Fells Point.
Restaurants in East Baltimore range from fine dining to cheap eats. For East Baltimore's finest, head to the Rec Pier Chophouse, by celebrity chef Andrew Carmellini, in the Sagamore Pendry Hotel. It features rustic Italian fare and creative cocktails made with Maryland rye. It offers a panoramic view of lively Thames Street through expansive, street-level windows.
To satisfy your wanderlust, all you have to do is walk up Broadway, where budget-friendly Latin flavors abound. Tortilleria Sinaloa consistently lands on Baltimore's best restaurants lists. Be sure to order a batch of homemade tortillas and guac, and then follow up with an entrée of carne asada, chorizo, or butter-poached fish tacos. Pork is the specialty at El Taquito Mexicano, be they spicy pork tacos or a marinated pork plater (el pastor). The burritos, enchiladas, and bean-filled huaraches are also worth a try here. Tela Mares can whip up an enormous platter of your meat of choice, including savory steak, seafood, and chicken with mole sauce. It also serves up tamales, fried plantains, and Tex Mex nachos. Restaurante? Cristiano Jireh's Honduran food is as inviting as its waitstaff. Try the huevos rancheros if you're here for breakfast, or get a chicken or queso filled pupusa anytime. You can seriously fill up here for under $10. Food critics love Cocina Luchadores, a colorful corner hangout with outside seating, for its delicious Yucatan specialties like handmade tortas stuffed with chicken, beef, and Oaxaca cheese, and tasty fried tacos, burritos, and quesadillas. Save room for some churros for dessert. Helmand Kobabi is the sister restaurant of The Helmand in Mount Vernon. Its Middle East eatery serves up tender lamb served on a bed of pallow rice, along with more casual fare like chicken kabob wraps and salads, all at wallet-friendly prices.
At Water for Chocolate, in Butcher's Hill, a seat at the chef's table places you in the kitchen — literally. At his tiny but lively bistro, chef/owner Sean Guy puts a creative spin on southern standards, like cornbread with jalapenos, mac & cheese made with goat cheese, and Cajun-spiced tilapia. Sunday brunch here is a must.
You'll find the majority of the area's bars along Thames Street in Fells Point, although Esquire Magazine named the Ministry of Brewing, in Butcher's Hill, among its list of Coolest Bars in America. Just one frothy sip within these formerly sacred walls, and we'd have to agree. Casks take the place of honor atop the former altar; you can sample from a rotating selection of housemade IPAs and stouts, and when you're hungry, just step outside and order from one of the awaiting food trucks.
For serious retail therapy, shoppers can head to Fells Point's proudly independent retailers, or a few streets over to Harbor East's posh boutiques. But if it's a quirky Baltimore-themed gift you're after, you've come to the right place in East Baltimore.
Polish Treasures may be the last shop in the city that carries Polish-themed memorabilia, including pottery, dolls, jewelry, and rosary beads, all in a rowhome on Chester Street. Many people just like to go in and reminisce about the "good old days" with owner Marianne Frederick.
Ostrowski's of Bank Street has been a family-owned and operated meat market for decades. Stop in for authentic sweet and spicy Polish kielbasas, bratwursts, breakfast links, and Italian sausages.
There are a few small bodegas in Upper Fells Point which specialize in Latin American groceries, like Lorena Latino Market and the Brazil Gourmet Market Place, which has a fabulous bakery case as well as a small cafe. For bigger grocery stores in East Baltimore, head to the Aldi on E. Fayette Street, the Safeway on Boston Street in Canton, or the Harris Teeter at the Shops at Canton Crossing.
On Saturday mornings from May thru December, the Fells Point Farmers Market is a popular spot, featuring nearly 50 vendors along Broadway by the pier selling everything from farm-fresh produce to kombucha, hemp products, sausages, beer, meat, and baked goods.
Originally known as the Municipal Museum of the City of Baltimore, The Peale Museum was the first art and natural history museum in America, established in 1814. While it closed in the 1990s due to financial issues, it has reopened virtually after raising $4 million through crowdfunding efforts to renovate its historic building on Holliday Street, with plans to open its brick-and-mortar doors in 2022. Featured exhibitions include the Baltimore Stories Project, which is designed to shine a light on the photographic, audio, and visual histories of Baltimore's diverse communities — including its immigrants.
The largest park on this side of the Inner Harbor is the 137-acre Patterson Park. It offers something for everyone, from playing fields, a lake that you can fish in, an ice rink, historic fortifications from the War of 1812, and even a pagoda, which gets decked out with lights during the holiday season. Its paths are great for biking and jogging, and its grassy fields are always filled with readers, picnickers and, when the weather is right, kite flyers. Here, you'll find many of the city's festivals, from one leg of the American Visionary Art Museum's Kinetic Sculpture Race to the Lantern Festival on Halloween. It plays host to weekend flea markets in the summer and offers plots for residents to grow their own vegetables in a community garden. There's also a popular dog park.
Another park in East Baltimore, albeit a much smaller one, is City Springs Park, which has ball fields, a track, a basketball court, and a playground. The park was revitalized after City Springs students asked their principal if they could have a clean place of their own with an even playing field to play football; the Living Classrooms Foundation stepped in to raise funds; even neighbors in Little Italy held a special bocce tournament, and the rest is history.
For an even further look back, you can take a stroll around the two neighborhoods and make note of their different architectural styles. Upper Fells Point was where the Fells Point's dockworkers lived in the 19th Century, while true to its name, Butchers Hill had the meat and poultry industries as well as its tanneries. Upper Fells Point has brick Federalist-style homes which were subdivided during the Great Depression. The buildings of Butchers Hill, which was the more affluent area, were larger and were constructed in a grander, Late Victorian style.
Location, location, location is East Baltimore's mantra: for the students of Johns Hopkins Medical School, being close to the hospital is one draw. Residing in attractively refurbished, not to mention affordable, rowhomes is another. Fells Point's neverending nightlife scene is yet one more plus. But being able to walk to some of Baltimore's best Latin restaurants, as well as being part of a vibrant new community of immigrants as they establish roots in this family-friendly city has to top them all.
We rate and sort every listing based on fair market rent.