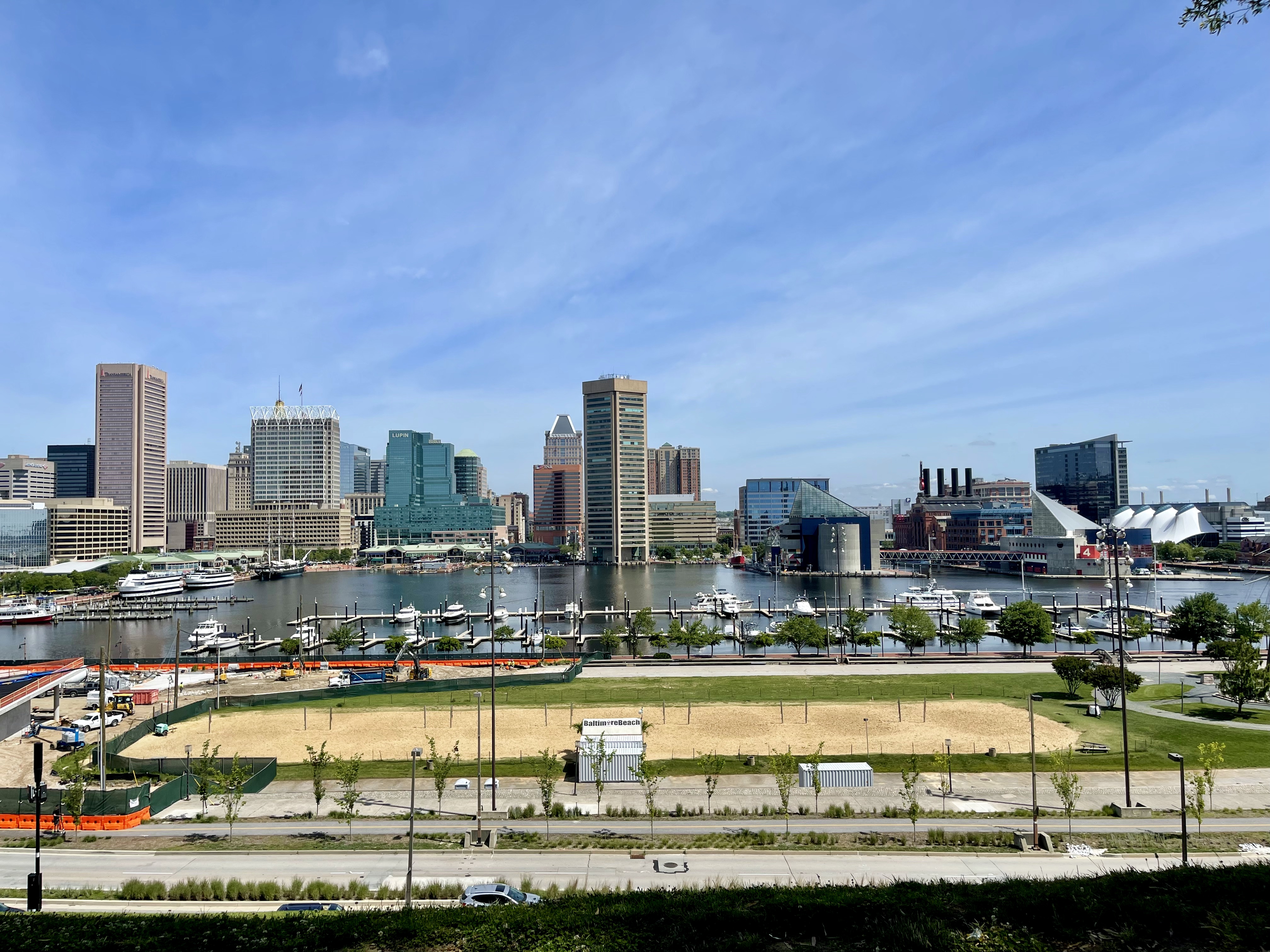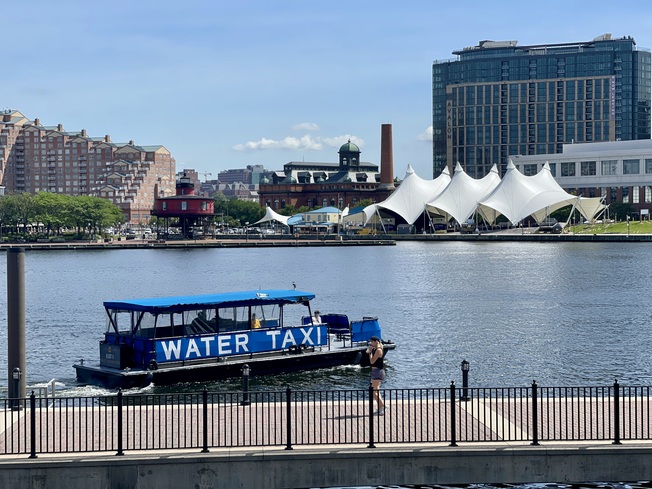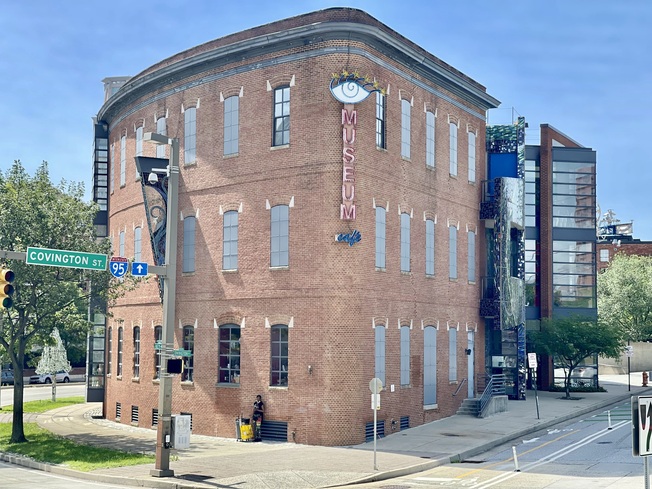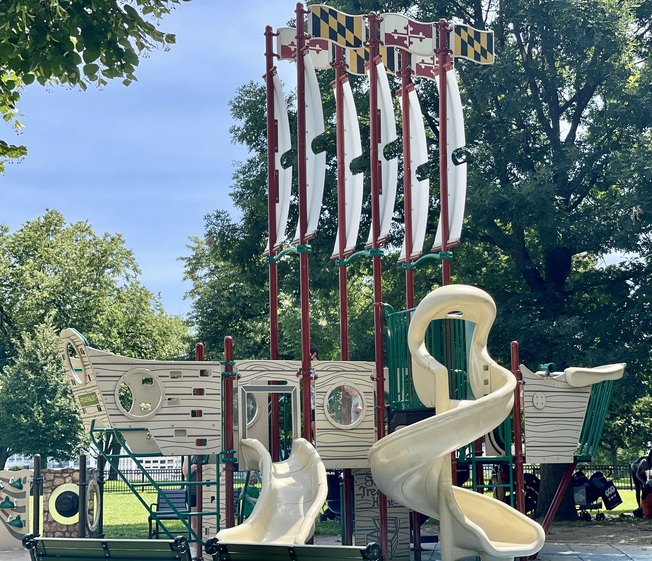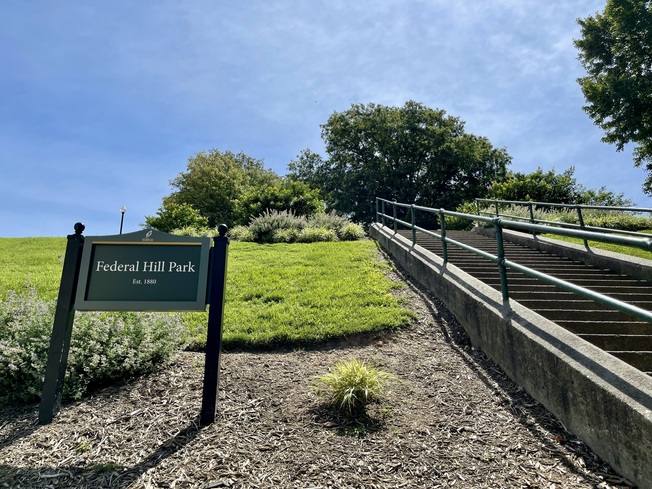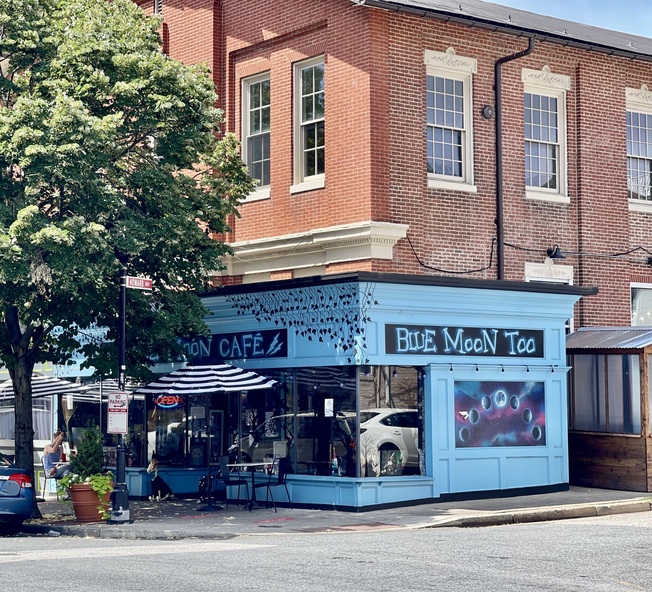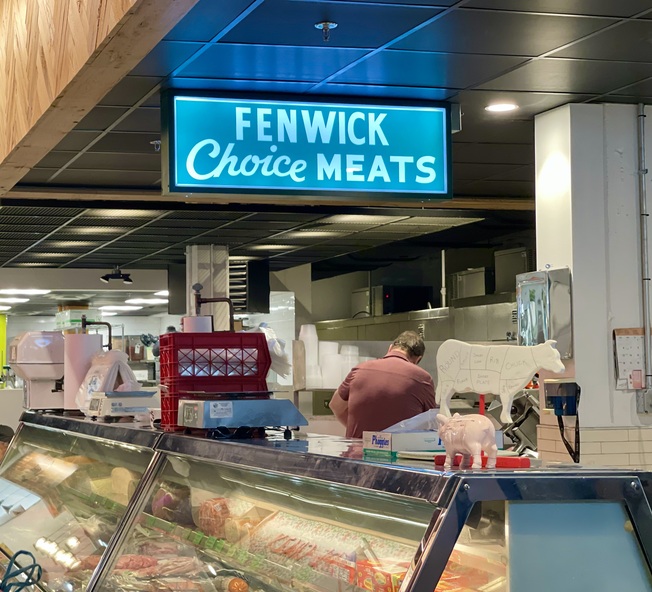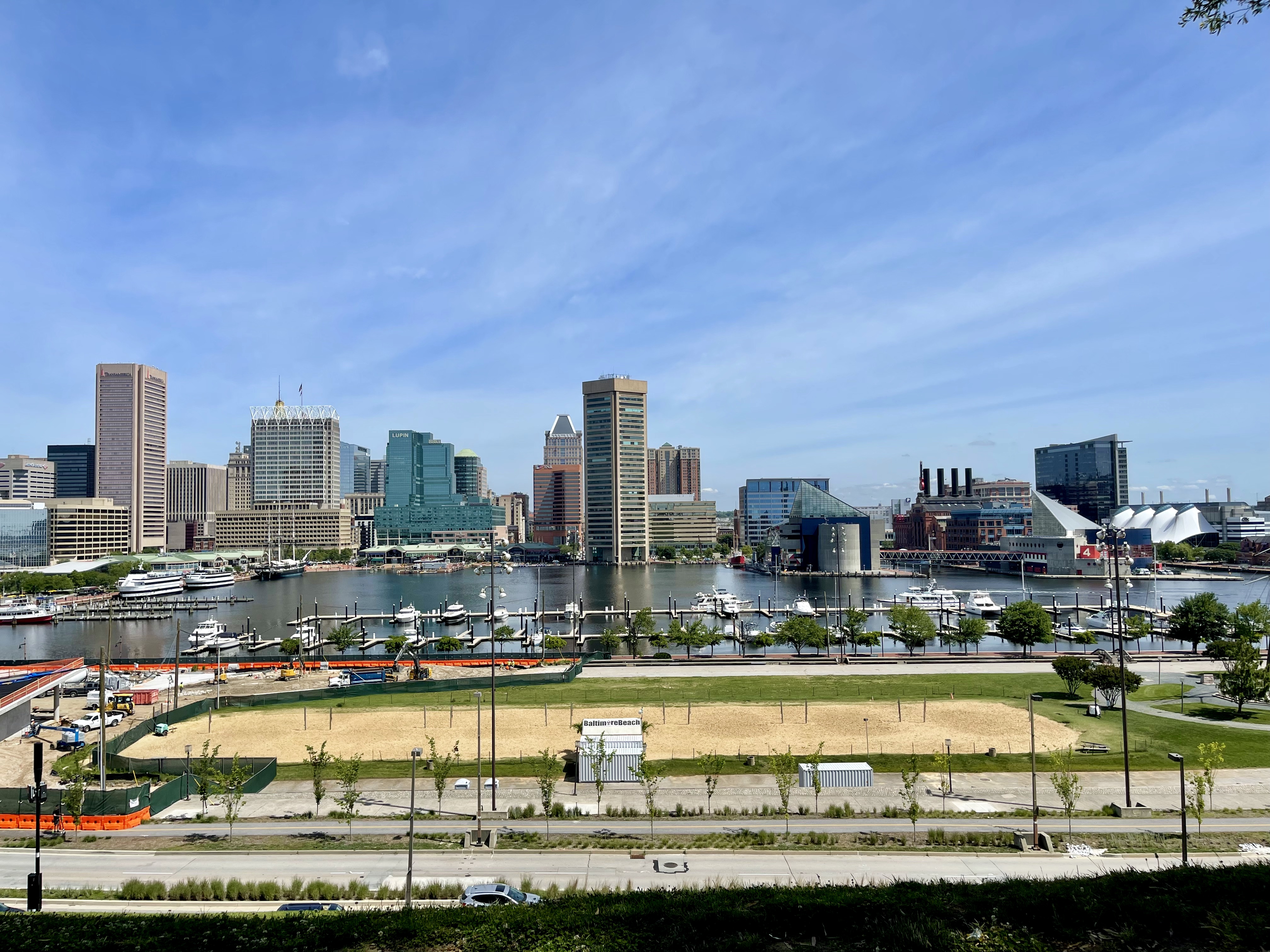 ---
Federal Hill is one of the most desirable neighborhoods in South Baltimore (a.k.a. SoBo).
The narrow streets surrounding Federal Hill contain a variety of historic homes — brick Georgian Revivals, Italianates with gardens — some dating back to the 1700s. Take their historic appeal and sprinkle in some postcard-worthy water views and you've got a recipe for some of the Baltimore's highest real estate prices. But there are also smaller charming homes on quiet side streets that entice young families to the neighborhood. Meanwhile, a happening bar scene, new-build apartments in Federal Hill, plus renovated units in older homes attract a lively mix of students, recent graduates, and young professionals.
You'll notice something unique about the neighborhood restaurants, bars, coffee shops, art galleries, and yoga studios here — there are water bowls outside nearly every one of them. That's because South Baltimore is one of the city's most dog-friendly areas offering plenty of green parks amid an urban setting.
There's lots to do here, starting with the Hill itself, a curious attraction rising 80 feet from the Harbor. With its steep ascent, the Federal Hill offers a killer quad workout. Called "the great red bank of clay" by Captain John Smith of Pocahontas fame (he sailed past it in 1608), the jagged cliff has since been smoothed and graded and is now covered with soft grass. A Baltimore landmark, its summit serves as a gathering place for everyone from school groups to picnickers, dog walkers, and protestors, parade-goers to date nighters to wedding parties — because its Harborview panorama is simply spectacular.
Federal Hill is a very walkable part of town, centrally located yet densely populated. The neighborhood is situated next to the Inner Harbor's museums and attractions, bordered by Hanover Street to the West, Woodall Street to the East, Fort Avenue to the South, and the Harbor (Key Highway) to the North. Cross Street Market is only about 2 miles west of Fort McHenry National Monument and Historic Shrine, 1 mile from Oriole Park at Camden Yards, and .5 miles from M&T Bank Stadium, where the Baltimore Ravens play. (If you doubt your own stamina, pick up a Lime bike or scooter; you'll find them parked at every curb, side street, and grassy lot in your path.)
Owning a car in Federal Hill is ideal for commuters, especially with Federal Hill's easy access to the I-95 corridor and the Baltimore Washington Parkway. Most of the apartments in Federal Hill offer underground parking for an additional monthly fee. Beyond street parking, visitors will find options limited to just one public garage on West Street at a few surface lots (which fill up quickly), or in the hotels—and those can get pricey.
Mass Transit options are plentiful. Federal Hill is serviced by not one but two free Charm City Circulator routes: The North-South Purple Route, which ends at Penn Station, and the East-West Banner Route, which travels from the Inner Harbor to Locust Point. In addition, commuters can pick up the Light Rail at Camden Yards, plus both the Harbor Connector, a free daily shuttle for commuters, and the Baltimore Water Taxi regularly stop along this side of the Harbor; pick them up in front of the Rusty Scupper Restaurant.
From bubble tea to fine dining, Federal Hill will satisfy any palate; happily, the neighborhood has seen a more global array of dining options open its doors in recent years. When it comes to restaurants in Federal Hill, the best place to start is at the historic Cross Street Market—its restoration is a source of neighborhood pride, finally reopening in 2020 after sitting vacant for several years. There you can find everything from Baltimore Pit Beef to Pho, vegan fare, seafood raw bars, burgers, and tacos — along with award-winning Annapolis roaster, Ceremony Coffee, and the popular Baltimore-based Taharka Brothers ice creamery. Further up Light Street, Shoyu Sushi features an open sushi bar to witness the art of maki making, while Blue Moon Too makes brunches to-die-for (think Captain Crunch covered French Toast). On the other side of the neighborhood, Baba's Mediterranean Kitchen whips up the city's best hummus in a BYOB setting, while a Harborside table at Little Havana's is an outright Baltimore institution. Vagrant Coffee's 3 Bean Coffee and Spoons Cafe supply the perfect cuppa to wash down Dulceology's alfajores and other Argentinean confections.
If it's nightlife you're after, most nights begin — and end — at Mother's, although the scene can get a little fratty. Ever tried an Orange Crush? The drink, invented in Maryland, is made with orange halves, triple sec, vodka, and a splash of lemon-lime soda — it has its own dedicated menu at The Charles Baltimore. Banditos Tacos and Tequila offers a nice selection of Mexican beers and cocktails, while Blue Agave is a more sit-down affair.
When it comes to grocery shopping in Federal Hill, stocking your kitchen doesn't feel like a chore at Cross Street Market, featuring Rooster & Hen gourmet produce, bread, and flowers. There's also the Fenwick's Choice Meat market and the Atlas Seafood Market. The neighborhood's Farmer's Market sets up shop in the museum's parking lot Saturday mornings from May through November, offering an abundance of fresh produce, flowers, and artisanal products from local farms. If buying in bulk is on the to-do list, there's a Shoppers on Fort Ave. And the Harris Teeter in Locust Point is just one block further up.
An array of boutiques — especially along South Charles Street — makes shopping in Federal Hill an activity with frequent stops: Brightside Boutique and Dopeish are just two of many. Thrift lovers will rejoice at the finds at Esprit de Couture and Vanessa's Vintage Treasures. There are whimsical gifts at Pandora's Box Boutique and so many things to make your house feel like home at Phina's Fine Linens. In fact, Plantacea is an entire store that's dedicated to houseplants. You can walk your dog with a designer leash from Evuro (and around here, who wouldn't?), while Cheese Galore and More is always happy to offer samples. It's impossible not to leave SoBotanical Apothecary + Aromatherapy without a candle, not to mention a sense of calm. Plus, the name-brand shops of the Harborplace Mall and The Gallery in the Inner Harbor are just a free Circulator bus ride away.
So why is it called "Federal Hill," anyway? For the answer, head to the playground at Federal Hill Park. There you'll find miniature versions of Baltimore icons, such as an adorable B&O Railroad engine, a shot tower, a military fort, and a sailboat known as The Federalist. Commissioned in 1788 in celebration of the ratification of the U.S. Constitution, she was rigged with 7 sails, which represented Maryland's place as the seventh colony to join statehood. Federal Hill was named in her honor.
In Federal Hill, history is a celebrated part of everyday life, and the quirkier, the better. The Fourth of July Pet Parade is a perfect example. Starting in the early morning, a line forms around the American Visionary Art Museum and stretches its way down the block, made up of furry friends of all shapes and sizes: a German Shepherd wearing Uncle Sam's top hat and pantaloons, a pug in a stroller decorated with red, white, and blue streamers, a Yorkie standing proud in his stars and stripes bowtie. It's an eccentric twist on a patriotic tradition, where hundreds of neighbors and their pets rub elbows, wag tails, and sniff butts before marching around the Hill. Prizes are awarded for best tricks, snazziest costumes, and pet/owner look-alikes.
On the Harbor side along Key Highway are the neighborhood's two museums. The American Visionary Art Museum (AVAM), the only museum of its kind in America, is dedicated to self-taught and "visionary" artists who create intricate masterpieces using everything from paint, metal, and sod to Dixie plates and popsicle sticks. It's also the home of Fifi, the enormous pink poodle who serves as Grandmaster to the annual Kinetic Sculpture Race, which inspires visionary inventors from far and wide to build their own whirligigs and test them in a race around the city. AVAM also hosts free movies on the Hill on Thursday evenings in the summer and has a great rooftop-level vegetarian restaurant, Cielo Verde. Its museum shop, Sideshow, provides a trove of perfectly oddball gifts.
The Baltimore Museum of Industry offers a fascinating look at the area's manufacturing history, told through hands-on exhibits. With a tug of a lever, you can start the assembly line process at a Chesapeake Bay oyster cannery or step inside a 19th Century garment loft. There's a print shop, a pharmacy, and a 1906 tugboat, which is docked outside. Plus, the museum hosts free outdoor concerts ranging from bluegrass to jazz at its lovely Harbor amphitheater.
On the opposite side of Federal Hill is Light Street and its commercial district, anchored by the redeveloped Cross Street Market. With dozens of restaurants, bars and boutiques, there's always something buzzing here. Art galleries include Robert McClintock's Studio, responsible for the wildly popular "Baltimore Seen" digital prints, Crystal Moll's serene paintings and painted tiles, Russian art and craft treasures at the Tradestone Gallery, and the School 33 Art Center, which features art classes and workshops, plus a rotating gallery of notable contemporary artworks.
One of the oldest parks in Baltimore, the 17-acre Leone-Riverside Park was a key lookout point during the War of 1812. It features a central marble fountain as well as a public swimming pool, baseball fields, basketball courts, and grassy expanses to host a picnic, learn to ride a bike, toss a frisbee, or exercise your dog.
While there are no college campuses in Federal Hill, the neighborhood's bar scene is one of Baltimore's best, and many graduate students of the Johns Hopkins University and the University of Maryland live in its apartment buildings and subdivided rowhomes.
We rate and sort every listing based on fair market rent.