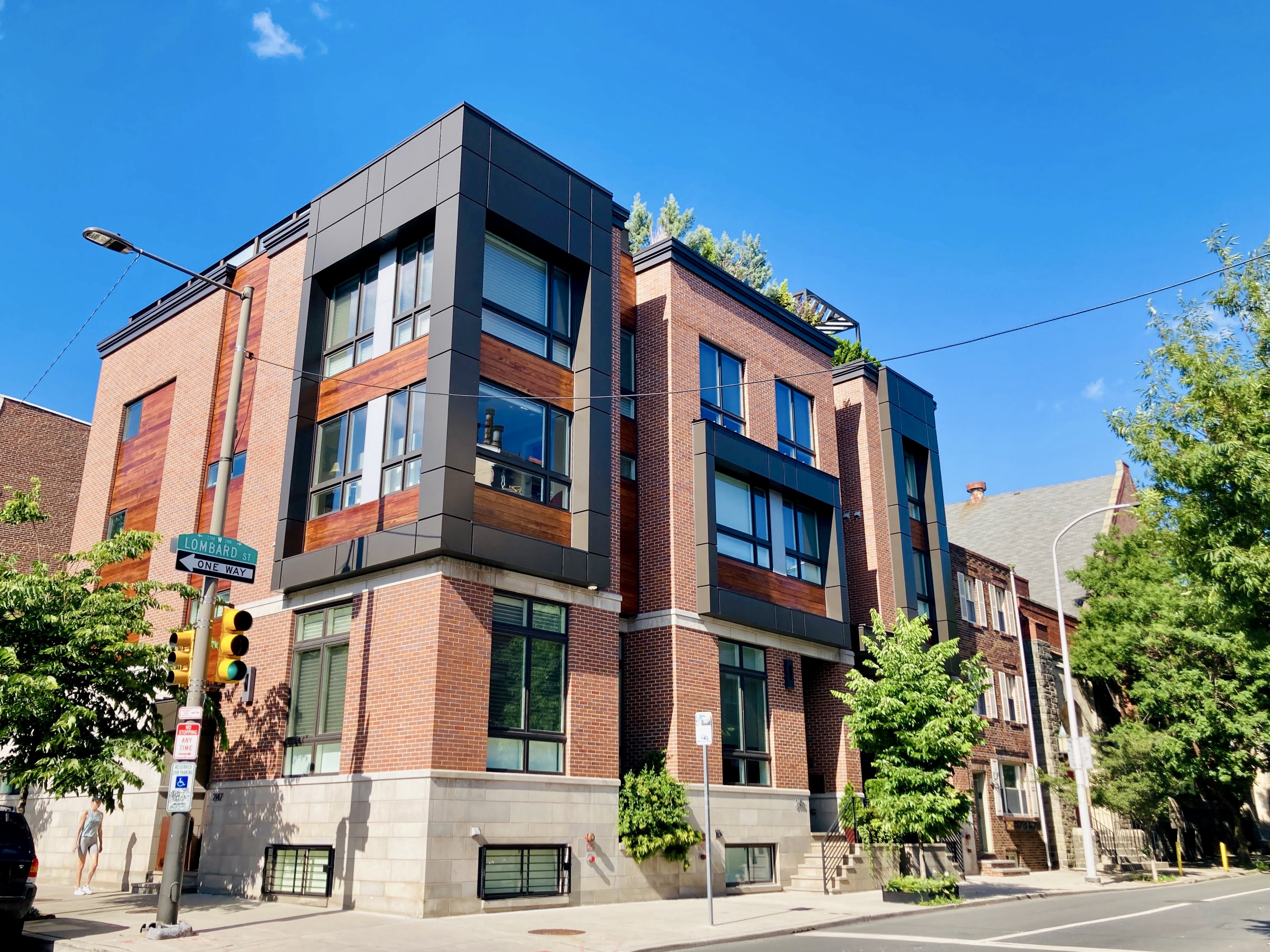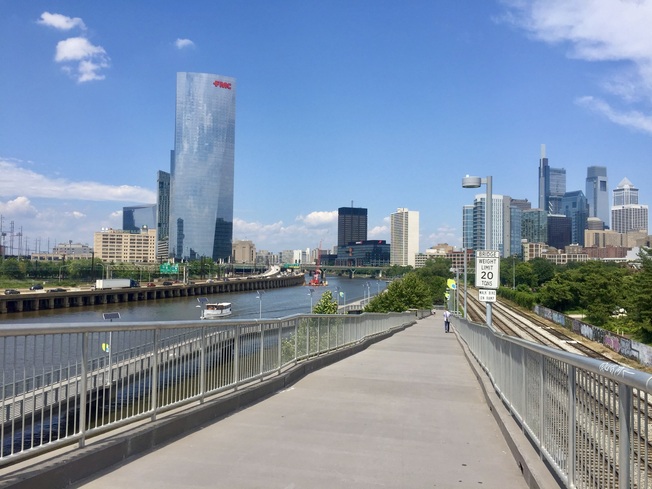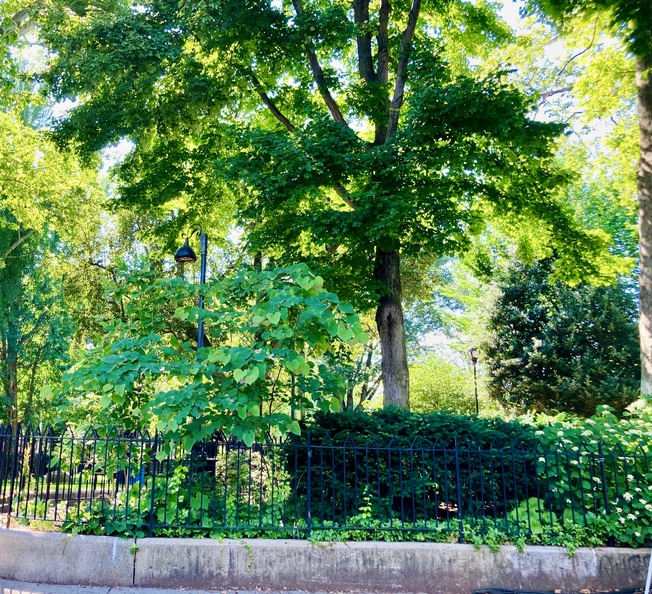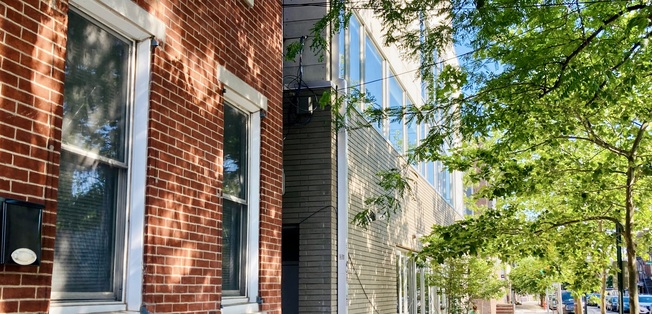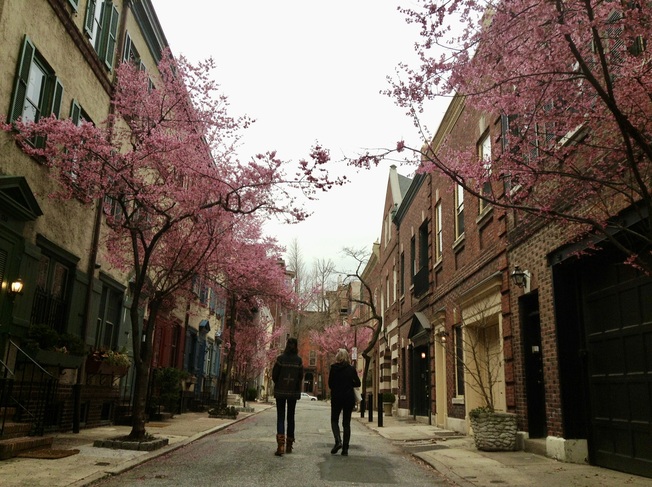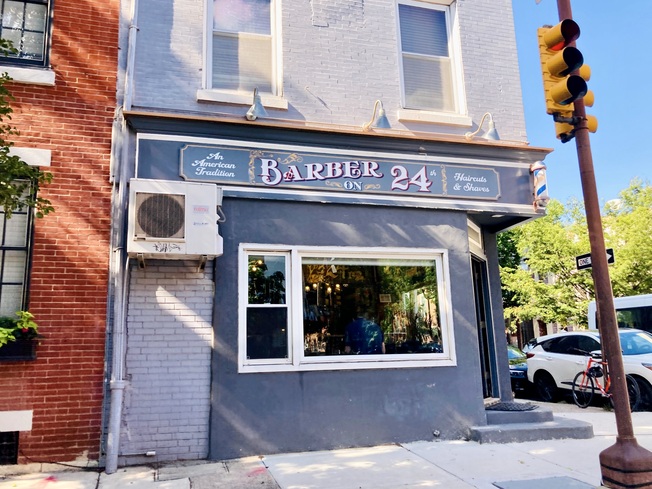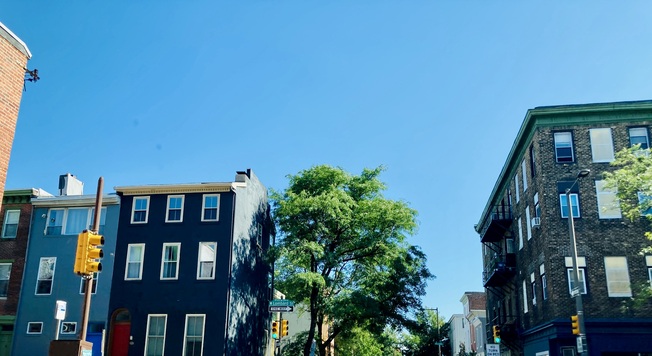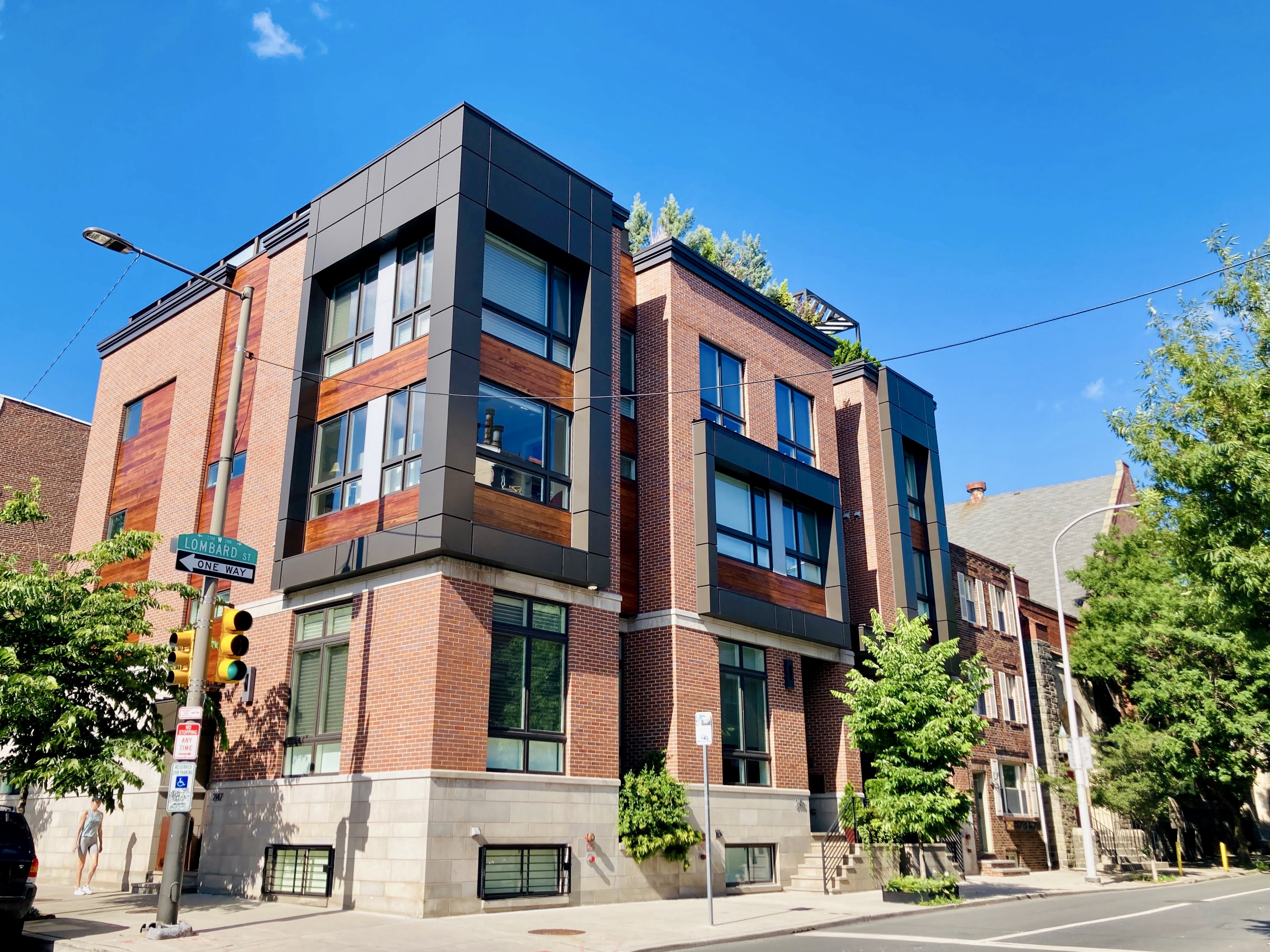 ---
The brick townhouses of Fitler Square are among Philadelphia's most prized real estate. Just a stone's throw from Center City, this little neighborhood is tucked between the Schuylkill River and the stylish district of Rittenhouse Square. With a grassy riverfront park and bike path on one side and a bustling shopping and dining scene on the other, Fitler Square is a peaceful oasis between outdoor diversions. While primarily residential, the area has a number of excellent coffee shops and gourmet eateries catering to its population of affluent young families and professionals.
The neighborhood is set around its namesake square, a pretty shaded park occupying a half-acre along Pine Street between 23rd and 24th Streets. It takes its name from Edwin H. Fitler, once a popular mayor of Philadelphia; the square was dedicated in his memory after his death in 1896. With a playground for children and a picturesque fountain, the plaza hosts festivals and special events throughout the year. Every Saturday, it's the site of the Fitler Square Farmer's Market.
From here, it's a quick trip on foot or by bicycle to most of the city's central attractions. Pedal or walk along the riverfront trail, or cross the South Street Bridge, open to pedestrians, bikes, and cars. Leading across the Schuylkill River to University City, the Fitler Square area is home to Drexel University and the University of Pennsylvania.
North of Naval Square and Graduate Hospital, the neighborhood of Fitler Square is bounded by South Street to the south, Walnut Street to the north, the Schuylkill River to the west, and S 21st Street to the east. Both Walnut Street and South Street run east to west, extending across the river on parallel bridges that lead to and from West Philly and University City.
Fitler Square and its immediate surroundings are very pedestrian-friendly. It's possible to run many errands on foot. It's wonderful for cyclists, as well: South Street has a bike lane, so it's a quick ride over the bridge to University City in one direction or into Center City in the other. On the river side, the Schuylkill Banks Boardwalk is an elevated structure open to cyclists and pedestrians, connecting to the riverfront Schuylkill River Trail. This 75-mile multi-use trail, almost entirely protected from traffic, currently extends all the way to Valley Forge National Park. Great for recreational rides, many locals use it to cycle to and from the city center from northern neighborhoods like East Falls and Manayunk.
SEPTA's trains and trolleys don't directly serve Fitler Square. But it's easy to walk across the South Street Bridge to Penn Medicine Station (formerly University City Station), served by various Regional Rail lines. These include the Wilmington/Newark Line Regional Rail, the Media/Elwyn Line Regional Rail, and the Airport Line with direct access to Philadelphia International Airport. It's also convenient to walk across the Walnut Street Bridge to 30th Street Station, Philadelphia's main train station. 30th Street Station is also a subway station (on SEPTA's Market Frankford Line) and an Amtrak station. Another option, a few blocks north of the neighborhood, is 22nd Street Station. An underground station served by several SEPTA Trolley lines, it's not nearly as picturesque as 30th Street Station, but it's handy for shorter local trips. SEPTA buses also pass through Fitler Square. Useful lines include 7 and 12, both traveling north and south along 22nd Street.
The good news is that you don't need a car if you live in Fitler Square. The not-so-good news is that street parking is a serious challenge here due to Fitler Square's central location and popular restaurants and bars. While some residents have private parking or dedicated spaces, it is not a given that an apartment rental in Fitler Square will include a parking spot. Paid lots, like Walnut Bridge Parking and Storage, located between Sansom Street and Locust Street on 24th Street, are expensive but convenient if you're in a hurry to park.
Despite the neighborhood's small size, there are several notable cafes and restaurants in Fitler Square popular with locals and visitors alike. Rowhome Coffee, with a gorgeous vintage-inspired interior, does excellent coffee and breakfast sandwiches made with freshly baked soft pretzels. Just off Schuylkill River Park, it's the perfect place to grab breakfast or a cappuccino to enjoy on the waterfront. A few blocks away on the corner of Lombard Street and S 24th Street, Rival Bros Coffee is a small-batch roaster with sunny sidewalk seating. Go to Ants Pants Cafe, prominently located on South Street, for an Australian-style breakfast. There are two locations of Good Karma Cafe in the area, too, offering fair-trade sustainable coffee. Carlo's Bakery, on the northeast edge of the neighborhood, is known for its Italian-American pastries, especially cannoli.
Italian cuisine is plentiful in the area. Trattoria Carina, a 32-seat eatery open every evening for dinner, is a neighborhood gem specializing in modern Italian cuisine. In addition to dishes made with seasonal ingredients, they serve beer, cocktails, and wines by the glass, but you can also bring your own bottle — there's no corkage fee. Nearby Ambrosia Ristorante, on the corner of 24th Street and Locust Street, is another BYO restaurant with expertise in homemade pastas and classic Italian recipes. Cotoletta, located right on Fitler Square, is another good Italian venue, especially if you can score a sidewalk table on a sunny afternoon. If it's pizza you're after, don't miss Pizzata Pizzeria, featuring pies made with unleavened dough by a chef who trained in Rome.
For a departure from Italian, try Rosy's Taco Bar serves great carnitas tacos, offers outdoor seating, and has a lively happy hour, plus karaoke nights. Technically outside the neighborhood, but close enough to be considered part of the Fitler Square area, a handful of restaurants line the northern side of Walnut Street. These include Sotto, an Italian pizzeria with a BYO policy, popular takeout spot Tsuki Sushi, and Townsend, a charming French bistro serving modern dishes made with seasonal ingredients.
There aren't tons of bars in the neighborhood; Fitler Square is on the quiet side at night. But a bar called Friday Saturday Sunday (open exclusively on weekends, as the name suggests) turns out expertly crafted cocktails. Ten Stone is an English-style pub with outdoor seating in summer and a cozy fireplace in winter.
South Square Market is a small supermarket in Fitler Square on South Street with a good selection of produce, a deli, and prepared foods. A GIANT Heirloom Market, located on the corner of 24th Street and Bainbridge Street, offers a wider range of products. 4 Seasons Food Market is a smaller grocer on S 21st Street. For the freshest produce, visit the Fitler Square Farmer's Market on Saturdays in the central square. There's a state-run wine and spirits store nearby on South Street and a much larger one north of the neighborhood on Chestnut Street. Further afield, south of Naval Square, Grays Ferry Shopping Center has a Fresh Grocer and another wine and spirits store.
Fitler Square is more residential than commercial, but a handful of shops are worth seeking out. Cadence Cycling and Cafe, just off the riverfront, is a hub for bicycle enthusiasts; there's a convenient coffee shop inside the store. Nature's Gallery Florist, located on Walnut Street, is the perfect place to pick up a bouquet or house plant. On the southern edge of the neighborhood, Pure Design is another local florist.
Hughes Kiki is an upscale boutique specializing in women's clothing and accessories. T Tribe caters to a similar demographic but also carries vintage apparel. Blocks away from Fitler Square, the Rittenhouse Square area is a shopping paradise, offering a range of mainstream retail stores as well as indie shops and boutiques.
Fitler Square's main attraction is the square itself, especially when the weather is pleasant. On Saturdays, the Fitler Square Farmer's Market brings activity to the leafy park, and the square hosts special events throughout the year.
A few blocks west, the Schuylkill River runs along the edge of the neighborhood. Along the riverfront, the spacious Schuylkill River Park offers a public swimming pool, a community garden, sports facilities, and Big Dog Run dog park. The elevated Schuylkill Banks Boardwalk, open to pedestrians and cyclists, connects to the Schuylkill River Trail. This 75-mile multi-use trail extends north, passing the Philadelphia Museum of Art, continuing to neighborhoods like East Falls and Manayunk, then extending out of the city all the way to Valley Forge National Park. The trail is wonderful for recreational rides, with ample waterfront picnic space, not to mention cafes and breweries, along the way.
From Fitler Square, it's easy to walk to bustling Rittenhouse Square with its many shops and restaurants. Or stroll along South Street, looking for the colorful mosaics inlaid in walls and sidewalks as you make your way towards the Philly Magic Gardens. This indoor-outdoor gallery and community arts center, located on the corner of 10th Street and South Street, showcases vibrant works of art made by Isaiah Zagar, a quirky painter and artist who spent three decades on the project.
There are no colleges or universities in Fitler Square. However, it is located near University City, home to Drexel University and the University of Pennsylvania, both within cycling and walking distance across the South Street Bridge. It's certainly possible for students to commute here, but it's an expensive area for budget-minded young people: both apartments and dining venues cater more to young families and affluent professionals.
We rate and sort every listing based on fair market rent.