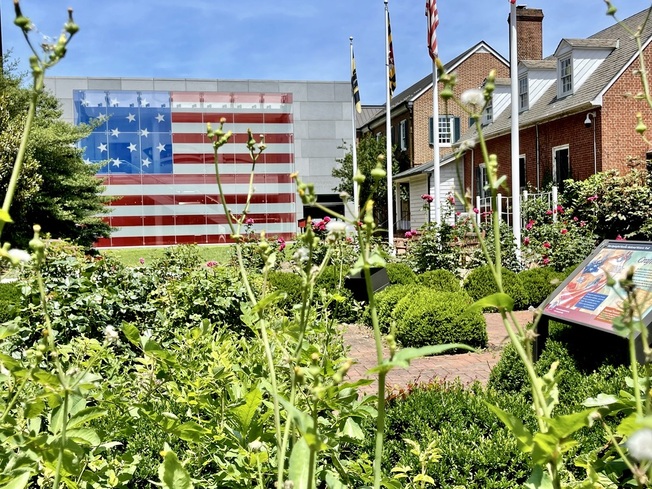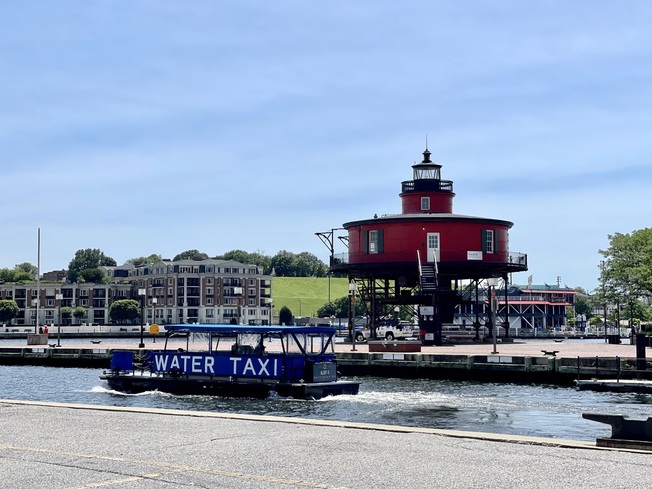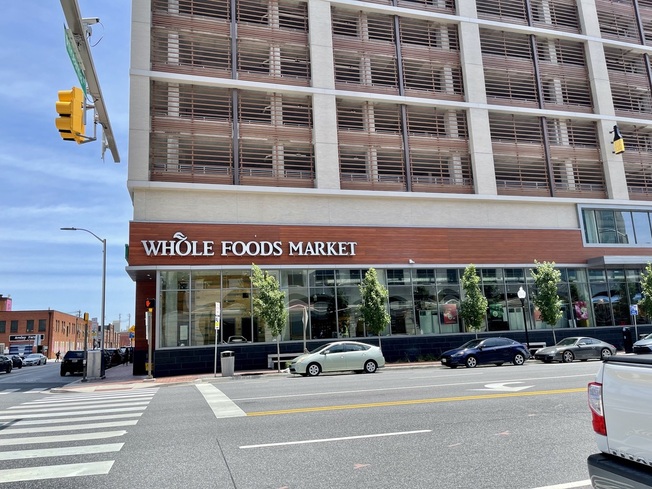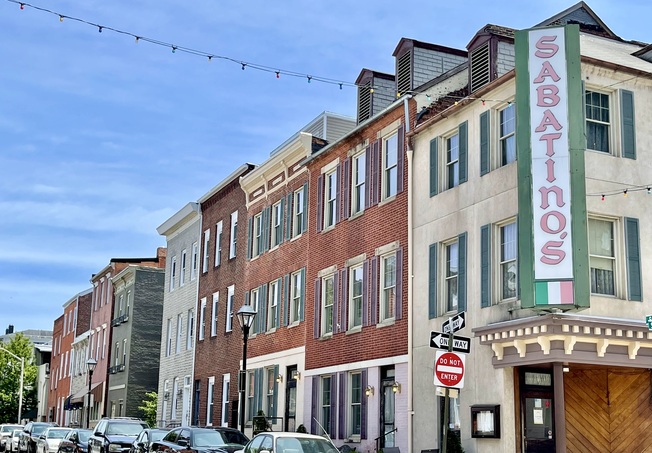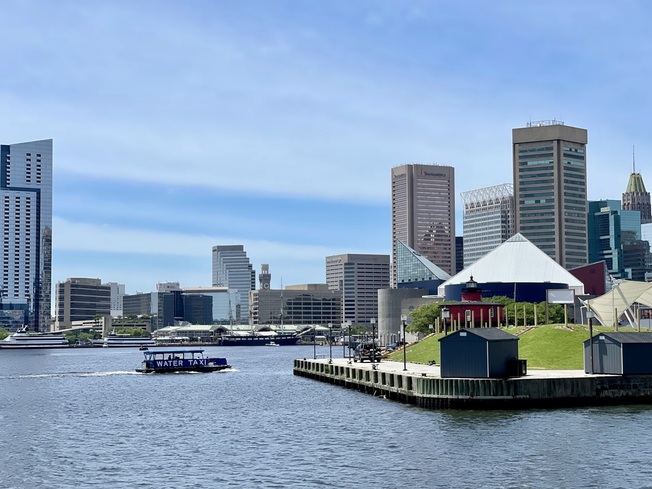 ---
| | Median Rent | Median Sqft |
| --- | --- | --- |
| Studio | - | - |
| 1 Bed | - | - |
| 2 Beds | $2,699 | 942 sqft |
| 3+ Beds | - | - |
Hudson Yards? No, it's Harbor East. This is Baltimore's version of the upscale New York shopping and residential district — and the similarities are remarkable. Both are home to the city's most expensive shops and restaurants, both have eye-catching sculptural centerpieces, and both are ground-up construction projects arising from the ashes of old railyards. While New York's swanky West Side development has prices so steep that some say only billionaires can live and play there, Harbor East is a more affordable microcosm.
The neighborhood has an interesting generational mix, with young professionals from Fells Point spilling over into Harbor East studio apartments, well-heeled Baby Boomers trading their large suburban empty nests for skyrise condos, and families filling the two-story rowhomes of Little Italy, an area within Harbor East along Fleet Street and Eastern Avenue. The feel here is urban, and the paved streets mostly shaded by other buildings. It's not as green as nearby Canton or Federal Hill, though on the bright side, parking options are more plentiful. And then there's those priceless water views.
Shopping and dining are what Harbor East is best known for, and it boasts the city's only J. Crew and Anthropologie. Hungry? A smorgasbord of top-rated restaurants, housed in converted warehouses, will satisfy even the most discerning foodies, as well as set them back a penny. Nearly a dozen fine establishments line the two-block stretch from the Harbor to Aliceanna Street; inside, elegantly designed bars and dining rooms provide a nice contrast to the gritty warehouse exteriors.
Harbor East is bordered by the harbor on its south and east sides, Eastern Avenue to the north and S. Central Avenue to the west. Fells Point is next door, while Little Italy begins within its boundaries at Fleet Street; in fact, come any Sunday morning, the homey scent of tomato sauce fills the air.
The neighborhood enjoys a long stretch of Harborfront Promenade, an 8-mile pedestrian and bike path that begins at the Harris Teeter in Canton and ends on the opposite side of the Harbor at Fort McHenry National Monument and Historic Shrine in Locust Point. There are dedicated bike lanes on President Street, Aliceanna Street, and Bank Street. In this pedestrian-friendly part of town, walking is a great option but far from the only option. The free Charm City Circulator's Green and Orange lines stop in the neighborhood, as do the CITYLINK's Navy, Brown, and Lime Routes. Both the Baltimore Water Taxi and Harbor Connector commuter shuttle stop at Pier 5 in front of the Marriott Baltimore Waterfront — just make sure you're getting on the right boat.
Parking in Harbor East? There are public parking Garages on Exeter Street, in the Legg Mason building, and on Aliceanna Street: while parking here is cheaper than parking in the Inner Harbor, it's a bit more of a hike to the tourist attractions. President Street actually turns into Route I-83, but it's more difficult to access I-95 around here than, say, in Canton or Federal Hill. Harbor East may be centrally located, but driving is slow going, as rush hour traffic often creates backlogs.
Read any Best-Of Dining list, and Harbor East comes up, again and again. That's because two of the city's hottest dining teams, Atlas Restaurant Group and Foreman/Wolf, have embraced this neighborhood, each operating multiple restaurants in Harbor East.
Tony Foreman and Cindy Wolf were here from Harbor East's beginnings in 1997, when they opened Charleston. The restaurant, which has received multiple James Beard nominations, was one of the first to move into this former stretch of warehouses, and its inventive Lowcountry cuisine helped put the area on the map. Their other fine offerings here include Chinghale, which blends the rich flavors of Northern Italy (its name means "wild boar" in Italian), while Bar Vazquez is an Argentinean steakhouse set in an old furniture repair shop.
Ouzo Bay by the Atlas Group serves authentic Greek dishes like whole Branzino and light-as-air calamari, while Tagliata boasts the largest wine list in Baltimore.
In the Four Seasons, Maximon, named after a Mayan god, serves authentic carnitas, seafood, and tacos, washed down with a perfectly mixed margarita. You'll have to pass the velvet rope to get into Bygone on weekend nights; it also serves an incredible brunch, with to-die-for views from its 29th-floor perch.
Azumi is known for Baltimore's best sushi, with fresh catches flown in daily from Japan's cold waters. And don't forget the eateries in Little Italy, which have been around for decades, and for good reason. La Scala's handmade pastas are delicious — may we suggest the carbonara. Just be sure to save some room for dessert; a few blocks further up, Vaccaro's eye-popping display of Italian cookies and cream cakes makes the perfect ending to any meal.
Shopping in Harbor East is sure to please. The area is home to premier names like J. Crew, Brooks Brothers, Anthropologie, and Lululemon. MAC Cosmetics and Lush Cosmetics have boutiques on Aliceanna street, but local retailers are well represented, too. Under Armour has opened a flagship store in the Legg Mason building, while Aliceanna Street array's of smaller boutiques such as South Moon Under, White House Black Market, Sassanova, and Charm City Run make for a pleasant afternoon of window shopping—and buying.
Even the grocery store in Harbor East is high-end: Whole Foods doubled its space when it moved across the street to the new Liberty Building in 2020.
Harbor East's public art and museums present an eclectic mix of more than three centuries of history. Starting on President Street, the Reginald F. Lewis Museum of African American History and Culture features artifacts detailing the African experience in Maryland. Contemporary art exhibits by noteworthy artists, a cafeteria that serves soul food, and free programs like book fairs, concerts, and lectures by Civil Rights leaders really make history come alive.
Next door to the Reginald Lewis Museum is the Star-Spangled Banner Flag House and Museum, the brick Federal-style home of Mary Pickersgill, who sewed the enormous flag that flew over Fort McHenry during the Battle of Baltimore. As a captive on a British ship, Francis Scott Key was so overwhelmed by the sight of the flag "still there" after the day-long bombardment that he composed the poem that would later become our National Anthem. A replica flag is on display, letting you see how big it really was.
Down the street in the adjacent neighborhood of Jonestown is the Jewish Museum of Maryland and the distinctively shaped Shot Tower; after a years-long restoration, visitors are looking forward to being able to climb to the top.
At the center of the traffic circle on President Street is a unique sculpture dedicated to lives lost at the advent of World War II. Called the Katyn Memorial, it was donated by a local Polish philanthropist to commemorate the massacre of 22,000 nationals by Soviet forces in 1940. Its bronze flames reach nearly four stories high, serving as a quiet reminder to never again let the past repeat itself.
In addition to serving as a spot for contemplation, the Katyn Memorial provides a small slice of greenspace in Harbor East. There's also Columbus Park along Eastern Avenue, but to really stretch out with a frisbee or a picnic basket, residents head a few blocks' east to Patterson Park or Canton Waterfront Park, two of the largest parks in East Baltimore.
There are plenty of other ways to enjoy and indulge oneself in Harbor East. Take in a movie at the neighborhood's centrally located theater. Or schedule some pampering. The hands-down best spa in Baltimore (perhaps all of Maryland) is at Four Seasons Baltimore. You could easily spend a day (or a few) soaking in its heated pools, steam rooms, and saunas or indulging in a massage, body scrub, or signature facial. Its serene setting has even won awards for its design.
If you're looking for a more active indoor experience, take your pick of one of several gyms in Harbor East: The Maryland Athletic Club has Pilates classes and a saltwater pool; there's also a Crossfit nearby.
Harbor East doesn't feel like a student center, but it actually is one, as Johns Hopkins' Carey Business School is located in the Legg Mason Building. These students are not undergrads but rather working professionals aiming to get ahead in their careers with an MBA. The school hosts classes mostly in the evening, either online or within the beautiful glass skyscraper. Really, can't imagine how difficult it must be for students to concentrate at just the time of day when Harbor East's restaurants come abuzz with life, rolling out their dinner menus, their delectable aromas filling the streets.
We rate and sort every listing based on fair market rent.