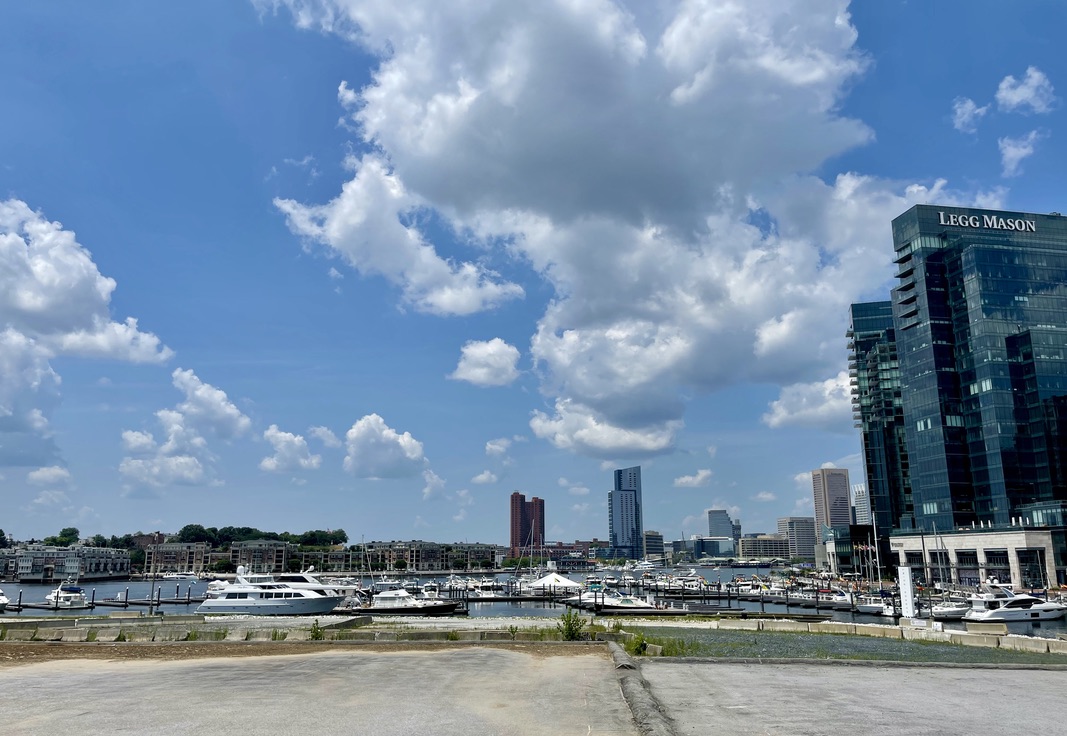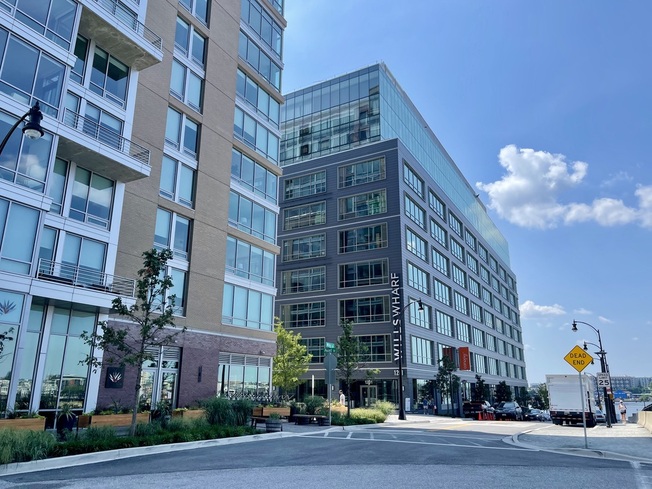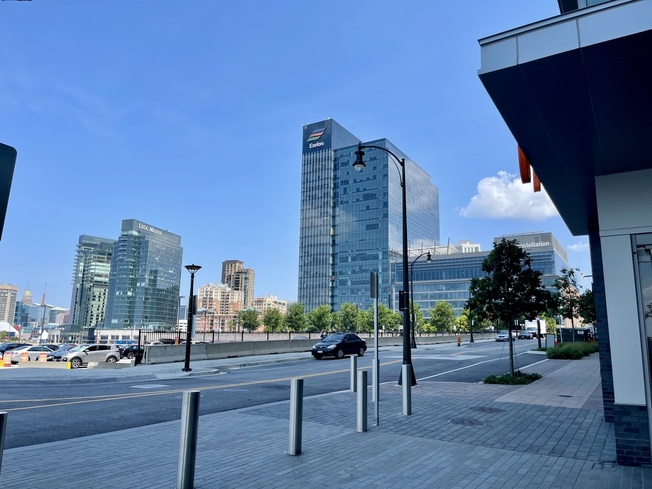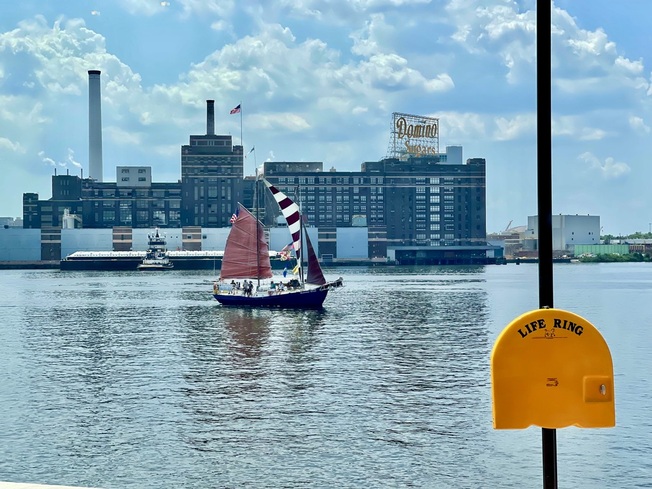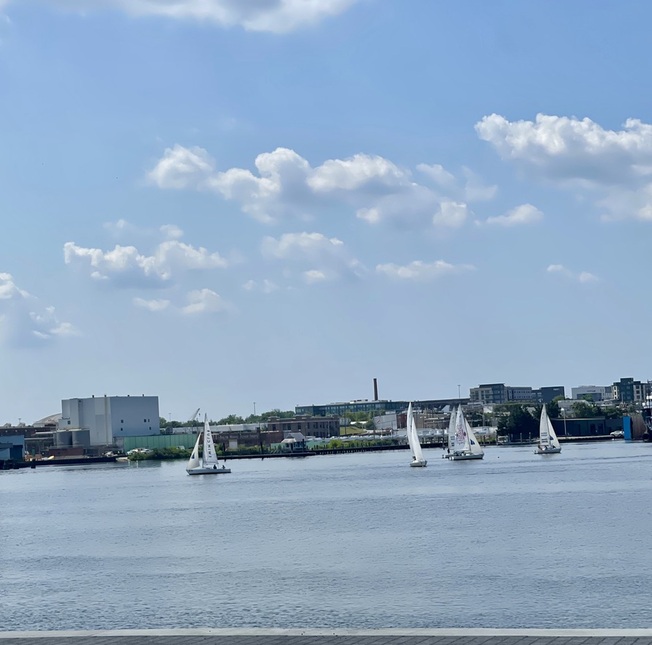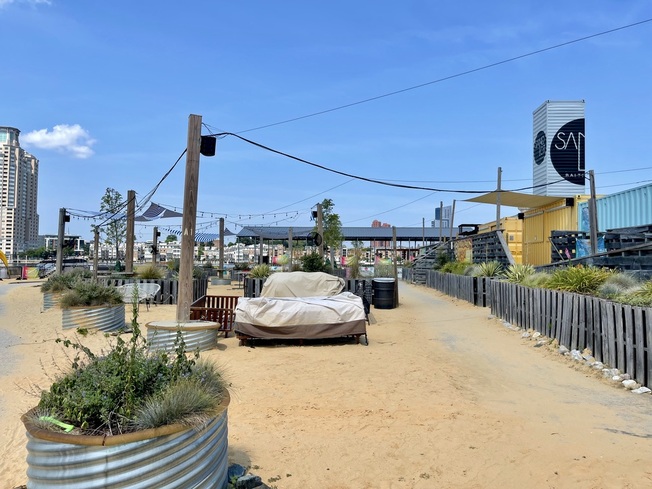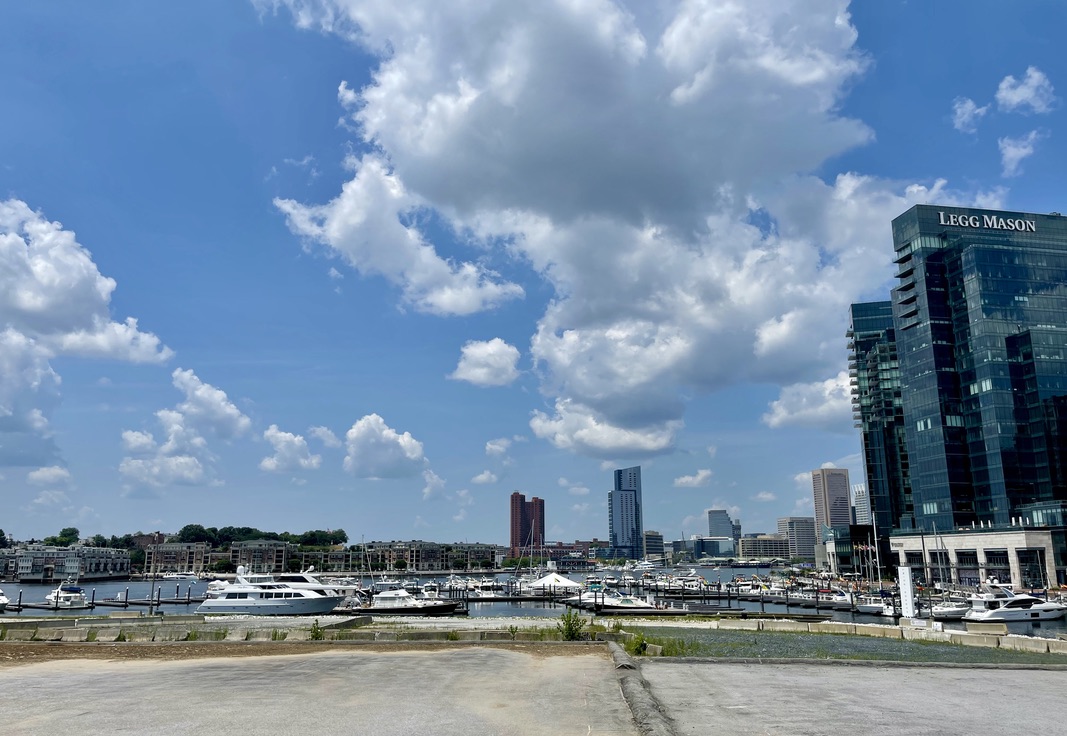 ---
| | Median Rent | Median Sqft |
| --- | --- | --- |
| Studio | - | - |
| 1 Bed | $1,896 | 675 sqft |
| 2 Beds | $3,151 | 984 sqft |
| 3+ Beds | - | - |
Baltimore's newest neighborhood is an island onto itself — an upscale, manufactured peninsula built on the site of a former chemical plant. Now home to a collection of the city's most beautiful skyscrapers, their sleek, contemporary designs have all but erased the area's humble beginnings. Called Harbor Point, this 27-acre, multi-million-dollar mixed-use project is more than halfway finished, and it's already gaining attention for its sustainability, as all of its buildings are required to meet the highest standards of energy efficiency. There's stormwater management and other renewable energy resources like on-site composting and irrigation systems. Plans are even underway to develop an on-site urban farm to supply area restaurants with fresh herbs and vegetables; plus, nearly half of its acreage will be devoted to parkland.
Eco-friendly accolades aside, this area's greatest calling card is its priceless Harbor vistas: nearly every expanse offers prime water views encompassing the Domino Sugar Factory, the Inner Harbor, and Fort McHenry. As the last undeveloped stretch of land on the waterfront, Harbor Point's location makes it eminently walkable to other Downtown Baltimore locales, like Fells Point and Harbor East, and it's just a Water Taxi ride away from the Inner Harbor, Federal Hill, and Canton. What distinguishes this area from other nearby neighborhoods is its sheer newness: Fells Point has its historic cobblestoned streets, and Harbor East has its charming, redeveloped warehouses, but in Harbor Point, the buildings sparkle like shiny new pennies. At the time of the writing of this guide, four out of seven buildings on its site plan have been completed, with more on the way. Some of Baltimore's best-known employers, like Exelon, T. Rowe Price, and Morgan Stanley, have already relocated to the area. The newly built high-rises are not only home to businesses but are also where you'll find luxury apartments in Harbor Point. In addition to desirable digs and water views, residents of Harbor Point enjoy access to plenty of greenspaces, upscale boutiques, and noteworthy dining options. It's no wonder that Harbor Point is fast becoming the place to be, and be seen, in Baltimore.
To get here, simply cross the Central Avenue Bridge from Harbor East, or take S. Caroline Street almost to the water's edge. The perimeter of Harbor Point comprises part of the Promenade, an 8-mile path that encircles the Inner Harbor from Canton to Fort McHenry. You'll find walkers, joggers, and even some bike riders along its dedicated lanes. In addition, there are bike lanes on Central Avenue, Caroline Street, Aliceanna Street, and President Street.
Mass transit options include the free Charm City Circulator's Green and Orange Routes as well as the CITYLINK's Navy, Brown, and Lime Routes, which run along Central Avenue. The Baltimore Water Taxi makes a stop at Maritime Park by the Frederick Douglass Museum, and you can take in the Inner Harbor's briny breezes on a journey to the National Aquarium, Maryland Science Center, Federal Hill, Fells Point, Canton, and Fort McHenry.
Most residents and commuters to Harbor Point arrive by car, and all of the apartment buildings feature underground parking for an additional monthly fee. There are public garages in the office buildings; in addition, the Canopy by Hilton offers valet parking.
As the reigning heavyweights of Baltimore's food scene, Chef Cindy Wolf and Restauranteur Tony Foreman operate multiple restaurants in Harbor East and recently opened Cindy Lou's Fish House in the Canopy by Hilton Hotel in Harbor Point. True to its name, it serves seafood favorites with a Southern twist in a beautiful setting, amply lit by floor-to-ceiling windows with Harbor panoramas. If the banana crème icebox cake is on the menu, be sure to place an order. The outdoor patio is a popular spot for weekend brunch, and its bar is the place in Harbor Point to enjoy a tasty craft cocktail, be it Happy Hour — or any hour.
A self-proclaimed "farm to taco" restaurant, Vida Taco proudly sources ingredients from local purveyors in order to serve up some of the city's finest tacos, made with ground beef, pulled chicken, and carne asada steak. The Buffalo cauliflower and Ahi tuna tacos are also excellent. Shareables include nachos, fried corn cakes, and margarita pitchers.
Popular local roaster Ceremony Coffee has an outpost in Harbor Point: you can sip a handcrafted latte with your choice of milk while watching cargo ships offload sugar cane at the Domino Sugar Factory. In addition to coffees, its menu features sandwiches and salads as well as beer, wine, and cocktails.
Plant Bar serves raw juices, organic smoothies, and "wellness elixirs" such as wheatgrass shots and a drink made with ginger, lemon, garlic, parsley, oregano oil, and pineapple juice that promises to boost your immunity. It sure tastes like it. Acai bowls and rose-gold lattes add a whole new dimension to this café menu; there's also a small grocery section.
Rosina Gourmet is famous for its big bagel sandwiches, fresh salads, and enormous handcrafted lunch specials like a Mediterranean chicken sandwich, with marinated chicken, goat cheese, and roasted red peppers, or a tuna melt with artichoke hearts.
For a sweet finish, head just a block away to the eateries of Fells Point: the Pitango gelateria, an Insomnia Cookies shop, and Kilwain's Ice Cream are all located on Broadway, as are some of the city's best bars, like Rye and the Rec Pier Chop House, which has an extensive whiskey menu. The best brewery in the area is hands-down the Ministry of Brewing, located in Butchers Hill inside a magnificent old church.
At the time of the writing of this article, Harbor Point's retail offerings are a bit limited: There's a nail salon, an on-site childcare center, and an orthodontics office. There will be more variety when the other buildings are completed, but for now, shoppers can find plenty of shopping in Harbor East and Fells Point, both just a few short steps away.
Harbor East has the most upscale offerings, with women's boutiques like South Moon Under and Sassanova shoes and J. Crew, Anthropologie, Lululemon, and Free People retailers. It also has the city's flagship Under Armour store. There are a few jewelry and cosmetic boutiques along with a LUSH bath and body store, too.
Fells Point has a lovely home goods store, Su Casa, featuring furniture and housewares made by local craftsmen. There's the Sound Garden music shop, a Hats In the Belfry haberdashery, and smaller specialty retailers, like Emporium Collagia, which is the perfect place to pick up a Baltimore-themed treasure.
For groceries in Harbor Point, just walk across the S. Central bridge to the brand-new Whole Foods; it also features a pizzeria and a sandwich shop.
With not one blade of grass overlooked on its perfectly manicured landscape, it's hard to believe that this area was once a hotbed of industrial activity. There were lumberyards, a foundry, and The Baltimore Chrome Works, which operated for nearly 100 years processing chromite, a local ore used in paint pigments and textiles. After World War II, demand for many of the area's manufacturing materials either lessened or was outsourced overseas, and the plant closed in the early 1980s. Noting just how valuable the real estate was, environmental scientists began conducting remediation efforts, and for a while in the 1990s, this stretch of the Inner Harbor was covered in a massive tarp. By the early 2000s, the area was once again deemed safe to inhabit, and by 2008 the Thames Street Wharf was under construction. The Exelon Building came on-line in 2016, and 1405 Point and Wills Wharf opened soon thereafter.
Check out The Sandlot while you can: It's a self-made beach and playground for both young and old. It's actually a temporary installation, set up while Harbor Point's final buildings are being developed, and will eventually be known as Harbor Point Park, a 10-acre expanse of native grasses and trees that will beautifully edge the Harbor shoreline.
In the meantime, another greenspace has already been built, Harbor Point Central Plaza: you will find it stretched out like a hammock between two buildings on Point Street. It has park benches and plays scene to morning yoga classes and other free activities from the Baltimore Waterfront Partnership.
There are no colleges within Harbor Point, but Johns Hopkins' Carey Business School is located in Harbor East, and its campus glows as MBA students arrive for their evening classes. In addition, the Baltimore City Community College and the University of Maryland Baltimore are both located in Downtown Baltimore, which makes Harbor Point an attractive place for graduate students with the means to live in one of its beautiful new high-rise complexes. Harbor Point's fine restaurant scene and proximity to Fells Point's nightlife give students ample reasons to play when their work is done.
We rate and sort every listing based on fair market rent.