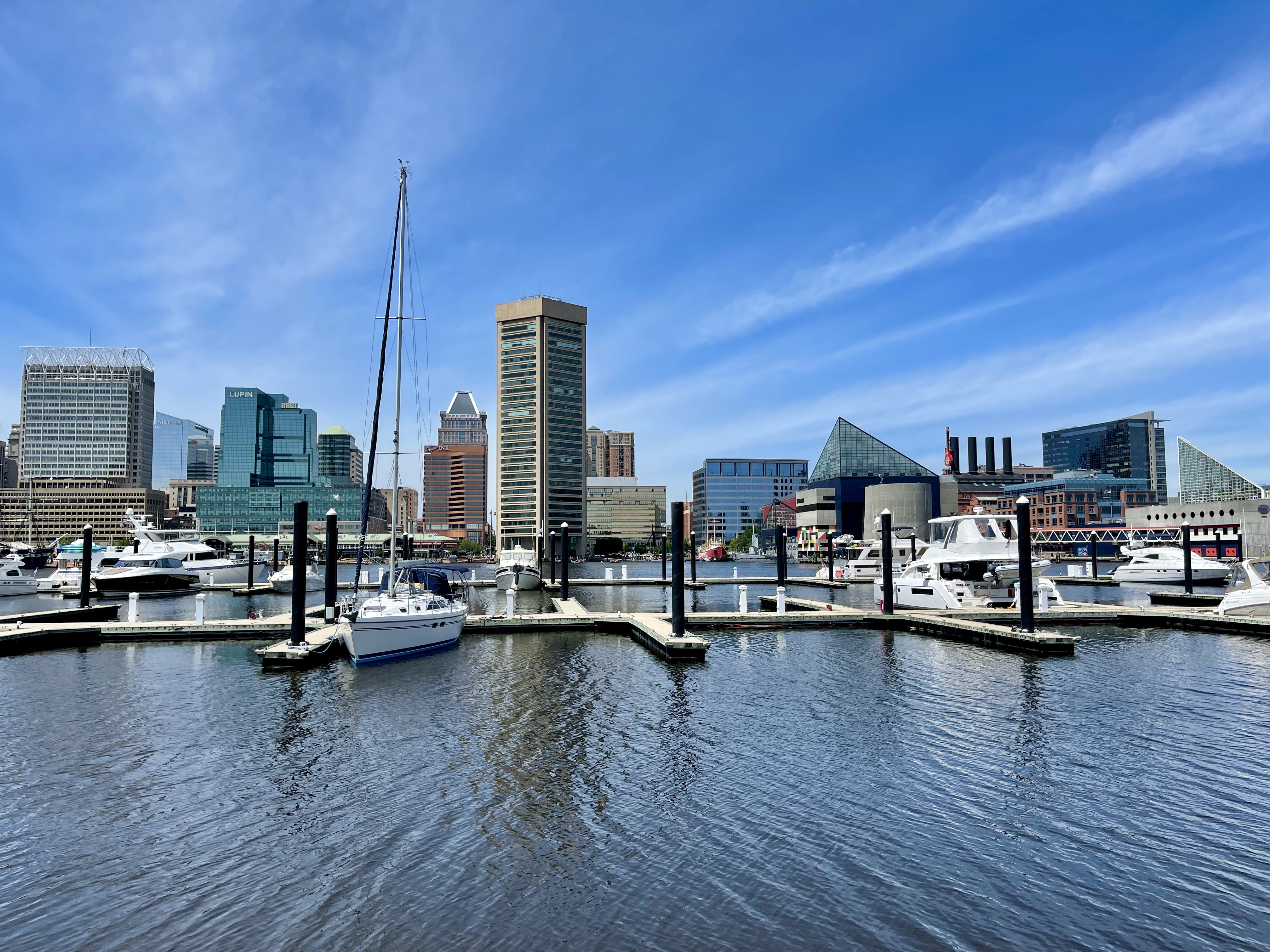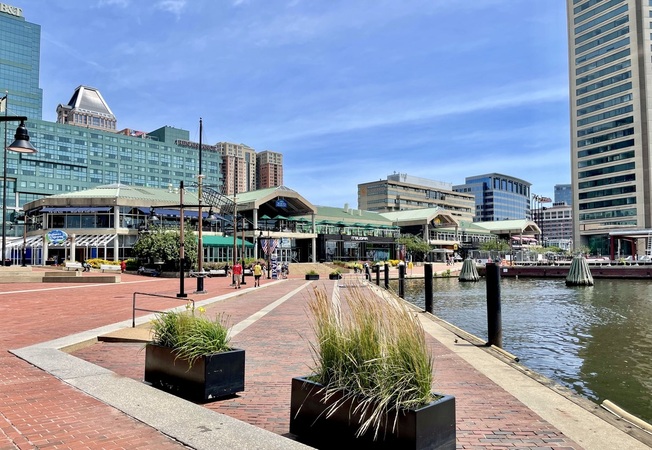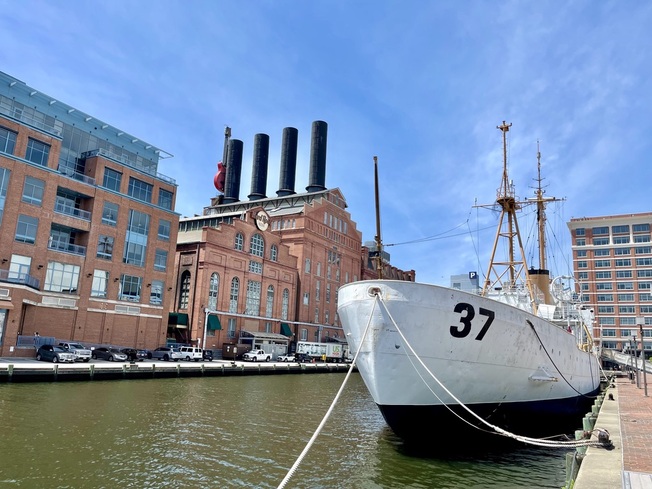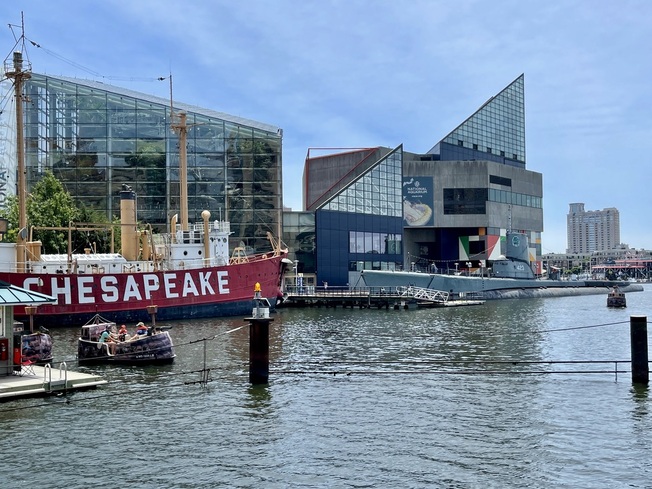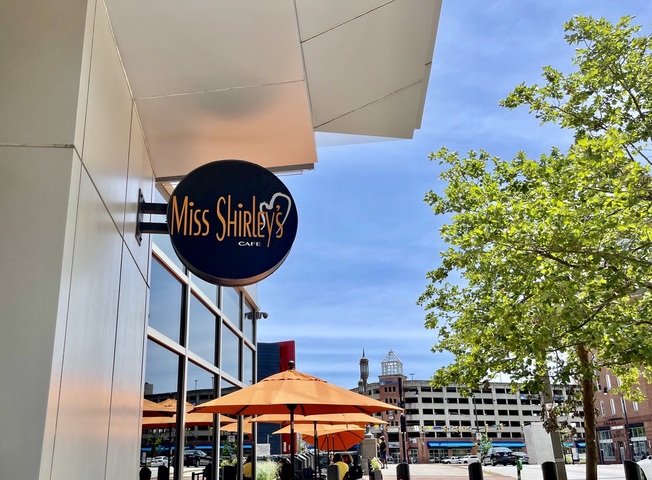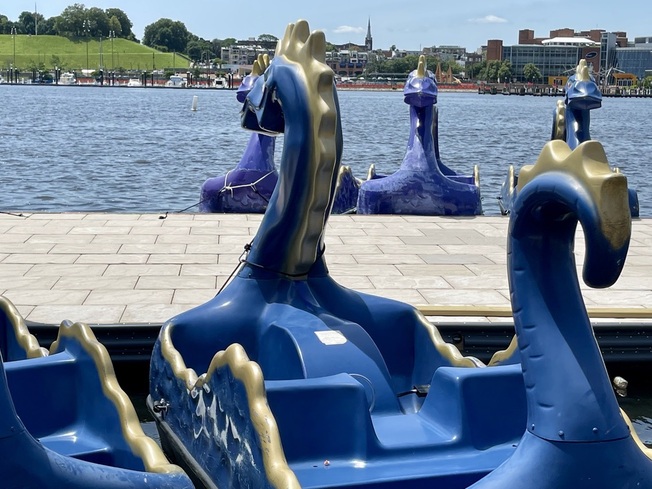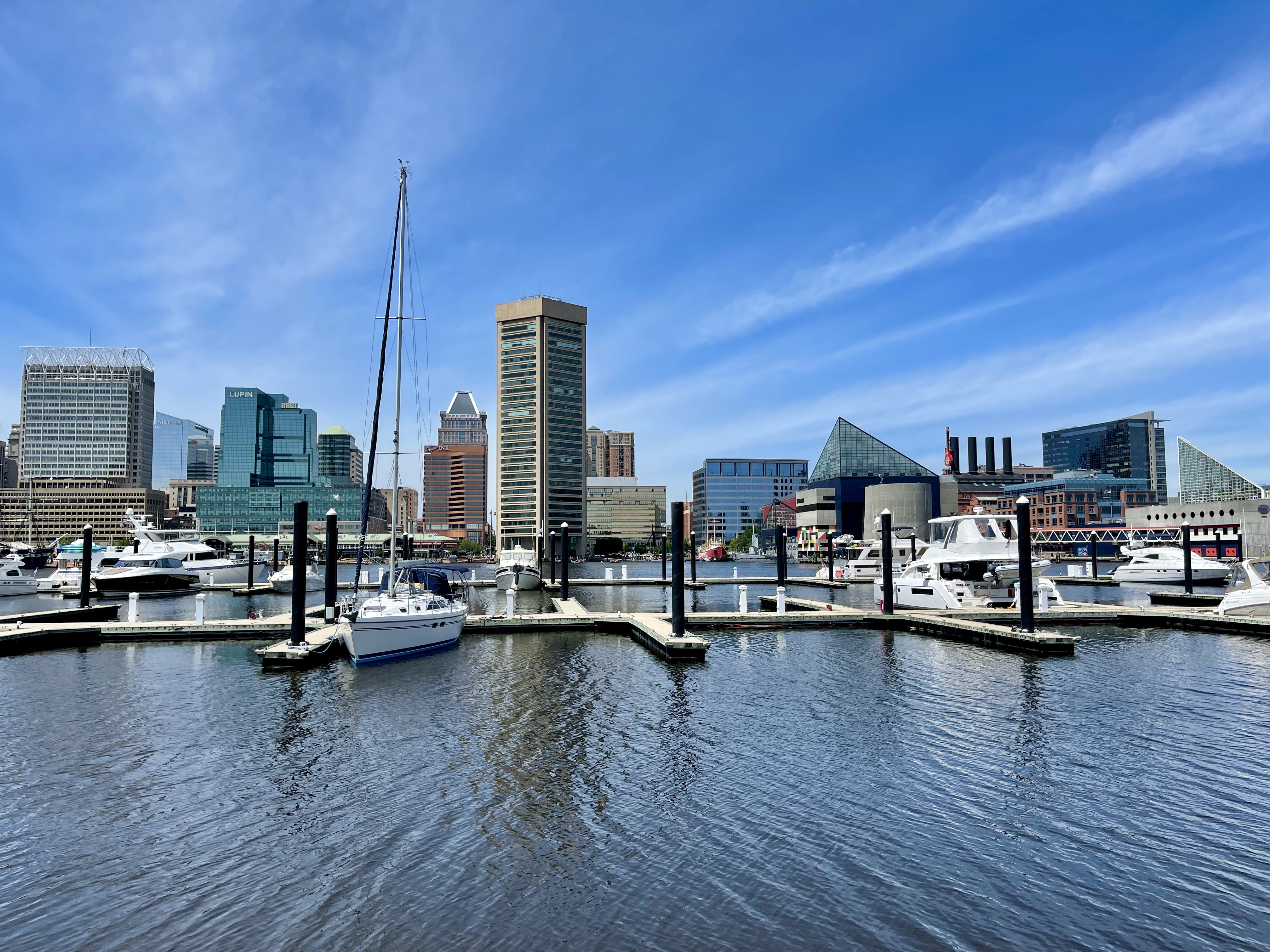 ---
In Baltimore, all roads — both on land and sea — lead to the Inner Harbor. It's a modern-day hub and a postcard view, an urban waterfront accentuated by office buildings and hotels, shopping malls, and the distinctive, pyramid-shaped National Aquarium. It's a center for tourists, a focal point for the Fourth of July fireworks, and the parade grounds of the Super Bowl Champions' Baltimore Ravens football team. No wonder it's one of Baltimore's most sought-after places to call home. When it comes to searching for apartments in the Inner Harbor, options range from redeveloped warehouses to sleek new residential towers. Sweeping views abound, but they don't come cheap.
The Harbor is formed where the Jones Falls (a creek that runs parallel to route I-83 and empties to the east of the National Aquarium by Mr. Trash Wheel) meets the Patapsco River. In the 19th Century, the Patapsco's wide expanse and deep waters gave the city a commercial advantage, welcoming privateers, passenger steamers, and massive freight liners. Today, hundreds of vessels, from sightseeing cruises to sugar containers, dock here. It is also home to the global Tall Ships Celebration, which visits every few years.
After WWII, economic changes transformed the urban landscape, and former industrial powerhouses like Baltimore fell onto hard times. Manufacturers like McCormick & Co. spice factory, once headquartered on Light Street, relocated to the suburbs, and the Inner Harbor's warehouses became abandoned and dangerous. But all was not lost. Mayor William Donald Schaefer kickstarted an urban renewal, replacing the harbor's rotting piers with parks and plazas, while visionary developer James Rouse built Harborplace, a "festival marketplace" that set a model for other cities to follow. Even the city's historic power plants, whose smokestacks once fueled the city, were redeveloped into retail space, and ecologists have added native grasses and marshy habitats to lure back wildlife.
Who lives in the Inner Harbor? This upscale area is home to professionals who can afford the spectacular harbor views. Given that it's more expensive to live here than in other nearby neighborhoods, the Inner Harbor is not an area highly populated by students or young people.
Dining options abound in the Inner Harbor, from national chains to smaller independents. The city's main shopping area is here too, as are most of its hotels and prominent attractions.
Mimicking the Harbor's shoreline, the Inner Harbor is comprised of Harborside piers and attractions, bounded by President Street to the east, Paca Street to the west, Lombard Street to the north, and Key Highway to the south.
While walking or biking from this neighborhood to others is not the most common way to get around, the Inner Harbor proper is a pedestrian-friendly area. The Harbor's 8-mile Promenade is especially popular for walking, jogging and biking.
It's the city's transportation hub, with the Light Rail making stops at both Pratt Street and the Convention Center, and nearly all CITYLINK bus routes passing through, including Silver, Purple, Blue, Yellow, and Navy. In addition, all 3 free Charm City Circulator routes cross here. Charles Street and Light Streets, the city's two main north-south roadways, bisect the neighborhood.
The majority of the Baltimore Water Taxi's stops are centered around the Inner Harbor, from the Maryland Science Center to the National Aquarium. And sailing around the Harbor with no particular place to be is an attraction in itself.
While there are a dozen public garages along Lombard, Pratt, and Light Streets, weekday rates are steep ($28 for two hours). At least, weekends are much cheaper. Another option is to park on a side street, feed the meter, and walk. Drivers enjoy easy access to I-95 via Conway and Lombard Streets, plus I-83 is just a few blocks in the opposite direction, via the Gay Street detour.
You'll find plenty of chain restaurant options at Harborplace and its surrounds, including The Cheesecake Factory, Pizza Unos, and Kona Grill. The flagship Phillips Seafood restaurant, located in the Power Plant building, has the neighborhood's best crab cakes, with an Inner Harbor markup to boot.
For more local flavors, Miss Shirley's features an enormous menu of brunch and lunch favorites, like coconut cream-stuffed French Toast. Blackwall Hitch serves its seafood with a Creole twist: think fried shrimp po' boys. Meanwhile, Ramen Utsuke has been voted best noodles in town. R&R Taqueria is one of Maryland's greatest restaurant success stories: it went from serving its tacos from a gas station to a two-level cantina on Lombard Street, with murals painted on its interior walls.
If you have some time to chill, it doesn't get much better than the Sunday Jazz brunch buffet at the Rusty Scupper—take it all in with a cocktail in hand and a harbor view table.
There are no grocery stories in the Inner Harbor, but that's no biggie: simply head east, to the brand-new Whole Foods in Harbor East, or go north on Charles Street to Streets Market & Café. Both are less than a mile away.
Due for a refresh, Baltimoreans are eager to see what happens next with the Harborplace Mall and The Gallery across the street, currently the sites of national brands like H&M, Forever 21, Banana Republic, and Bath & Body Works.
Bargain hunters love the Marshalls on Pratt, while more upscale stores, like J. Crew, Anthropologie and Lululemon, can be found next door in Harbor East. The Power Plant Live Building's current lineup includes the Ram's Head Live concert venue plus a few bars, an escape room, and an axe-throwing experience called Kraken Axes.
Just two blocks west of the Inner Harbor is the Baltimore Convention Center, regularly showcasing craft fairs and antique shows, and more.
There's no shortage of activities in the Inner Harbor. Enjoy a Water Taxi ride, charter a dinner cruise, or take a pontoon-paddled tour of the Inner Harbor. Just don't fall in, as scientists ward that disturbing the silty harbor floor could release centuries' worth of toxic sludge. Still, restoration efforts continue apace, and the water is cleaner now than it has been in decades. From the surface, you can even see marine life like crabs, jellyfish, and rockfish. Blue Water Baltimore has programs that give volunteers a chance to lend their hand to restoration efforts by removing trash, making storm drain art, and more.
Looking to get in your steps? The Promenade is an eight-mile path encircling the Harbor that's especially popular with joggers, walkers (and even bikers). Another peaceful setting for a leisurely walk is in front of the World Trade Center, where the National Aquarium has installed floating wetlands to re-introduce native Chesapeake grasses and wildlife, as well as keep the Inner Harbor clean. These small floating peninsulas are just the "tip of the iceberg," so to speak, as hidden within its murky depths are underwater nurseries where oysters and their larvae, known as spat, grow. The Aquarium has installed cameras for viewers that are updated weekly on their website. To find the closest park, simply gaze across the Harbor, at the steep grades of Federal Hill Park, in Fed Hill.
The crown jewel of the Inner Harbor is the National Aquarium. With more than 20,000 animals of all shapes and sizes, and your chance to pet a stingray, watch a 4D movie or walk through a rainforest, the National Aquarium, as its name suggests, really is America's aquarium. (There was a much smaller aquarium in Washington, DC, in the basement of the US Commerce Department, but it closed in 2013.)
Historic Ships is a life-sized living history museum comprised of the Seven Foot Knoll Lighthouse and four remarkably well-preserved Navy vessels. You can climb to the top of the lighthouse and go below each ships' decks: The 1850s sloop-of-war USS Constitution is the most famous — and apparently, it's also haunted.
The Top of the World Observatory on the 27th floor of the World Trade Center offers a beautiful citywide panorama. Meanwhile, the Port Discovery Museum is devoted to children, with interactive exhibits that let them do everything from pilot a cargo ship to man the register at a grocery store. Kids of all ages thrill at the dinosaur displays at the Maryland Science Center. It's also the city's top spot to watch an IMAX film as well as explore the solar system at its Davis Planetarium.
The Workforce Development and Continuing Education campus of Baltimore City Community College is located around the Inner Harbor, and the neighborhood's western boundary is actually the campus of the University of Maryland Baltimore, which contains its medical and law schools.
We rate and sort every listing based on fair market rent.