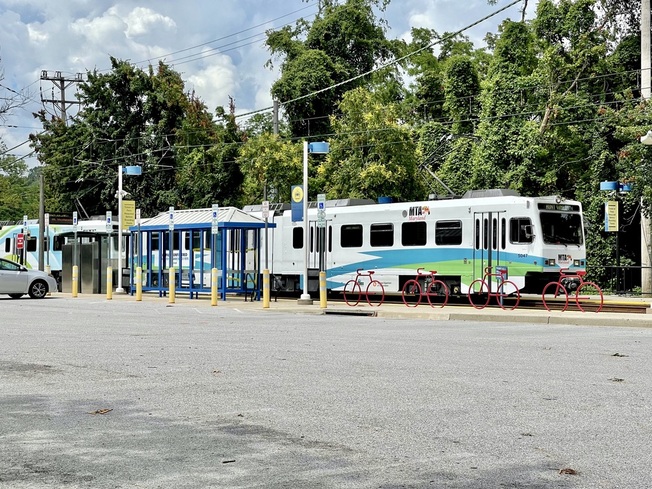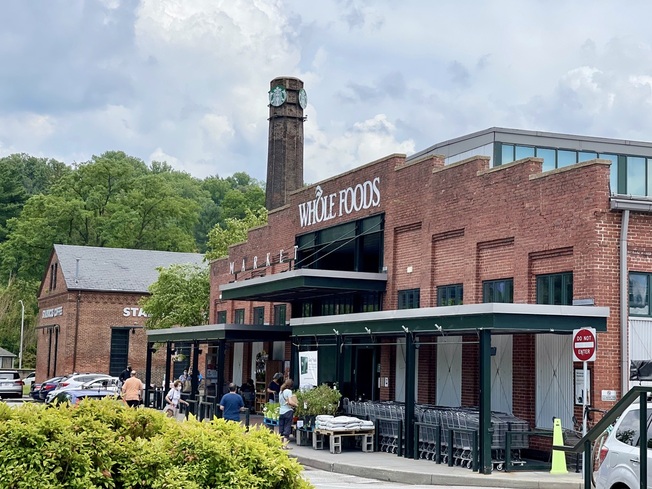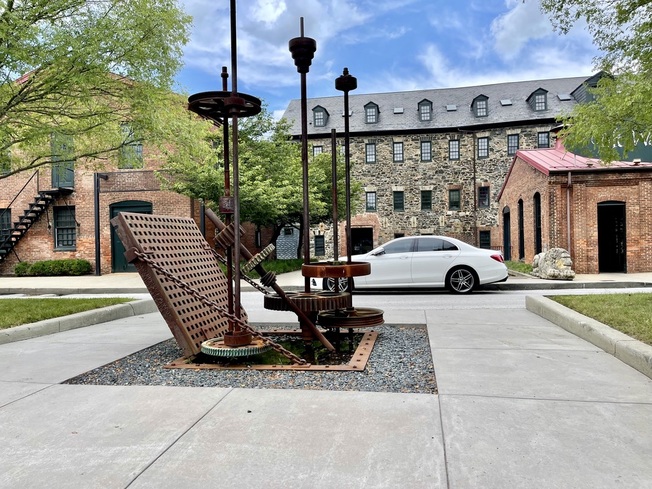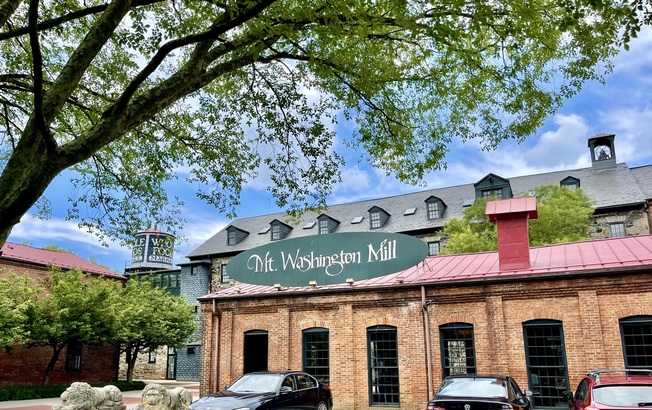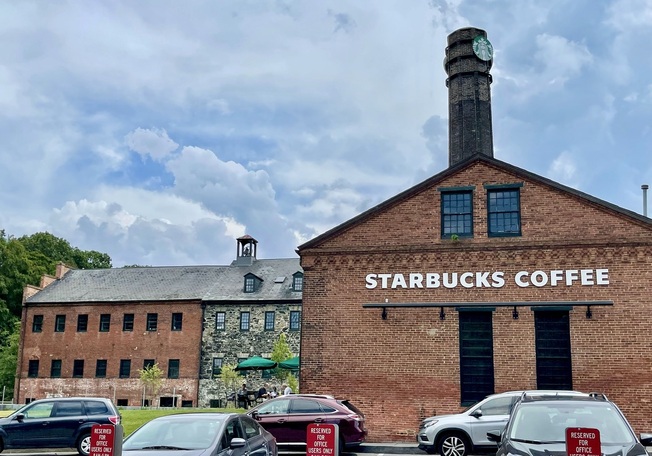 ---
In 1940s Baltimore, cars weren't as ubiquitous as today, so to get through the city and 8 miles out to Mount Washington, you would take a streetcar. The No. 25 Line began downtown, but you could hop aboard at midtown, 25th, and Howard Streets, and enjoy the ride as it clanged its way through Remington, then into Hampden, passing along the shops of The Avenue, and onto Falls Road. It went past the Woodberry Valley's old textile mills, through Cross Keys, Roland Park, and onto Northern Parkway, where it crossed the spindly Kelly Avenue viaduct over the Jones Falls before ending at Mount Washington station eight miles from Downtown Baltimore.
Mount Washington was Baltimore's first suburb, and it certainly felt that way as riders left behind the dense urban area for fresh air, hills, trees, and the Jones Falls. Large single-family homes were built along the winding, hilly roads in an eclectic range of architectural styles, from Victorian to Italianate to Gothic Revival. Today, the neighborhood has gone to lengths to preserve its past while incorporating a gentrified present. There's a Whole Foods and a Starbucks in the repurposed mill, while numerous gyms and Pilates and yoga studios have popped up, nicely complementing the trendy specialty stores and restaurants. Mount Washington is diverse, well-educated and most of its residents own versus rent. Although rentals in Mount Washington aren't plentiful, there are a handful of homes, including townhomes and apartments, for rent in the area at any given time. The wide green expanses which originally beckoned city folk are still here today — in fact, they're the area's best landmarks.
Mount Washington feels like a neighborhood onto itself, and one could spend weeks here among its restaurants and specialty shops and not feel the need to go anywhere else. Still, the restaurants and retailers of Hampden and Woodberry are only a short drive away.
Hilly terrain and the present-day Interstate 83 cut the neighborhood into odd-shaped pieces, but Mount Washington extends to the east to Falls Road, to the south at Northern Parkway, the west at Pimlico Road, and the north along the Western Run to the Johns Hopkins at Mt. Washington, an administrative office complex and conference center. Highway access is readily available to Mount Washington, as it lies just off I-83, at exit 10 (Northern Parkway East).
Although most residents own cars, they are proud of Mount Washington rail hub — and while streetcars no longer visit the platform, the Light Rail does: it heads north to Hunt Valley and south through downtown to BWI airport. MTA Bus Routes 27, 58, and 60 all serve the area, originating at Reisterstown Station, and often follow old streetcar lines.
For drivers, there are public parking lots near Baltimore Clayworks and in the shops at Mount Washington Mill. Street parking options fill quickly, and parking meters are enforced. The hilly surrounds lend themselves better to drivers than walkers. Still, there are sidewalks in front of most single-family homes, and walking is a great way to get in your steps.
There is a bike path along Kelly Avenue, but none on the surrounding streets, and be advised that these curving roads are old and narrow, not to mention that there's always traffic. Cyclers here may prefer to bike along the lovely paths within the Jones Fall Trail.
The place in Mount Washington where everybody knows your name, the Mount Washington Tavern, has been serving juicy burgers, Maryland crab soups, crab cakes, an extensive list of oysters, beer, wine, cocktails, and other favorites since 1979. It's located right across from Mount Washington Station and is this quiet neighborhood's nightlife go-to. Along the same stretch, you'll find other notable restaurants in Mount Washington housed in quirky Victorians — their cuisines are just as eclectic. Ethel's Creole Kitchen's jambalayas and homemade cornbread with herb butter are sure to satisfy. Meanwhile, Mount Washington Pizza, Subs, and Indian serves up a little something for every craving. Woodrow's BBQ chefs up pulled pork sandwiches of dreams, while Chiyo Sushi makes Maryland-centric crab rolls as well as more traditional favorites like spicy tuna rolls. A melted chocolate crepe at Le Bistro Du Village, also known as Crepe du Jour, is the perfect suppertime finale.
On Falls Road, Sushi Hana and Bonjour Bakery make delicious bites. And the Haute Dog Cart is a fun gourmet hot dog stand.
As for grocery stores in Mount Washington, the Whole Foods Market in the Mount Washington Mill complex is the neighborhood go-to. For even more organic buys, Hampden has a MOM's Organic Market.
The Ivy Bookstore on Falls Road is known far and wide as one of Baltimore's best independent booksellers and frequently hosts book talks with an emphasis on local authors.
In addition to the shops at Mount Washington Mill, there are stores and restaurants by Mount Washington Station, an area known as Mount Washington Village. Something Else Boutique has been around since the 1970s for good reason, with its colorful selection of clothing, jewelry, and home goods. Pasha's Hamman Herbal Soaps showcases handmade soaps, skincare, and aromatherapy products like grapefruit oil. All of its products are biodegradable and preservative-free, and many use olive oil as a base.
For more shopping options, the retailers in Hampden along 36th Street, commonly known as "The Avenue" sell everything from new and vintage clothing to candles, crystals, books, comics, and fine art.
When Baltimore had streetcars, Kelly Avenue was little more than a path that wound through the trees. Today it's one of Mount Washington's main thoroughfares, and nearly all its attractions can be found along it and on Falls Road, many of which are old buildings that have been brought back to life with new purpose.
The stone Mount Washington Mill dating to 1807 is one of the oldest in the United States. Powered by the adjacent Jones Falls, it led several lives throughout the Industrial Revolution. Redeveloped in the 1990s, it is now home to upscale shopping, including Whole Foods, Starbucks, Wine Works, and Jupiter's Ice Cream.
On Dixon's Hill, The Mount Washington Presbyterian Church is an 1878 building emblematic of the area's quirky architecture. This style is known as "Victorian Gothic," a mix of both influences, at once dramatic and elegant, with its lancet windows and steeply pitched roof. Today it's owned by The Chimes, a center for individuals with developmental disabilities.
Another example of unique architecture can be found in Baltimore's own Octagon House at 5801 Smith Street. In the 19th Century, a popular book detailed reasons why octagonal houses were superior to other floorplans: They were less costly to build, contained more living space, and received more light, among other things. These curious-shaped structures suddenly sprang up across the country, and the one here in Mount Washington served as a women's college called the Mt. Washington Female Seminary until 1861, when it became known as Mount St. Agnes College, and then, later, part of Loyola University. Nowadays, the Octagon House is part of the Mount Washington Conference Center.
Baltimore Clayworks, the city's premier ceramics center, is housed near Mount Washington Station in two historic buildings — one of which was once a branch of the Enoch Pratt Library. Its workshops, galleries, and artist events are quite popular with the community, and it also partners with youth programs around the city, offering free student programs and activities.
But more than the sum of its beautiful buildings, Mount Washington is defined by its many parks and greenspaces: Pimlico is the site of the annual Preakness Stakes thoroughbred horse race. Plus, there's not one but two Arboretums in the area. Check out Mount Washington Arboretum, which also offers plots to community gardeners, and next door in Roland Park, the Cylburn Arboretum. Adjacent to Mount Washington in Baltimore County is Lake Roland, a 500-acre wonderland for hikers, bikers, and kayakers; its Paw Point Dog Park is especially beloved. In addition, incredible hiking trails can be found on the Jones Falls Trail, a 10-mile natural pathway along the river that makes its way into the city.
Mount Washington is a paradise for athletes of all types. But, it is particularly well suited for swimmers. Clubs range from the very elite, like the North Baltimore Aquatic Club, where Olympic Gold Medalist Michael Phelps trained, to much less competitive clubs like Meadowbrook Swim Club and Mount Washington Swim Club, both of which are membership-based.
And although it's not located in Mount Washington, a visit to the Baltimore Streetcar Museum in Remington, by the Jones Falls near North Avenue, should top any armchair historian's must-visit list. Its exhibits detail the area's streetcar lines and even feature a few working models that you can ride on tracks encircling the Jones Falls.
Johns Hopkins University has an administrative office and conference center in the Mount Washington neighborhood. While there are no college campuses here, that doesn't stop grad students from residing in the hillside homes. Homewood Campus of Johns Hopkins University is an easy drive from here; simply take Falls Road or I-83 to get there.
We rate and sort every listing based on fair market rent.