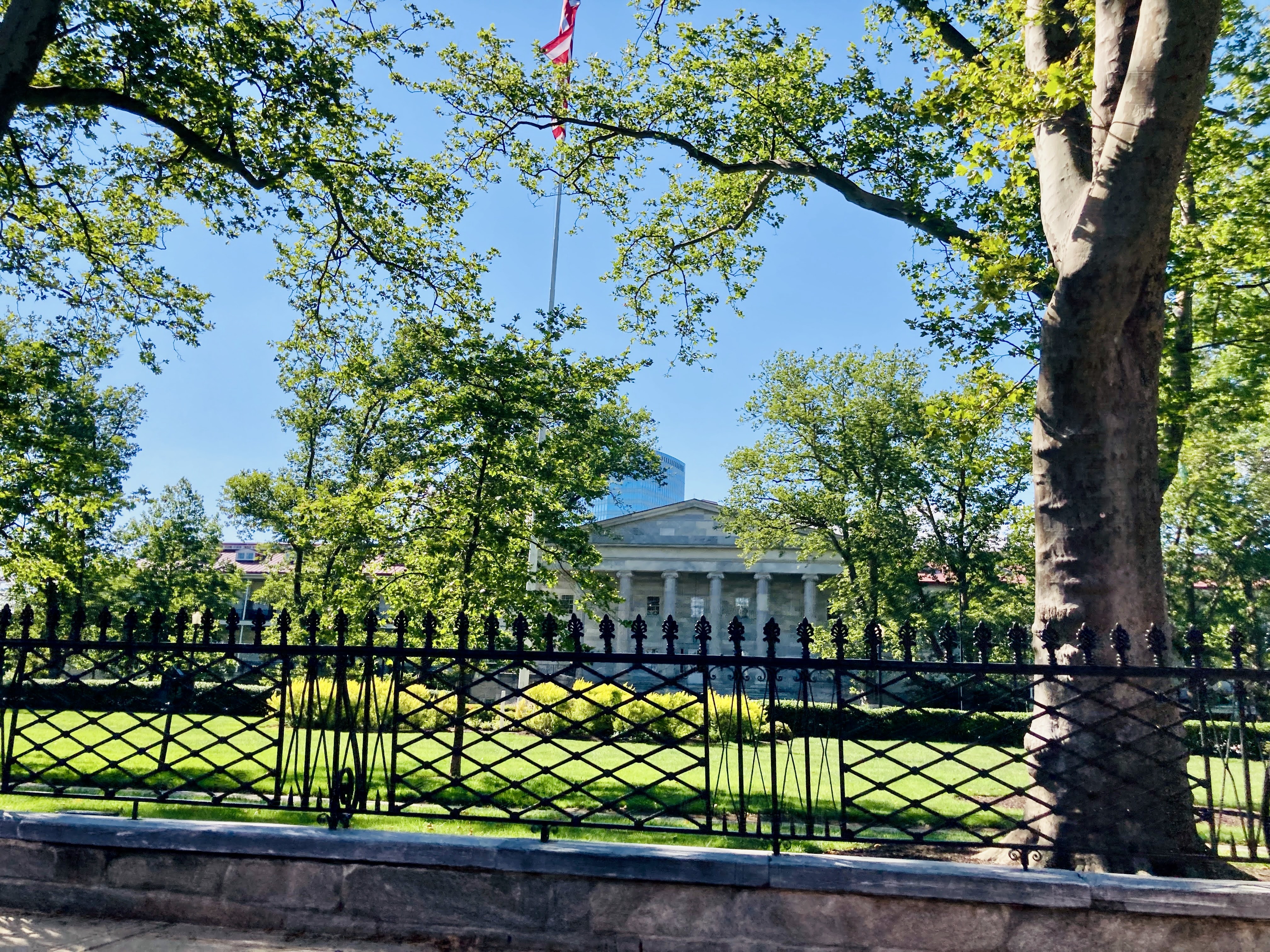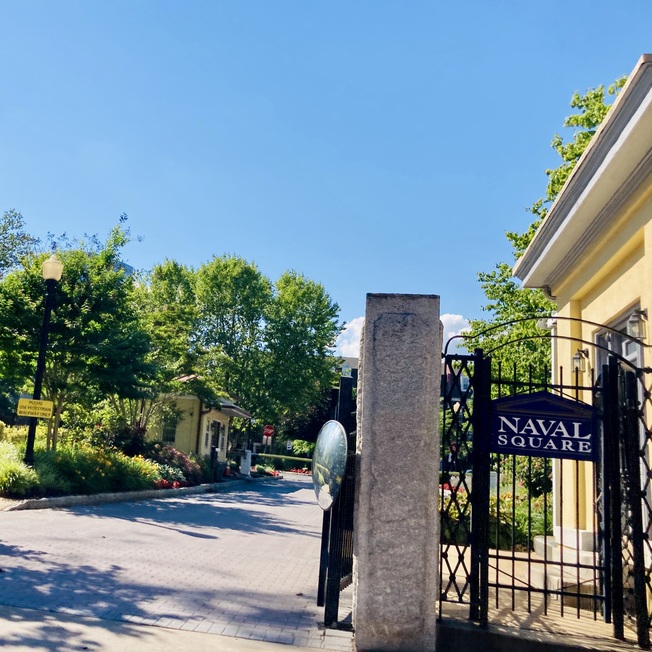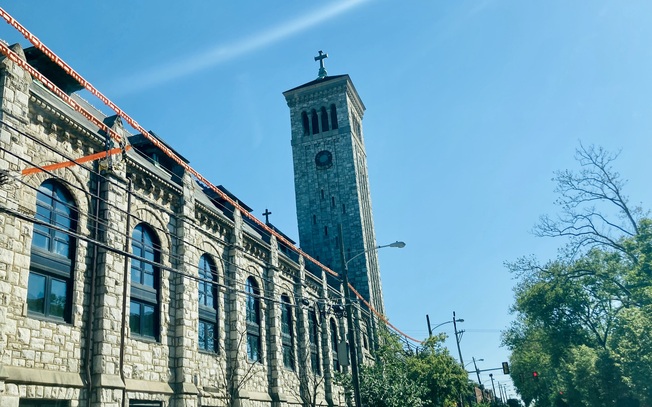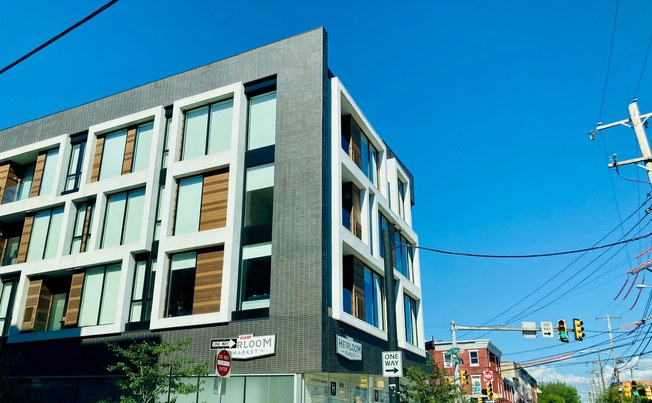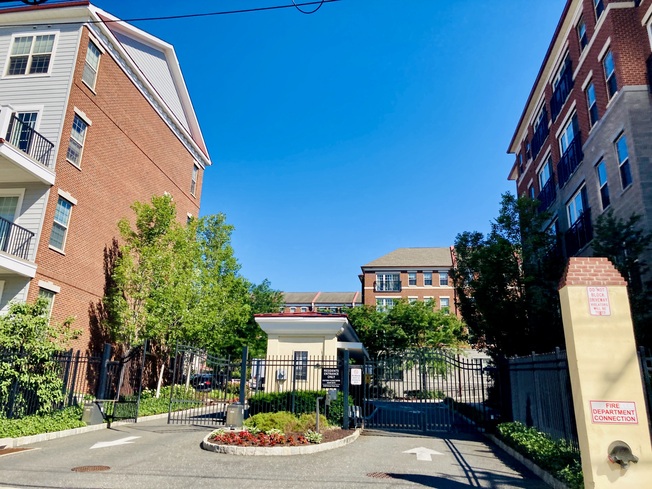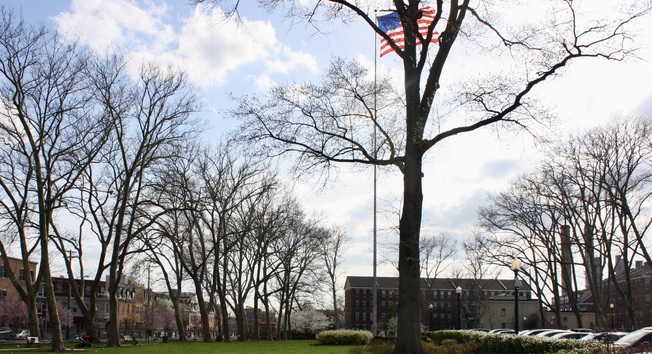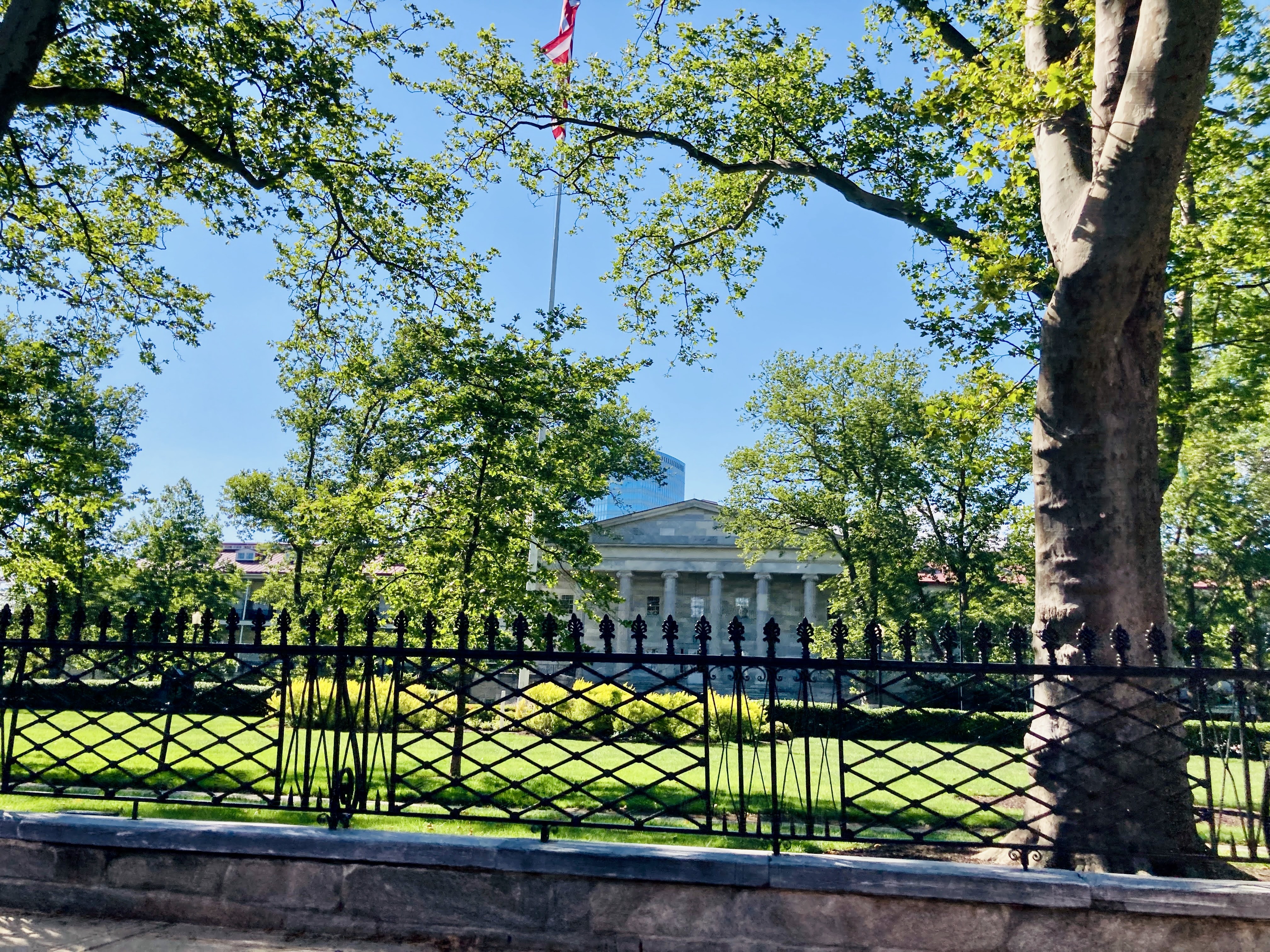 ---
Naval Square is a 20-acre gated community centrally located in the Graduate Hospital area of Philadelphia. Dating back to the 1800s, Naval Square is listed as a National Historical Landmark. The former site of the Philadelphia Naval School and Naval Asylum, a predecessor to the United States Naval Academy, Naval Square is home to stately Greek Revival-style buildings, designed in 1833 by noted architect and civil engineer William Strickland. The original architecture still stands but has been renovated and transformed into apartments that vary in size, layout, and amenities. Sprinkled throughout, new-construction townhouse-style units have been built to match the 19th century aesthetic.
Completed in 2005, the community gives residents access to a range of common spaces and facilities, including living areas, an outdoor swimming pool, a fitness center, and beautifully maintained lawns and gardens. Outside the gates, lively surrounding communities like Graduate Hospital and Fitler Square await with shops, restaurants, cafes, and bars. The South Street Bridge, open to pedestrians, bikes, and cars, leads across the Schuylkill River to University City, home to Drexel University and the University of Pennsylvania. Center City is within walking distance, as well, making Naval Square a popular choice among affluent young families and millennials who work downtown.
The neighborhood is bounded by a long brick wall along Grays Ferry Avenue on the east side and Schuylkill Avenue on the west. The north and south borders are Bainbridge Street and Christian Street, respectively. As it's a gated community, there's little driving or cycling within Naval Square itself, though there's lots of outdoor space for walking. The adjacent area of Graduate Hospital, just outside the gates, is one of Philadelphia's most pedestrian-friendly. It's great for cyclists, too: South Street has its own bike lane, leading over the bridge to University City in one direction, or into Center City in the other. The newly constructed Schuylkill Banks Boardwalk is an elevated structure, open to cyclists and pedestrians alike, connecting to the riverfront Schuylkill River Trail. This 75-mile multi-use trail, almost entirely protected from traffic, currently extends all the way to Valley Forge National Park. It's great for recreational rides, and lots of people use it to cycle to and from the city center from outlying neighborhoods like East Falls and Manayunk.
SEPTA's trains and trolleys don't directly serve Naval Square, though it's possible to walk across the South Street Bridge to Penn Medicine Station (formerly University City Station). The station is served by various Regional Rail lines, including the Wilmington/Newark Line Regional Rail, the Media/Elwyn Line Regional Rail, and, conveniently, the Airport Line with direct access to Philadelphia International Airport. 30th Street Station, Philadelphia's main train station, is about a 20-minute walk away, as well. Since 30th Street Station is also a subway station (on SEPTA's Market Frankford Line) and an Amtrak station, it's possible to travel pretty much anywhere from there. SEPTA buses also pass nearby the gates of Naval Square. Particularly useful lines include 12, 7, and 40.
You don't need a car to navigate Philadelphia if you live in Naval Square. Most residents do, though. That's because parking is a snap here: there's a covered parking garage and plenty of private parking, plus limited spaces for visitors and guests.
Although there are no restaurants or bars within Naval Square itself, a wide range of options await outside the complex gates. Ultimo Coffee — part of what's now a mini-empire in Philadelphia — is a great coffee shop offering picture-perfect lattes and sunny outdoor seating. Rival Bros Coffee Bar, a popular small-batch roaster with two locations in Philadelphia, occupies a quaint building on the corner of Lombard Street and S 24th Street. Ants Pants Cafe, prominently situated on South Street, serves Australian-style breakfasts.
Rowhome Coffee rounds out the coffee shop options, featuring "breakfast soft pretzels" with cream cheese to go with its pour overs and cold brews. For bagels, try Fitzwater Street Philly Bagels.
In terms of restaurants, Thai Square is a popular BYOB serving noodles and curry dishes on Christian Street. The Sidecar Bar & Grille, a gastropub with good food and a broad range of craft beers, is a neighborhood classic. Loco Pez and Los Camaradas are colorful Mexican restaurants. Dock Street Brewery South does excellent beer and comfort food, and SouthGate specializes in modern Korean cuisine. Ten Stone, an English-style pub with a fireplace and gourmet comfort food, is a happy hour favorite. For dessert, swing by the Igloo, a frozen yogurt shop set on a petite plaza with a fountain and benches.
South Square Market is a small supermarket with a good selection of produce. A GIANT Heirloom Market is just outside the gates of Naval Square on the corner of 24th Street and Bainbridge Street. There's a state-run wine and spirits store nearby on South Street. Further afield, south of Naval Square, Grays Ferry Shopping Center has a Fresh Grocer and another wine and spirits store.
There are several independently run shops clustered around the intersection of Grays Ferry Avenue and Bainbridge Street. These include Woven Treasures, carrying fair-trade gifts and homewares from around the world, and South Square Paint & Hardware. The Indie Shelf specializes in beauty products. Habitat for Humanity Philadelphia ReStore is a discount home improvement store nearby.
South of the neighborhood, Grays Ferry Shopping Center is a strip mall with practical stores and services.
Naval Square is conveniently located near downtown and West Philly. It's just off the shores of the Schuylkill River. The elevated Schuylkill Banks Boardwalk, open to pedestrians and cyclists, connects to the Schuylkill River Trail, a 75-mile multi-use trail that extends all the way to Valley Forge National Park, passing the Philadelphia Museum of Art en route to neighborhoods like East Falls and Manayunk. Closer to Naval Square, Schuylkill River Park is a grassy park overlooking the water. It also features a public swimming pool, a community garden, sports facilities, and Big Dog Run dog park.
From Naval Square, it's easy to walk along South Street, lined with shops and cafes and offering access to South Philly. Keep an eye out for the colorful mosaics inlaid in walls and sidewalks along the stroll towards the Philly Magic Gardens, an indoor-outdoor gallery and community arts center on the corner of 10th Street and South Street. All of these vibrant works of art were made by Isaiah Zagar, a quirky painter and artist who spent three decades on the project. Leafy Fitler Square is close to Naval Square, too. Rittenhouse Square is a 20-minute walk away, and University City is directly across the South Street Bridge, accessible on foot or on bicycle.
As a gated community, Naval Square does not have any colleges or universities within its borders. But it's just across the South Street Bridge from University City, where Drexel University and the University of Pennsylvania are located. Naval Square is on the expensive side for students, though some live here, walking or cycling across the bridge to arrive on campus. The surrounding neighborhood's bars and restaurants are understandably popular with the university crowd.
We rate and sort every listing based on fair market rent.