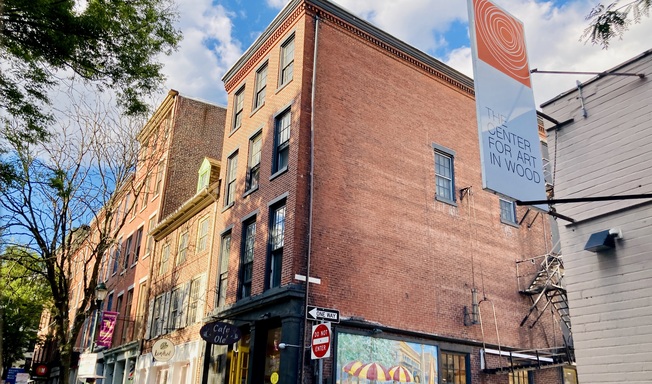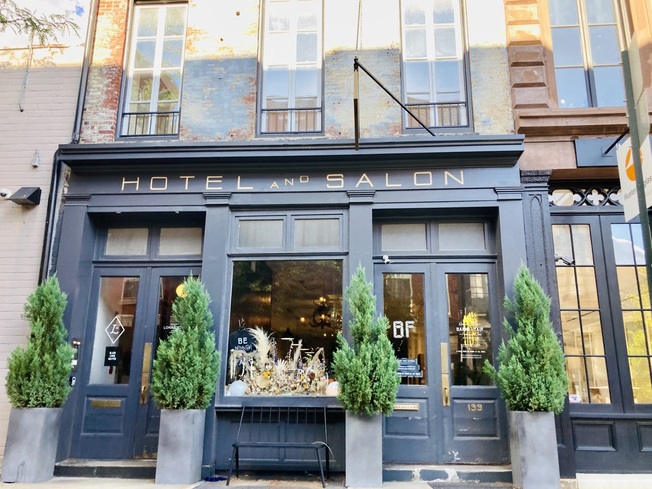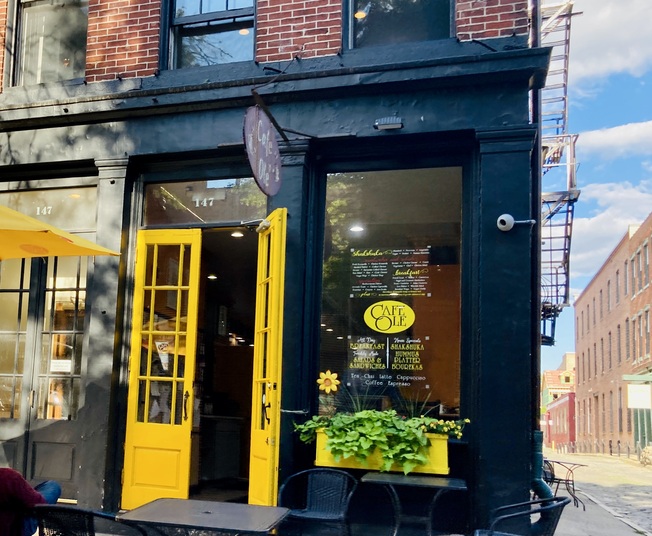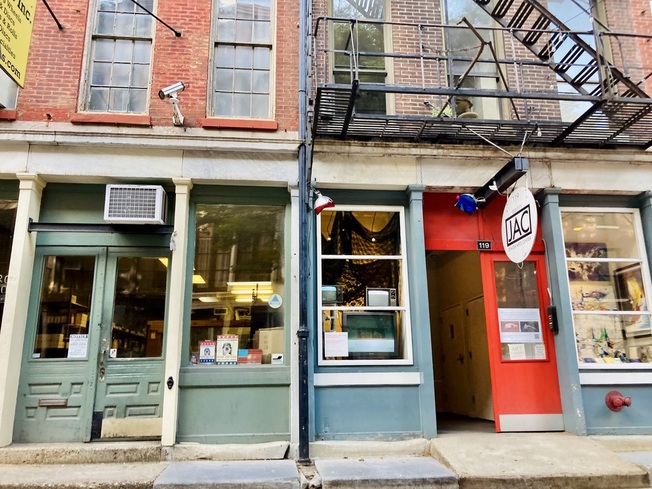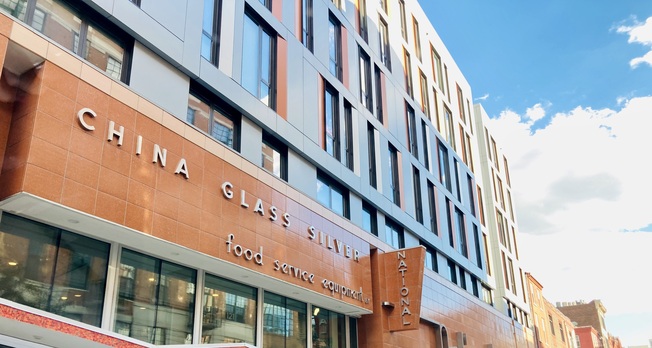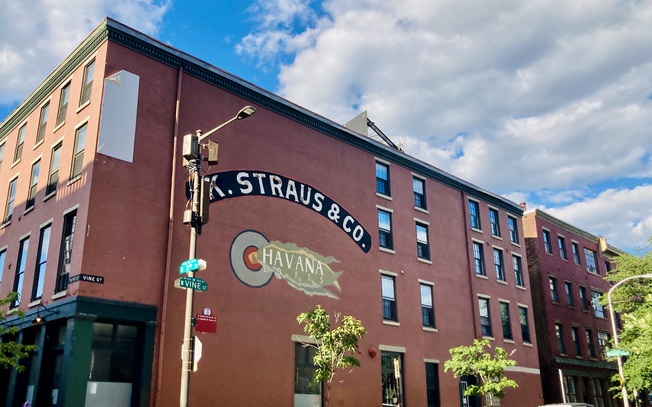 ---
| | Median Rent | Median Sqft |
| --- | --- | --- |
| Studio | - | - |
| 1 Bed | $2,750 | 1,212 sqft |
| 2 Beds | $1,950 | 1,006 sqft |
| 3+ Beds | - | - |
Nicknamed the birthplace of the nation, Old City is most often associated with the Founding Fathers. And although the neighborhood's historic attractions are quite notable, like the Liberty Bell, Betsy Ross House, and the National Constitution Center, there's more to this colorful district than museums and monuments.
On the cobblestoned streets of Old City, modern coffee shops and edgy art cafes are tucked away between 17th- and 18th-century rowhouses, and you're as likely to see a Benjamin Franklin impersonator scrolling through his iPhone as a tattooed skateboarder rolling along the Delaware River promenade. Come for the American Revolution landmarks, stay for the buzzing dining and drinking scene, a lively waterfront park with food trucks and hammocks, beer gardens in summer, and ice skating in the winter. As popular with tourists as visitors from other parts of town — not to mention the diverse population of affluent families and professionals who call this district home, taking up residence in sleek new condo buildings, renovated apartments, and restored older houses alike — Old City is a Philadelphia classic.
Old City may well be Philadelphia's most pedestrian-friendly neighborhood. It's a joy to explore this part of town on foot, and you're better off without a car, anyway, as street parking is next to impossible around the area's historic sites.
Considered part of Center City, the neighborhood is bounded by Vine Street to the north (or Spring Garden Street further north, depending on who you ask) and Walnut Street to the south. It extends from 7th Street on the west side to the Delaware River in the east. Bisecting the neighborhood are I-676, running west to the art museum area and east across the Benjamin Franklin Bridge to New Jersey, and I-95, heading south to the sports stadiums in South Philly and north to New York City.
Old City is cyclist-friendly, too. Buffered bike lanes run east and west along Spruce Street, extending to Christopher Columbus Boulevard on the shore of the Delaware River riverfront. From there, it's easy to access the Delaware River Trail, a recreational path designed for cyclists and pedestrians.
In terms of public transportation in Old City, there are lots of options for traveling to and from the area. SEPTA has two subway lines that serve the neighborhood and its surroundings: the Market-Frankford Line stops at the 5th Street Independence Hall Station, right in the heart of the historic district, at 8th Street Station (just outside Old City) and at Spring Garden Station, in the neighborhood's northeast corner. The Broad Street Line runs through Old City, too, stopping at 8th Street Station. It's also possible to board a PATCO train, with service from Philadelphia to Camden, New Jersey, from the Washington Square West neighborhood that's located just south of Old City. SEPTA buses criss-cross the neighborhood, as well. Lines 5, 33, and 57 are useful.
Many neighborhood residents have dedicated parking spots or driveways: real estate is expensive in Old City, and many newer condo buildings offer these amenities. You don't need a car to live in Old City, and you're better off leaving your car elsewhere and walking in (or taking public transportation) if you're driving.
Old City is one of Philadelphia's hottest neighborhoods for dining and drinking. While some venues clearly cater to tourists, the area is also home to beloved coffee shops and eateries hosting locals and regulars. Most businesses are located in the blocks between the Independence Hall complex and Front Street.
Coffee shops in Old City abound. Some of the best choices are Old City Coffee, a neighborhood classic on Church Street, bright and airy United By Blue, an eco-minded cafe and boutique on Race Street, and Cafe Square One on S 3rd Street, serving excellent coffee and breakfast sandwiches in a cozy brick-lined space. On the same street is charming Menagerie Coffee. Occupying a picturesque corner on S 3rd Street is Cafe Ole, while nearby Oui specializes in French pastries. La Colombe sits directly across from the Independence Visitor Center.
The restaurants in Old City are some of Philadephia's finest. Amada does upscale Spanish-style tapas, and a block away on Chestnut Street, Forsythia serves modern French cuisine in a Parisian-inspired space with vintage tiled floors and a high marble bar. For sushi, try Tuna Bar or Oishii Sushi & Ramen. Panorama and Spasso both serve expertly prepared Italian dishes. And stylish eateries including Chlöe, Fork, and Sassafras do modern American food and specialties inspired by cuisines from around the world. There's a wide range of more casual options, from Mexican joints to gastropubs, along Chestnut Street. A few restaurants offer dining with a view on piers that jut out into the Delaware River, like Morgan's Pier. If it's a quick bite you're after, try the upscale food court at The Bourse, a grand and beautifully restored building a block away from the Liberty Bell.
There's no shortage of rustic-chic taverns in the neighborhood, and many restaurants in the area double as bars come happy hour. Options include The Plough & The Stars, an Irish pub, Bleu Martini, a martini bar, Cuba Libre, a restaurant and rum bar, and the Victoria Freehouse, an English-inspired pub with great food and drinks. If you have a sweet tooth, Old City has plenty to offer. ICI Macarons & Cafe features French sweets, while the Franklin Fountain is an old-school ice cream parlor with a line down the block on sunny days.
Home cooking? A few smaller markets are scattered around the neighborhood, like Mulberry Market and Olde City Food Market, and there's a wine and spirits store on N 2nd Street. Venture a few blocks outside the historic district to find a larger Acme supermarket, gourmet food shop Di Bruno Bros., and much more.
The majority of Old City's shops are geared to visitors, from straightforward souvenir stores to boutiques selling Philly-inspired art and objects by local designers. Philadelphia Independents is one of the best of these. Shops catering to a broader clientele include bookstores, clothing boutiques, antique shops, and stores carrying homewares.
Standouts include Omoi Zakka, specializing in hip stationery, Jules Goodman Books & Antiques, Brave New Worlds, a comic book store, and Old City Galley, carrying kitchen supplies. Also fun to browse through are the gift shops at The Bourse on Independence Mall. Practical stores like CVS are scattered around Old City. On the west side of the mall, outside Old City, find traditional Jewelers' Row and mainstream commercial stores in Center City.
The historic sites of Old City center around grassy Independence Mall. The Independence Visitor Center, offering an overview of the neighborhood and its key monuments, is a perfect place for first-time visitors to get their bearings. Grab a coffee at La Colombe or a beer at the Independence Beer Garden, both located on the western edge of the mall. Essential stops in the area include the Liberty Bell, Independence Hall, Betsy Ross House, and the National Constitution Center. Elfreth's Alley, a National Historic Landmark, is an impossibly quaint cobblestoned street that's a popular photo op. Other cultural and historic attractions in the vicinity are Benjamin Franklin's grave, the Museum of the American Revolution, and the United States Mint.
Outside of tourist-oriented sites, Old City has wonderful outdoor spaces, particularly along the riverfront. The Independence Seaport Museum sits right on the waterfront promenade. Nearby Penn's Landing, leading north along the river, is a lovely place to walk and admire the historic sailing vessels docked in the harbor. From here, you can hop on a ferry to the New Jersey side or continue on to the Blue Cross RiverRink, offering ice-skating in winter and rollerskating in milder weather. Several piers stick out into the water nearby, and some of these are developed as parks or dining venues. Cherry Street Pier and Race Street Pier are two examples: look for art exhibition areas, a beer garden, picnic and recreation spaces, and striking views of the Benjamin Franklin Bridge soaring overhead.
Old City doesn't have any colleges or universities within its borders. But there are several major universities and colleges within easy reach, from Drexel University and the University of Pennsylvania (in West Philly) to Temple University in North Philadelphia. College students frequent the bars and coffee shops of Old City, but few live here, as the cost of living is high.
We rate and sort every listing based on fair market rent.