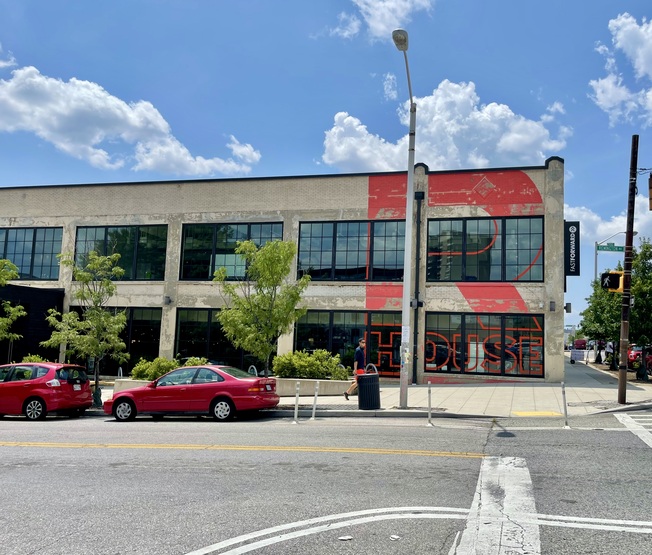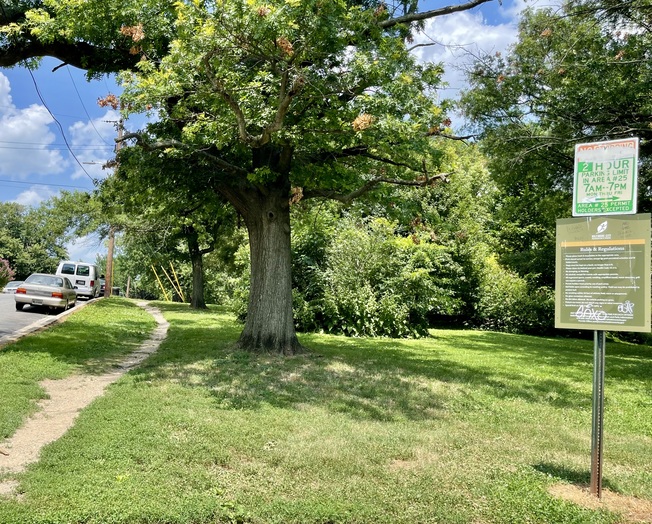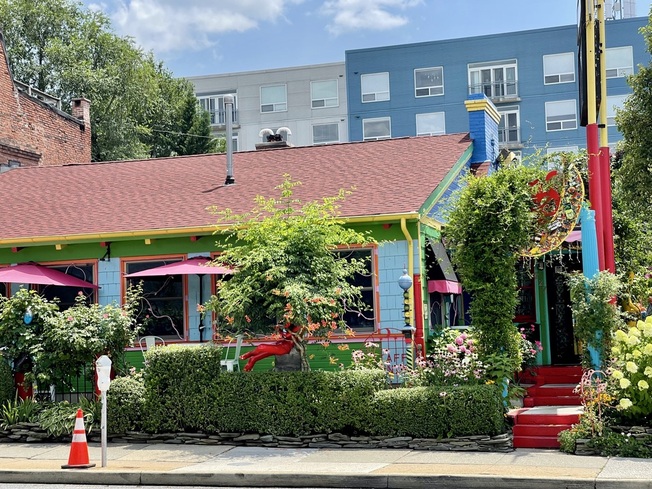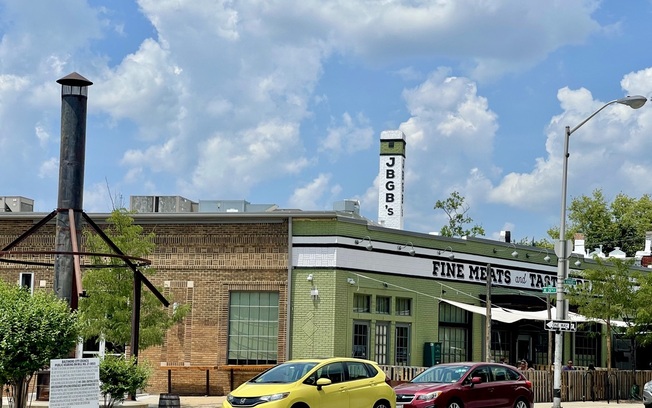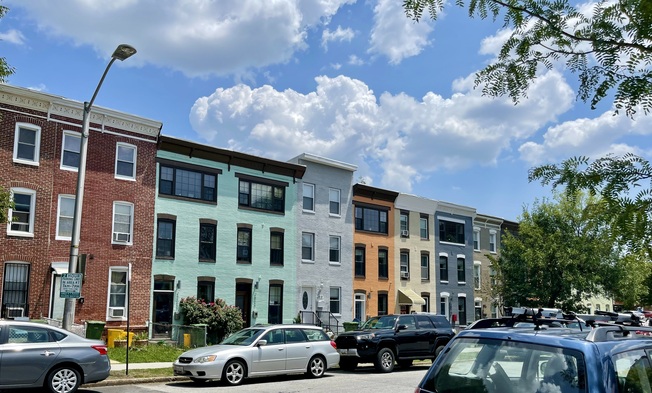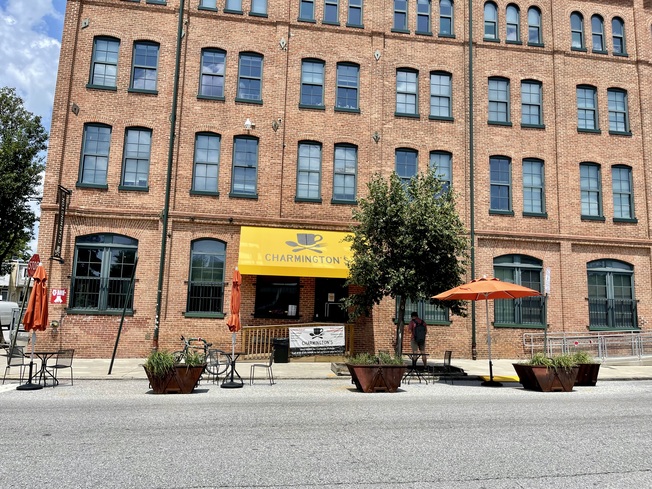 ---
Once an endless stretch of car dealerships, auto body shops, and self-storage facilities, Remington has seen a remarkable transformation in the past decade, as new restaurants, bars, and independent retailers have cropped up in the area. Now Remington is a destination in itself, instead of a stop on the way to someplace else, thanks in large part to entrepreneurs like Lane Harlan, who opened not one but three establishments here, each to national acclaim. Remington's star is on the rise as a dining and nightlife center; the leafy, affordable residential environs surrounding Johns Hopkins are in demand by all — students, faculty, and alums alike. Rentals in Remington range from traditional brick rowhomes with front porches, many of which are glass-enclosed, to brand-new apartment complexes and townhouses constructed on formerly vacant lots. And there's more yet to come, developers promise, although it's up to the residents to decide what gets built here next.
Next to I-83, the Jones Falls and freight rail tracks, and about 4 miles from Downtown, Remington's backstory is similar to its neighbors, Hampden and Woodberry, as grist and textile mills were its original claim to fame. In fact, there's a scenic, 10-foot Round Falls waterfall in Wyman Park right off Falls Road. In addition to mills, this neighborhood was fueled by quarries found along Falls Road, which provided the gneiss rock for many of the city's foundations. Hugh Sission and William Remington were prominent early figures, and that's why there are streets named after them. The manual labor drew Irish immigrants, Italian stoneworkers, and families seeking a better life from the Appalachian Mountains. To this day, Remington has more of a blue-collar vibe than its intellectual neighbor Charles Village.
Those who live here want to keep business small. Case in point: A new big-box site was proposed for the former 25th Street Station warehouse, which would have brought a Walmart and a Lowe's to the area. But after years of lawsuits, plans were dropped, and developers now know to seek input from Remingtonians to see what they'd like to see in their hood.
Remington's boundaries are I-83 to the east, Wyman Park Drive and the campus of Johns Hopkins University to the north, Howard Street to the west, and North Avenue to the south. Destinations are a bit spread out, so having a car is ideal, especially since there's easy access to I-83 here, although its streets sport wide sidewalks, making it pedestrian-friendly as well.
Parking in Remington is really not an issue; honestly, people did not expect a nightlife scene to be carved out of the industrial expanse, and so it's easy to find unmetered spaces on most side streets. In addition, Remington Row has an underground garage, and there are parking options at R House and its companion police lot (just avoid the reserved section).
There are no bike lanes on Howard Street, and given the traffic speeds, it's not popular for biking. However, Maryland Avenue, which runs parallel to Howard, is commonly used by cyclists. In addition, if you're not constrained by a commute, there is a dedicated sidepath on the Jones Fall Trail that takes riders through Druid Hill Park.
Mass transit options include MTA's CityLink Silver and Local Link 94 buses. If you want to catch the free Charm City Circulator, you'll have a bit of a hike, but it's doable. The Purple Route travels north along Charles Street to Johns Hopkins and Medstar Union Memorial Hospital and south on St. Paul Street to the Inner Harbor. Penn Station is just south of North Avenue, making the neighborhood convenient to destinations along the East Coast, as well.
You can't talk about restaurants in Remington without highlighting Lane Harlan. Her dining and entertainment empire began with WC Harlan in 2013. Back then, its Remington location was so obscure reviewers urged patrons to use their GPS to find it. A lot has changed since then, but thankfully, her cozy, Gothic-inspired bar has remained the same: its speakeasy-style cocktails are still epic, and there's not a tv in sight. Harlan's next venture was Clavel, a Mexican taqueria inspired by a trip to Oaxaca she made with her husband and business partner, Matthew Pierce. With its delicious taco menu, succulent-filled dining room complete with hanging lights, and even a mezcal tasting room, this restaurant has long set the standard for cool in the city. Their newest offerings, Fadensonnen, a sake bar, and a companion outdoor Biergarten, were recently named among the best bars in America by Esquire Magazine.
The minds behind the R House food hall believed that putting their chef-topped heads together would be better than going it alone (they were right, of course), and the eleven small restaurants that have opened their doors in this former garage are an emblem of community. There's nearly something for every palate here, from Creole to Poke bowls, shawarma to pizza: Don't leave without an order of the addictively crispy Korean fried cauliflower from Stall 11. When the weather's nice, the enormous roll-up windows open, making its bar one of the nicest Happy Hour spots in the city.
You have to see Papermoon Diner to believe it. Like a toy store come alive at night, its walls, floors, ceilings, and lawn are filled with thousands of mannequins and Barbie dolls, Pez dispensers, cartoon characters, action figures and virtually anything else you can dream up in a wildly colorful setting. Just like the ads that came on during Saturday morning cartoons, Papermoon's menu features an array of sugary breakfast entrees like Vanilla Custard French Toast.
One of the best (and possibly only) gluten-free restaurants in Baltimore, Sweet 27, will whip up just about anything you are craving, from breakfast omelets and pancake platters to tacos, pizzas, Indian specialties, and desserts. The restaurant has taken over several rowhomes on 27th Street, and from a look at the crowds, its expansion will only continue.
President Barack Obama once visited Charmingtons, and the chair he sat in has been lovingly preserved with a plaque on its back. Set in an old box factory, this worker-owned coop is always busy with folks running in for a coffee, chai tea, or latte. Students and small business owners use its free Wi-Fi, and the lunchtime crowd gets hungry for its sandwiches and baked goods.
Technically located in the neighborhood of Old Goucher, neighborhood boundaries are worth crossing for Dutch Courage's gin cocktails, such as the Rose's Apothecary, made with Empress 1908 gin, bergamot liqueur, and cardamom bitters. The setting is just as unique, as it's located in a historic corner rowhome, with tables made from reclaimed wood and cast-iron sewing machine legs.
While there are no grocery stores in Remington proper, there's a Safeway at Charles and 24th Streets under a mile away.
Take a watch down memory lane at Beyond Video: An old-school video store in Remington. What a concept. For as little as $12 per month, members can rent more than 20,000 movies in Blue-Ray, DVD, and VHS format. The check-out period is seven days, and up to 3 titles can be rented at a time. Donations are also accepted.
Greedy Reads is an independent bookseller located on 29th Street that curates a fantastic selection of books. It also hosts book clubs in a variety of genres. In addition to books, there are candles and tea for sale, a great complement to any cozy afternoon spent curled up in a reading nook.
Mt Royal Soaps was founded in 2014 after a group of friends decided to take their homemade concoctions public. Today, they offer a range of unique and natural liquid and bar soaps, hair products, and body lotions. You'll know you've arrived by the pink clawfoot bathtub out front.
While Remington doesn't have a plethora of shopping options, you don't have to venture far for retail therapy: the shops in Hampden's 36th Street, aka "The Avenue," are within walking distance.
It's interesting to see Remington's past come to life at the Streetcar Museum on Falls Road. The fun begins outside, where you can hop aboard a restored cable or electric streetcar and take a ride on a track that winds around the Jones Falls. Inside, you'll find deeply informative displays detailing the streetcar's rise as well as its eventual fall when automobiles gained prominence. Volunteer tour guides add enthusiasm to the experience; their love of this forgotten mode of transportation is contagious.
Wyman Park is a 16-acre park that begins on the west side of Johns Hopkins University. Perfect for joggers and hikers, the Stony Run Trail winds its way through the park, following old railroad tracks. Its wooded expanse makes you feel like you've left the city entirely. It begins at Druid Hill Park in Reservoir Hill and extends as far north as the campus of The University of Notre Dame, by Guilford.
One of the city's premier music venues, known for indie, alternative, and punk sounds, Ottobar has been operating out of underground venues for over three decades and moved to its Howard Street location in 2001. Headliners have ranged from The White Stripes, Death Cab for Cutie and Spoon to Morrissey, Wiz Khalifa, and Baltimore's own Dan Deacon. Upstairs there's another bar, a nice spot for trivia, karaoke, and watching the Ravens on tv.
On the second floor of the R House food hall, The Movement Lab offers an array of mind/body wellness classes, from meditation and yoga to trampoline fitness, pole and dance classes. There's also a martial arts studio.
Remember the Ace of Cakes on the Food Network? The King of Fondant, Duff Goldman, may have relocated to Hollywood, but his storefront, Charm City Cakes, is still alive and well in Remington. It offers custom cakes you can pre-order, as well as cake-making and cupcake-decorating classes.
While there are no universities within Remington proper, the neighborhood is located next to Charles Village and Johns Hopkins University. Many students, faculty, and alums reside here because of its affordable housing, plentiful nightlife, and stone's throw distance from campus. The Maryland Institute College of Art (MICA) and the University of Baltimore are within commuting distance as well.
We rate and sort every listing based on fair market rent.