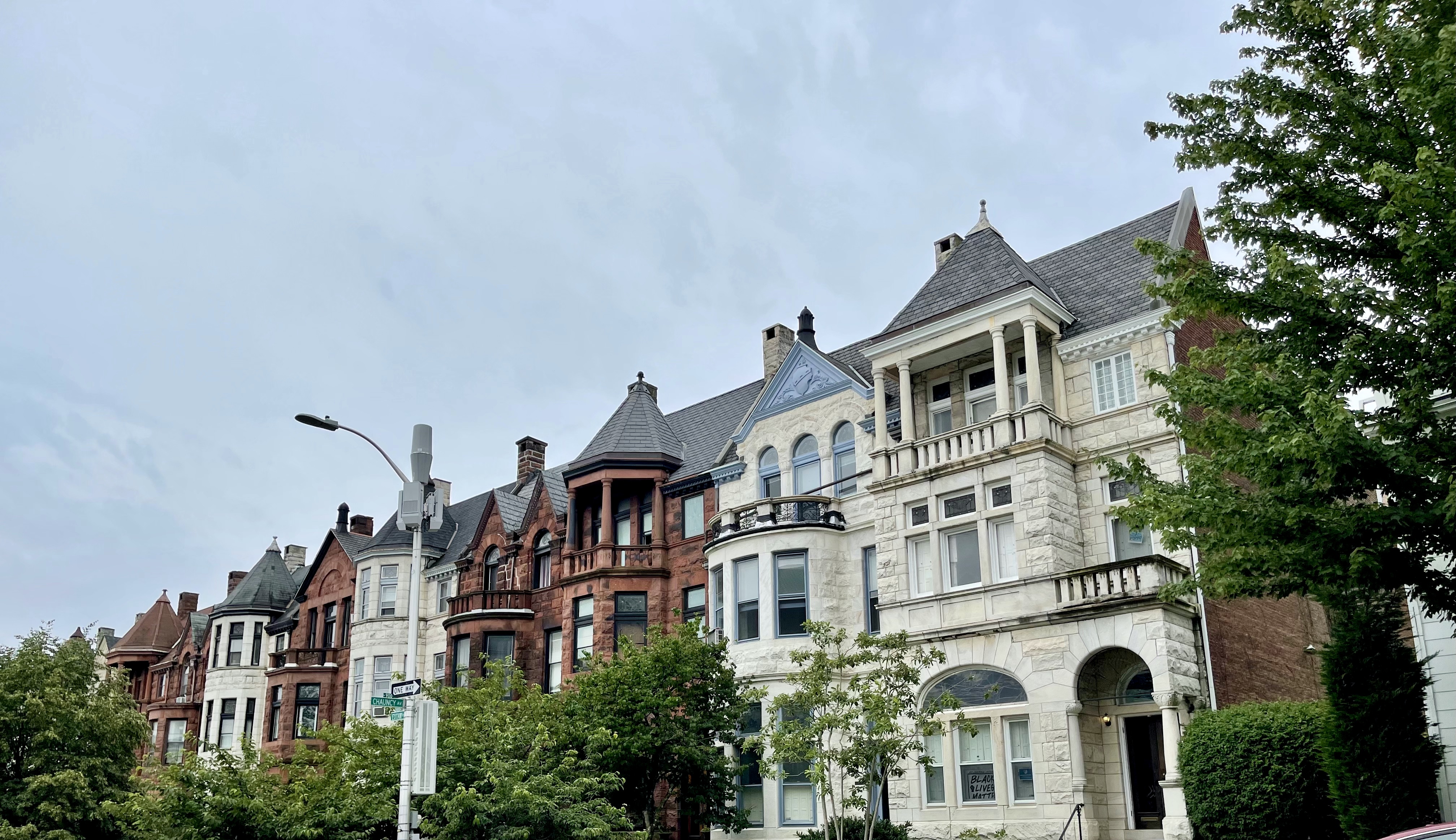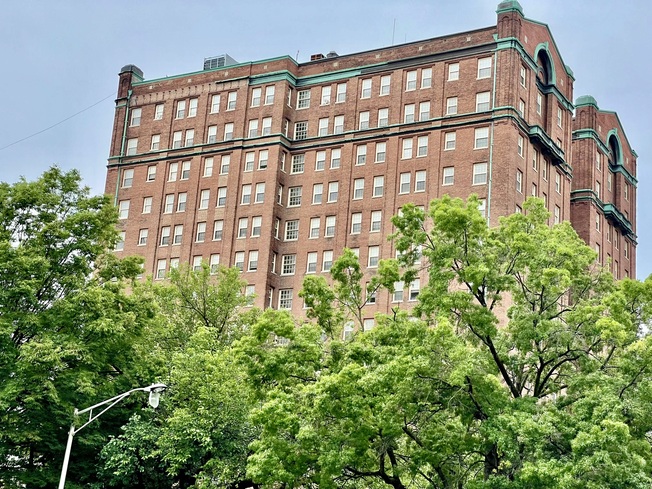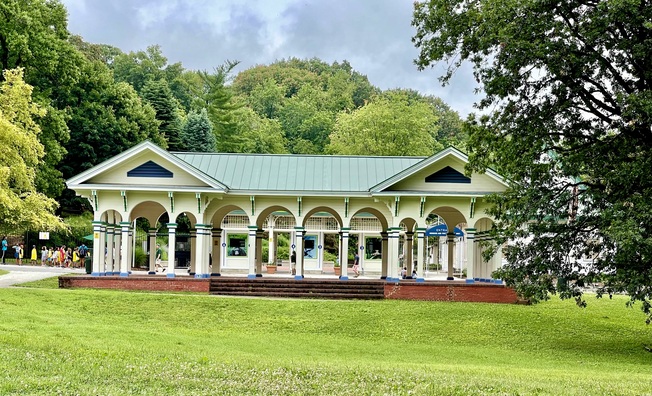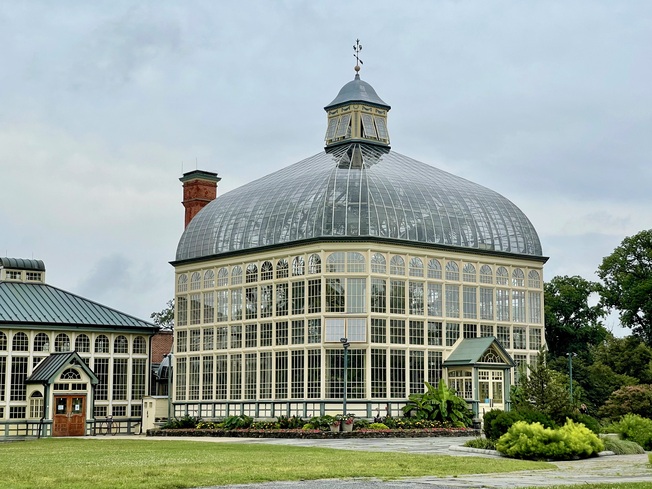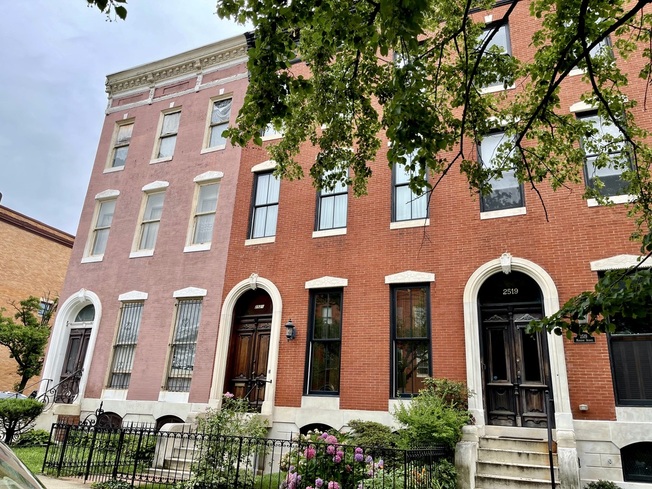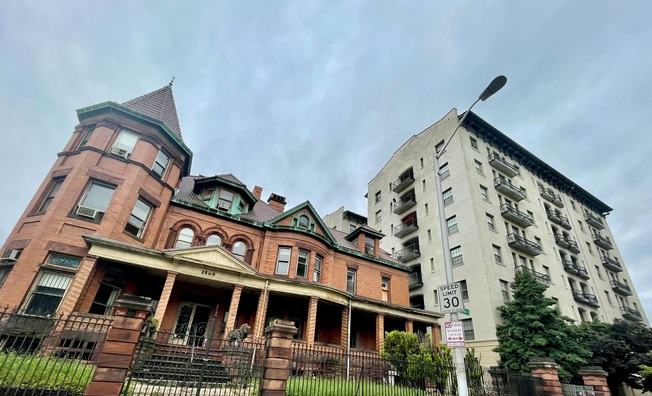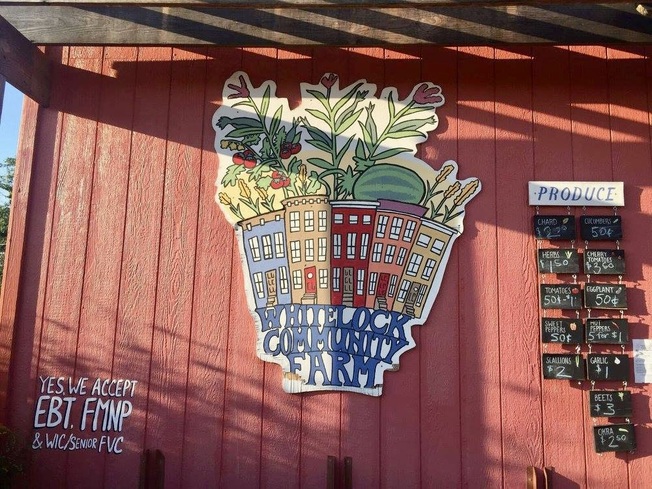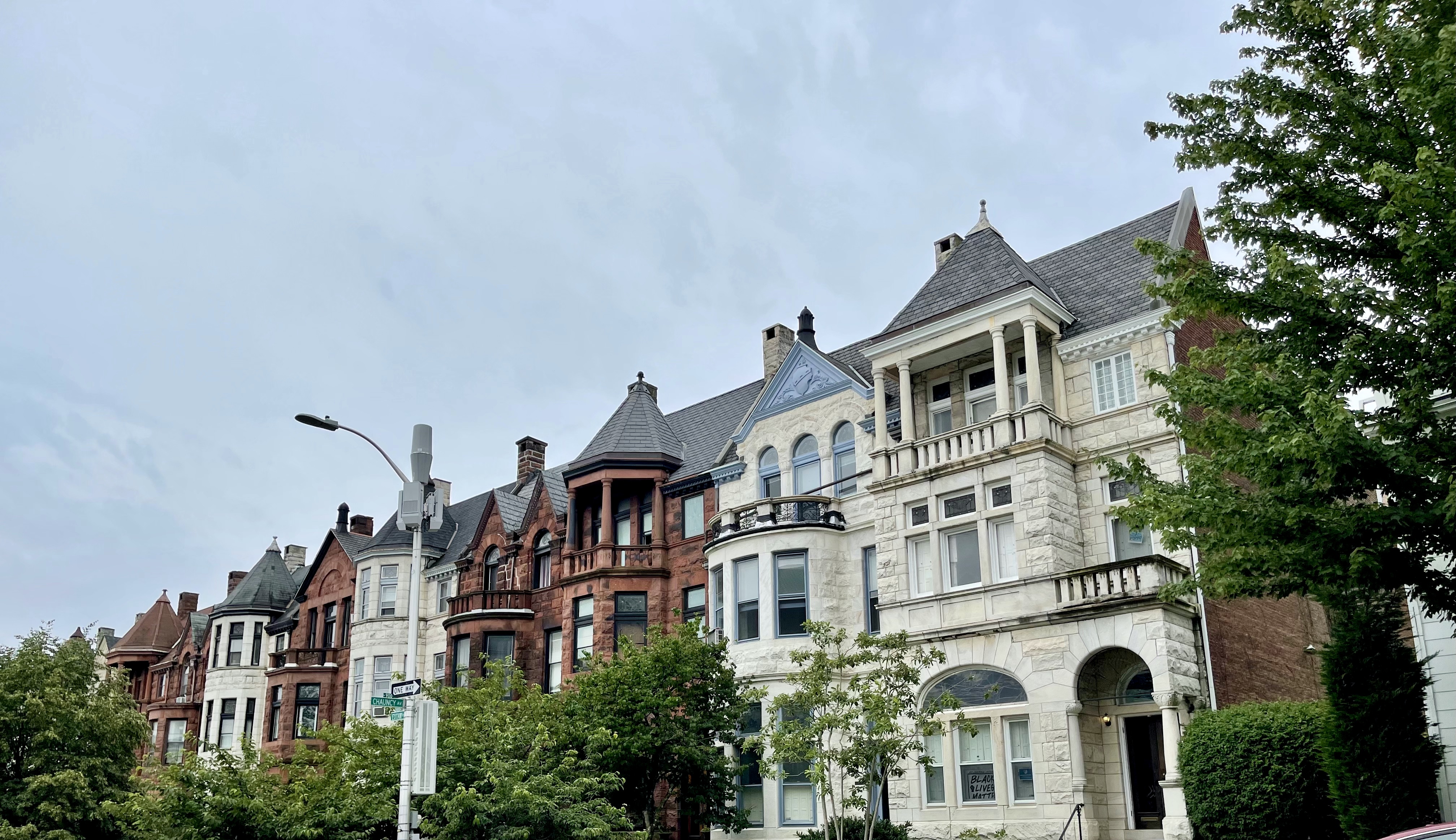 ---
| | Median Rent | Median Sqft |
| --- | --- | --- |
| Studio | - | - |
| 1 Bed | $1,200 | - |
| 2 Beds | $1,288 | 1,032 sqft |
| 3+ Beds | $1,600 | 1,465 sqft |
Known for its grit as much as its bygone grandeur, Reservoir Hill has stood witness to seminal points in the city's history — and both grassroots and large-scale redevelopment efforts are underway. Its grand architecture was established by 19th-century barons of industry and has long been appreciated by artists and bohemians. For centuries, Reservoir Hill has been home to Jewish, immigrant, and African American populations, and today, it is a predominantly African American neighborhood, about evenly split between renters and homeowners.
Lining the shores of Druid Lake, about four miles from Downtown, the old mansions, brownstones, and vintage apartments in Reservoir Hill boast historic details such as hardwood flooring, fireplaces, and large bay windows. Renters can find a unique mix of affordability and charm in the units of subdivided mansions and apartment buildings here.
In the 1990s and early 2000s, Reservoir Hill was plagued by crime and drug activity. Case in point: writer/producer David Simon chose locations nearby to film his series, The Wire.
But a lot has changed in the past decade, as blighted areas have been cleared, and unified community groups have expanded efforts. Their work has preserved historic buildings and rerouted plans for a freight tunnel, to name just a few. A new elementary school, Dorothy I. Height School, was built — its large windows showcase dramatic views of the neighborhood's synagogues and turn-of-the-century apartments. It was designed by the same firm behind the Chesapeake Shakespeare and Everyman Theatres.
Pennsylvania Avenue has been designated an Arts and Entertainment District, offering tax incentives to artists and small businesses, and the Arch Social Club, a historic community center at 2426 Pennsylvania Avenue, received a grant from the National Trust for Historic Preservation to restore its Art Deco façade. Its sculpted exterior now serves as a beautiful welcome to those exiting the Penn North Station Metro.
Vacant land has been replaced by Whitelock Community Farm, a volunteer-run organization that cultivates more than 30 types of produce from Reservoir Hill's soil. It also offers a community compost program and operates a farm stand at the corner of Whitelock Street and Brookfield Avenue on Saturday mornings from June to November.
Located at Eutaw Place and Chauncey Avenue, the 1920's Beth Am Synagogue, with its Byzantine and Moorish influences, has enjoyed its first-ever restoration. Its vaulted ceiling features the same type of Gustavino tilework found in New York City's Grand Central Station.
Even Druid Park Lane Drive has received a makeover: one lane of traffic has been replaced with a bike lane, now making Druid Hill Park accessible to pedestrians and cyclists.
And in a city well-known for its art, the annual Light City Baltimore art festival illuminated the arches at Druid Hill Park in a rainbow array of glowing lights, a reminder of the connections present here, both old and new.
Druid Hill Park is the neighborhood's northern boundary at Druid Park Lake Drive, while another highway, the Jones Falls Expressway (I-83) lies to the east, with McCulloh Street to the west. Its southern boundary is North Avenue.
Reservoir Hill has wide, sidewalk-lined streets, making it easy for pedestrians and bikers to enjoy dedicated bike lanes along Eutaw Place and throughout Druid Hill Park. Street parking in Reservoir Hill is abundant, and apartment buildings offer onsite parking on surface lots, usually at no charge, and in underground garages for an additional fee.
In addition to Metro access (Penn North Station), the Light Rail stops at North Avenue, and the CityLink Gold and Yellow Lines cross through the neighborhood.
Its name means sanctuary, and Dovecoat Café has been a proudly black-owned "third space" serving the area since it opened in 2016. Part café, part community gathering space, its light-filled twin porches, Harlem-toile -inspired wallpaper, and friendly baristas make this a spot where you'll want to linger. Beans are supplied by local roaster Café Los Suenos, and on the menu is an array of homemade sweets, salads, and sandwiches.
It's the only dining spot in the neighborhood, but that doesn't mean there isn't more deliciousness to be had: simply head east, to Remington's hip restaurants and cafes, like Clavel and Charmington's, or for more upscale dining, Woodberry's historic mills won't disappoint.
For groceries, there's the Shoppers next to the Mondawmin Mall or the Safeway at Charles and 24th Streets.
The Druid Hill Farmer's Market takes place Wednesday afternoons from June-September, and it showcases fruit and veggies from city farms, such as Plantation Park Heights and the 3200 Carlisle Association Farm, as well as farms from Baltimore County and Southeastern Pennsylvania. Specialty vendors include Baltimore City-owned businesses like Cultured Naturals' body products, Lil Ria's Natural Soaps, and cold-pressed juices and sandwiches from Indigo Love Potions. There's also Yoga at the Market, and the "World Renowned Sprinkler" so that kids of all ages can beat Baltimore's humid summer heat.
While Reservoir Hill isn't known for its shopping, those seeking some retail therapy don't have to travel too far. Next door in Mondawmin, the Mondawmin Mall features national retailers like Forever 21, Ross Dress for Less, and Hoops by House of Foot Locker, as well as jewelry, cosmetics, and clothing boutiques like Mad Rag and America's Kids. There are specialty retailers like Aishy Braiding House and Artwell's Body Art and discount stores like the Family Dollar.
For indie boutiques and retailers, head to The Avenue, aka 36th Street, in Hampden.
At 745 acres, Druid Hill Park is Baltimore's largest park, and you really could spend an entire day enjoying the outdoors here. Its lawn used to be manicured by sheep; today, it's home to the Maryland Zoo, which features penguins, African elephants, giraffes, chimpanzees, polar bears, otters, and more, residing in natural habitats. Druid Hill Park also has a Zen garden, public pool, picnic spaces, baseball diamond, basketball courts, and tennis courts. Historical side note: during the Civil Rights Movement, Druid Hill Park fell victim to segregationist practices with whites-only tennis courts and drinking fountains.
The Rawlings Conservatory and Botanic Gardens' beautiful glass Victorian structure is modeled after London's Kew Gardens. After being closed for a two-year renovation, the Palm House has reopened along with three new greenhouses, showcasing the flora of Mediterranean, Desert, and Tropical climates. There's an entire room devoted to orchids.
So many of the city's events and festivals happen here, from weekday farmer's markets to free walking tours around its 1.5-mile loop, to concerts and yoga classes. For two days in August, AFRAM takes place— drawing over 100,000 visitors, it's the largest African American Heritage festival on the East Coast and features live music, food, and free arts and crafts.
On Wednesday nights there's "Ride Arounds," where you can rent a bike for free to enjoy around Druid Hill Reservoir.
The Jones Falls Trail can be found in Druid Hill Park, winding along the river's wooded expanses for 10 miles into Baltimore County. By the Maryland Zoo is a small but poignant Grove of Remembrance, built to honor Maryland soldiers who lost their lives during WWI.
The Druid Hill Reservoir has been undergoing a six-year, multi-million improvement project which has temporarily drained half of Lake Druid in order to bury reservoir tanks and bring them up to federal safety standards. When the project is completed in 2022, there will be 14 acres of new parkland atop the tanks, and plans are underway to make the lake accessible for fishing and kayaking.
For those wishing to take an architectural walk down memory lane, we suggest seeking out the stone Mount Royal Mansion, Reservoir Hill's oldest home atop a hill at the corner of Park Avenue and Reservoir Street. It dates back to the late 1700s, and the thick stone boundary walls you can see from the street are original. Looking for examples of the grandiosity built by wealthy coal magnates and brewery owners here in the 19th Century? Be sure to check out the 12,000 square foot mansion at 2450 Eutaw Place, and the brick mansion next door, at 2500 Eutaw Place, part of the Emersonian apartment building — think Baltimore rowhomes, but on steriods. Writers like Gertrude Stein also called the neighborhood home: she lived at 2408 Linden Avenue, which was designed by the same architect behind Baltimore's City Hall and has recently been rehabilitated.
Many students and alums from Maryland Institute College of Art (MICA) live in Reservoir Hill, thanks to the large floor plans that enable them to spread out their canvases for an affordable price. In addition, the neighborhood is home to students from Coppin State University, which is located next door in Mondawmin. Reservoir Hill's accessibility to the green expanses of Druid Hill Park and its central location to points downtown as well as Penn Station make it a convenient place to work, learn, and live.
We rate and sort every listing based on fair market rent.