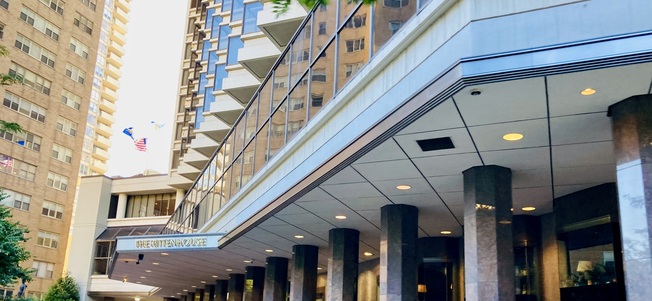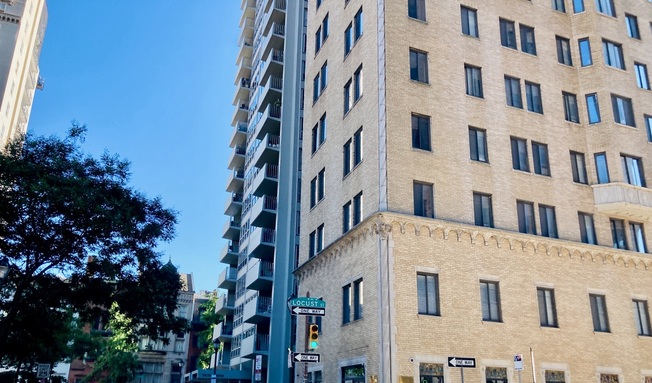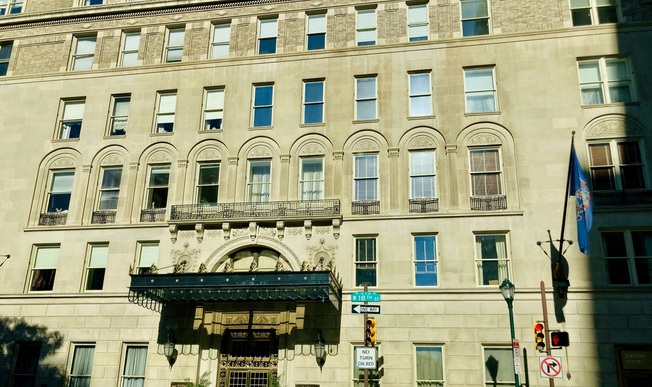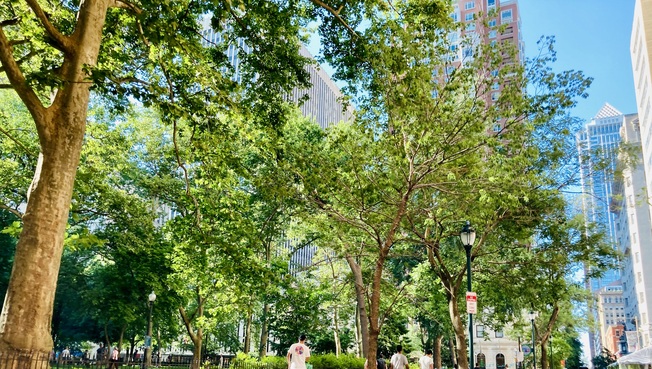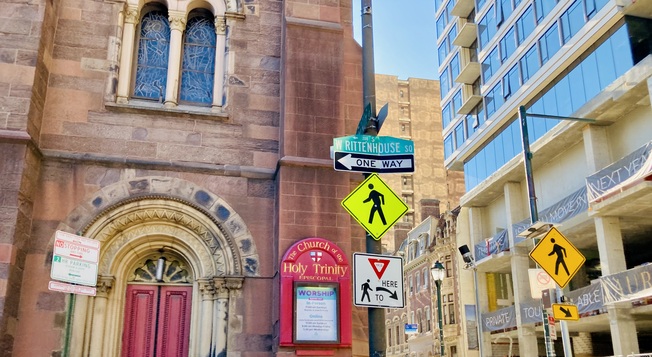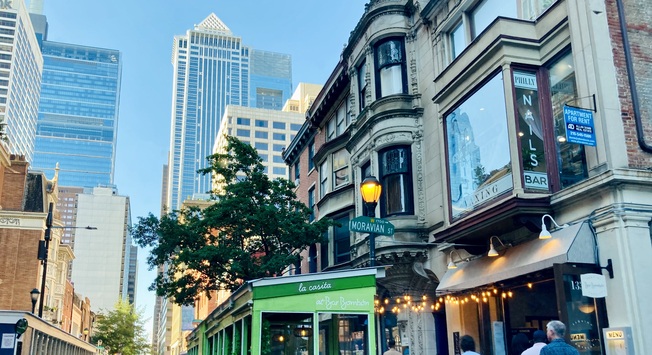 ---
| | Median Rent | Median Sqft |
| --- | --- | --- |
| Studio | $1,450 | 496 sqft |
| 1 Bed | $1,495 | 535 sqft |
| 2 Beds | $2,543 | - |
| 3+ Beds | - | - |
Locals call it "the Square" as if it's Philadephia's one and only, a testament to Rittenhouse Square's status as one of the most desirable neighborhoods in the city. In reality, Rittenhouse Square is one of five original parks laid out by William Penn in the city's 17th-century plans.
Rittenhouse takes its name from David Rittenhouse, an 18th-century astronomer and mathematician who served as the first director of the United States Mint under George Washington. The park itself, with its classical sculptures, reflecting pool, antique lamp posts, and circular walkways, feels out of another era. It's encircled by restaurants, cafes, hotels, and shops, including the hugely popular French bistro Parc and the impressive flagship store of Anthropologie. The tree-lined blocks surrounding Rittenhouse Square are filled with indie boutiques, wine bars, retail shops, art galleries, and gourmet eateries.
Home to some of the city's most exclusive (and pricey) real estate, apartments in Rittenhouse Square can be found in renovated historic buildings and modern condo high-rises towering high above street level.
One of Philadelphia's most pedestrian-friendly neighborhoods, Rittenhouse Square is a pleasure to explore on foot. It's part of the larger district known as Center City. The Square is located more or less centrally in the neighborhood. While there are differing opinions about where exactly the area begins and ends, it's generally thought to extend from 21st Street in the west to Broad Street in the east and from Chestnut Street in the north to South Street in the south.
Cycling is also a good way to get around the neighborhood, just as long as you're careful with the busy traffic patterns around Rittenhouse Square. Just south of the Square, a buffered bike lane runs along Spruce Street, extending east to Christopher Columbus Boulevard and the Delaware River. From there, it's easy to hop on the riverfront Delaware River Trail. Heading west on Spruce Street, there are several options to connect to the South Street Bridge, which leads across the Schuylkill River to University City and West Philadelphia.
Street parking in Rittenhouse Square is always a challenge. Many residents have dedicated spaces included in their buildings' parking garages. Both I-676 and I-76 pass relatively near Rittenhouse Square, offering speedy access to destinations like South Philly, the sports stadiums, and New Jersey. For local trips, try Broad Street and Market Street, major arteries through the city.
No car? No problem. Public transportation options abound. SEPTA trains, trolleys, and buses all serve the neighborhood or its immediate environs. The Broad Street Line subway travels north and south along Broad Street, heading to the sports stadiums (to the south) and the Spring Garden area (to the north). Board at Walnut-Locust Station or Lombard-South Station. SEPTA Trolleys run east and west along Market Street, a few blocks north of the Square. At 15/16th & Locust Street Station, it's possible to board a PATCO train with connections between Philadelphia and Camden, New Jersey. If you're willing to walk a few blocks outside the neighborhood and across one of the bridges that span the Schuylkill River, you'll arrive at 30th Street Station. Philadelphia's main train station, it receives frequent Amtrak trains, subways, trolleys, and buses. In other words, you can go anywhere from there.
For coffee lovers, the Rittenhouse Square area won't disappoint. Within a few blocks of the Square itself, coffee shops include Philly classic La Colombe, Elixr Coffee Roasters, Bluestone Lane Rittenhouse Cafe, and a great corner location of Ultimo Coffee. Miel Patisserie has all the charm of a French cafe, featuring delicious croissants and pastries, and Nook Bakery & Coffee Bar also offers wonderful homemade baked goods. Gran Caffe L'Aquila and Metropolitan Cafe are good for a sit-down breakfast with artfully prepared cappuccino, and K'Far Cafe specializes in breakfast with an Israeli spin.
Restaurants in Rittenhouse Square are sure to delight even the most discerning foodies. The Square is the proud home of Parc, a stately French bistro that serves as a quaint venue for countless birthdays, anniversaries, engagements, and other special occasions. It's also a sure bet for a luxurious Parisian-style brunch or lunch on the weekend. Rouge and Devon Seafood Grill, further down the block and also facing the Square, are also popular choices for al fresco dining. Nearby, The Love offers dishes built around seasonal ingredients, Pizzeria Vetri is a stylish pizza joint, DanDan Rittenhouse does modern Chinese, and Oyster House is a classic for seafood. Abe Fisher is a chic Jewish-inspired restaurant and bar. The Continental Mid-town is a retro-style American eatery, and Cleavers is a good neighborhood option to try one of Philadelphia's famed cheesesteaks. There are lots of chain restaurants and healthy fast food options on these streets, too, including local mini-chains like Marathon, HipCityVeg, and Dig.
Wine bars, taverns, and bars in Rittenhouse Square are also plentiful. Try Monk's Cafe for a huge beer selection and Belgian food, the Black Sheep, a rollicking Irish-style pub, Tria Cafe Rittenhouse for wine and cheese, and 1 Tippling Place or the Franklin Bar for creative cocktails. The Dandelion is a whimsical British-style pub, and Good Dog Bar is as known for its burgers as its beers. The Library Bar, inside the swanky Rittenhouse Hotel right on the Square, is fit for a special occasion or a classy nightcap.
You'll have to venture outside the neighborhood if you're looking for a large supermarket. But Rittenhouse Square has lots of locally run grocers and food shops. Rittenhouse Market is a small grocery store, Di Bruno Bros. is a gourmet food shop, and Food & Friends has a small selection of produce, plus organic snacks and a selection of chilled craft beers. A couple of smaller produce shops carry fresh vegetables and fruits, including Maxx's Produce and Sue's Produce Market. There's also a small grocery section inside the Target on the corner of Chestnut Street and S 19th Street.
With a mix of mainstream retailers and independently-run stores, Rittenhouse Square is the city's top destination for shopping. The most impressive commercial space is the flagship location of Anthropologie, rising several grand floors off street level on the corner of the Square. In the immediate vicinity, shopping options include H&M, Barnes & Noble, Urban Outfitters, Warby Parker, Nordstrom Rack, Target, UNIQLO, Buffalo Exchange, Ann Taylor, and many more. The Shops at Liberty Place is a small shopping mall with conventional stores like Bath & Body Works and Aldo.
Indie shops in Rittenhouse Square offer everything from bridal couture to quirky antiques. Tselaine is a gem of a boutique specializing in handmade jewelry. Joseph Fox Bookshop and Shakespeare & Co are essential stops for book lovers. Sophy Curson, Fleur De Lis, Intermix, and DFTI Boutique carry women's clothing and accessories. Look for foodie gifts at Di Bruno Bros. You'll also find a huge range of practical shops and services, from nail salons to CVS, throughout the neighborhood.
Most locals come to Rittenhouse Square to shop, stroll around with a coffee, or dine in a restaurant. There isn't a large number of historic or cultural attractions here, save for a few exceptions. The Square itself, of course, is one of them. Set amid its manicured lawns, notable outdoor sculptures include Lion Crushing a Serpent by the French sculptor Antoine-Louis Barye, Paul Manship's Duck Girl, portraying a girl with a duck under one arm — find it in the reflecting pool — and Giant Frog, a large and sleek granite amphibian by Cornelia Van A. Chapin. The Square hosts festivals and special events throughout the year, including a busy spring festival, and you can catch live entertainment here on weekends and evenings. During the holidays, the Square is beautifully illuminated with thousands of Christmas lights.
Also of note in the neighborhood are the Rosenbach, a museum showcasing rare books and paintings in a pair of antique townhouses, and the Mütter Museum. This quirky medical museum, part of The College of Physicians of Philadelphia, exhibits thousands of anatomical specimens. City Hall, which hosts outdoor festivals on its grounds, is located on the edge of the neighborhood. Christmas Village, a German-style holiday market, is especially festive.
The many attractions of Old City, including the Liberty Bell, the National Constitution Center, and Betsy Ross House are within walking distance of Rittenhouse Square.
Rittenhouse Square is located relatively close to a number of universities, including Drexel University and the University of Pennsylvania, both in West Philly, and Temple University in North Philly. But there aren't any colleges within the neighborhood itself. The area is popular with students, thanks to its many coffee shops, bookstores, restaurants, and bars, though not a lot of college-age people can afford the cost of living here.
We rate and sort every listing based on fair market rent.