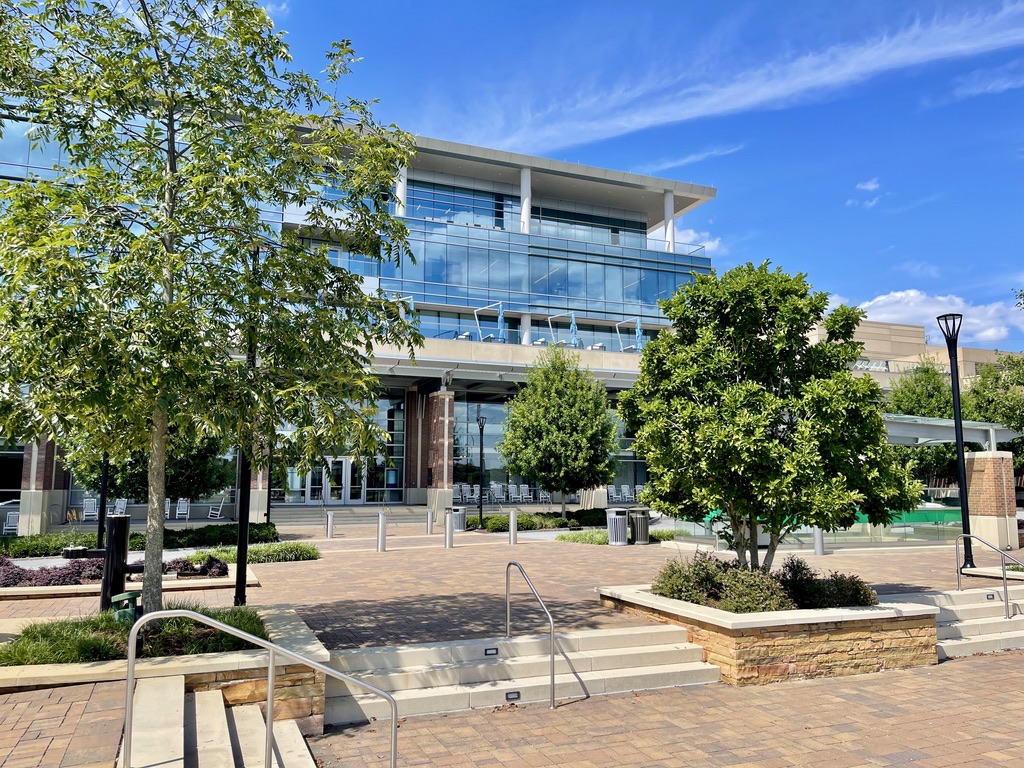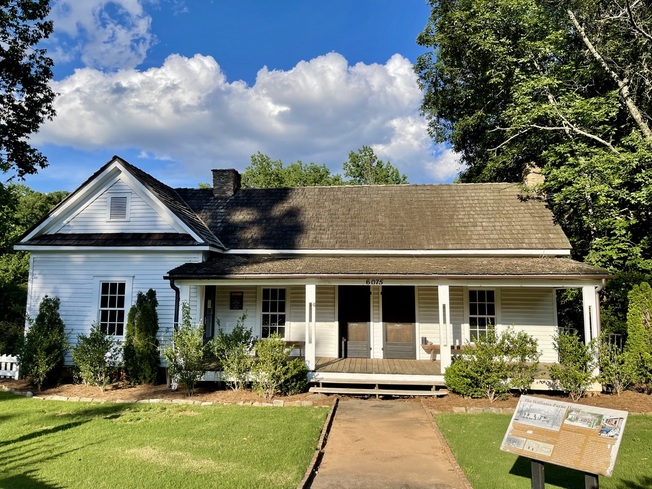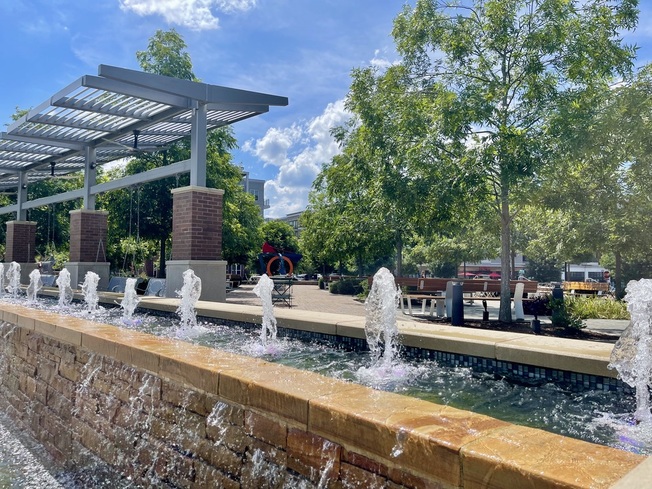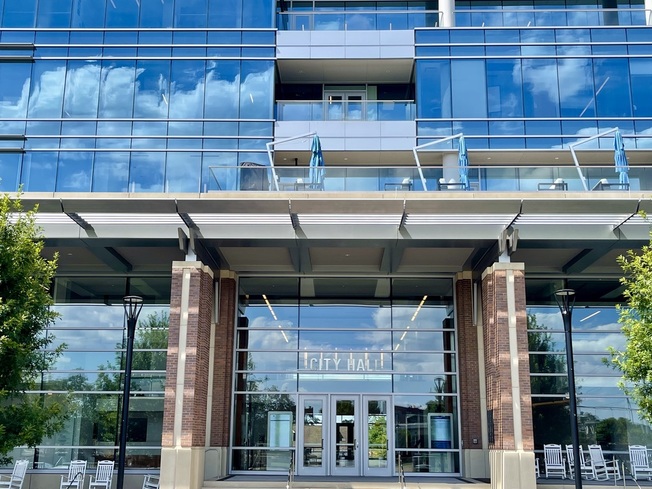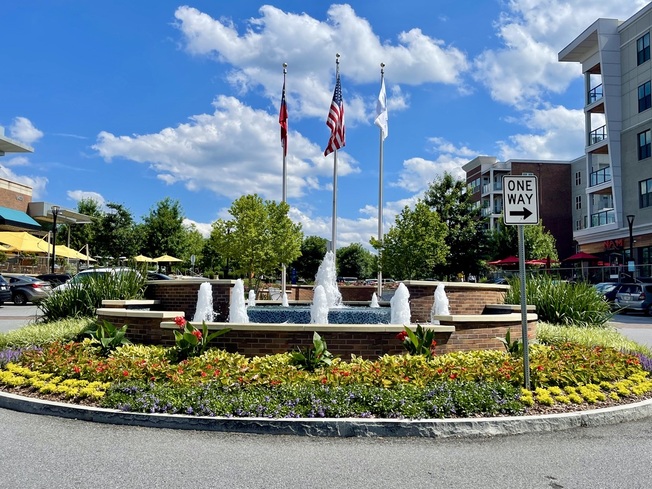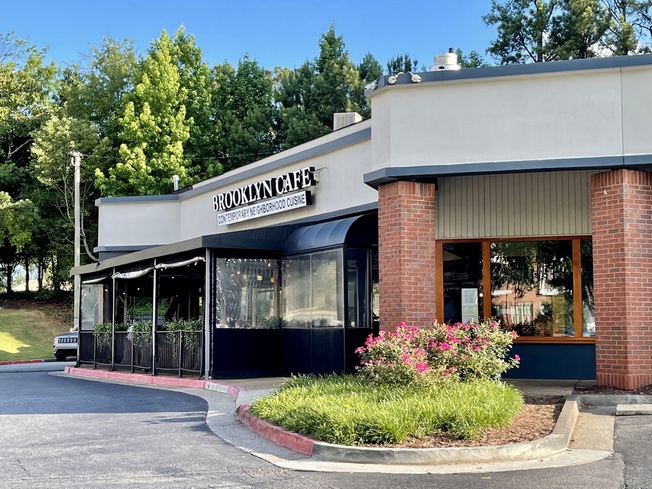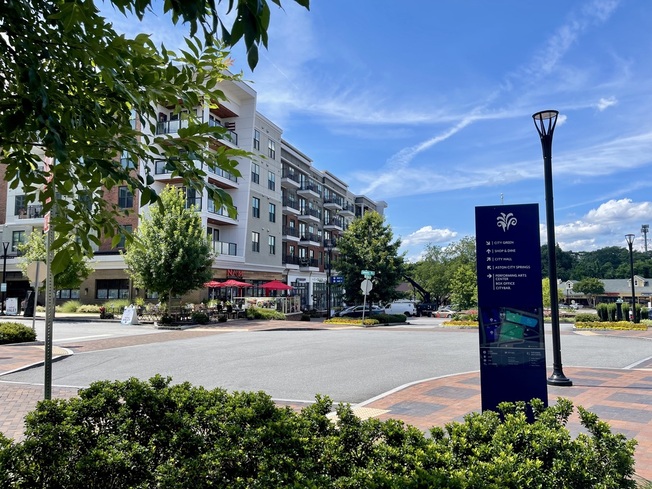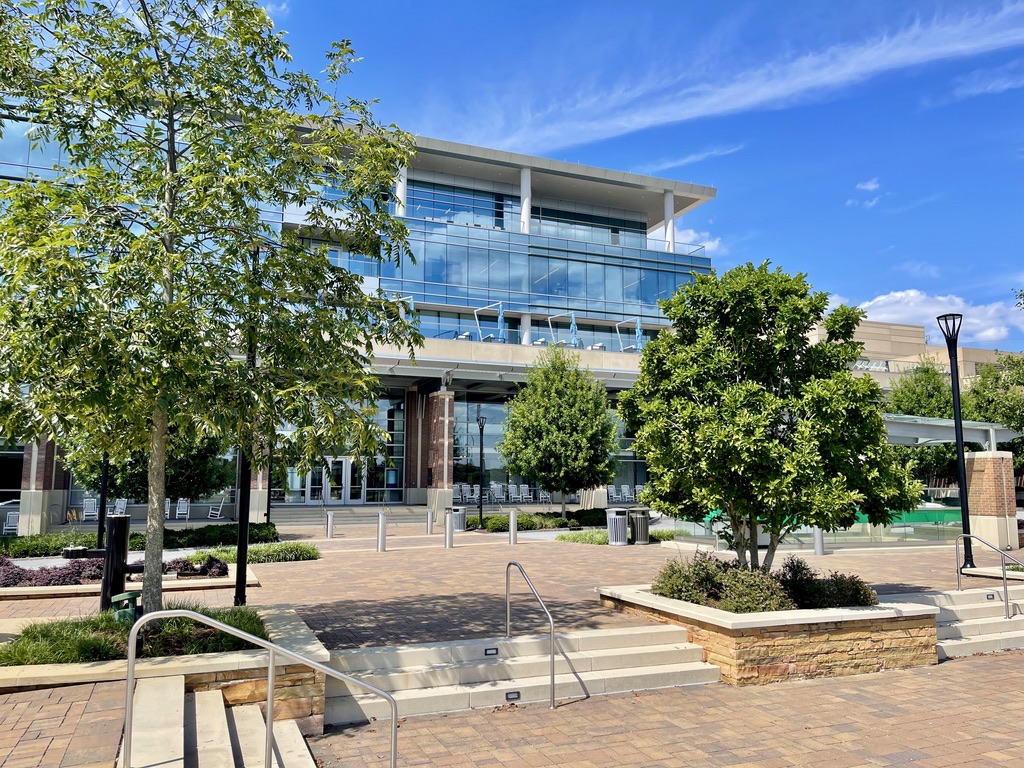 ---
| | Median Rent | Median Sqft |
| --- | --- | --- |
| Studio | $1,480 | 578 sqft |
| 1 Bed | $1,595 | 779 sqft |
| 2 Beds | $1,971 | 1,178 sqft |
| 3+ Beds | $3,625 | 2,391 sqft |
Access to city living, check. A taste of the suburbs, check. Greenspaces, parks, and a neighborhood vibe, check, check, check. This is Sandy Springs, the Atlanta metro area's second-largest city and the state's sixth-largest city.
Any Atlantan will tell you that neighborhoods here are often described as OTP, outside the perimeter, or ITP, inside the perimeter, another name for I-285, Atlanta's circular city-bypass. Sandy Springs is just barely OTP, and several of its main roads are accessible right from I-285.
Despite only becoming incorporated as a city in 2005, Sandy Springs has a rich history, particularly due to its proximity to the Chattahoochee River. It's hard to believe that an area once completely forested now has over 100,000 residents. While today's Sandy Springs is a far cry from the days of the Creeks, the city still prides itself on preserving as much greenspace as possible. It has more than 950 acres of parks and natural areas to explore, many of which are integrated into the neighborhood for daily use.
Rental homes and apartments in Sandy Springs range from new construction low-rise buildings amid restaurants to single-family homes in leafy residential neighborhoods.
As a commuter city, Atlanta is often known for its traffic. However, residents in Sandy Springs have an average commute time of 23 minutes versus the U.S. average of 25 minutes. Additionally, due to its accessibility to Atlanta, Sandy Springs is home to many Fortune 500 companies, including UPS and Newell Brands.
Fulton County School System is headquartered in Sandy Springs. Within the 94,000 student school district, there are 58 elementary schools, 19 middle schools, 15 high schools, and seven charter schools. The seven public elementary schools, two public middle schools, and two public high schools in Sandy Springs are Dunwoody Springs Elementary School, Heards Ferry Elementary School, High Point Elementary School, Ison Springs Elementary School, Lake Forest Elementary School, Spalding Drive Charter Elementary School, Woodland Elementary School, Ridgeview Charter School, Sandy Springs Charter Middle School, North Springs Charter High School, Riverwood International Charter School.
If traveling by car, Sandy Springs is a prime location with quick access to I-285 and Georgia state route 400. For those seeking public transportation in Sandy Springs, MARTA (Metropolitan Atlanta Rapid Transit Authority) buses run throughout. Sandy Springs also has four MARTA rail stations: Medical Center Station, Dunwoody Station, Sandy Springs Station, and North Springs Station. Each of these stations is located on the Red Line, which takes MARTA riders to the heart of Atlanta as well as to Hartsfield-Jackson Atlanta International Airport.
Sandy Springs is committed to expanding its already robust cycling network. At the time of the writing of this guide, one of their most prominent paths is the Johnson Ferry to Chattahoochee Park loop, which is 25.47 miles long. The city is also implementing a sidewalk master plan to incorporate more pedestrian opportunities.
Restaurants in Sandy Springs have a reputation for offering diners a range of delicious food choices, and it continues to be a place where chefs and restauranteurs choose to open new concepts. Celebrity Chef Kevin Rathbun opened Kaiser Chophouse alongside chef Peter Kaiser. The restaurant is a sleek, modern steakhouse that incorporates classic cocktails. A neighborhood favorite, Brooklyn Cafe, offers a menu of American classics, but the real star of the show is their crab cake salad. For those with a sweet tooth, there's Da Vinci's Donuts. Here, donut flavors are nearly limitless. Create your own or choose from one of the already perfected combinations.
One of the most central restaurant hubs is Sandy Springs' City Springs. This area is best known as Sandy Springs' arts and culture center. There are several theaters, a conference center, a few outdoor venues, as well as shopping and dining establishments. City Hall is even situated here. While there is a lot to see and at City Springs, the restaurant scene is the highlight. CityBar, Café Vendome, Flower Child, The General Muir, Nam Kitchen, and The Select all call City Springs home. City Springs is also the site of the Sandy Springs Farmers Market, which is open Saturdays through November.
Sandy Springs marks the beginning of what's known as the TopSide Tap Trail. The trail includes seven breweries in the cities of Alpharetta, Roswell, and Sandy Springs. The breweries in Sandy Springs are Porter Pizza & Brewery and Pontoon Brewing. With five more to frequent, the tap trail is a unique feature of the area.
There's no shortage of grocery stores in Sandy Springs. Traveling north on Roswell Road alone, one of the neighborhood's main passthroughs, you will find Target, Whole Foods, Trader Joe's, and Publix.
Small businesses, retail boutiques, and shops are very much a part of the Sandy Springs neighborhood. Check out spots like Fragile for gifts and Fox's for designer clothing and accessories. Nandina Home and Kudzu offer great interior decor shopping. Also a quick drive from Sandy Springs is Buckhead, where you will find Lenox Square, Atlanta's most well-known mall featuring nearly 200 stores, sprawling beyond its own grounds to neighboring Shops Around Lenox. Another mall, Phipps Plaza, is to the northeast, just across Peachtree Road. Phipps Plaza is best known for its palatial interiors and high-end fashion brands such as Gucci, YSL, and Tiffany & Co. Perimeter Mall is another great shopping destination in a neighboring city, Dunwoody, with over 150 retailers anchored by Dillard's, Macy's, Nordstrom, and Von Maur.
There's nothing like living in a place that is central to area sites and attractions, and Sandy Springs is ideal for getting to all that Atlanta has to offer. For sports fans, Sandy Springs is conveniently located just eight miles from Truist Park, home of the Atlanta Braves. Beyond being Atlanta's baseball stadium, Truist Park also offers shopping and dining at The Battery. It's a one-stop-shop for entertainment. Another popular destination is City Springs, the neighborhood's arts and culture center, where you can catch everything from concerts to theatrical performances. City Springs is the site of several theaters, a conference center, a few outdoor venues, as well as shopping and dining establishments.
Sandy Springs is also well-known for its outdoor greenspaces. In fact, there are 16 parks within Sandy Springs' city limits. One of the largest is the Chattahoochee River National Recreation Area. It was named a park in 1978 by president Jimmy Carter. The park includes a 48 mile stretch of the river, 22 of which are located in Sandy Springs. One of Atlantans' favorite pastimes is to "shoot the 'Hooch." You'll know you're a local when you rent an inner tube with some friends, tie everyone's tubes together, and leisurely float downstream along the Chattahoochee, a.k.a. "the Hooch." If walking trails are more your speed, head to Powers Island, East Palisades, or Island Ford. Another Sandy Springs outdoor perk, especially for families, is the Abernathy Greenway. It is a 6.6-acre park featuring various playable art sculptures perfect for kids.
Finally, there are several cultural museums in Sandy Springs. Heritage Sandy Springs is a history museum and event space at the 1869 Williams-Payne House. The museum has a permanent exhibit about the history of Sandy Springs but also regularly features rotating exhibits. Another museum in the area is Anne Frank in the World. Here, more than 500 photographs tell Anne's story and share her lessons with visitors.
Chamberlain University is on the campus of St. Joseph's Hospital in Sandy Springs, where students can choose to study several medical professions. Sandy Springs is also conveniently located near Buckhead, home of Georgia State University's J. Mack Robinson College of Business as well as The University of Georgia's Terry College of Business Executive Education Center. Thanks to the robust MARTA system in this area, students can also quickly get to and from other in-town universities, including Agnes Scott College, Clark Atlanta University, Emory University, Georgia Tech, Georgia State, Morehouse College, SCAD, and Spelman College.
We rate and sort every listing based on fair market rent.