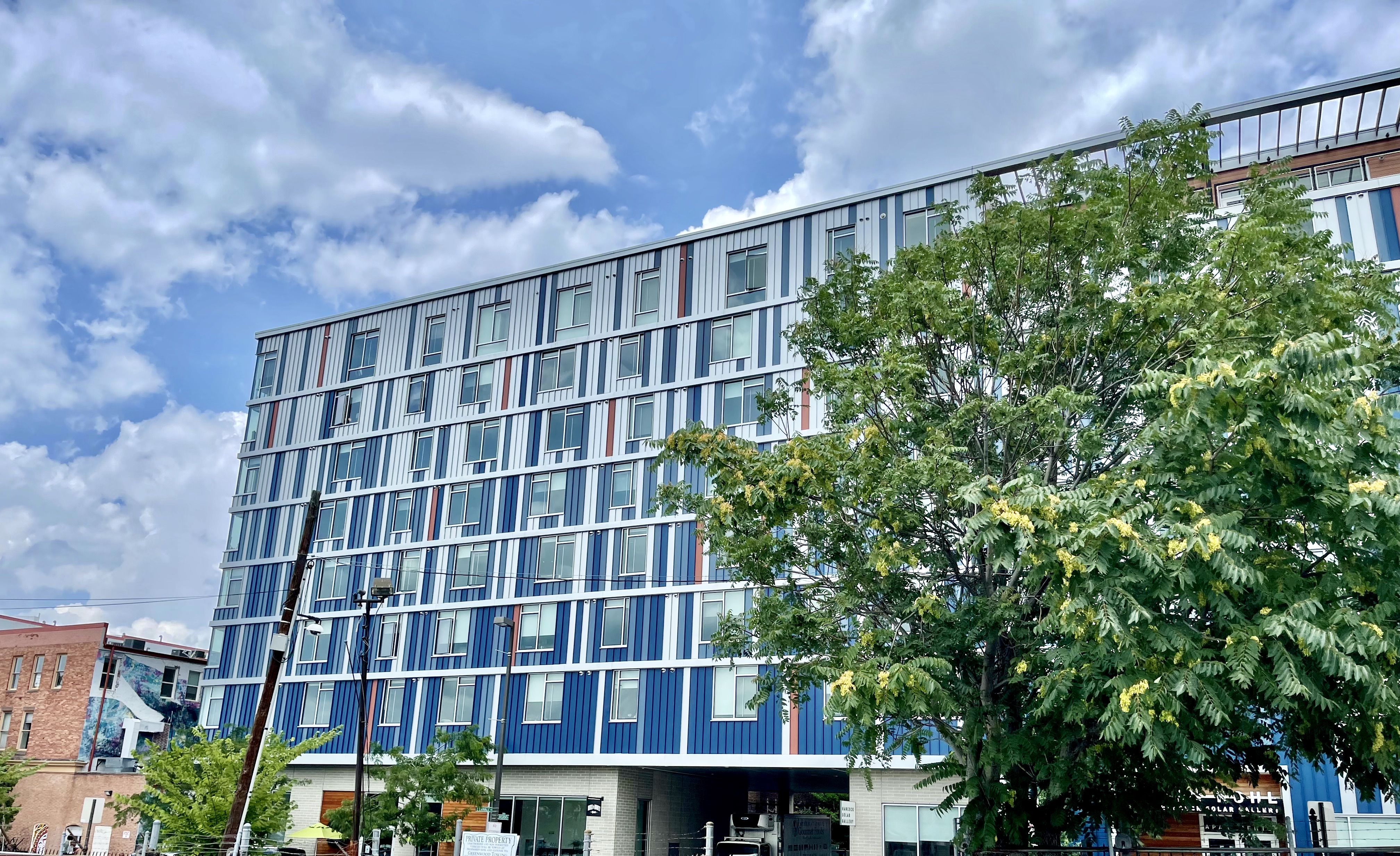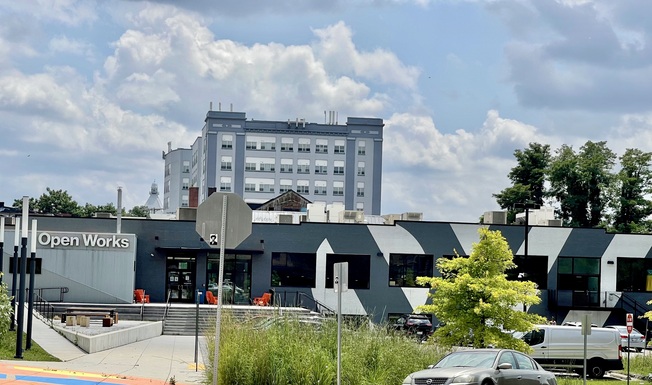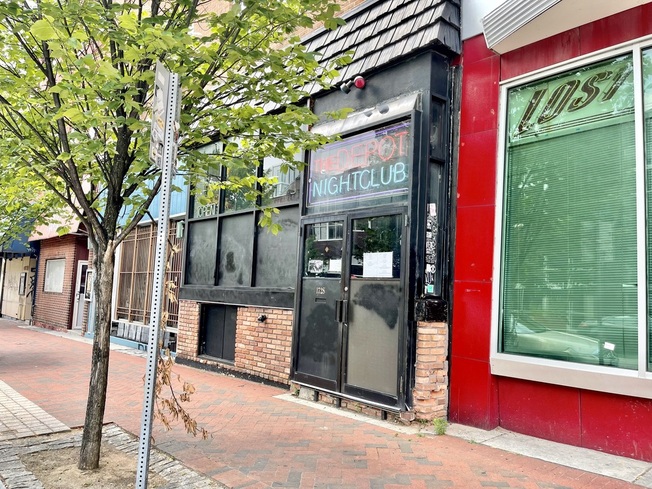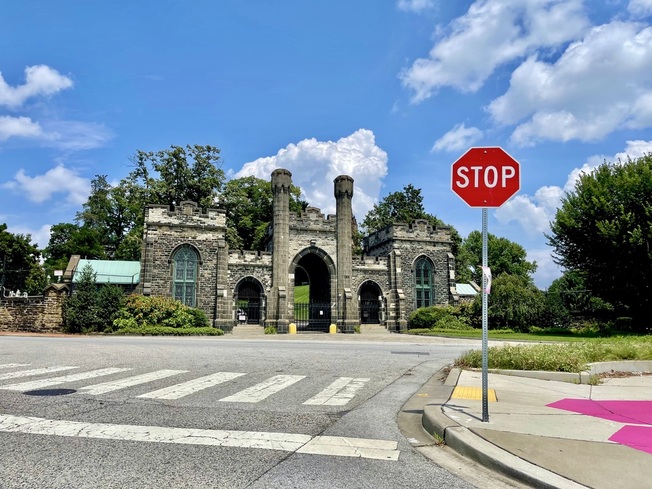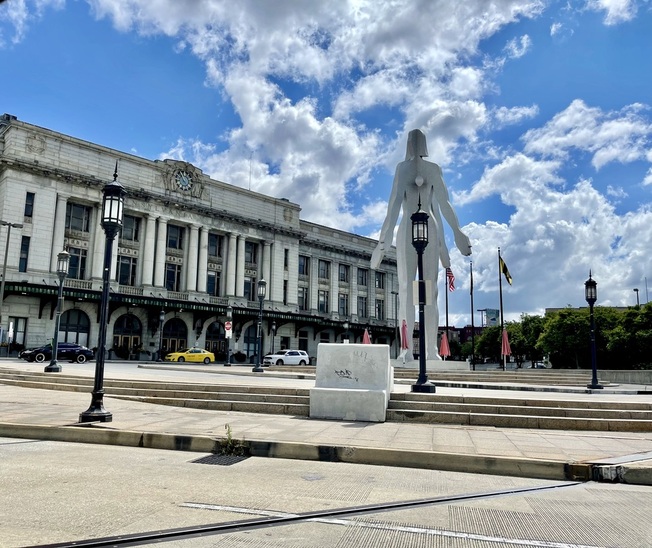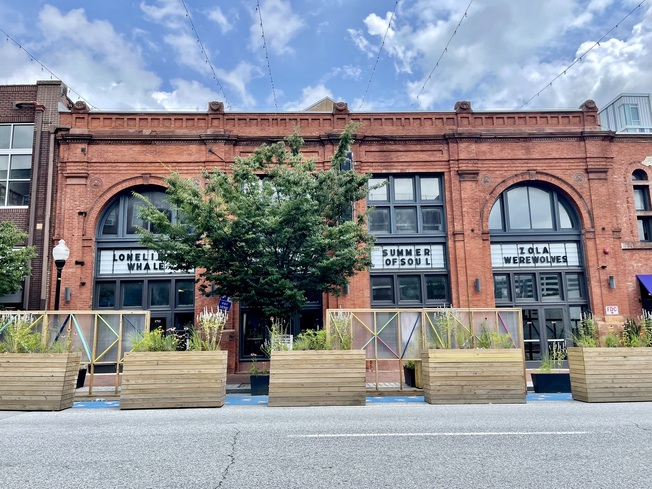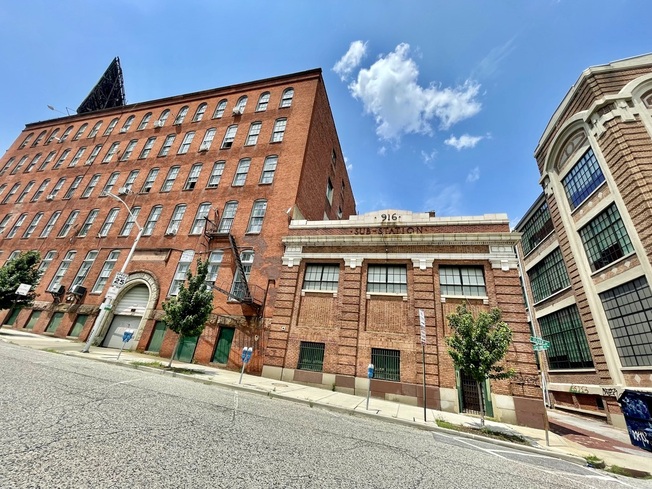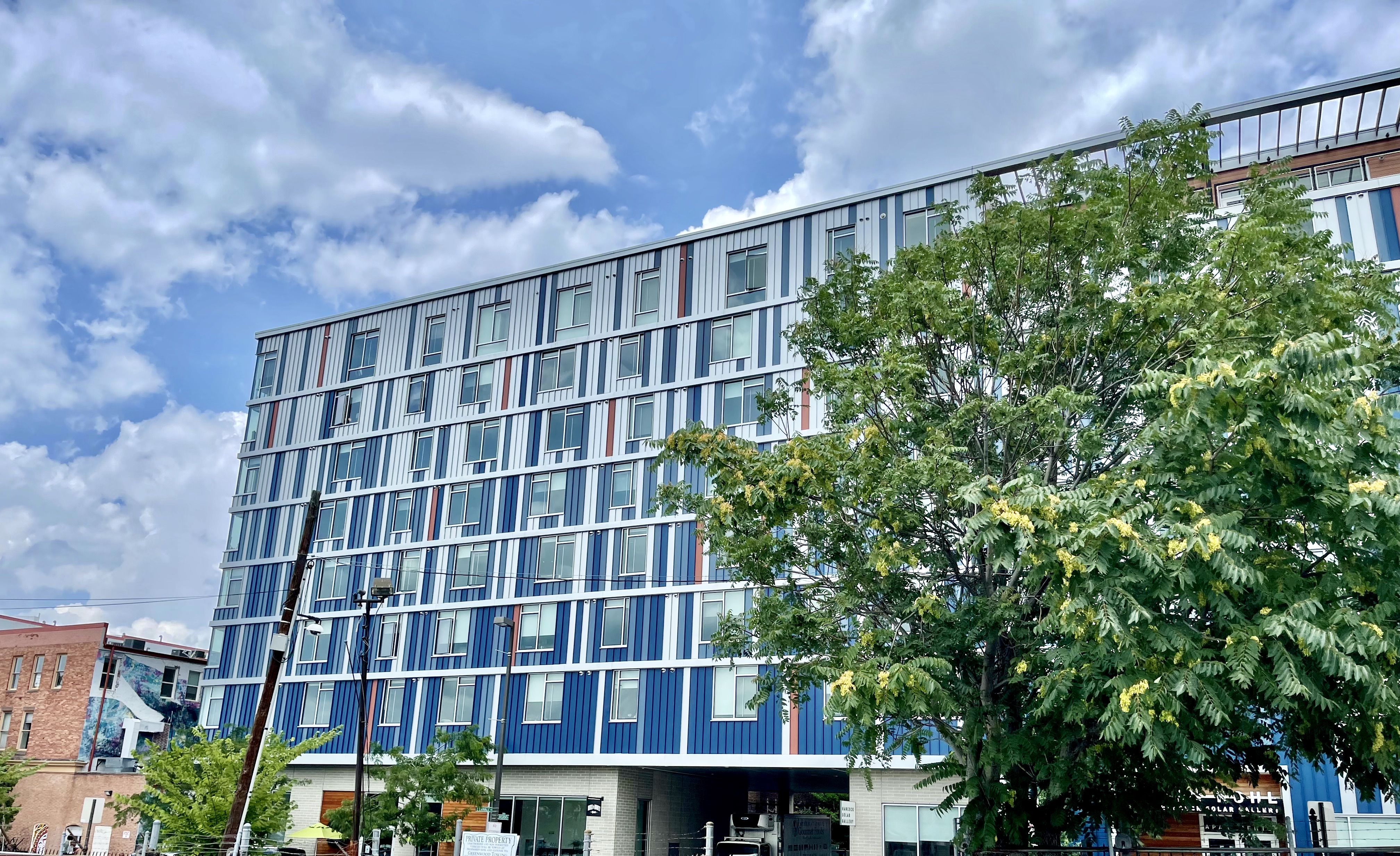 ---
| | Median Rent | Median Sqft |
| --- | --- | --- |
| Studio | $975 | 478 sqft |
| 1 Bed | $1,242 | - |
| 2 Beds | - | - |
| 3+ Beds | - | - |
One of Baltimore's newest neighborhoods is also one of its most creative, centrally located, and carved from old warehouses and industrial spaces. It has become the nucleus of Baltimore's art scene. Art isn't just framed on a wall behind a velvet rope here; it's alive, and it's exciting. Officially known as the Station North Arts and Entertainment District (but more commonly known around town as Station North), this was the first area in Baltimore to receive such a designation, in 2002, offering tax credits to artists and non-profits to set up shop.
Framed by North Avenue, Penn Station, I-83, and Greenmount Cemetery, Station North is a popular stomping ground among MICA students toting canvases down the sidewalks since the neighborhood is an easy walk to MICA's campus. Something is always going on here, from the arthouse cinema at the Charles Theatre to the Maryland Film Festival in the Stavros Niarchos Foundation's redeveloped Parkway Theater. Nearly every centimeter of wall space is encompassed by art, be it outside, in the form of murals, or within one of the many nonprofit makerspaces that have newly opened, each dedicated to a range of crafts.
In this artsy area, you'll find buildings full of loft spaces uniquely suited to artists thanks to their open feel but also their affordability. The Copy Cat building, Oliver Street Studio Building, and the Cork Factory are three examples of re-zoned industrial spaces that now house artist studios and apartments in Station North. Along with Station North's designation as an Arts & Entertainment District came grant funding for brown-field construction projects, and 32 Station North Townhomes were completed in 2008. In addition, two City Arts buildings offer rent-controlled studios and apartments for artists with free WiFi. In addition, there are brick rowhomes which date to the early 20th Century along Charles, Calvert, and St. Paul Streets.
Historically speaking, a large Korean population once resided in Station North, and many of the city's best Korean restaurants can still be found here today.
The Ynot Lot, which hosts outdoor art events, is the only park space within the neighborhood. Comprising its eastern border are the green hills of Greenmount Cemetery, where John Wilkes Booth and Elijah Bond, the inventor of the Ouija Board, are buried. However, fans of the HBO drama The Wire may better recognize the cemetery as the location of a pivotal scene in its storyline.
Station North's boundaries are North Avenue to the North, I-83 to the South, which cuts into the neighborhood diagonally, Greenmount Avenue to the East, and the Amtrak rail lines to the South and West. The neighborhood is easily traversed on foot, and dedicated bike lanes have been added along major thoroughfares like St. Paul and Guilford.
The name "Station North" came from the neighborhood's proximity to Pennsylvania (Penn) Station, Baltimore's transportation hub. Amtrak provides regular service to Northeast Corridor destinations like New York, Boston, and Washington, DC, and the MARC commuter lines and the Light Rail also depart from Penn Station. Station North's accessibility to the railway has contributed to its status as a cultural crossroads, as artists, actors, and musicians from New York City routinely visit — and often stay. Much ink has been dedicated to detailing ways to revamp and update Penn Station's aging building, calling for everything from new art installations outdoors to the addition of top floors housing a boutique hotel. But these things don't come cheap, and so, for now, the station waits patiently. MTA's Green, Gold, Silver Routes all travel through the neighborhood, as do the Local Link Buses 53, 51.
You don't need a car if you live in Station North, but if you're driving, you can find plenty of parking at the Penn Station garage and surface parking lot. In addition, there is a public garage on Charles Street and metered street parking in Station North as well.
Just as storefronts along North Avenue host art galleries and pop-up theater spaces, the Station North neighborhood has also gained status as a foodie destination, with some of the city's newest and brightest chefs finding the lower rents appealing.
Alma Cocina Latina has had several incarnations, first as a cafe inside Johns Hopkins Space Science Telescope Institute, then as a sit-down restaurant in Canton. But in 2020, owner Irena Stein moved operations to Station North. The new industrial space makes for a beautiful setting for her plant-filled restaurant, which serves standout Argentinean fare like arepas and chilis. Joe Squared is a worker-owned restaurant that specializes in tasty coal-fired pizzas. Named one of the best new restaurants in America by Bon Appetit, Le Comptoir du Vin is helmed by chef Will Mester who sources nothing but the freshest and best; he scours vendors all over town to find the perfect heirloom beans for his hearty stews, for example. Rustic fare fills this menu, offering a mix of Italian, French, and Japanese flavors. The bistro setting, complete with dark wood furniture and a chalkboard menu along the walls, is spare yet beautiful. Consistently topping the list of best Korean restaurants in Baltimore, Jong Kak makes melt-in-your-mouth Korean BBQ, casseroles, rice dishes, and spicy kimchi stews.
Nancy by SNAC (Station North Arts Café) is a no just a restaurant but also a community gathering space beloved for its enormous southern breakfasts, featuring entrees like sausage and grits or Carolina-style BBQ sandwiches. Another morning (or any time treat): Vagrant Coffee gets its name from its mobile past, as owners Joshua Dew and Jared Cate used to roll out operations at parties, events, and even office buildings. But all that's changed now as they have found success with several locations at the Inner Harbor, in Pigtown, and here in Station North. They feature coffee and espresso creations as well as kombucha, smoothies, and teas. The Old Bay latte's spicy kick is topped with a ribbon of caramel.
Famously known as the place where John Waters hangs out, Club Charles has played host to Baltimore's hippest night owls since opening in 1951. Although there's a quirky hand-lettered cocktail menu, you don't really go here for the drinks so much as the atmosphere, with its retro Jukebox and art deco furnishings. The red-tinged lighting makes everyone feel a little cooler. A divey pub, The Crown is known as one of the best places in the city to hear up-and-coming bands on the second floor. Its no-frills setting offers a curious menu of Asian fusion junk food that somehow pairs perfectly with its drinks.
There aren't any grocery stores in Station North, but there is a Safeway close by in Charles Village located at 24th and Charles Streets.
Station North is not known for its retail shopping. While the city offered tax credits to non-profits and commercial art studios to attract them to the neighborhood, other businesses did not receive the same incentive. However, there are a couple of shops worth noting here.
Baltimore Bicycle Works is a worker-owned bike shop. It offers custom-made new and used bikes for sale as well as accessories, and it also has a repair shop. Royal Books on 25th Street is worth a visit for obscure titles focusing on 20th-century cinema, such as the original screenplay for the 1970's Mike Nichols film, Catch-22.
For thrift finds and art supplies, head to the boutiques in Mount Vernon on Charles and Cathedral Streets.
The Open Walls mural project put Station North on the map, literally. Hosted in 2012, the Arts & Entertainment District invited artists from around the world and supplied paint and materials to create large-scale installations on the sides of vacant buildings. An astounding array of visual artworks followed, beckoning visitors, shining attention, and promoting dialogue in a part of the city many people had never seen before; the project even gained acclaim in The New York Times and Washington Post. Most of the artworks survive intact today, and there is a map of mural locations you can download from the Station North's Arts & Entertainment District's website.
Baltimore's Graffiti Alley is located behind Motor House at the corner of North Avenue and Howard Street. It's the one place in Maryland where graffiti is legal, and many rap music videos are filmed here. Its colorful, ever-changing scene makes for an Instagrammable moment for anyone, musician or not.
Art galleries include Area 405, an artist-owned studio and exhibition space located in an old warehouse, and Gallery CA in the City Arts Building, which hosts arts programming in connection with area museums and community organizations. The Institute of Contemporary Art, Full Circle Fine Art, Thrive Atelier, and Schuler School of Fine Art all have gallery spaces in Station North. Motor House is a nonprofit gallery and performance venue housed in an old car dealership; Showroom, its café, provides ample light to enjoy a sip of coffee or a cocktail through large windows.
The Metro Gallery and The Depot Nightclub host musical acts from Baltimore and beyond, along with 80s dance parties and open mic nights. The Charles Theatre has the distinction of being the city's only arthouse cinema. It also screens vintage films on 35-millimeter reels as well as first-run showings of popular movies. The Beaux Arts auditorium once served as a cable car garage and was expanded in the early 2000s to include four additional screening rooms.
Along with venues for showcasing finished artworks, there are makerspaces in Station North, which encourage artists (and art enthusiasts) to learn new skills on shared equipment. For a nominal monthly fee, members can actually check out powersaws and other loud machinery at the Station North Tool Library. It offers instruction on a range of DIY subjects, from knife-making to sewing-machine basics. OpenWorks seeks to rebuild Baltimore's manufacturing economy by offering studio space, affordable classes, and a machine shop to turn one's handmade dreams into reality. Baltimore Print Studios is a public access design studio that gives students the chance to create printed works using letterpress, screenprint, and Risograph printing techniques. Workshops are low priced, and no experience is necessary. And the Baltimore Jewelry Center offers metalsmithing and jewelry-making classes as well as studio space for artists. It also has a store where resident artists can sell their work.
Station North's central location, easy access to mass transit options, and thriving arts and nightlife scene attracts plenty of undergrads and graduate students from the Maryland College Institute of Art (MICA), as well as students from The University of Baltimore, which is just a few blocks south of Penn Station. Those attending Johns Hopkins' Homewood Campus in Charles Village also live and play here.
We rate and sort every listing based on fair market rent.