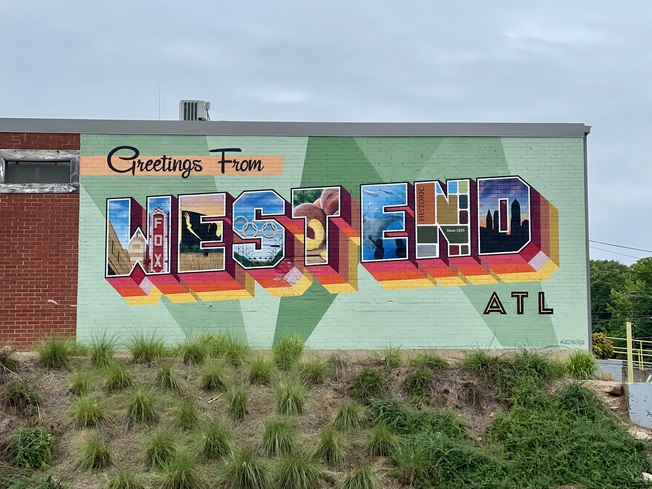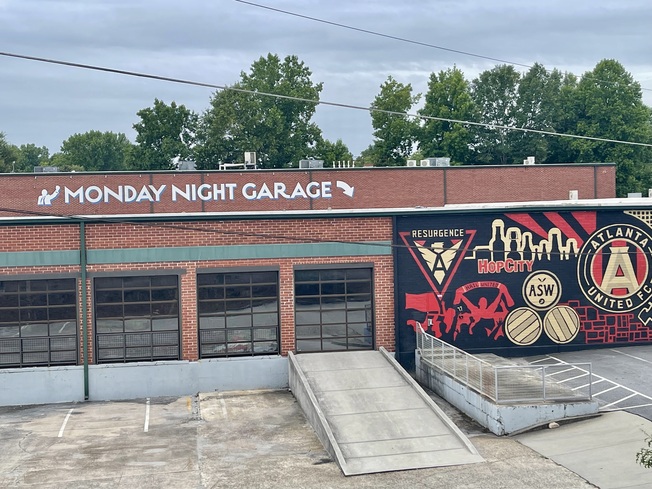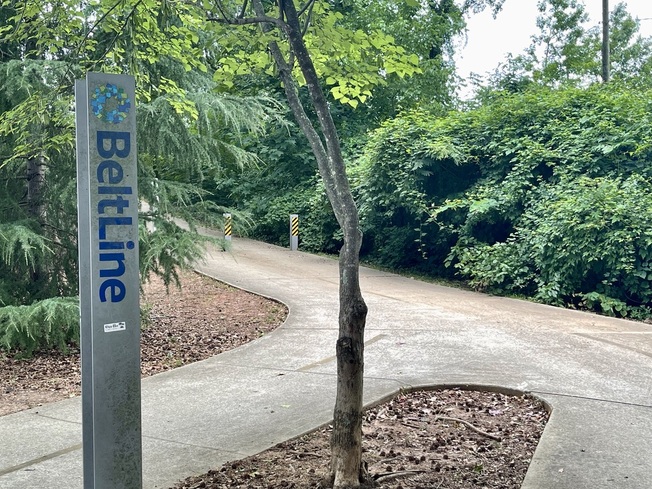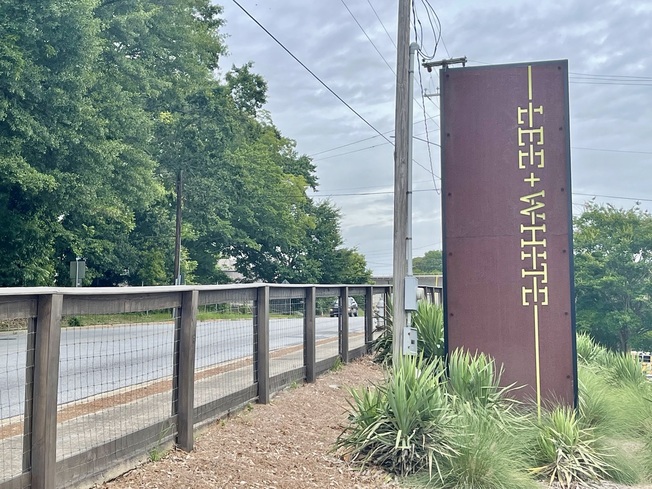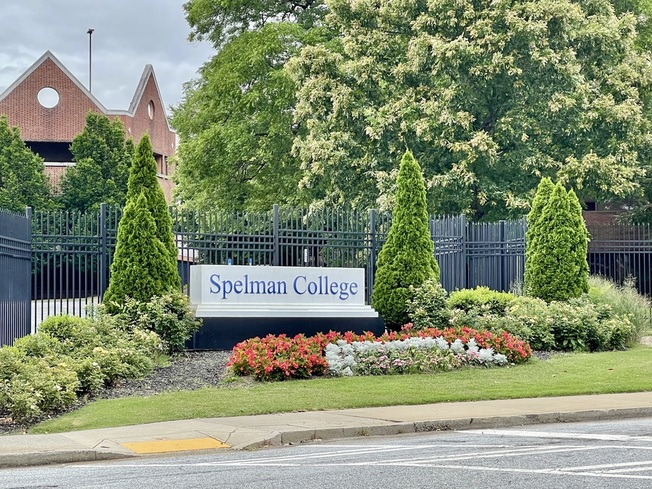 ---
| | Median Rent | Median Sqft |
| --- | --- | --- |
| Studio | - | - |
| 1 Bed | - | - |
| 2 Beds | $1,500 | 1,184 sqft |
| 3+ Beds | - | - |
Listed on the National Register for Historic Places, West End is one of Atlanta's oldest neighborhoods. It's located just 3 miles southwest of Downton Atlanta, and from its streets, you can see Atlanta landmarks like Mercedes-Benz stadium and the gold-domed capitol building. The neighborhood is perfectly situated to provide a quick escape from the city with easy access to the hustle and bustle when, and if, you want it. But that's not to say that West End isn't lively in its own right.
West End is a diverse, creative neighborhood, so much so that residents designed a banner depicting West End's city blocks as cultural squares representing everything from religious diversity to business development. Murals in West End adorn the sides of restaurants, and buildings are painted punchy, vibrant hues. Homes and apartments in West End range from affordable student-centered complexes to more traditional low-rise buildings and single-family houses. One of West End's points of interest, the Hammonds House Museum, centers around African American visual art, a focus perhaps not surprising given West End's place in history and the fact that more than 85% of today's West End residents are Black. It was here in West End in 1961 that the state of Georgia allowed for nine African American students to attend four previously segregated schools. Three of these students graduated in 1963 and were among the first post-desegregation graduates in the state.
Ironically, West End was developed primarily around a crossroad tavern known as White Hall, which unlike other structures of the time, was painted white. From the outpost, the town began to sprawl, first as a railroad stop and later as a commercial district where wealthy Atlantans built Craftsman bungalows, Queen Anne, and Folk Victorian houses. The neighborhood's MARTA (Metropolitan Atlanta Rapid Transit Authority) line, Atlanta's public transportation operator, even mimics those old tracks. As West End grew, the neighborhood became the place for prosperous and well-known Atlanta residents to live. Famed author, Joel Chandler Harris, called West End home for much of his life. His house, the Wren's Nest, is still an operating museum in the neighborhood.
Public transportation in West End is highly accessible. MARTA (Metropolitan Atlanta Rapid Transit Authority) has the West End train station located at 680 Lee Street. Beyond being a part of the Red/Gold Line and the first stop of multiple bus routes, West End station also has Atlanta University Center Shuttle servicing Clark Atlanta University, Morehouse, and Spelman Colleges. Hence, the popularity of West End among students commuting in and around those college campuses. This MARTA station is also the host of Station Soccer, Atlanta's latest community project creating a network of small soccer fields anchored by MARTA transit stations in Atlanta. Players represent their home station community and play other station teams, all by using MARTA. Every Tuesday afternoon, the West End station also holds a weekly farmers market known as the Fresh MARTA Market, a pop-up produce stand.
Beyond public transportation, West End is also one of the friendliest neighborhoods for bicycle and pedestrian traffic, courtesy of the neighborhood's Westside BeltLine, a series of railroad corridors turned biking and walking paths. West End is literally mile 0 for the three-mile multi-use trail and linear greenspace. Eventually, the trail will connect the West End to Washington Park, Hunter Hills, Ashview Heights, Mozley Park, Westview, and Adair Park, complete with a 14-foot wide lighted trail and 14 points of entry with ramp and stairway systems, most of which will be ADA accessible.
As with most areas in Atlanta, a car is your best bet when getting further afield. West End is nearest to I-20, I-75, I-85, and I-285.
A melting pot of cultures and religious groups, West End has given rise to a restaurant scene full of healthy, plant-based foods. As such, West End is the site of many of Atlanta's most famous vegan and vegetarian eateries. There's Soul Vegetarian where patrons come to enjoy daily delicacies such as the kalebone, the restaurant's super protein roast with BBQ sauce. There's also Tassili's known for its wraps. In neighboring Westview, you'll find viral vegan burger joint, Slutty Vegan, owned and operated by Pinky Cole. Cole slings plant-based patties that have developed a queue-forming cult following. The restaurant has become so popular that it now has three locations.
If vegan and vegetarian food isn't your thing, don't worry, there are plenty of other restaurants in West End for your dining pleasure, especially at its mixed-use development, Lee and White. Once known as warehouse row, Lee and White is now the location of breweries, restaurants, and even food manufacturers. It sits directly on the Westside BeltLine trail, boasting 23 acres of creative, mixed-use space. Current tenants include breweries such as Monday Night Garage and Wild Haven, kombucha fermenter Cultured South, and distiller American Spirit Works. Honeysuckle Gelato and Doux South Pickles are also both based at Lee and White.
Grocery stores in West End are mostly of the small convenience variety, perfect for college students searching for necessities. At the edge of West End, there's a Kroger on Cascade Avenue.
For shopping in West End, you'll mostly find small business boutiques. One boutique is the Afrocentric Network. The largest store of its kind in the Southeast, the shop provides Afro-centric clothing, jewelry, skincare, music, and artwork. Once upon a time, the West End mall was a popular destination, but given a recent change in ownership, its future is TBD (at the time of writing this guide).
Because West End is near some of the city's largest interstates, it's easy to get to other shopping locales such as Atlantic Station. Twenty-four stores ranging from big name brands to small local establishments are tenants in Atlantic Station's the District. Shops include national chains such as H&M, Banana Republic, and Target and Atlanta-specific retailers such as Fab'rik and The Atlanta Falcons and Atlanta United Team Store. Free 2-hour parking is available in the below-ground decks.
Parks and greenspaces are plentiful here. Besides the Westside BeltLine, West End boasts a total of five parks. West End Park is one of the neighborhood's most prominent multi-use parks. It has tennis courts, a baseball diamond, a covered basketball court, and a playground. Rose Circle Park has paved sidewalks as well as a playground. It is also where the BeltLine's mile-marker-0 is found. Gordon White Park is a little over a decade old and is considered to be the BeltLine's very first park. It is filled with benches for people-watching and taking a break to enjoy the outdoors. Holderness-Lucile Park and Howell Park round out the neighborhood's greenspaces.
Since West End is a culturally forward neighborhood, it should come as no surprise that it has several museums. First is the Hammonds House Museum, a museum specifically focused on the works of African Americans. The museum is housed in the former home of Dr. Otis Thrash Hammonds, a prominent Atlanta physician and arts patron. It showcases much of Hammonds' art collection and other permanent and rotating exhibits by artists from America, Africa, and the Caribbean. Another West End attraction is the Wren's Nest, the former home of writer Joel Chandler Harris. Harris is best known for his Uncle Remus stories. The Wren's Nest celebrates the heritage and folklore of African and Indigenous peoples — don't miss the museum's storytelling events.
The Atlanta University Center Consortium, the oldest and largest contiguous consortium of African-American higher education institutions, is located near West End; the four institutions are Clark Atlanta University, Morehouse College, Morehouse School of Medicine, and Spelman College. These Historically Black Colleges and Universities (HBCUs) are a strong part of the West End community, and many students and alumni live in West End well beyond their years on campus.
We rate and sort every listing based on fair market rent.