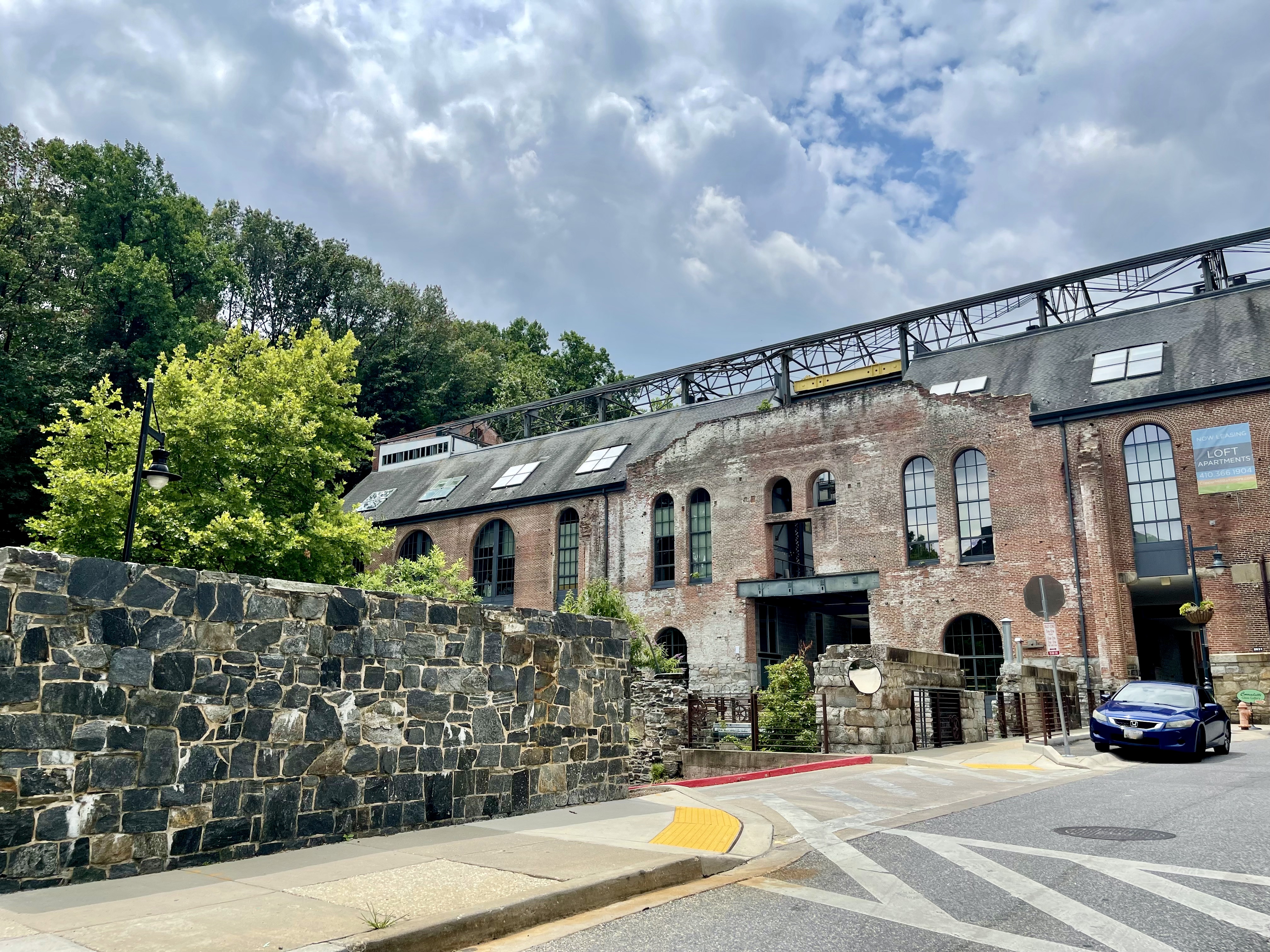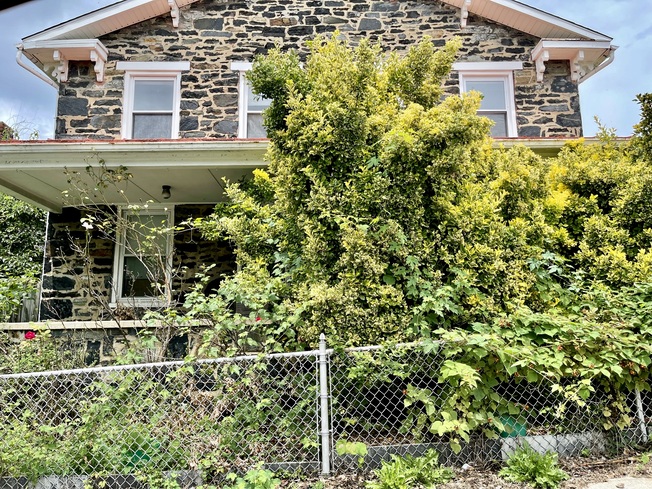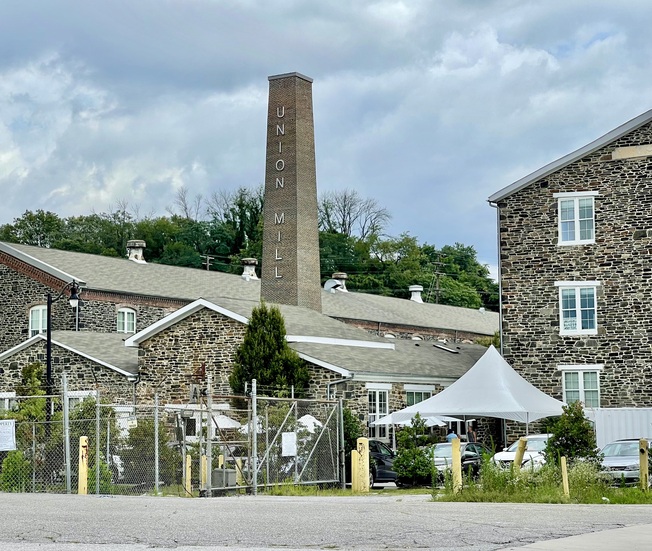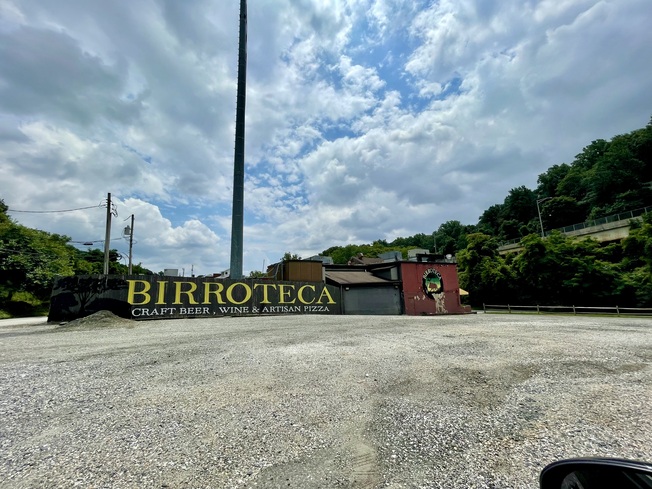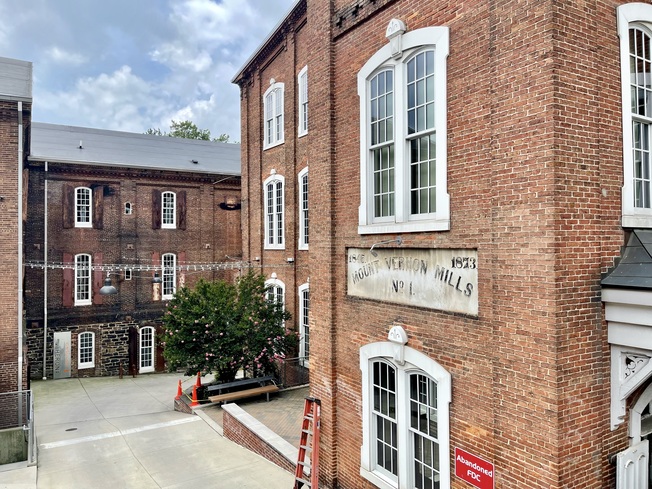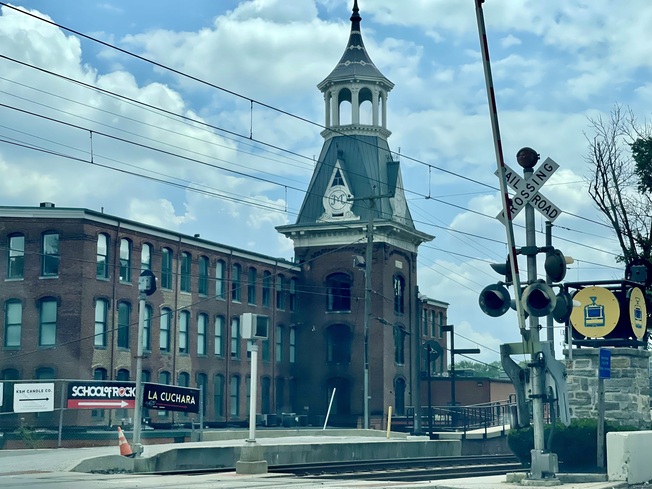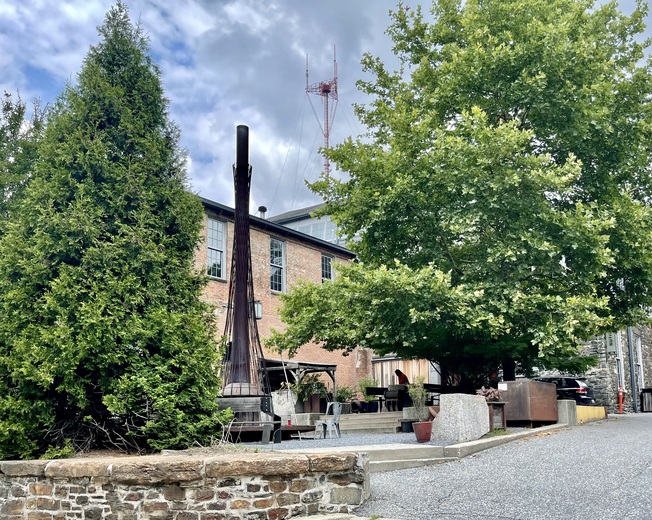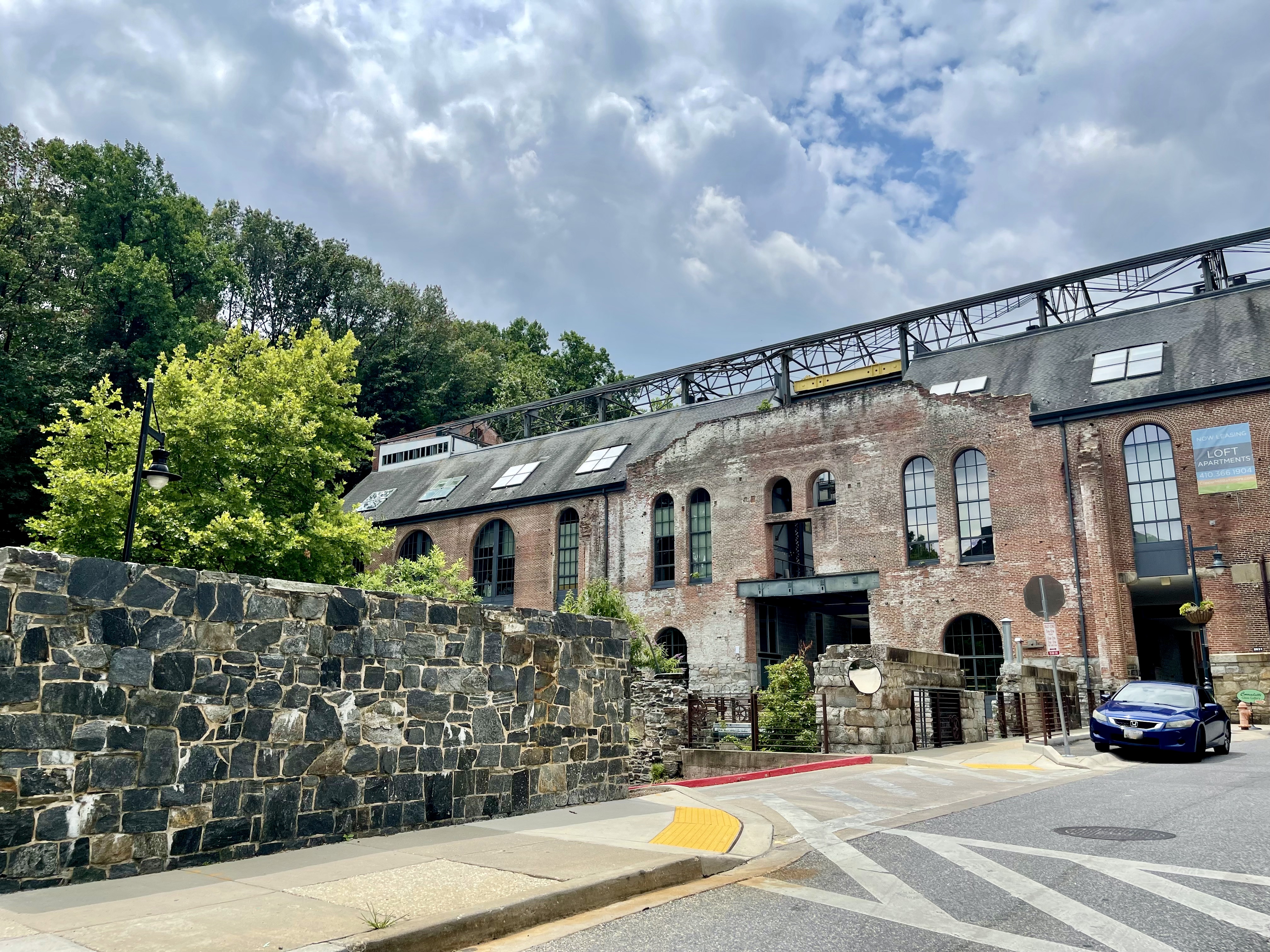 ---
Unless you know where to find it, you may miss Woodberry entirely — the neighborhood is a bit off the beaten path, literally tucked beneath Interstate 83. A quiet part of town, there's been more of a suburban feel here from the area's earliest beginnings — in fact, when designers laid out plans for millworkers' housing, they made sure to include parcels for gardens. Bordering the neighborhood is Druid Hill Park and the Woodberry Woods, a watershed forest.
But travel back in time to the 1700s, when flour was Baltimore's greatest export, and this area was humming. A series of mills had sprung up at the base of the Woodberry Valley along the Jones Falls, which would serve as their source of power, attracting immigrants from Ireland, Germany, and England, who had the milling skills to run them.
As times and tastes changed, the mills were repurposed into textile factories, later becoming ironworks factories, glassmaking, and rubber plants. In the 20th Century, they were transformed yet again, this time into production facilities, making everything from large appliances like washing machines to tiny plastic components, like model train parts.
Today, Woodberry is known as a foodie destination, with Woodberry Kitchen, helmed by Baltimore's only James Beard-winning chef, Spike Gjerde, its centerpiece. A handful of other noteworthy restaurants operate out of the historic buildings here, serving a medley of deliciousness ranging from paella to BBQ. You never know what else you'll find in this area as the mill's unique floorplans, and its old, subdivided homes attract everyone from architectural firms to print shops, artist studios, co-op spaces, and even fitness enthusiasts.
Woodberry's boundaries include the Jones Falls to the east, Greenspring Lane to the west, Cold Spring Lane to the north and Druid Hill Park to the south. There's a Light Rail Station on Union Avenue, right by the mills, and MTA's Local Link Bus Routes 21 and 22 make stops in the neighborhood.
This is mainly a driver's part of town, and street parking in Woodberry is common and plentiful. Most apartment complexes offer parking lots or garages, and I-83 is easy to access via Exit 8 (Falls Road).
The many greenspaces that border Woodberry are a wonderland for hikers, bikers, and plain old sneaker wearers. The Jones Fall Trail, which ends in Baltimore County, threads its way through Cold Spring Park and Reservoir Hill's Druid Hill Park, which is also home to the Maryland Zoo. Plus, there's an Earth Treks climbing studio on 41st Street. Outside of the parks, bicyclists should use caution if traversing the old curving streets along the Jones Falls, particularly Clipper Mill Road. Druid Hill Park has a sidepath for bicyclists, and there are bike lanes on Wyman Park Drive and along Chestnut Avenue as well as in Hampden on The Avenue, Roland Avenue, and Keswick Road. Stick to them.
You can't talk about restaurants in Woodberry without highlighting Woodberry Kitchen. Hungry diners take note: reservations are a must. Sit in the historic bi-level building or out in the garden courtyard, with its fire pit, and take in the rustic surrounds. The restaurant is known for sustainable dining, and it gets its produce from local farms. Standouts include the cast-iron chicken and biscuits and the fresh milk ice cream with homemade marshmallows. All their delicious breads are made in its bakeshop.
La Cuchara: Basque specialties are aflame here, literally, as many of the house specialty appetizers, called Pintxos, are grilled in the open kitchen over a wood fire. The menu changes daily based on what's freshest in season, and that could be anything from Chanterelle mushroom fricasse to sage-crusted branzino with a beet puree. A display of spoons line one wall of the expansive former mill in a whimsical ode to its namesake.
Blue Pit BBQ cooks its meats low and slow, be they pork, chicken, or even jackfruit for vegetarians. The Zeke's coffee-rubbed brisket is another specialty. This is a neighborhood favorite not just for its food; its backyard patio is also dog friendly, and its craft cocktails are a must-try (start with the Orange Gin Blossom Sour, yum).
Devotees of Artifact Coffee eagerly await the arrival of the soup du jour — one day it's Italian wedding soup with meatballs, escarole, and plenty of vegetables; another, it's creamy potato with bacon. Chef/Owner Spike Gjerde's follow-up to the award-winning Woodberry Kitchen provides the same delicious flavors in a more casual setting. Not to mention, cheaper.
Even further off the beaten path, tucked back on Clipper Mill Road, Birroteca is a rabbit's warren of dining rooms known for its wood-fired pizzas, crispy polentas, handmade pastas, and enormous seasonal salads. Also, in this area, the award-winning Food Truck, Gypsy's, has found a permanent home in its coyly named Truckstaurant, with an eye-catching display of painted lanterns that will make you feel as though you've walked into a genie bottle. Here it serves the same street food that put its mobile operation on the map, like its lump crab cake and falafel cones, along with some tasty craft cocktail "potions."
And on Falls Road, Cosima's Sicilian flavors positively sing in its beautifully refurbished setting. You would never know you were sitting in what was once the mill's boiler room. Chef/owner Donna Crivello (formerly of Donna's Coffee Bars) uses family recipes to create her culinary delights, such as ricotta-stuffed meatballs and fried donuts. The restaurant is named after her grandmother.
Although Woodberry is not known for its shopping, some of the city's best specialty stores are located next door in Hampden. The Avenue has dozens of independent book, clothing, and home goods retailers. Highlights include
For groceries in Woodberry, there's the Giant in Greenspring Tower. For organic buys, try Mom's Organic Market in The Rotunda. You'll also find a Save a Lot on Cold Spring Lane.
Baltimore Heritage offers a great self-guided walking tour of Woodberry and neighboring Hampden; you can pick up a free brochure in one of the shops along The Avenue (36th Street).
Druid Mill, now known as Union Mill, is located at the intersection of Union Avenue and Ash Street. It was the largest cotton mill in Maryland and one of only a handful made entirely of stone. Today, it's home to offices and Artifact Coffee, sister restaurant to Woodberry Kitchen.
Located at 3600 Clipper Mill Road, Meadow Mill's steepled belfry is a landmark that's visible from I-83. In the 1800s, it served as a textile mill, manufacturing everything from twine to sailcloth, but it was unfortunately staffed largely by children, whose small fingers could easily maneuver the bobbins winders. The London Fog Factory purchased the building in the 1960s, producing raincoats through the 1980s and employing 1,500 people here at its peak. The expansive space now houses the Meadow Mill Athletic Club, complete with squash courts, and La Cuchara, a fine Spanish restaurant.
The brick Poole & Hunt Foundry complex at Union Avenue and Clipper Park Road is the site of today's Woodberry Kitchen. Originally a manufacturer of iron parts for steam engines, rail cars, and even the fastenings on the dome of the US Capitol in Washington, the company went bankrupt in the 1920s, and a fire destroyed the adjacent machine shop in 1995. The Millrace Condos were rebuilt on the site, but its pool, with its memorably Greek-inspired ruins, are actually real — they're the remnants of the machine shop's basement. Some of the other frameworks were left untouched, and they provide a spare yet beautiful backdrop for the renowned farm-to-table fare at Woodberry Kitchen, which opened in 2007. Additionally, there is a metal fabrication studio and art gallery.
The one-story stone Park Mill, at 1750 Union Avenue, once manufactured fishing nets and, later, was a paper mill. After World War I, it was the operations headquarters for an eclectic array of businesses, including an envelope company and an ice cream cone manufacturer. Although it has since changed hands and been redeveloped, its small business bent continues to this day, housing a martial arts studio and a printing company.
Mount Vernon Mills #1, #2, and #3 at Falls Road and Chestnut Avenue, were the last cotton mills to close, operating until as recently as 1973. Since then, they have been elegantly repurposed into apartments, office spaces, a gift shop for the nonprofit Art with a Heart, and Cosima Italian restaurant. A riverside table here makes for one of the best dinners you'll have in Baltimore.
Although a lot of the millworker housing has been demolished, about a dozen houses still stand around the 41st Street viaduct in an area known as Brick Hill.
Watching over the neighborhood are two television towers that support antennae for Baltimore's 4 TV Stations, WJZ, WBAL, WBFF, and WMAR, giving this area the name TV Hill. It has the highest elevation in the city.
Worth noting on the other side of TV Hill, in Edgecomb, is the Sankofa Children's Museum, which is the only museum in the country devoted to educating children on the geography and history of Africa. Its events promote African cultural heritage and pride.
The residents of Woodberry are a bit older and more established than those in neighboring Hampden, and while Johns Hopkins University is within commuting distance, you'll find most of the area's graduate students in Hampden's more affordable subdivided rowhomes and apartments buildings, such as The Rotunda.
We rate and sort every listing based on fair market rent.