120+ apartments
Apartments for rent in Miami
---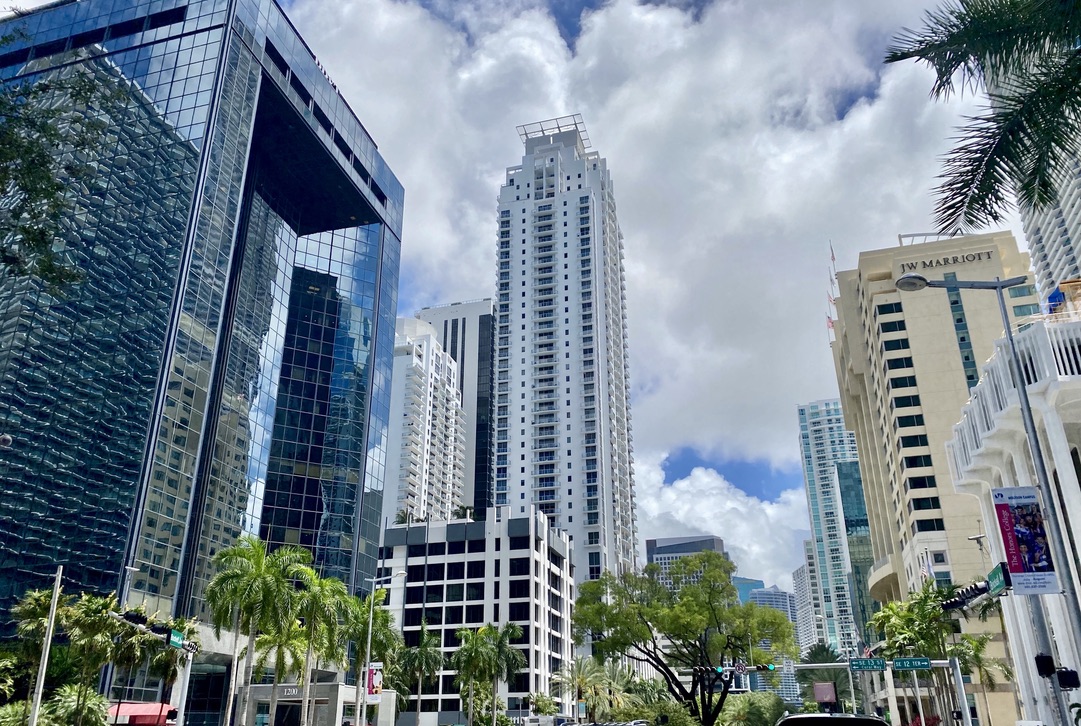 Brickell Avenue High Rise Buildings
| | Median Rent | Median Apartment Size |
| --- | --- | --- |
The Magic City — it's been featured in countless films, shouted out in top 40 songs, flocked to by tourists, and written up for its culture and beaches.
While much of Miami-Dade County (and even beyond) is referred to as Miami, the city itself stretches as far north as the Little River and Little Haiti neighborhoods down south to Coconut Grove. When it comes to houses and apartments in Miami, options range from the highrises of Downtown or Brickell overlooking Biscayne Bay, the artist lofts of Wynwood, or the historic streets of Coconut Grove. Wherever you live, though, there's no shortage of cultural attractions, great restaurants, and shopping. And, of course, those wanting to spend the day under the sun's rays never have to travel very far, whether it be on the shores of the mainland or across the bridge to Miami Beach, Virginia Key, or Key Biscayne.
Even though Miami was not incorporated until 1896 — an infant compared to other American cities, even those in Florida — Miami's history goes back further to the Mayaimi tribe that lived in the Lake Okeechobee area. It was this tribe that gave the city and the river that runs through it its name when the Tequesta people moved to the area, and after wars with the Spanish and American governments, settlement by white people began in the mid 1800s. Julia Tuttle of Ohio purchased a citrus plantation north of the Miami River, which would eventually become the city of Miami— she is called "the mother of Miami" and has the proud title of the only woman to found a major American city. With the land boom that followed Henry Flagler's railroad, bringing with it Bahamian workers, the city exploded overnight; some say this is where the nickname "the Magic City" originated. The Art Deco era took its hold on the city, leaving its mark in iconic architecture that Miami is known for. Meanwhile, Cuban refugees fleeing the island in the 1950s brought Caribbean culture and influence to the area.
Today, Miami residents are proud to be a city rich in culture, with a large Latin, Caribbean, and African American population inspiring an array of cuisine, arts, and celebrations.
Modes of transportation vary depending on where you live in Miami. As much of South Florida was developed during the age of the automobile, it's not as walkable as many other cities in the U.S. Most people have their own cars or rely on ride-share services to get around.
However, there's been a concerted effort to create more greenspaces and become more pedestrian-friendly and bikeable in recent years. Those living in Downtown Miami enjoy an easy walk to area restaurants and attractions. Downtown also offers the most access to public transportation, such as the county's heavy rail system, the Metrorail, which starts in the Hialeah area to the north and follows the coastline down to Dadeland; it also makes a stop at the Miami International Airport. The city of Miami has its own free trolley system, which travels throughout much of the city, including out to West Miami. The light rail Metromover is another free service and travels almost entirely throughout Downton Miami. The most extensive mode of public transportation is the county bus system, which travels throughout Miami-Dade County. The Brightline train is the newest addition to Miami; the express train stops in Miami and north to Fort Lauderdale and West Palm Beach. The company is working on connecting the train to Orlando.
Whatever you're in the mood to eat, you're sure to find it in one of the many restaurants in Miami. In the Miami Design District, MC Kitchen, Mandolin, Swan and Cote draw crowds, and Wynwood's streets are filled with restaurants and coffee shops such as Coyo Taco, Panther Coffee, R House, and many breweries. Downtown Miami hotels are also known for their restaurants, such as Sugar at the EAST Miami or Toro Toro at the Intercontinental. Shopping destinations like Brickell City Centre also offer an array of restaurants and bars. Food halls have also been cropping up throughout Miami, including CentralFare, The Lincoln Eatery, 1-800-Lucky and Saint Roch Market.
But it's not just the trendy restaurants in Miami that have a following. There are mainstays throughout the city, such as the world-famous Cafe Versailles, serving up authentic Cuban food and drawing politicians looking to court Miami voters. Jackson Soul Food has been serving up drool-worthy southern cuisine and BBQ since 1946, and El Palacio de los Jugos is known for its tropical juices, chicharron, croquetas, and other Cuban fare.
The newest mall to arrive in Miami is Brickell City Centre in Downtown Miami. At 500,000 square feet of shopping space, visitors can walk through the large Saks Fifth Avenue or wander the four-story mall for stores like Lululemon, Intermix, Sephora, Kendra Scott, Zara, and more. The Miami Design District has grown over the years — once a quiet shopping district for just high-end furniture and design inspiration, it is now also home to luxury brands such as Cartier, Fendi, Hermes, and Louis Vuitton. It's also a popular place for public art, especially the Instagram-worthy "Fly's Eye" dome. Midtown Miami, which cropped up in the early 2000s, is another shopping destination with stores like Target, Homegoods, TJ Maxx, and Guess. In Allapattah, the large River Landing Miami is a mixed-use space with shops like TJ Maxx, Burlington, Hobby Lobby, and Old Navy.
People in Miami aren't afraid to travel a little bit to shop, though. Across the bay in Bal Harbour is the uber-luxe Bal Harbour Shops, and north in Aventura is the popular Aventura Mall. The open-air Lincoln Road on Miami Beach is also a favorite shopping strip.
There are grocery stores throughout Miami, but larger chain stores are more readily available on the east side of town. Popular grocery stores in Miami include Publix, Whole Foods, Target, and Walmart, and you'll also find lots of smaller grocery stores that specialize in regional cuisine.
There are countless activities in Miami, with much of the larger attractions centered around Downtown. For almost 20 years, the Adrienne Arsht Center has played host to major musicals, plays, orchestras, singers, comedians, and traveling troupes. Next door is the FTX Arena, recently renamed from the AmericanAirlines Arena, which is where NBA basketball team the Miami Heat plays. The Pérez Art Museum Miami (PAMM) has an impressive 200,000 square feet of art exhibition space. PAMM founder, Jorge Perez, has focused on modern and contemporary art by artists in the Latin diaspora. The newest museum on the scene is the Frost Museum, with the popular dome aquarium filled with sharks. Families also enjoy hopping across the bridge on I-395 to Watson Island to visit the Miami Children's Museum.
Other notable museums and sights in Miami include the Rubell Museum in Allapattah, the renovated Lyric Theater in Overtown, Domino Park in Little Havana, Wynwood Walls in Wynwood, Vizcaya Museum and Gardens, and the countless public art in the Miami Design District.
Miami is also keen on remembering its history. One of the most iconic structures in the city is the Freedom Tower in Downtown Miami, which doubles as a museum and memorial. It welcomed Cuban refugees to Florida from 1962 to 1974 and is now under the care of Miami Dade College. The HistoryMiami Museum also educates the public on the city's history with exhibits sharing historical events, people, and places that have shaped the city.
Greenspace has become increasingly prioritized in city of Miami, with public parks all around the city providing sports fields and courts, community centers, walking and biking trails, swimming pools, and even tables to play dominoes. Bayfront Park is the largest in the city, overlooking Biscayne Bay. The park hosts yoga and flying trapeze classes, and visitors can also enjoy the Pepper Fountain and walking paths. New to Miami is The Underline, a 10-mile green thoroughfare built below the Metrorail tracks and filled with walking trails and sculptures. For those who want to enjoy a day on the water, Miami Beach is just across the bridge. There are also smaller islands in the bay that are popular beach destinations. For example, Virginia Key delights with a mix of walking trails, wetlands, and sandy beaches. Historically, it is remembered as the only beach that Black Miamians could enjoy during segregation. On Key Biscayne, Crandon Park is a much-loved beach for relaxing under the sun.
There are a number of colleges and universities in Miami, with campuses spread throughout the county. The larger public colleges are Florida International University and Miami-Dade College. There are also private colleges such as Brown Mackie College and Miami International University of Art & Design. Barry University in Miami Shores is just north of Miami, and the University of Miami is south in Coral Gables.
Frequently Asked Questions
What is the average rent in Miami, FL?
If you're apartment hunting in Miami, here's what to expect: the average rent in Miami is currently $3,160, with apartments ranging from $1,003 to $24,775 per month. There are more than 157 Miami apartments available for rent at this time. Prices vary depending on a variety of factors including apartment type, number of bedrooms, location, size, amenities, quality and more.
How many Miami, FL apartments are priced at or below market value?
Renters looking for a great deal on an apartment in Miami, here's what you need to know: According to our market analysis, there are currently 50 apartments in Miami with an ApartmentAdvisor deal rating of fair, good or great.
What is the average rent in Miami, FL for a studio?
Studio seekers, here's the scoop: While the average rent in Miami for a studio apartment is $2,400, monthly rent can range from $1,681 to $3,044.
What is the average rent in Miami, FL for a 1-bedroom apartment?
When it comes to budgeting for a 1-bedroom apartment in Miami, here are the current numbers: While the average rent in Miami for a 1-bedroom apartment is $2,900, monthly rent for 1-bedroom apartments in Miami can be anywhere from $1,003 to $4,000.
What is the average rent in Miami, FL for a 2-bedroom apartment?
If it's a 2-bedroom apartment you're after, here's what you can expect in Miami. While the average rent in Miami for a 2-bedroom apartment is $4,000, monthly rent for 2-bedroom apartments in Miami can be anywhere from $1,961 to $18,875.
What is the average rent in Miami, FL for a 3-bedroom apartment?
For those seeking a 3-bedroom apartment in Miami, here are the latest stats: While the average rent in Miami for a 3-bedroom apartment is $4,650, monthly rent for 3-bedroom apartments in Miami can be anywhere from $2,438 to $24,775.
What are the best Miami luxury apartments?
For renters looking for an upgrade, there are more than 25 luxury apartments in Miami. See the full list: Luxury Apartments Miami