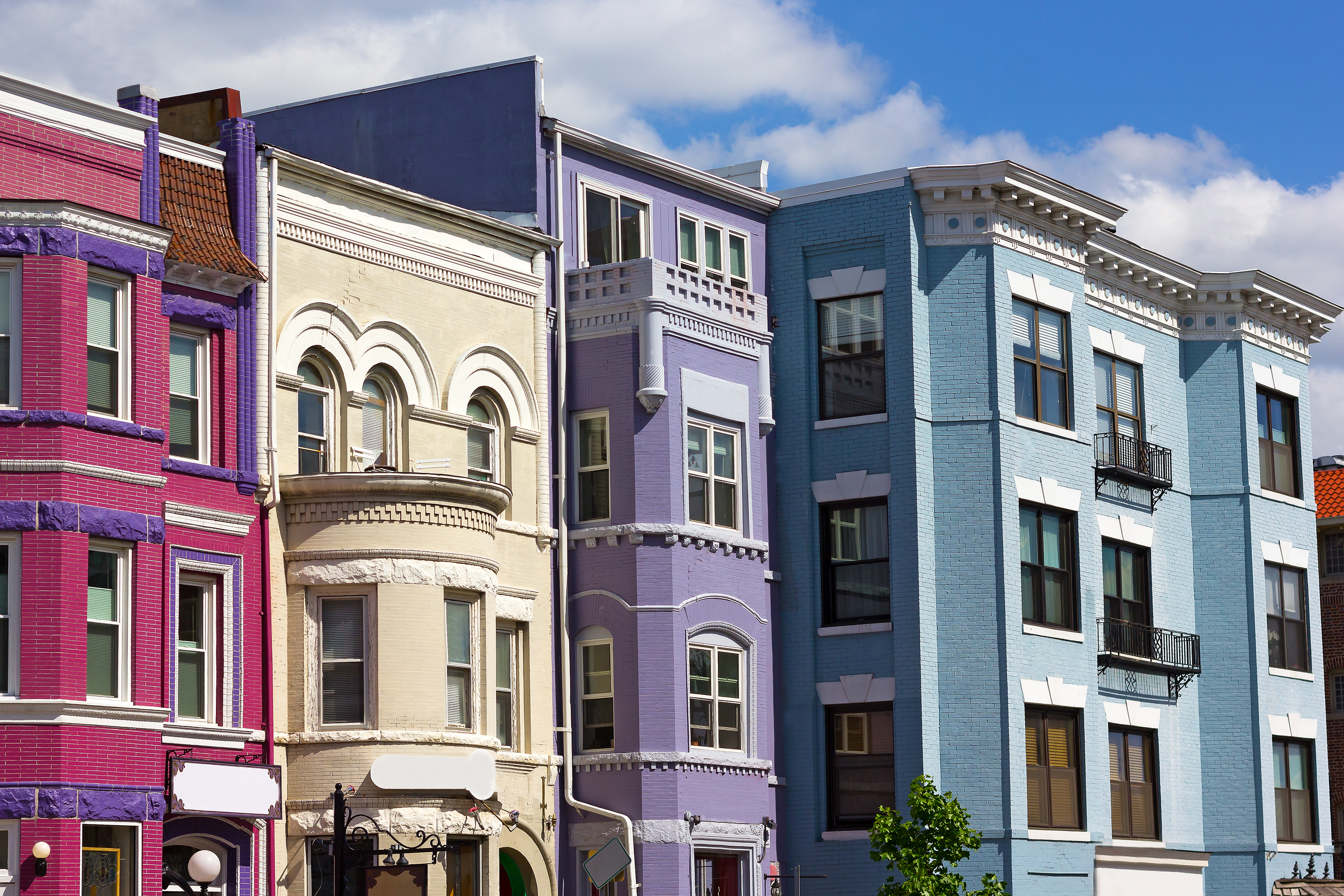 ---
| | Median Rent | Median Sqft |
| --- | --- | --- |
| Studio | $1,802 | 394 sqft |
| 1 Bed | $2,206 | 663 sqft |
| 2 Beds | - | - |
| 3+ Beds | - | - |
Historically centered at 18th Street NW and Columbia Road, the lively neighborhood of Adams Morgan has long been a melting pot of culture, flavor, and community. The restaurants along 18th Street NW, many of which boast Michelin stars, present an array of fine cuisine ranging from Ethiopian to Japanese, Caribbean, and Salvadorean. With its many bars and small music venues, Adams Morgan's nightlife scene rivals Georgetown, and on weekend nights, the streets get crowded with taxis and bar-hoppers. By day, it's also a family-friendly area, with plenty of people pushing strollers down the sidewalks.
Adams Morgan has long been known for both its multiculturalism and economic diversity. In the 1800s, wealthy residents lived in grand mansions along 16th Street NW, while blue-collar workers resided in smaller rowhomes on 18th Street NW. The area was segregated until the 1950s, when the integration of two schools, the white John Quincy Adams Elementary School and black Thomas P. Morgan Elementary School, resulted in the neighborhood's name. A progressive area with a history of welcoming immigrants, Adams Morgan has proudly participated in social justice and political activism. The Potters House Bookstore & Café, established in the 1960s, All Souls Unitarian Church, and nearby Meridian Hill Malcolm X Park in Columbia Heights were all central to DC's Civil Rights movement. Today that same sense of community lives on, evidenced by popular neighborhood events like Porch Night, where wandering bands serenade residents. On the second Sunday in September is the annual Adams Morgan Day, when seemingly everyone takes to the streets in a celebration of food, music, and each other.
Streetscape improvements have made an already pedestrian-friendly area even more walkable, and Mother Nature is easily accessible through the neighborhood's parks, like Kalorama Park and nearby Rock Creek Park. Adams Morgan may be gentrifying, but it still has a funky flair; its Victorian townhomes are painted wild colors, and murals can be found along almost every corner. Even the old First Church of Christ, Scientist, an abandoned church at the corner of 18th Street NW and Columbia Road, has new life as an ultra-hip LINE Hotel, boasting a farm-to-table restaurant, a rooftop garden, and even its own radio station.
Many of the neighborhood's residents are younger than 45, and it's easy to see why recent graduates and young professionals find Adams Morgan appealing. Its authenticity and community-centered atmosphere also entice families. Apartments in Adams Morgan can be found in new and restored buildings along 16th Street NW, as well as in subdivided historic rowhomes.
Adams Morgan's boundaries include Connecticut Avenue NW to the west, Columbia Road NW and Calver Street NW to the north, 16th Street NW to the east, and Florida Avenue NW to the south.
More pedestrian-friendly now than ever, the city recently revitalized 18th Street NW with new sidewalks and bike racks. Bike lanes can be found on Columbia Road NW, 18th Street NW, and Euclid Street NW. While there is no metro in the heart of the neighborhood, it's located within equal distance to Woodley Park/Adams Morgan Station on the Red Line and Columbia Heights Station on the Green Line. Metrobuses 42, 43, 90, 92, 96, H1, L2, S2, and S9 all roll through the neighborhood.
Adams Morgan's tree-lined streets are drivable, but there is traffic congestion on the weekends around its restaurants and bars. Parking in Adams Morgan can be found along the street and in public garages on Columbia Road. Residents of the area's apartments enjoy underground options for an additional monthly fee.
DC's Ethiopian community is one of the city's largest immigrant populations, and Adams Morgan is known for having some of the best Ethiopian restaurants. The family-run Zenebech started out in the 90s as a bakery focusing on Injera, a deliciously spongy flatbread filled with vegetables and meats. More dishes followed, like lentil turnovers, Awaze tibs, which are stir-fried sirloin tips in a spicy sauce, and lots and lots of vegetarian combinations.
The exterior wall of Mama Ayesha's is devoted to a mural depicting 11 US Presidents, from Eisenhower to Obama, with Mama herself at the center. Formerly a cook at the Syrian Embassy, Ayesha opened the Adams Morgan restaurant in 1960 and has hosted everyone from foreign dignitaries to US journalists like Helen Thomas, who had her own booth. Just one bite, and you'll know why. Order the beef kabobs or the cabbage stuffed with rice and lamb.
Perry's, on Columbia Road NW, is known for two things: delicious sushi and its Drag Queen Brunch. Enjoy both by making a reservation on Sunday, then sit back and take in the show over a cocktail and some tasty yellowtail, spicy tuna rolls, and sashimi.
One of the DC's best coffee shops, you'll know you're at Tryst by its tall storefront windows. Coffees, espresso drinks, and a variety of teas are on the menu, as are frozen drinks like a "chaipuccino." The hot chocolate comes with whipped cream and animal crackers. Tryst serves breakfast all day and also has a great selection of desserts.
When it comes to restaurants in Adams Morgan, the Diner is a throwback favorite. Located on 18th Street NW, it dishes up delicious eats in an old-school setting. Think comfort foods like meatloaf, Monte Cristo sandwiches, and Bennies, washed down with a milkshake.
The Michelin-starred Tail Up Goat harmoniously blends Italian and American flavors and counts Michelle Obama among its fans. Try the eggplant Caponata or the salted Cod appetizer. The dining room provides a spare yet beautiful backdrop for its flavors, with plank flooring, macramé wall hangings, and tranquil turquoise walls.
Don't overlook the basement-level Shibuya Eatery, which features some of DC's best sushi and sashimi, with fish flown in daily from markets in Tokyo. There's also an upstairs bar and an outdoor patio where you can enjoy BBQ ribs or a wild cocktail or two.
Sharbat Bakery has lovely desserts from Azerbaijan. Owner Ilhama Safarova's confections are works of art; it's worth a peek just to see her displays, although you'll be hard-pressed to leave empty-handed. Try the layered honey cake, filled with whipped cream, or the crescent-shaped Shekerbura, bursting with hazelnuts.
No night out in Adams Morgan would be complete without a stop at Julia's Empanadas or a jumbo slice from one of the many pizzerias along 18th Street NW. The neighborhood's authoritative nightlife destination, Madams Organ, is a divey blues bar that features live acts every night of the week. There are bars on all four floors here, as well as taxidermied animals and other creatures of the night. Columbia Station recently moved (just one door down), so it's still on 18 Street NW, and, as always, it features nightly jam sessions from well-regarded jazz musicians. Some even say the acoustics are better in their new digs.
Meanwhile, there are nearly 3,000 bottles of whiskey lined along the multi-tiered shelves of Jack Rose Saloon. The storied whiskey bar also has a great bistro restaurant and a rooftop terrace, which is the perfect spot for sipping a Single Malt while enjoying views of the neighborhood. Another lively location, Bossa, has a little bit of everything: an art gallery, restaurant, performance venue, and bar. It's known mostly for its tasty caipirinhas and for hosting Latin dancing, like salsa, merengue, and bachata, in its upstairs lounge.
Shopping in Adams Morgan is largely an independent affair. Brightly-colored storefronts beckon. Inside, shoppers will find a funky vibe in keeping with the personality of the neighborhood. Thrift shopping in Adams Morgan? Meeps is a top destination for vintage finds. Other local shops of the non-thrift variety include Commonwealth for trendy apparel and Urban Dwell for men's and women's streetwear.
Adams Morgan is also known for its bookstores, many of which double as community centers. Potters House has been a neighborhood anchor, nonprofit bookstore, and café since 1960. It hosts writing workshops, author talks, and other timely events. There's always something to discover at the multi-level Lost City Books. Formerly known as Idle Time Books, it sells new, used, and rare literary works. It also hosts popular book clubs, author events, and more.
Songbyrd Music House is a vinyl shop that also has a basement-level music venue known as the "Byrd Cage" that welcomes up-and-coming musical acts as well as performance artists.
For groceries in Adams Morgan, there's a Harris Teeter at 17th Street NW and Kalorama Road NW. From June through December, the Adams Morgan Farmer's Market takes place in Unity Park at 18th Street NW and Columbia Road. It showcases fresh fruit, produce, baked goods, and flowers from local farms.
Tour the iconic history of Adams Morgan through its vibrant murals, many of which date to the 1970s. Start just across the Duke Ellington Bridge by the Marilyn Monroe mural in Woodley Park. Follow Calvert Street NW to 18th Street NW, where you'll find replicas of a famous Toulouse Lautrec image (located over BUL Korean Bar), the much-talked-about red-head on the wall of Madam's Organ, murals by famed artist Aniekan Udofia, and more. Visit the Adams Morgan neighborhood association website to download a copy.
The artists behind the DC Arts Center pose an interesting question: in DC's "daily grind" of suits and sameness, what can happen at night to enrich people's lives with color? This noteworthy arts center answers that question by presenting high-caliber exhibitions in its two galleries as well as performances in its theatre. It also hosts community events, such as artist talks, dialogues, and happy hours.
Walk up the impressive staircase (or take the elevator around back) to get into The LINE DC Hotel, formerly a church. Its choir loft is now part of a beautiful event venue. The stained-glass windows stand proudly behind the bar, and pipes from a defunct organ have been turned into a chandelier. The Adams Morgan branch of the DC Public Library is located here, which offers books to check out in English and Spanish. There's even a community radio station, DCPL Radio. Popular events include weekly drag queen story hours and more.
There are plenty of places to walk your dog or throw a frisbee in Adams Morgan. Kalorama Park has three acres of gardens and a playground in the heart of it all. Walter Pierce Park, next to the Duke Ellington Bridge, has a dog park, basketball court, and playground, as well as plenty of benches for relaxing and people-watching. The pocket-sized Unity Park, across from The LINE Hotel DC, has been recently refreshed with new greenery, park benches, and a fountain. It also has a statue called "Carry the Rainbow on Your Shoulders." Nearby Rock Creek Park is a nearly 3-mile-long wooded wonderland for bikers, hikers, and nature lovers.
While there are no colleges within Adams Morgan, both Howard University and the University of the District of Columbia (UDC) are nearby. Students of all ages will find Adams Morgan an eclectic and energetic place to live. Its community-minded spirit has been a standard-bearer for the rest of the city.
We rate and sort every listing based on fair market rent.