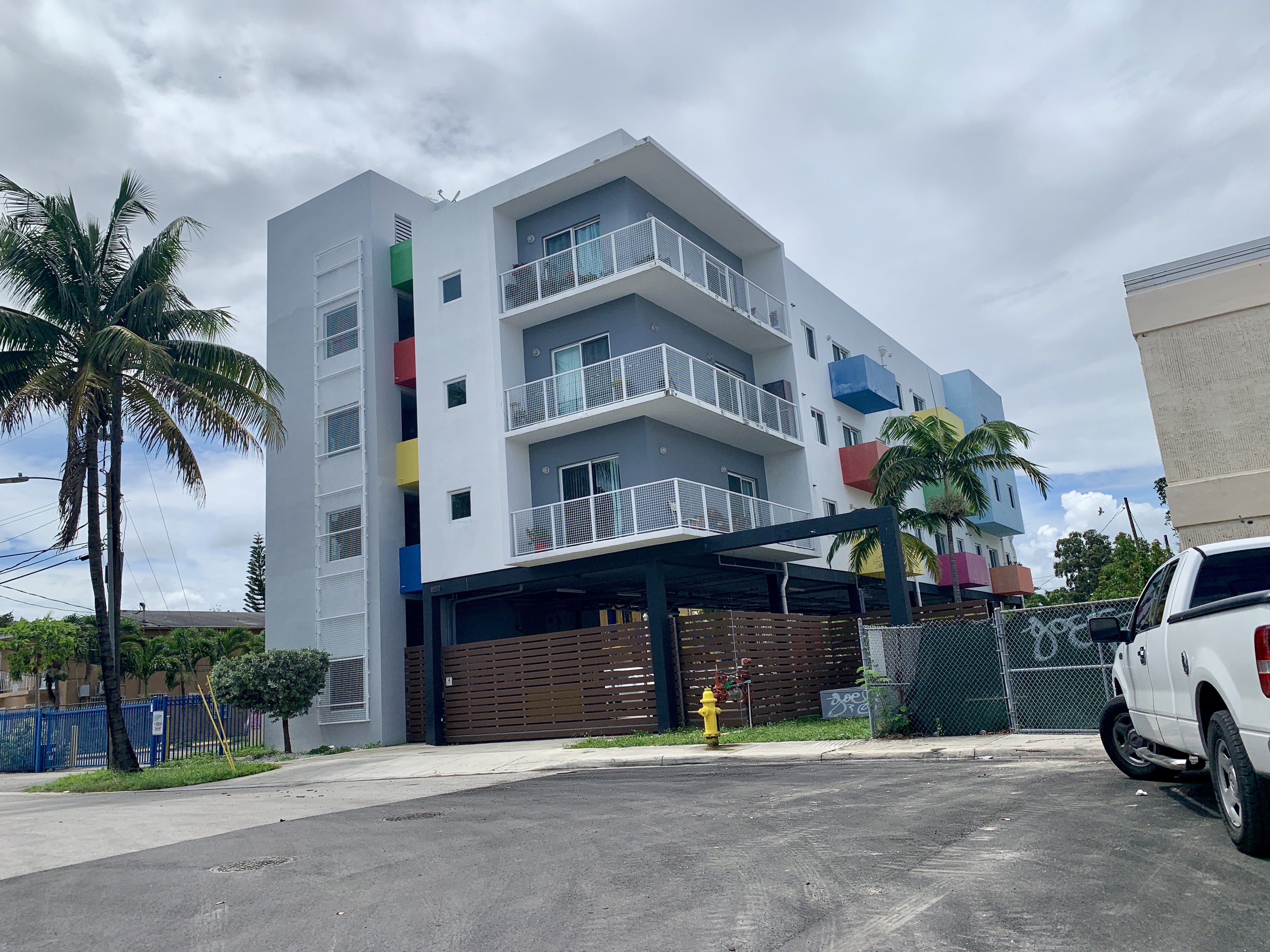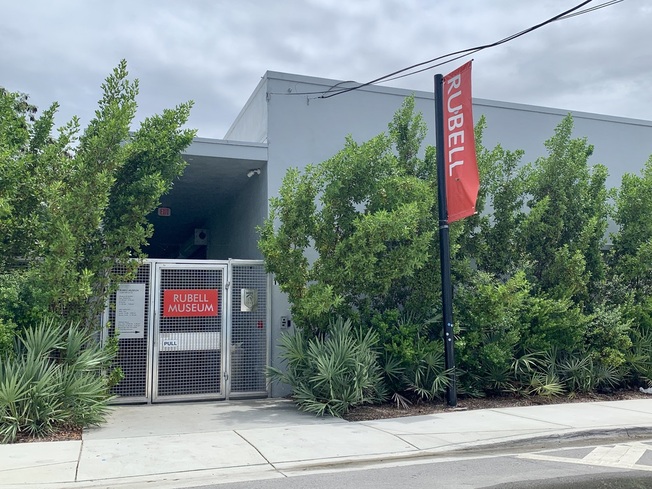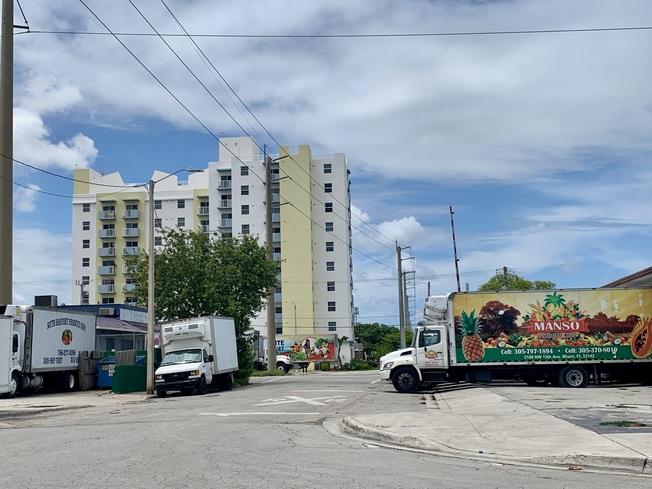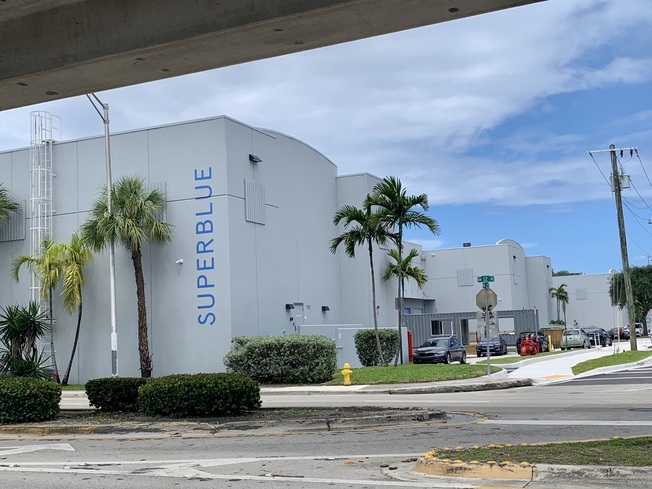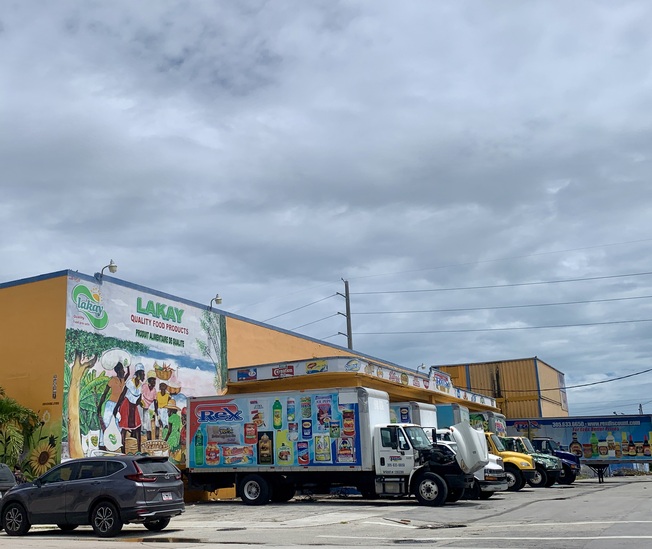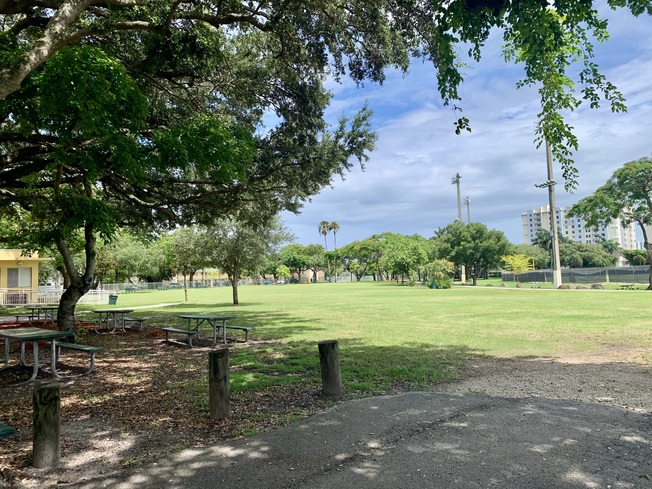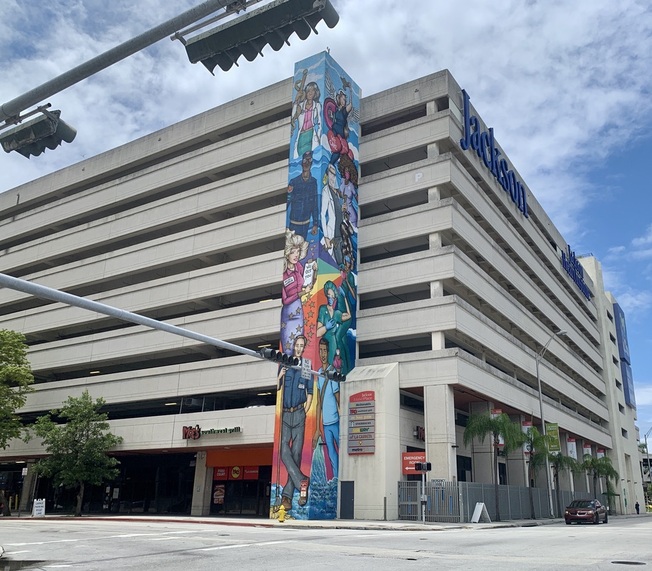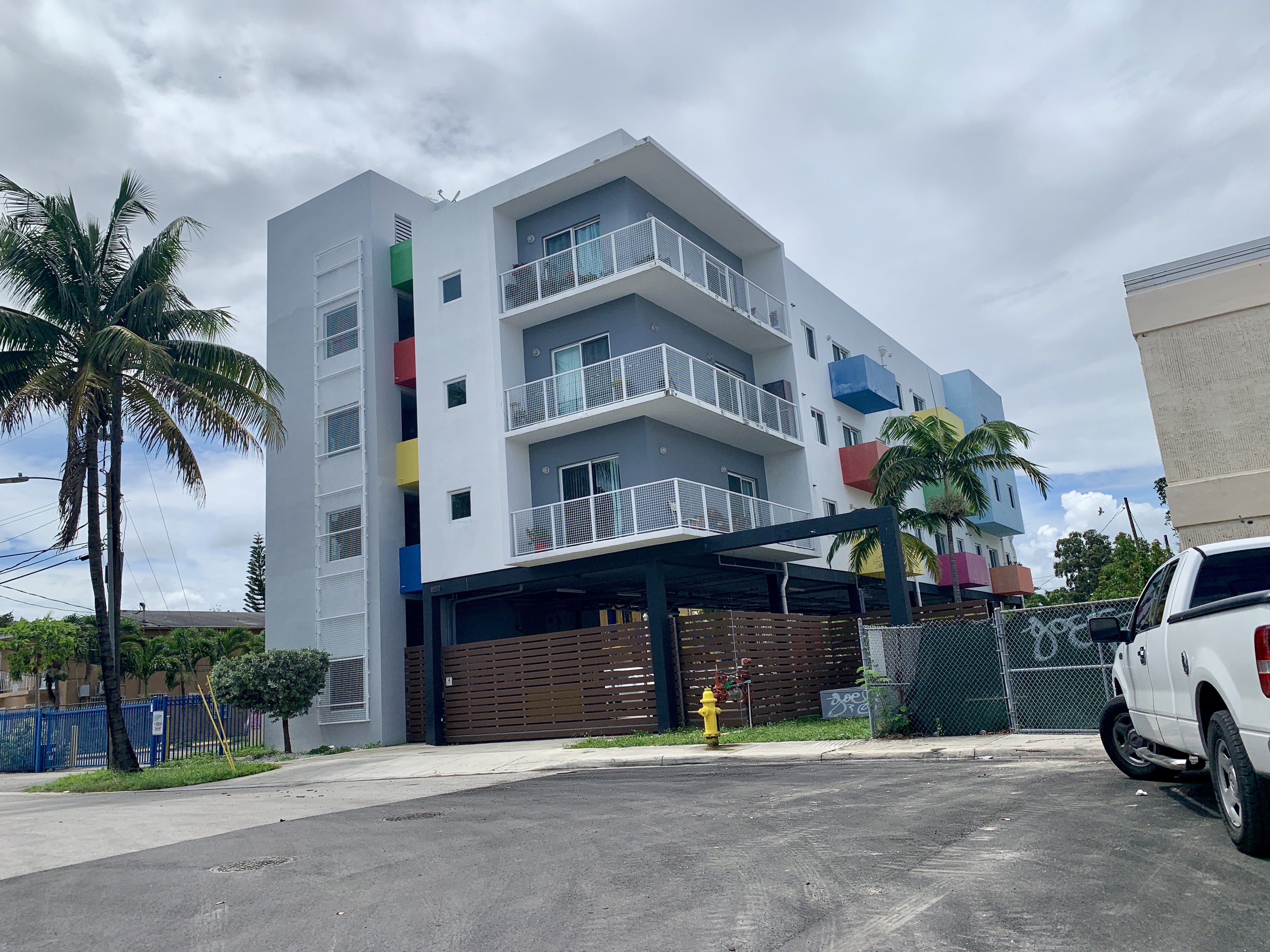 ---
| | Median Rent | Median Sqft |
| --- | --- | --- |
| Studio | $1,400 | - |
| 1 Bed | $2,275 | 805 sqft |
| 2 Beds | $2,548 | 1,137 sqft |
| 3+ Beds | $3,100 | 1,799 sqft |
One of Miami-Dade County's earliest neighborhoods, Allapattah is a diverse community with a proud Latin heritage. In 2003, a stretch of the Allapattah neighborhood was nicknamed "Little Santo Domingo" as a nod to the area's large Dominican community. A mural can still be seen celebrating its Dominican culture. Meanwhile, directly south of Allapattah, you'll find Little Havana, known for its strong Cuban roots and community.
Despite its Latin influence, Allapattah received its name from the Seminole word for alligator. Allapattah's origins date to the mid-1850s when settler William P. Wagner built a homestead on land populated by Florida's Seminole Indians. For many years, Allapattah was home primarily to wealthy white residents. It wasn't until the arrival of the Florida East Coast Railroad through South Florida in the 1950s that African Americans began moving to Allapattah. The 1960s saw an influx of Cuban Americans migrating to the area due to the Cuban Revolution. In the 1980s, many Central Americans and Dominican Americans made Allapattah their home.
Through the years, Allapattah has been a working-class community filled with warehouses originally catering to the fashion industry, and in recent years the textile market. Renters can find a range of townhomes and apartments in Allapattah in their choice of small complexes and high-rise buildings. In some areas, you will also find houses for rent.
Like in much of South Florida, it's most common for people in Allapattah to get around by driving in their cars. I-95 and I-395 (a.k.a. the Dolphin Expressway as you head west into Allapattah) intersect at the border of Allapattah, making it easy for residents to make their way north to Fort Lauderdale, take the bridge to Miami Beach, or head west to other neighborhoods in Miami-Dade County.
There is also ample public transportation in Allapattah. The county's heavy rail system is called the Metrorail, which goes throughout Miami-Dade as far northwest to Palmetto and south to Dadeland. Of the 22 stops, there is one in Allapattah. To travel for free, the city of Miami's trolley makes a stop in Allapattah. Also at no cost is the Metromover, a free rail system that travels throughout Downtown Miami and the Brickell neighborhood and makes a stop in neighboring Overtown. The county also has a public bus system that travels throughout the county with multiple stops in Allapattah.
The Brightline is a newer express train that only makes stops in Miami, Fort Lauderdale, and West Palm Beach, with plans to add a stop in Orlando. The Downtown Miami stop is in neighboring Overtown and Downtown Miami at a station called MiamiCentral, also home to a food hall and event space.
People travel near and far to Papo Llega y Pon for authentic Cuban food, scarfing down Cuban sandwiches and mamey milkshakes. Another local culinary destination is Hometown BBQ Miami; its sister locations are in Red Hook and Industry City in New York. The restaurant is in the Produce District, where locals go to purchase fresh fruit and freshly squeezed juices. Las Rosas is a popular dive bar frequented by the Wynwood crowd, a neighborhood on the other side of I-95.
While there are not many major grocery stores in Allapattah, there is a Publix supermarket just north of the Miami River in the new River Landing shopping mall, which includes riverfront restaurants. There is also a Winn-Dixie on the south side of the Dolphin Expressway in neighboring Spring Garden. However, there are several smaller, well-stocked local grocery stores in Allapattah, including Presidente Supermarket and Mario's Supermarket.
The biggest shopping destination in Allapattah is the new River Landing shopping mall, a multi-level center with stores like Old Navy, DSW, Ulta, Burlington Coat Factory, Ross, and more. A mixed-use building, it also has more than 500 apartments.
For many decades, Allapattah was a part of the booming fashion and produce industries. While the 1990s saw a significant decline in these markets in Allapattah, there are a handful of remaining warehouses where locals can still buy fabrics and a variety of tropical fruits.
Two noted museums call Allapattah home. The Rubell Museum is a haven for contemporary art, housing one of the biggest private collections in North America. The Rubells started collecting in the 1960s and opened their own gallery in nearby Wynwood. In 2019, the gallery expanded to a full-blown museum for the public to experience, featuring works by Keith Haring, Kehinde Wiley, Nina Chanel Abney, and Jean-Michel Basquiat, to name just a few. In 2021, Superblue Miami opened across the street in what was supposed to be an interactive but temporary exhibit. The Instagram-worthy show was so popular it is now a permanent attraction in Allapattah. Visitors walk from room to room, each one filled with bubbles, light displays, a mirror maze, art installations, and more. Another cultural favorite is Club Típico Dominicano, which has had guests dancing and grooving to Latin rhythms since it opened in 1985. It also serves up Latin food in its celebration of Dominican culture.
There are a number of public parks in Allapattah, but the most notable is Juan Pablo Duarte Park. Here, visitors can enjoy ball fields, basketball and tennis courts, a water splash playground for the kids, and covered tables for playing dominos. Nearby is also the YMCA. The park and the adjacent street is named for Duarte, a Dominican military leader, writer, and activist who died in 1876. Other parks in Allapattah include Moore Park, Curtis Park, and Melrose Park.
Allapattah also neighbors many communities with cultural points of interest. To the south of Allapattah is Little Havana, with sites such as the Calle Ocho stretch and Domino Park, and to the north is the artist neighborhood of Wynwood with its many bars, restaurants, and the famed Wynwood Walls murals. For a day at the beach, Allapattah residents can drive across I-395 and I-195 to head to Virginia Key and Crandon Park, and Miami Beach, respectively, in under 30 minutes.
While there are no colleges and universities in the Allapattah neighborhood, the University of Miami and Miami-Dade College both have a presence with their medical campuses and hospitals. It's not uncommon for students in South Florida to commute to school, and luckily for those in Allapattah, MDC's main and Wolfson campuses are close by in Downtown Miami. Florida International University is nearby, also in Downtown Miami. UM, the largest school in the county, is further south on I-95 and US-1 in the city of Coral Gables.
We rate and sort every listing based on fair market rent.