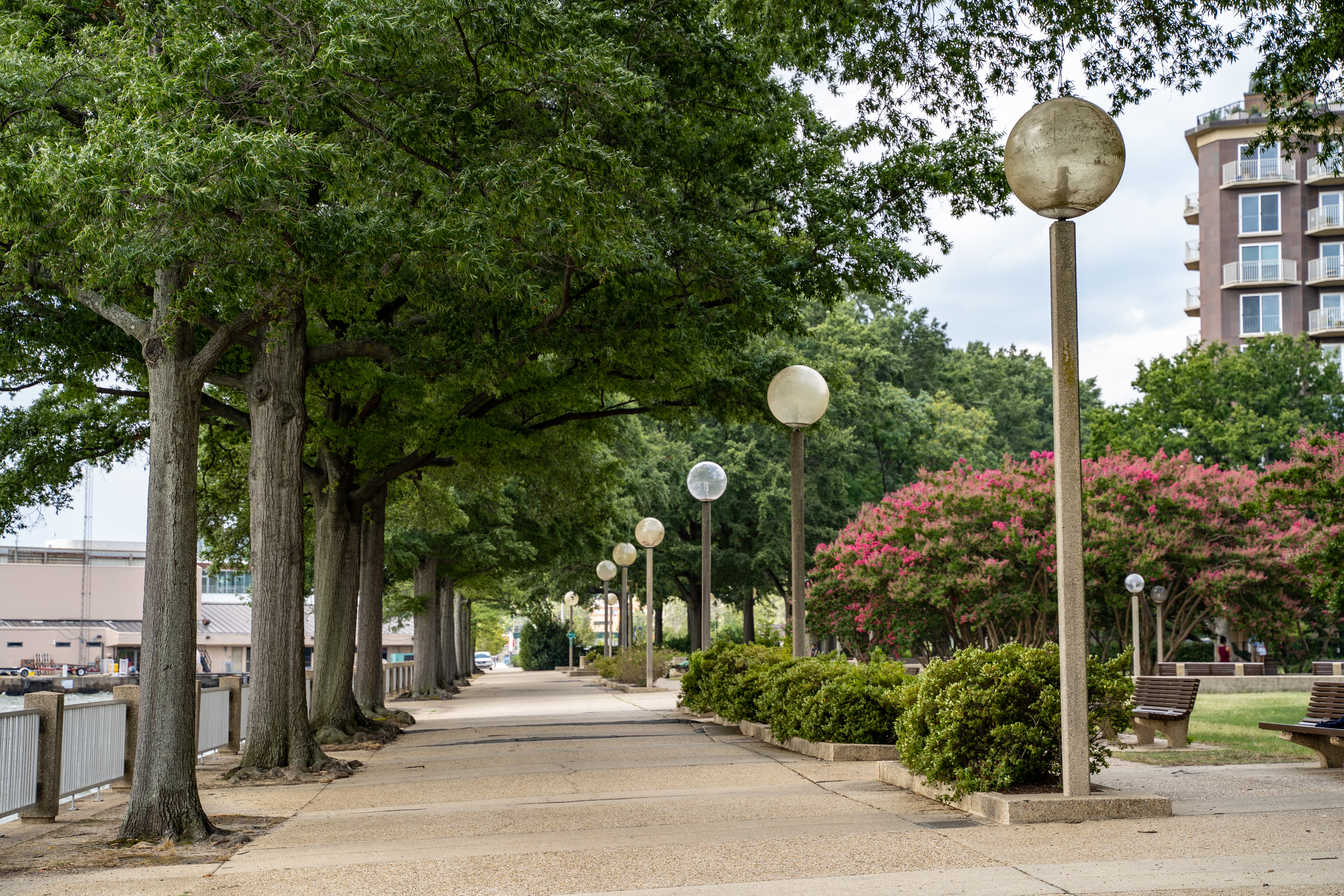 ---
| | Median Rent | Median Sqft |
| --- | --- | --- |
| Studio | - | - |
| 1 Bed | - | - |
| 2 Beds | $1,750 | 765 sqft |
| 3+ Beds | $2,700 | 1,312 sqft |
Comprising several neighborhoods in the Southeast quadrant of the city, historic Anacostia is located east of the Anacostia River. Anacostia's tree-lined streets and residences near the Anacostia River are accentuated with plenty of parks and greenspaces, like Anacostia Park and Fort DuPont Park.
A historically black neighborhood, Anacostia's most famous resident is abolitionist Frederick Douglass, who spent his golden years at the beautiful hilltop Cedar Hill Estate, which is now a National Historic Site. For centuries, this was a flourishing trading center for the native peoples known as the Nacochtank; in fact, Anacostia is a derivative of that name. In the 1800s, the Navy Yard was established across the river, employing the many African Americans who lived here. The neighborhood became known as Uniontown, a working-class suburb not far from Downtown DC, but it feels a world away. It's just a ten-minute ride on the Blue, Green, and Silver Line Metro will get you to the Capitol, Metro Center, and other points in Downtown Washington, DC.
Anacostia's history is celebrated through national institutions like the Smithsonian Institution's Anacostia Community Museum as well as local makerspaces like THEARC. Long-term efforts to restore the Anacostia River are finally paying off, and its restaurant scene is beginning to earn recognition.
Today, popular neighborhood events include the annual Martin Luther King Jr. Birthday Parade, the Anacostia River Festival, and summertime jazz concerts in Fort Dupont Park. Budget-friendly rentals in Anacostia can be found in subdivided townhomes, condos for rent, and newly opened apartment buildings along Pennsylvania Avenue SE.
The neighborhood known as Anacostia includes several smaller communities: Historic Anacostia, Barry Farm, Naylor Gardens, Hillcrest, Dupont Park, and Fairfax Village. It extends from the Anacostia River to the north to Fort Dupont, along Massachusetts Avenue SE to the north and east, Suitland Parkway to the west, and the DC/Maryland Line to the east at Capitol Heights.
Mass transportation options are plentiful with Metro Stations at Capitol Heights and Benning Road along the Blue and Silver Lines and Anacostia and Congress Heights on the Green Line. The neighborhood is served by several Metrobus Routes: A2, A6, A8, B2, 30S, 32, 90, 92, V2 W4. The DC Circulator also rolls through Anacostia, with service from Congress Heights to Union Station, and it passes through Eastern Market.
I-295 connects Anacostia to the Beltway and points beyond. There are several parking garages in Anacostia, many of which are located off I-295. The Anacostia Metro has a public parking lot, and several of the managed apartment buildings offer parking for an additional monthly fee.
Bicyclists will find dedicated bike lanes along Anacostia Drive, which winds around the river, as well as on Suitland Parkway, 25th Street SE, and Pennsylvania Avenue SE. In addition, the Fort Circle Park Hiker-Biker Trail runs for seven miles beginning at the wooded Fort Stanton Park to Fort Mahan in Northeast.
Restaurants in Anacostia serve up a range of eats from all corners of the world. A neighborhood favorite, Mama's Pizza Kitchen has been making Italian specialties with love since 1986. Creative pies made with sweet red sauce are topped with pulled pork and BBQ chicken; they also make sandwiches and wings. If you're lucky, you'll even meet Mama herself, Fatima Nayir; she works in the back. Open Crumb is a proudly black-owned restaurant whose menu reflects owners Abigail and Anthony Opare's Ghanian roots. Try the delicious spinach stew or the fried whiting sandwich made on a housemade milk bun. It's also a great place for dessert, such as a caramel-drenched bread pudding. Fashioned after the neighborhood's historic name, Uniontown Bar & Grill is a great spot for a cold beer and comfort foods like chicken, waffles, and burgers. Southern specialties include fried catfish bites with collard greens and yellow rice. After taking in a show or an art exhibit at the Anacostia Arts Center, you'll love the refreshments at the E Life Café, which serves plant-based fare like vegan pastas, seitan pot roasts, and lots of vegetables. Caribbean Citations serves authentic Jamaican cuisine, like Jerk chicken, red snapper, and oxtail stew. It's a counter-only service, but you can enjoy your meal in nearby Anacostia Park.
It's a sign of gentrification when Starbucks arrives, and one opened on MLK Avenue in 2020, quickly becoming the neighborhood's go-to java spot. While there are no breweries in Anacostia, you can head across the bridge to longtime DC favorite Bardo Brewing in its newest location in the Navy Yard. Try one of their Imperial Stouts, Dremo Strong Ales, or Chinook Pale Ales.
Black Books Matter at Mahogany Books. Since 2007, the independent bookseller has focused on books written by or about the people of the African Diaspora. Once an online-only retailer, the business became so successful that owners Derrick and Ramunda Young opened a brick-and-mortar store in Anacostia in 2017. Popular events include storytimes, financial workshops, and author events.
There's something for everyone at Busboys and Poets, which is why it's so beloved. Part book, music, and film center, it also has a café and strives to foster dialogue on contemporary social, political, and cultural issues. Its Anacostia location opened in 2019 and features a mural by DC artist Mia DuVall.
There are two great clothing boutiques in the Anacostia Arts Center. Nubian Hueman sells clothing for people of all ages from black designers and black-owned businesses; it also has a nice selection of accessories and home goods. Vintage and Charmed has one-of-a-kind vintage and consignment treasures dating from the 1940s to the present.
Seeking to create equity in the Anacostia food desert, The Fresh Food Market offers organic produce, wine, cheese, and other grocery items in a small market within the Anacostia Arts Center. Part of the Fresh Food Factory collective, whose nonprofit partner is the United Nations, it offers cooking classes as well as provides food distribution services to low-income residents in the area.
For larger grocery stores in Anacostia, head to the Safeway on Alabama Avenue SE. In addition, the Navy Yard has a Whole Foods and a Harris Teeter.
Frederick Douglass named his mansion Cedar Hill because of its steep wooded location. Now known as the Frederick Douglass National Historic Site, Douglass lived here from 1877 until his death in 1895, and the restored estate contains many of his personal belongings. Free, thirty-minute guided tours are available by US Park rangers; in fact, they are the only way you can see inside. Schedule yours by visiting the Cedar Hill website.
The Smithsonian Anacostia Community Museum was founded as a gathering place for sharing the neighborhood's collective knowledge and strength. Exhibitions have been created in collaboration with community members and spotlight revolutionary African Americans and food activism, to name a few. Free events include storytimes, lectures, and poetry readings.
Now a public artwork, "The Big Chair" was a massive advertisement by Bassett Furniture created in 1959. A symbol of endurance, it has withstood the ravages of winds and rain — the 20 foot original, made of mahogany, was actually replaced with an aluminum replica in 2006. Today it's the place for an Instagrammable moment in Anacostia.
THEARC is a community hub and recreational center wrapped together on an expansive campus. Fourteen nonprofits operate out of the center, including The Phillips Collection and the Boys and Girls Club of Washington. There is a community theater, art galleries, playgrounds, gardens, and even an urban farm.
Located in an old Woolworth Department Store, the Anacostia Arts Center is a delightful place to spend an afternoon taking in a contemporary art exhibition at the Vivid Gallery or a performance in its Black Box Theater. There are also clothing boutiques and a vegan café on-site.
Formerly located in Northeast, the H Street Playhouse moved to Anacostia in 2013 and renamed itself Anacostia Playhouse. Mome of the Theater Alliance, its 120-seat theater features performances of new works by up-and-coming playwrights and hosts theater groups like Verbal Gymnastics, Restoration Stage, and Southeast Trinity.
A great place to take a jog, ride your bike, or exercise your pups is the 3.5 mile-long Anacostia Riverwalk Trail, located within Anacostia Park. The park has ball fields and tennis courts, designed with a lovely riverfront setting. Best of all, there's a throwback roller skating pavilion; Strap on a pair of skates and get rolling free of charge.
Fort Dupont is where you can explore Civil War-era fortifications or take in a free summertime concert. Its 375 acres are a prime spot for everything from picnicking to enjoying a free ranger-led nature walk. It also has community gardens.
The 11th Street Bridge Park, currently under construction, will be DC's first elevated park. Designed as a much wider version of The High Line in NYC, this park will be located on piers that extend across the Anacostia River to the Navy Yard. Elevated platforms will include ball fields and playgrounds, gardens, and even a waterfall. The park is expected to be completed in 2023.
While there are no colleges in Anacostia, recent graduates and young professionals will find it an affordable place to rent with a range of housing options to choose from.
We rate and sort every listing based on fair market rent.