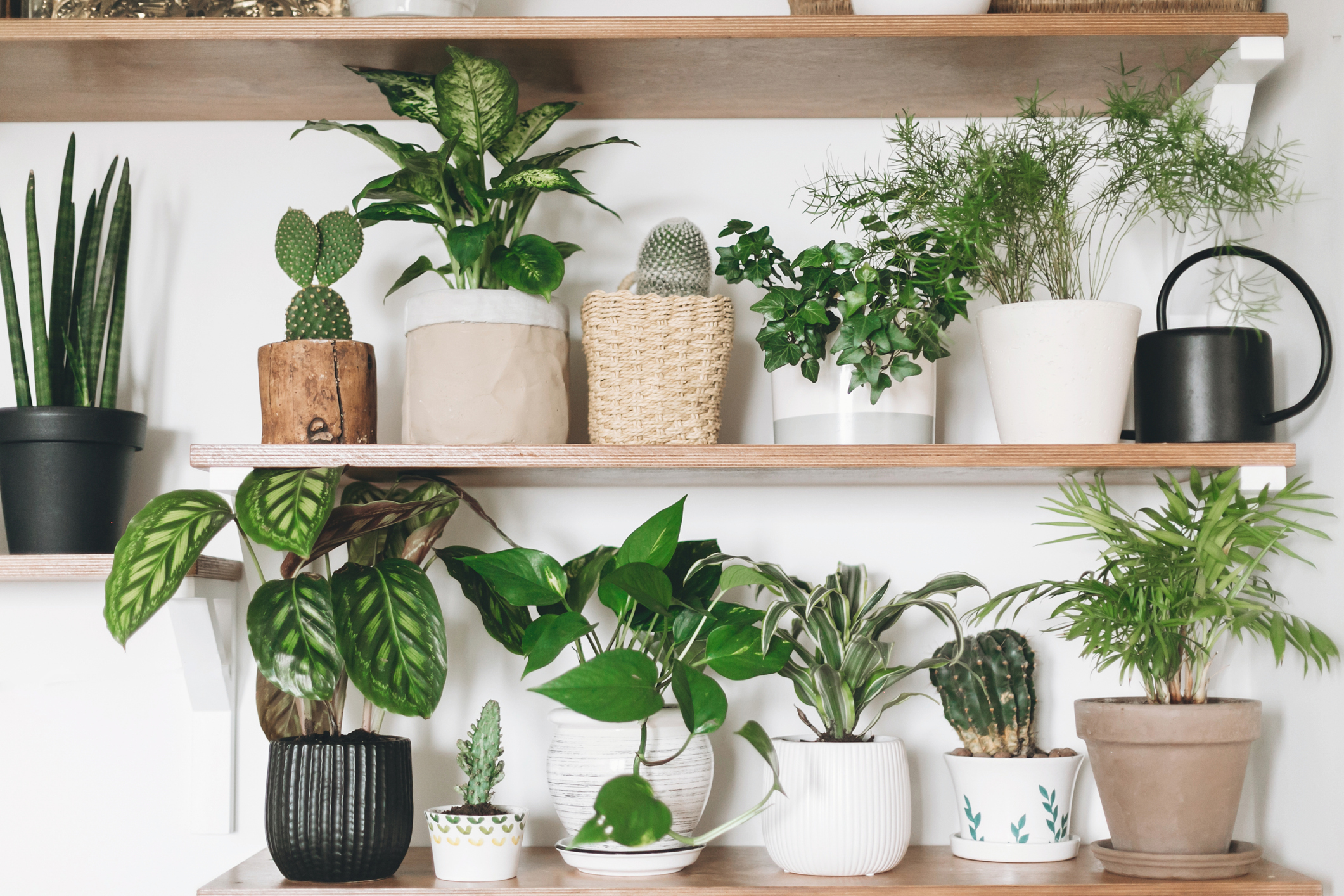 ---
Gardening season has started — and just because you're in an apartment doesn't mean you can't join in on the fun. If you have any amount of outdoor space, then you can use it to your advantage and start a balcony garden or plant some window boxes. But even if you don't, there are lots of benefits to growing plants indoors — and we compiled some garden ideas to get you excited about getting started.
With indoor plants, you don't need to worry about a late frost or a heavy rain taking them out before they can even get started growing. You can also more closely monitor them and see what they need without ever having to step out the front door.
"In an apartment, controlling the temperature in your apartment is a bonus for indoor gardening during the colder months or in areas with unpredictable weather patterns," says David Angelov, CEO and founder of the Massachusetts-based gardening company PlantParenthood. "By controlling the temperature, you can ensure a consistent environment for more delicate plants and ones that are less tolerant to cold weather. Some plants, like tropical varieties, require a specific temperature range to thrive, and indoor gardening allows you to provide the optimal environment for these plants to flourish. You can use a space heater, thermostat, or other tools to regulate the temperature in your home and create a comfortable and consistent environment for your plants."
We consulted with experts to get their gardening tips for renters. So what are you waiting for? It's time to start your apartment jungle with our beginner's guide to gardening indoors.
Get the Lighting Right
The first step in making your apartment a suitable environment for plants is finding a space where they can get enough sunlight to grow. If you have an area with a lot of windows in your apartment, then try to make that the center of your indoor garden. If you use curtains or blinds regularly, set daily reminders for yourself to move them so that your plants can get as much direct sunlight as possible.
Indoor plants do best in direct sunlight.
"Light intensity drops exponentially with distance from the windows," says Vladan Nikolic, who is the founder of the houseplant care blog Mr. House Plant. "Instead of keeping plants a few feet away, place them in front of the brightest windows during autumn and winter, to maximize the amount of light."
If your unit suffers from a lack of natural light, though, you may have to explore some other options. Nikolic recommends finding high-quality grow lights to ensure your plants get the light that they need. A good light can allow you to grow vegetables in your apartment year-round, he says. Just make sure you follow the instructions carefully. The manufacturer will provide information on how close the lights need to be to your plants and how many hours per day they should be turned on in order to be effective.
Pick Your Produce Carefully
If you have already mastered houseplants and you want to move on to growing edible plants indoors, start small. Fresh herbs like basil, parsley, mind, and cilantro are some of the best plants to start with. "All you need to get started is a suitable-sized container, potting soil, and a brightly lit window or spot on the balcony," says Kelly Martin, founder of the gardening website Urban Garden Gal.
If you get a lot of light in your kitchen, that can also be a convenient spot to keep your herb garden, which should only take up a small space.
If you have your heart set on growing veggies, lettuce and salad greens like spinach and arugula are also a few types of plants that are good candidates for an indoor or balcony garden, Martin says.
For instant gratification, consider growing microgreens as well. Known for their health benefits, microgreens are young seedlings of vegetables that can be harvested in less than a week after planting, according to Martin. They also pack a punch, flavor-wise, and can be a great addition to sandwiches or salads. Popular options are kale, radish, and broccoli. Just find a small tray and a windowsill, and you can get started.
Set Up a Watering Schedule
One of the biggest mistakes beginner gardeners or plant-owners make is over- or under-watering their plants, says Alex Kantor, president of Perfect Plants Nursery in Tallahassee, FL. Figuring out how much and how often they need water is an essential step to proper plant care. There's a few signs you can look for to figure out whether or not your plants are getting the amount of water that they need:
"Leaves starting to turn yellow is one of the first signs that you've been watering too much. Leaves turning brown and wilting where they point to the ground is a sign that you're not watering enough," Kantor says. "The plant really talks to you about what it wants."
If a plant's leaves are wilting, it's a sign of under-watering.
Another way you can tell if your potted plant needs water is by getting your hands a little dirty. If you can't tell by the leaves whether your plant needs water or not, stick your finger in the dirt. If it feels dry, then you need to add some water, but if it's damp, you can skip watering that day.
If you are watering a plant that is in a planter with drain holes, watch it for a few minutes after watering. If you see the water pooling under the plant at the drain holes, that means you've watered enough; the water has made its way through the entire planter, and the plant and the soil captured what it needed and left the rest.
Once you've figured out how often your plants need water — based on internet research as well as feeling the soil and watching the leaves — Kantor recommends setting timers for your plants so that you never forget to water them.
Try Hydroponics
If you live in an apartment without much natural light and you want to grow some vegetables this season, then there's a few tools at your disposal. Hydroponic gardening is a beginner-friendly way to grow produce without much full sun or space in your apartment at all. Kantor recommends getting a hydroponic tower, which is small-apartment friendly because it uses vertical space, and starting with lettuce. To get started, you'd need to get a hydroponic tower and gardening kit, seeds, and a special fertilizer that comes in a liquid form. This is also a mess-free solution for gardening, as the plants grow only in water rather than soil.
Lettuce growing on a hydroponic tower.
When it's ready, "you cut off what you want to eat that day and leave the rest of the plant in there, and it'll grow back in a week," Kantor says.
Other benefits of hydroponic gardening are that the towers come in different sizes, so you can match your setup to the available space in your apartment, and that the plants are always in water — so you can't over- or under-water them. Talk about low-maintenance plants. So, if you're worried about your plants surviving in low light or taking up too much space, consider a hydroponic tower. Your vertical garden awaits!
Be Optimistic
As a lifelong gardener, Kantor can't stress enough the importance of staying positive when growing plants for the first time — especially if you are starting a vegetable garden. If your produce doesn't look like they came straight from the grocery store, don't stress. Keep in mind that commercial farmers have tons of equipment that helps them ensure only the best-looking produce makes it to the vegetable stands. Your green thumb will develop in time.
"You may have a tomato with a spot on it. It doesn't mean it's a bad tomato. Cut the spot off and eat the rest of the tomato," Kantor says. "If you're a beginner, lower your expectations a little bit. Look at it like sports. If you want to get into basketball, do you expect to shoot as many points at Lebron?"
We rate and sort every listing based on fair market rent.