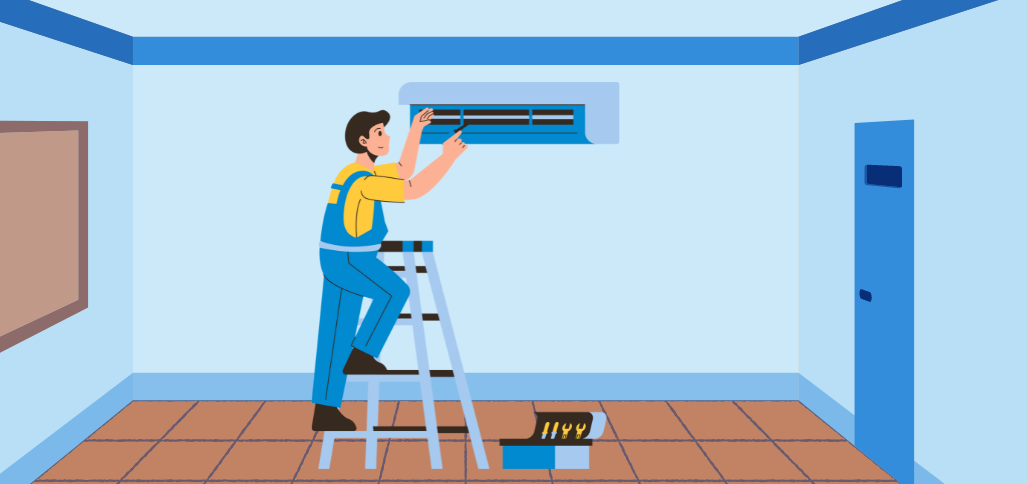 Apartment Maintenance - What Is It and Who Is Responsible for It?
---
Every state in the U.S. has a version of an implied warranty of habitability —which, in the simplest terms, means that tenants have a right to a living space that is safe and "habitable." The exact coverage of this law varies by state, but will usually include the right to a place with heat, electricity, working plumbing, smoke detectors, and adequate pest control, to name a few things. All this means that your landlord will be responsible for any maintenance or repairs related to keeping your home habitable.
So, it's important for any renter to know what maintenance is, what it includes, and who is responsible for it. Otherwise, you may end up on the hook for a repair that your landlord should've really covered.
This article explains what apartment maintenance includes and provides examples of maintenance duties that renters and landlords typically perform.
What does apartment maintenance include?
Property maintenance can include tasks that keep the apartment building and its common areas in good condition like groundskeeping, cleaning, appliance and HVAC systems repair, electrical repairs, landscaping, and plumbing. However, there is also unit-specific apartment maintenance tasks, like unclogging toilets, fixing dishwashers, repairing broken microwaves, and replacing broken power outlets.
When you need ask your property owner to take action to make your apartment safe and sanitary, you are acting within the scope of apartment maintenance. Many larger buildings and apartment communities will have online portals or offices dedicated to accepting maintenance requests and have their own maintenance teams, but if you live in a smaller multifamily home or have an independent landlords, you will likely just need to send your landlord a text or email to put in a request. They may even make the repairs themselves. It's recommended that you keep maintenance requests in writing, so that you can make sure they are being handled in a timely manner.
Apartment maintenance can be preventative or curative, and both types of maintenance activities sometimes fall upon the tenant, but they're mostly the landlord's responsibility. However, this will depend on the terms of your lease. One good rule of thumb: Before you try to handle maintenance on your own, check with your landlord to see what they recommend you do. For example, they may have a recommendation for a handyman, even if your building doesn't have its own full-time maintenance worker or staff.
Is a landlord or tenant responsible for repairs?
As noted above, some maintenance tasks lie with the tenant, but maintenance is usually the responsibility of the landlord or property manager. Depending on local laws, renters may need to perform specific preventative and curative maintenance acts — like unclogging your own toilet. Similarly, local law often dictates what a landlord must maintain to keep a property clean and safe. We recommend looking into your state's specific habitability laws if you are wondering whether or not your landlord should be responsible for a specific service request.
Additionally, the terms of your lease will likely spell out who is responsible for specific preventative and curative maintenance tasks. It's always important to understand all language contained in your lease.
What maintenance is the tenant responsible for?
Tenants are usually responsible for basic upkeep or ensuring their apartment stays sanitary and in good repair. This means renters should:
Maintain the Apartment
Tenants should discard trash inside the rental and prevent grime buildup on floors, walls, and appliances. They also need to avoid mold growth and rust buildup by reporting any leaks to management immediately and taking care not to overflow sinks and showers. Depending on the lease, renters may be responsible for replacing light bulbs and cleaning dryer vents. So, what about clogged drains and toilets? If it's as simple as pulling a hairball from a tub drain by hand or a quick plunge of a toilet, renters may be equipped to handle the situation on their own. But when it comes to snaking a drain or resolving a stubborn clog, it's always best to consult your lease and call your property manager if you're not sure what to do.
Avoid Excessive Damage
A renter needs to prevent damage caused through recklessness or negligence, such as pet stains due to policy violations or fires caused by negligent appliance use. Landlords expect normal wear and tear, but tenant damage should not bring the apartment to a condition significantly worse than what existed upon move-in.
Report Maintenance Issues
Renters should do a walk-through at move-in to highlight any existing problems or repairs for the property's maintenance staff. After documenting the apartment's condition on a rental inspection checklist, the tenant must bring new issues to the landlord's attention as soon as possible (or as noted in the lease). For tips on what to look for during your walk-through, refer to numbers 7 through 17 on our Apartment Tour Checklist.
When to contact property management?
Tenants should typically place a maintenance request with their landlord or property management team whenever the apartment has:
Habitable Living Issues
Notify your property manager when you notice structurally unsafe elements, vermin infestation, bed bugs, or faulty electrical, air conditioning, heating, plumbing, or ventilation equipment. Your kitchen appliances, like your refrigerator and stove or oven, should also be in working condition for your space to be habitable. Also, bring gas leaks to your property manager's attention immediately.
Safety Problems Submit a maintenance work order when you have broken locks, window mechanisms, smoke alarms, carbon monoxide detectors, or exterior (porch) lights.
Emergency Maintenance Requests Flooding, mold, pest infestation, security concerns, and gas leaks are all examples of emergency maintenance requests you should bring up as soon as you notice them.
What is considered emergency maintenance in an apartment?
Landlords usually take a preventative maintenance approach to their properties to minimize emergencies. However, sometimes the need for emergency maintenance arises. Emergency maintenance takes care of problems significantly affecting tenants' ability to live safely in their apartments.
Routine maintenance requests might include basic carpentry fixes, appliance repair, and clogged sinks. Emergency maintenance activities will include tasks like repairing broken HVAC units during extreme weather, taking care of gas leaks and electrical problems, resolving pest infestations, and repairing broken windows and doors. Leaky pipes, faucets, and toilets also fall into the emergency repair category. Tenants should always notify management as soon as emergencies occur or they notice these issues.
Can a landlord make a tenant pay for repairs?
Landlords are responsible for most repairs on their properties. Still, sometimes, the responsibility lies with the renter.
Local landlord-tenant laws and your lease agreement spell out these responsibilities, including the obligation to perform the maintenance task and pay for it.
When renters fail to maintain their apartments or cause excessive damage to their units, the landlord may be able to perform the necessary maintenance action and bill the tenant for the work. For example, if a tenant puts non-food items down a garbage disposal, causing it to break, then a landlord may have the maintenance staff take care of the problem and then charge the tenant for the repair. If you move out of an apartment and leave it in need of repairs (past normal wear and tear), then your landlord may use your security deposit to pay for maintenance. If this happens, you can ask them for an itemized bill for each repair made.
Can my landlord make me move out for repairs?
Some maintenance work requires tenants to move out for a short or extended period. For instance, apartment complexes that must be fumigated for pest control sometimes can't have tenants living inside.
Other maintenance issues might require a tenant to move from an apartment temporarily, such as repairs where specific building permits are needed.
It's always a good idea to check with an attorney if you need help understanding whether or not your landlord can make you move out for repairs. If a property manager of landlord does ask you to move, they typically must provide you with advance notice — and, in some states, must give you another place to stay temporarily, like a hotel room or a sublet in one of their other rental properties.
Can maintenance staff enter my apartment without permission?
In some instances, like if you had a leak causing water to flood into a nearby residence, maintenance staff may enter your apartment without permission.
Many local areas also allow landlords or maintenance managers to enter your apartment without notice if they need emergency access to fix a problem somewhere else in the building.
Your lease will dictate how much notice your landlord or property manager must give before entering your apartment to make non-emergency repairs. Note that renters can't prevent property owners from entering their apartments at some point to make needed fixes.
The Bottom Line
Not having to pay for major housing upkeep and repairs is one of the advantages of renting, but that doesn't mean that renters are free of all apartment maintenance responsibilities. When in doubt about any aspect of apartment maintenance, it's always a good idea to review your lease and call your property manager or landlord with any questions.
We rate and sort every listing based on fair market rent.