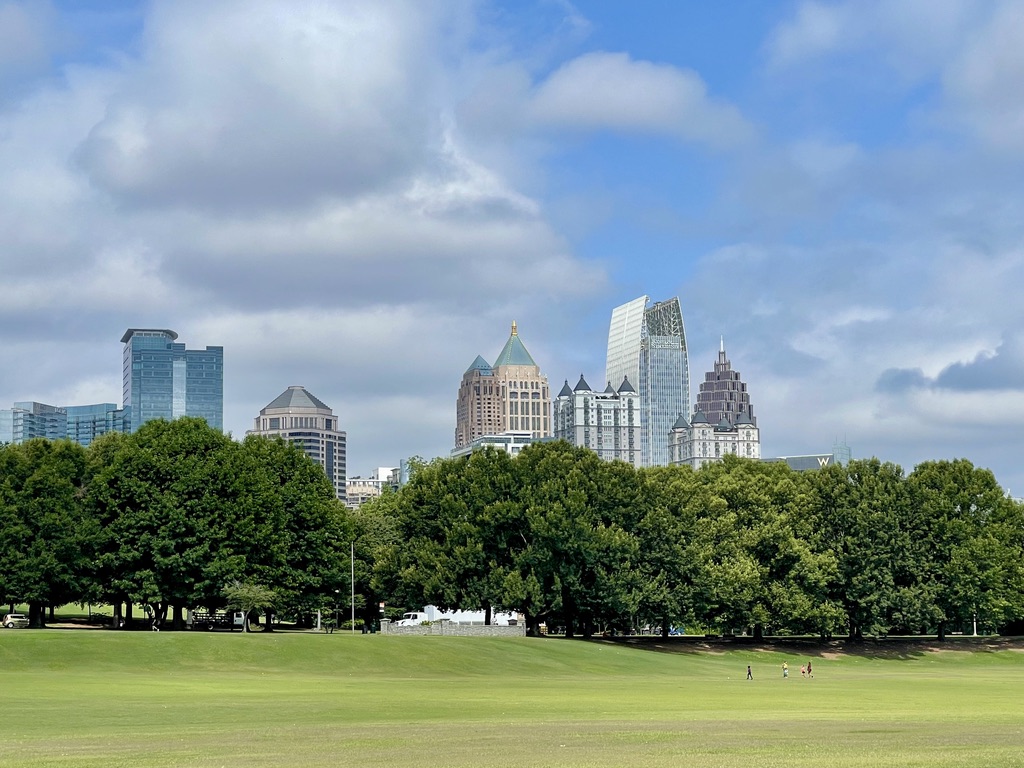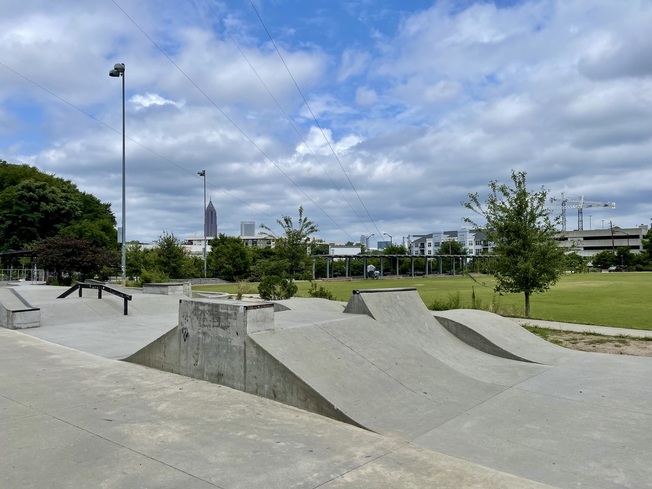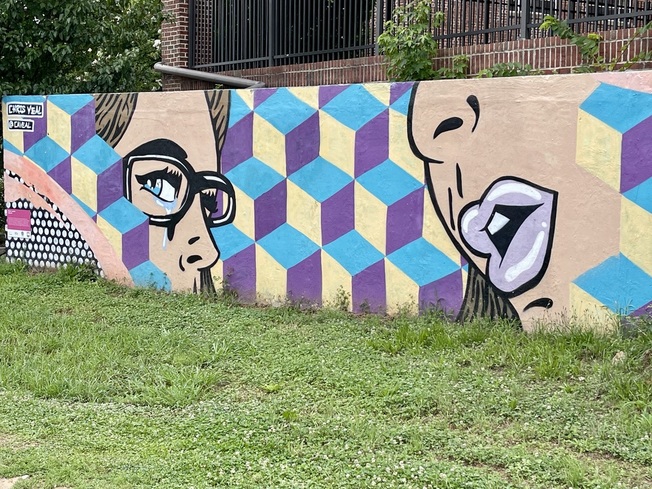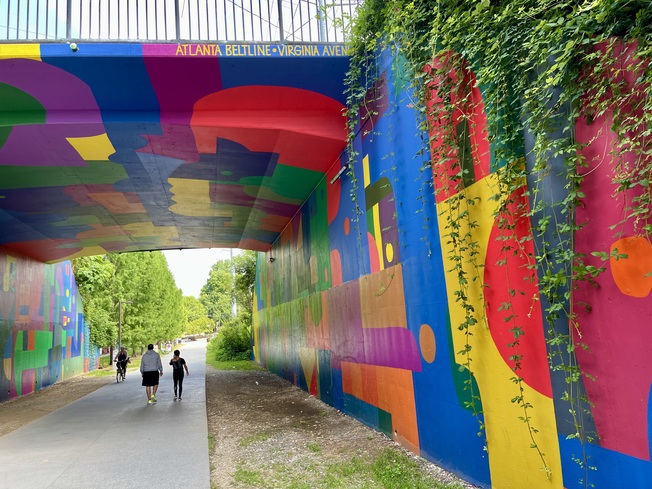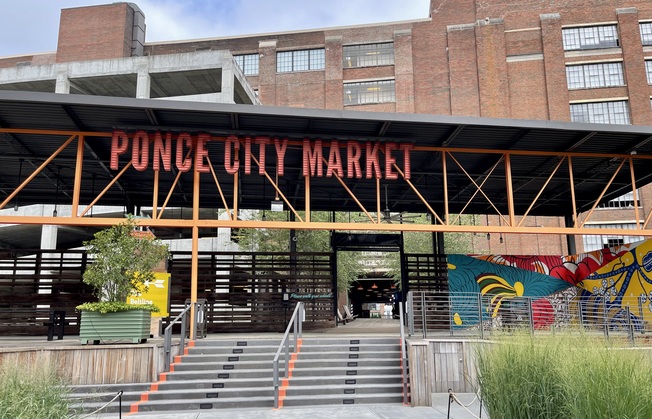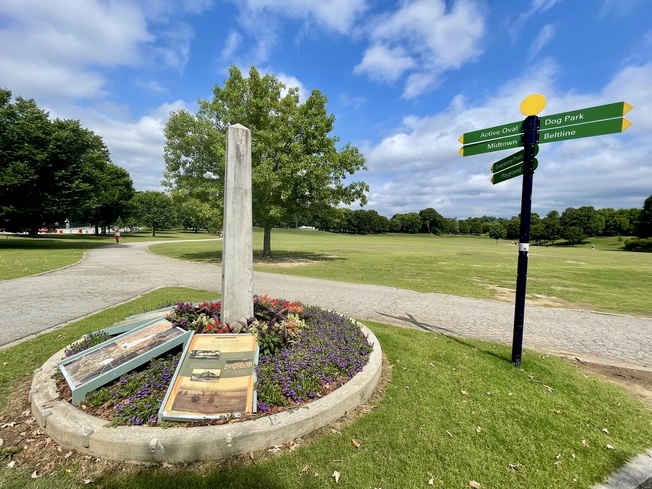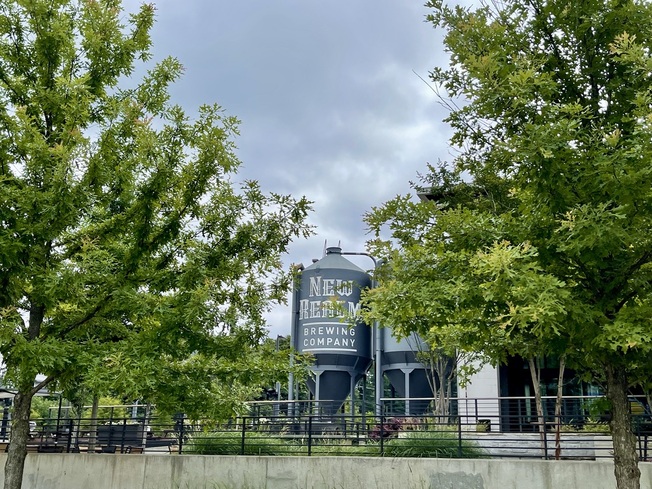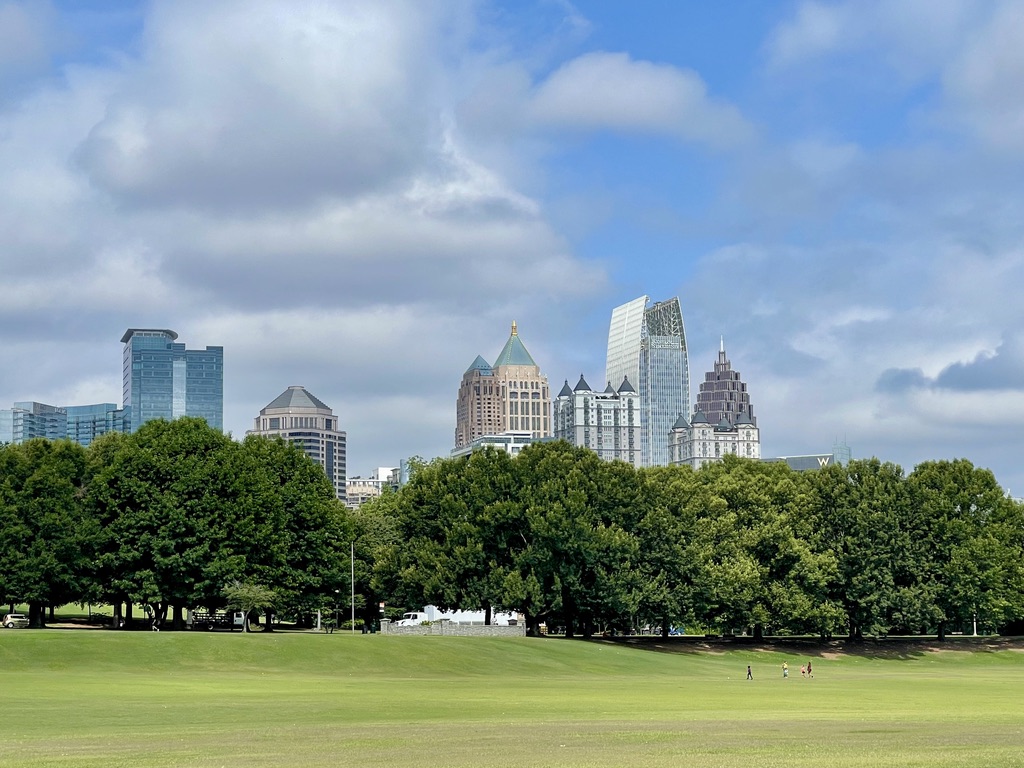 ---
While the Beltline, Atlanta's train corridor turned pathway system, bends and curves all over the city, when locals say they're going "to the Beltline," they usually mean the 3-mile span of the Eastside Trail. This see-and-be-seen part of Atlanta pulses with the newest restaurants, retail shops, and residences. Over the years, the area's once-empty warehouses have been renovated and revitalized to become residences and retail destinations. Take your pick of apartments in the Beltline from units in converted warehouses to high-rise complexes towering over the trails below. Whether the draw is the access to Ponce City Market (PCM), Atlanta's version of NYC's Chelsea Market with an expansive retail and food hall featuring over 60 shops and restaurants, or simply the proximity to the rest of the city, the Beltline has become one of Atlanta's most desirable places to live.
Since the Eastside Beltline Trail connects neighborhoods and bridges prominent Atlanta districts to one another, living here gives residents easy access to multiple parts of the city within minutes. Beginning in Midtown, you can take the Beltline to Ponce City Market in Old Fourth Ward to Krog Street Market in Inman Park and to Atlanta Dairies in Reynoldstown, all on foot or bike, stopping at shops, restaurants, art installations, markets, parks, and breweries along the way. For those looking for an active lifestyle surrounded by buzzing streets and hip establishments, the Beltline won't disappoint.
If there's one neighborhood that's made for bicycle transportation and pedestrian activity, it's the Beltline. The Eastside Beltline Trail zips through various sections of Atlanta from Decatur to Downtown. As the first finished section of the Beltline, this stretch is the busiest and most complete.
For public transportation, your best bet is to take a MARTA (Metropolitan Atlanta Rapid Transit Authority) bus from the North Avenue Station. Bus 2 and Bus 102 both make stops at PCM, which is centrally located. Meanwhile, the Inman Park Station is within walking distance to Krog Street Market and the southern part of the Eastside Trail, which weaves through less explored Beltline sites.
For those who wish to travel by car, there is ample street parking and plenty of parking deck access in the area, much of which is monitored through the Park Mobile app.
When it comes to restaurants in the Beltline, you'll find a lively food and drink scene here (some would argue it's one of the most burgeoning dining districts in all of Atlanta). The aforementioned Ponce City Market hosts the neighborhood's best selection of casual yet cultural dining. Botiwalla serves up authentic Indian Street food, while H&F Burger is the burger joint in Atlanta. King of Pops, Atlanta's popsicle empire, has a kiosk for their funky flavored frozen treats like blackberry ginger lemonade served in an adult spirit.
Walking along the Eastside Trail to the south, you'll be treated to almost any type of food or drink you desire. There's Buena Vida for tapas, Two Urban Licks for American fare, Victory for sandwiches, Ladybird Grove and Mess Hall for camp-style favorites, Nina and Rafi's for pizza, Pour Taproom for beer and wine, Shake Shack for burgers, and too many more to list. If you crave it, the Beltline can most likely fulfill it. Plus, this area is slated for further expansion. Krog Street Market, currently the smaller food hall in Inman Park, plans to add two additional buildings to become "Krog District."
Favorite bars in the Beltline include 9 Mile Station on Ponce City Market's Roof overlooking the city streets below. Another rooftop spot, The Roof at Hotel Clermont, is a quick walk down Ponce de Leon. There's also New Realm Brewing, an expansive taproom and tavern with city views.
Should you want to prepare your meal at home, the largest and most popular grocery store in the neighborhood is Kroger, lovingly known by locals as "Beltline Kroger." With a Starbucks, a bicycle valet, and generous outdoor seating, this 60,000 square foot behemoth gives new meaning to the word supermarket. If small-batch produce is more your style, Ponce City Market hosts a weekly farmers market each Wednesday evening.
Head down the Beltline or jump in a car to shop at Ponce City Market. PCM is home to big-box brands such as Anthropologie, JCrew, and Lululemon. If you're looking to support local, check out boutiques such as The Village at PCM, a shop for and by Black-owned makers and businesses, or Citizen Supply, a collective of sorts where Atlanta artists market their goods.
Another nearby shopping destination worth a visit is Virginia Highland. Highlights include women's boutique, Dakota J's, streetwear shop, Threadz, and lifestyle boutique, Urban Cottage Inc., to name a few. Virginia Highland also borders Poncey Highland, with neighborhood favorites Fig and Flower for green beauty and Highland Row Antiques, an expansive 15,000 square foot store specializing in 20th-century goods. Inman Park is also a good bet for shoppers with a nice selection of stores and restaurants along North Highland Avenue. Top picks in Inman Park include Bill Hallman, a locally designed men's and women's boutique, wine shop VinoTeca, and gourmet market Savi Provisions.
The Beltline area is an artsy one, and as such, there is much street art to enjoy here. Between the OuterSpace Project and Art on the Beltline, you'll find over 50 murals across the neighborhood. The Beltline is also known for its sculptural and live performance art. Don't miss installations like the Beltline's Tiny Door, Greg Mike's iconic street art, and various sculptures, too.
The latest attraction on the Beltline is Illuminarium, an immersive 4K laser projection experience, transporting you to far-off places, all without leaving the room (not to mention, with a cocktail in hand). In the safari experience, for example, the ground might tremble when an elephant stomps its foot or a scent might fill the air at any moment.
The annual Beltline Lantern Parade is the neighborhood's event of the year. Residents create illuminated paper lanterns in all shapes and sizes, then parade down the Eastside Beltline trail, lighting up their surroundings. Another must-see festival is Inman Park Festival. Held annually during the last weekend in April, the festival draws crowds from all over Atlanta to experience everything from the quirky residents' parade to the most incredible fine art. There are several stages with live music, a kids' zone, tons of festival foods, and even a tour of area homes. Best of all, general admission to the festival is free.
Nearby, in Old Fourth Ward, you can traverse one of Atlanta's most historic areas. Dr. Martin Luther King's birthplace on Auburn Avenue is a national park and is open for tours. You can also see Ebeneezer Baptist Church, where King was a pastor. Each of these two places, along with the main museum and Dr. and Mrs. King's crypt, all make up The King Center.
While the Beltline doesn't have any colleges or universities of its own, its location makes it easy to get to Decatur to Emory or Agnes Scott College, Downtown for Georgia State University, or Midtown for SCAD and Georgia Tech. MARTA routes as well as the Beltline itself make traveling to and from various higher learning institutions a breeze.
We rate and sort every listing based on fair market rent.