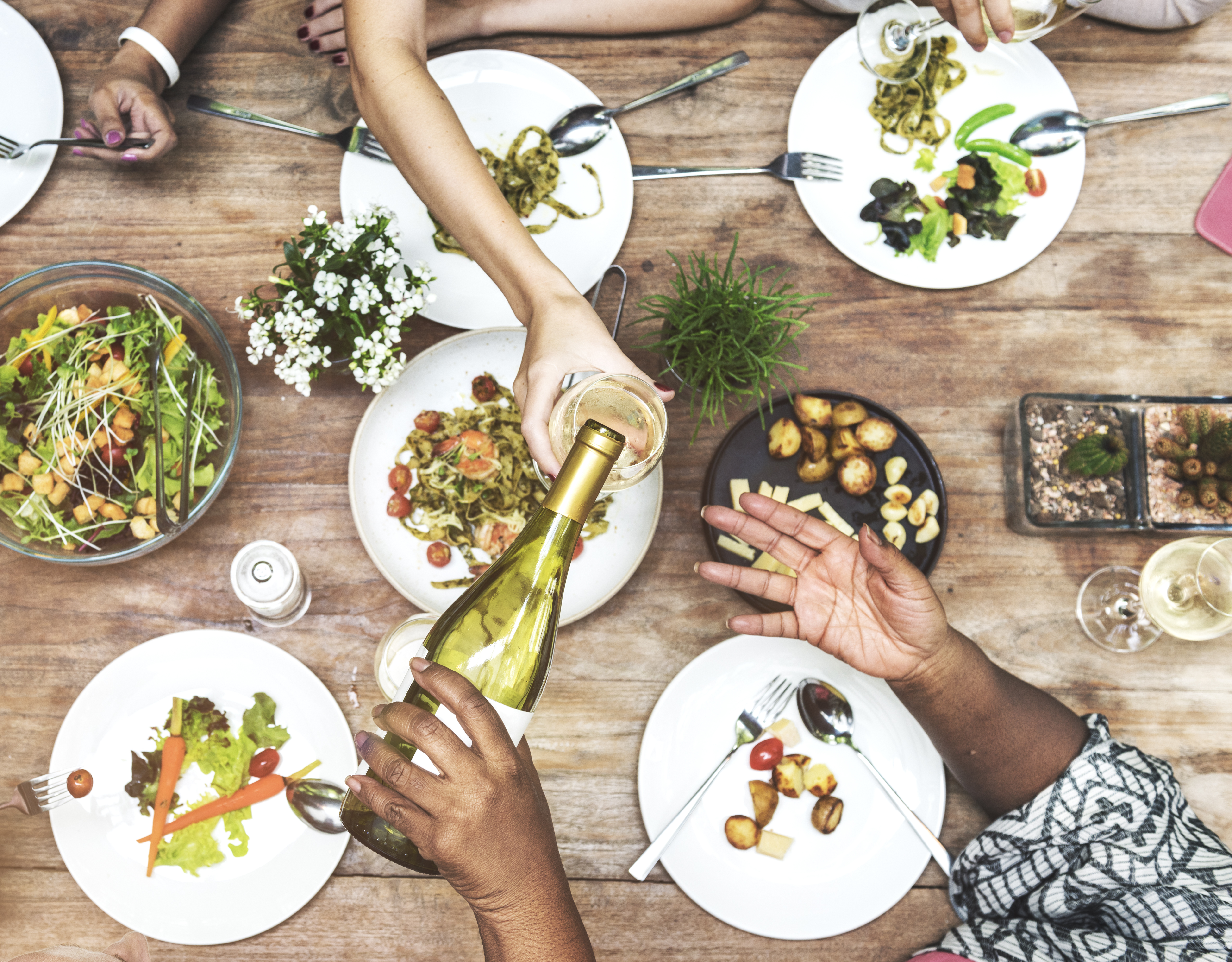 ---
ApartmentAdvisor announces our list of Best Foodie Cities for Renters.
Spoiler alert: it's not what you'd expect.
Imagine living in a city with a food scene that rivals the great culinary capitals, but where the rent prices allow you to dine out without blowing your budget. Sounds like a tasty combination, right?
So, which American cities offer the best food options and equally palatable rent prices? To find out, our editors evaluated hundreds of cities, focusing on metros with the most restaurants per capita that had at least a four-star rating on Yelp. We also explored a variety of other factors, including diversity of cuisine, notable restaurants, access to food halls or specialty markets, and proximity of dining to popular rental neighborhoods. In addition, we factored in rent affordability based on the median rent to income ratio to identify places where foodie renters can maintain a reasonable dining budget.
Here's our list of the top ten Best Foodie Cities for Renters, in reverse countdown order:
10. Raleigh, NC
Transfer Co. Food Hall in Raleigh (Photo Credit: Brian Strickland)
Population: 474,069
Median Rent 1 Bedroom: $1,336
% Rent to Median Income: 24%
4 Star+ Restaurants per 50K people: 18
The City of Oaks. Capital of North Carolina. Part of the Research Triangle. Raleigh is known for a lot of things, and in recent years, its burgeoning food scene has become one of them. Restaurants here serve up all the Southern hospitality you'd expect with global influences sure to surprise and delight even the most discerning of foodies. From fine dining to food halls and food trucks, Raleigh has it all. At the helm of some of the area's top-rated restaurants, you'll find James Beard-recognized chefs including Steven Devereaux Greene of Herons (one of only 64 Forbes Five-Star restaurants in the world), Oscar Diaz of The Cortez bringing Mexican American heritage to a fresh seafood and small plates experience, Cheetie Kumar of Indian and Asian-inspired Garland (not to mention several other eateries), and Ashley Christensen who boasts five restaurants to her name including everybody's favorite, Poole's. If you're looking to graze and gather, check out Morgan Street Food Hall or Transfer Co. Food Hall, with more than 30 menus between them offering everything from bagels to oysters to empanadas. Top-rated Raleigh food trucks include Cockadoodlemoo and the Wandering Moose. Wash it all down with a craft beer at one of Raleigh's dozens of independent breweries.
9. Jacksonville, FL
Biscottis in Jacksonville (Photo Credit: VisitJacksonville.com)
Population: 911,507
Median Rent 1 Bedroom: $1,086
% Rent to Median Income: 24%
4 Star+ Restaurants per 50K: 19
Home to the oldest farmers market in Florida and the birthplace of Burger King, Jacksonville has a new claim to fame as the ninth spot on our list of Best Foodie Cities for Renters. With 22 miles of white sand beaches, Jacksonville and fresh catch go hand in hand. But it's not all beachside shacks and seafood restaurants here. Start your day at organic bakery Community Loaves or Metro Diner. For those who prefer to fuel up on java, there's Vagabond Coffee. Sandwich lovers swear by the charcuterie board-inspired creations at The Bread & Board. For any meal of the day (including dessert), there's Biscottis, a small bistro serving American cuisine infused with Southern charm. For global tastes that won't break the bank, try Green Papaya Thai Cuisine and Catullo's Italian. While the food hall movement hasn't made its mark in Jacksonville yet, the food truck scene more than makes up for it — 904 Saffron, The Butt Hutt Smokehouse, and Fusion Food Truck are just a few standouts.
8. Virginia Beach, VA
Oysters from Virginia Beach
Population: 449,974
Median Rent 1 Bedroom: $1,499
% Rent to Median Income: 23%
4 Star+ Restaurants per 50K: 23
The culinary scene in Virginia Beach is heavily influenced by the area's coastal location. Food lovers will delight in menus featuring local seafood as well as fresh produce sourced locally from farms in Pungo, a rural community in the southern part of the city. In fact, the focus on "fresh" ingredients underpins much of the culinary culture in this vibrant city, whether you are dining at an award-winning upscale restaurant like the James Beard-recognized Terrapin, enjoying a family-style meal at farmer-owned Commune, eating oysters fresh from the Lynnhaven River with Pleasure House Oysters, or preparing your own gourmet meal with fresh ingredients from The Virginia Beach Farmer's Market. You'll also find plenty of delightful spots for sipping on your beverage of choice, whether that's coffee at Three Ships Coffee Roasters, craft beer at Commonwealth Brewing Company, or a creative cocktail at Esoteric.
7. Indianapolis, IN
Milktooth in Indianapolis (Photo Credit: VisitIndy)
Population: 876,384
Median Rent 1 Bedroom: $846
% Rent to Median Income: 21%
4 Star+ Restaurants per 50K: 22
Visitors come for the Indianapolis Motor Speedway, but foodies stay for the cuisine. With its vast farmlands and cornfields, Indianapolis (Indy for short) has been serving up farm-to-table eats since long before it became fashionable. Fresh and locally sourced ingredients have become standard fare here, and food connoisseurs have taken note. Condé Nast calls Indy "one of the best under-the-radar food scenes in the country." Standouts include James Beard-nominated Bluebeard, as well as Milktooth, a Midwestern meets Southern comfort experience not to be missed. For special occasions and celebrations, there's Vida, where James Beard-nominated chef Thomas Melvin cooks up two dining styles, an a la carte seasonal menu and a rotating tastings menu. Recent years have also given rise to two new food halls in Indianapolis—The Amp and The Garage—where diners can sample ethnic eats one might not expect to find in a Midwest city known as the Crossroads of America. For more traditional fine dining (albeit on the pricier side), St. Elmo Steakhouse, named an America's Classic by the James Beard Foundation, has been a downtown landmark since 1902.
6. Kansas City, MO
The City Market in Kansas City (Photo Credit: Jenny Wheat)
Population: 495,327
Median Rent 1 Bedroom: $955
% Rent to Median Income: 21%
4 Star+ Restaurants per 50K: 23
Kansas City has long been known for its BBQ joints — burnt ends are a local delicacy — and Joe's Kansas City Bar-B-Que is a must-try. But there's more to taste in this midwestern city than slow-smoked, spice-rubbed, sweet and tangy brisket. In fact, Kansas City boasts a diverse food scene where small independent restaurants thrive. From Ethiopian-Caribbean fusion at Awaze to Austrian and Central European cuisine at Grünauer, Kansas City restaurants transport diners to all corners of the globe. The heartland hub is also home to James Beard-recognized chefs Michael Corvino of Corvino Supper Club & Tasting Room, Nicholas Goellner of The Antler Room and Michael Smith of Farina. From ethnic flavors to American eats, locally grown ingredients are a hallmark of Kansas City menus. To chef up your own farm-to-table creations, shop City Market, a historic farmer's market serving the area since 1857. And for a new take on dining and shopping, be sure to check out the Iron District in North Kansas City, a colorful outdoor container park featuring local food vendors and shops.
5. Columbus, OH
North Market in Columbus (Photo Credit: Experience Columbus)
Population: 898,553
Median Rent 1 Bedroom: $906
% Rent to Median Income: 20%
4 Star+ Restaurants per 50K: 19
Ohio's capital, Columbus, is also the seat of a distinctive food scene. While Cleveland and Cincinnati get more acclaim as foodie cities, there's enough culinary magic in Columbus to merit a place at the table. The charming German Village neighborhood is home to the city's hottest bars and bistros. Meanwhile, in the heart of Downtown Columbus, you'll find North Market, a 145-year-old public market where independent farmers, makers, artisans, and chefs sell everything from fresh produce and flowers to snacks, full meals and handmade designs. Jeni Britton Bauer of Jeni's Ice Cream got her start serving her handcrafted ice cream here. While it wouldn't be a midwestern state without a healthy serving of BBQ — and by healthy we mean generous, not low-cal — Columbus is just as well known for farm-to-table eats and global cuisine. Diners give high marks to Brassica serving Mediterranean-inspired sandwiches and salads, Harvest Bar & Kitchen where locally sourced ingredients bring a fresh take to pizzas, sandwiches and burgers, plus Third & Hollywood, whether for brunch, lunch, or dinner. The coffee and beer scene here is also bar none, so don't miss the artisanal breweries — like Wolf's Ridge, Seventh Son, and Hoof Hearted — along Fourth North.
4. Portland, OR
Food trucks in Portland (Photo Credit: Joshua Rainey Photography/Shutterstock)
Population: 654,741
Median Rent 1 Bedroom: $1,398
% Rent to Median Income: 24%
4 Star+ Restaurants per 50K: 57
Portland's status as a gastronomic mecca is no secret: the city is home to a long list of decorated chefs and celebrated restaurants. But what may come as a surprise is that Portland ranks among the highest of all US cities for per capita restaurants earning at least four-star ratings on Yelp — right up there with New York and San Francisco. With a culinary culture that celebrates fresh, local ingredients and creative cuisine, inventive new approaches to food abound in Portland, from the inspired tasting menu at Republica to the foraged ingredients featured at Morchella to the delicious Filipino inspired food at Magna Kusina. Portland also has an exciting food cart scene plus an array of food markets, from small shops like Coquine Market to larger food halls like Pine Street Market. There's also a year-round Farmer's Market at PSU (plus many others during the summer season).
3. Tulsa, OK
Akira at Mother Road Market in Tulsa (Photo Credit: Valerie Wei-Haas)
Population: 401190
Median Rent 1 Bedroom: $761
% Rent to Median Income: 19%
4 Star+ Restaurants per 50K: 30
With a dining scene that is beginning to rival much bigger cities but rent prices that are a lot more wallet-friendly, it's no wonder Tulsa ranks third on our Best Foodie Cities list. The food renaissance in Green Country has been fueled by a new generation of creative chefs and restauranteurs, many taking advantage of the region's agrarian bounty to inform their modern menus. Among them are Matt Amberg of Oren, Kevin Nashan of La Tertulia, and Andrew Donovan at Basque. You'll also find options that will transport you to far-away places, including menus from two James Beard nominated chefs: Indri Bahar of Rendang & Co. Indonesian Bistro and Eben Shillingford of Sisserou's. Tulsa's iconic BBQ and steakhouses still endure too, providing local foodies with a wide range of choices both familiar and new. There's also a local farmer's market, and a newish food hall, Mother Road Market, which features local food merchants, retail, and entertainment.
2. Albuquerque, NM
Downtown Grower's Market in Albuquerque (Photo Credit: Visit Albuquerque)
Population: 560,513
Median Rent 1 Bedroom: $800
% Rent to Median Income: 18%
4 Star+ Restaurants per 50K: 23
The New Mexican cuisine that is the hallmark of Albuquerque's food scene is a delicious reflection of a local culture shaped by Native American, Mexican, and Spanish influences. Resident foodies enjoy plentiful options for the very best New Mexican fare, from more upscale restaurants such as Campo at the Los Poblanos Inn and Farm to more accessible, casual spots like Bocadillos sandwich shop, Duran Central Pharmacy (yes, a diner in a pharmacy!) and Farina for delicious pizza. And while the chili pepper dominates many menus in Albuquerque, there are also plenty of options for other types of ethnic foods, contributing to a vibrant, diverse culinary landscape. Sawmill Market in historic Albuquerque and Green Jeans Market in mid-town are both popular food halls, and the city has many specialty food markets. It's also worth noting that Santa Fe is a short drive away, offering relatively easy access to additional great dining experiences.
1. Louisville, KY
Garage Bar in Louisville (Photo Credit: Louisville Tourism)
Population: 617,638
Median Rent 1 Bedroom: $760
% Rent to Median Income: 17%
4 Star+ Restaurants per 50K: 21
While bourbon tasting and horse racing might be the draw for many visitors to Louisville, residents know that the culinary scene is just as exciting. The city's extensive dining options range from award-winning dining at 610 Magnolia, Anoosh Bistro and Seviche to delightful cozy-casual restaurants such as bar Vetti and Ciao. You'll also find a multitude of spots for fancy cocktails, craft beer and coffee (try Sungeros). While many local chefs offer a modern take on southern cooking, there's also no shortage of globally inspired menus to choose from, providing food enthusiasts ample opportunity to explore new tastes. Louisville also offers an array of specialty food markets, including the Logan Street Market, an all-inclusive public market that features local chefs and artisans, provides access to fresh and healthy foods, and serves as a community gathering space.
Methodology
To determine the list of Best Foodie Cities, ApartmentAdvisor editors evaluated hundreds of cities by the following criteria: the number of restaurants per capita with at least a four-star rating on Yelp, diversity of restaurant cuisine, access to food halls and specialty markets, the proximity of dining options to popular rental neighborhoods, and median rent prices as compared to median household incomes for each city. ApartmentAdvisor used data from the US Census Bureau, Yelp, and its proprietary rent price data in its analysis.
We rate and sort every listing based on fair market rent.