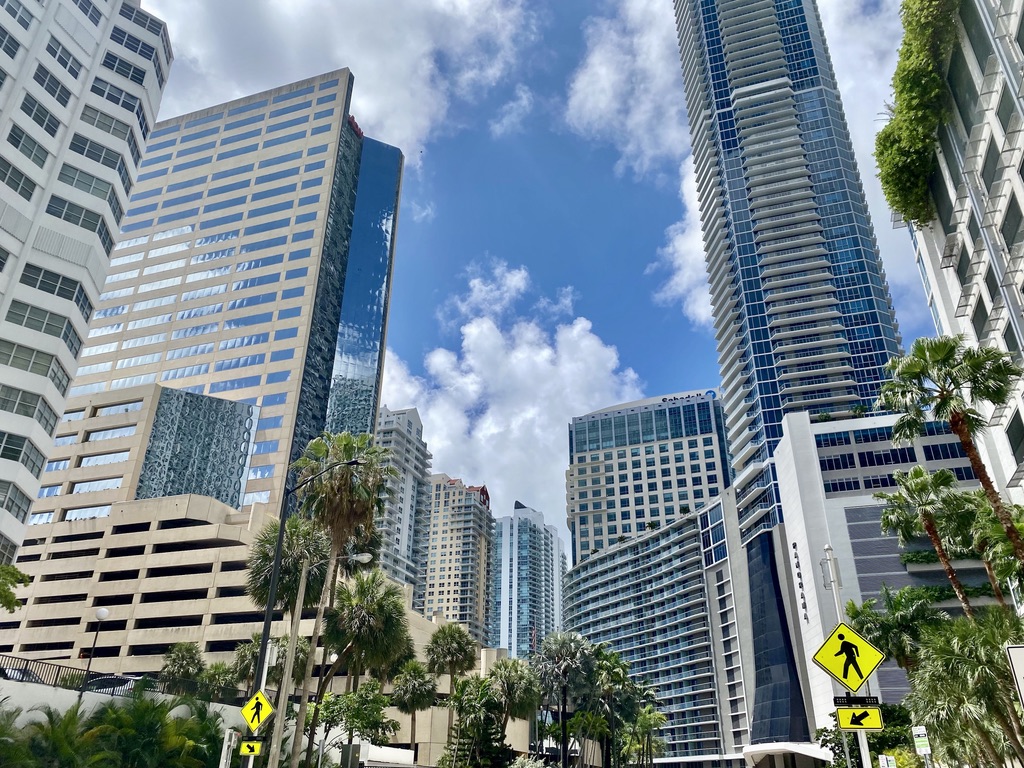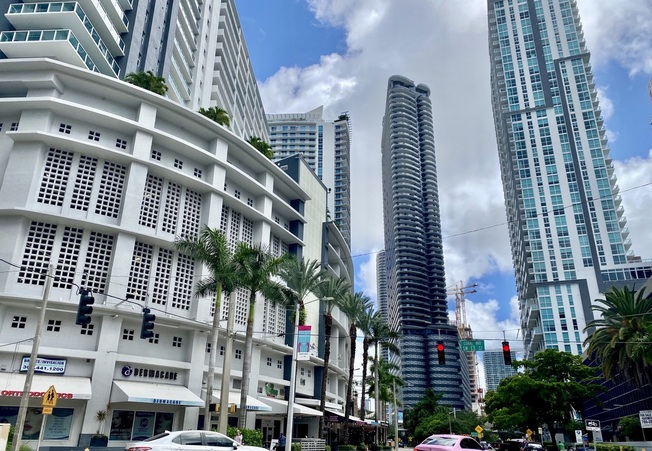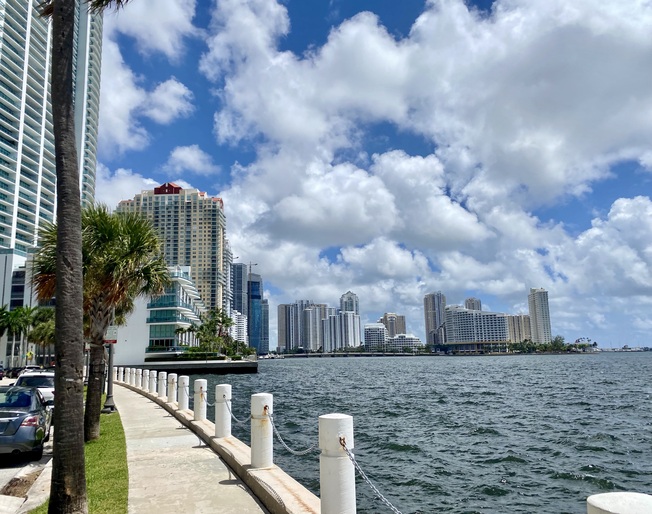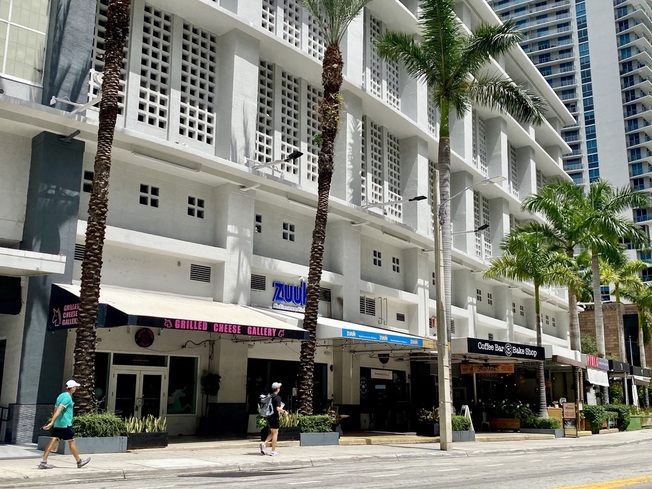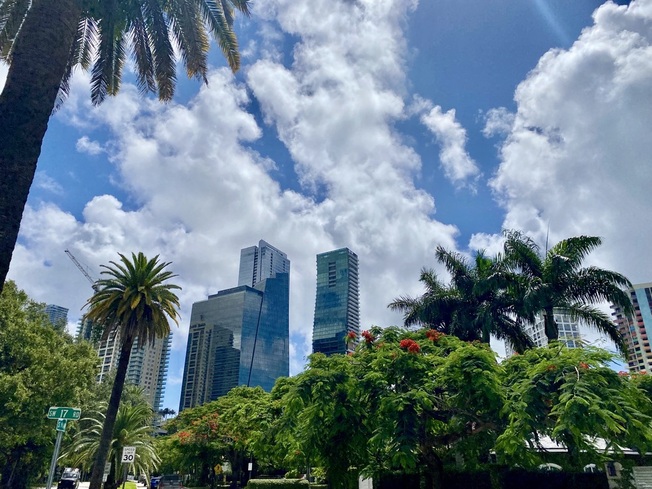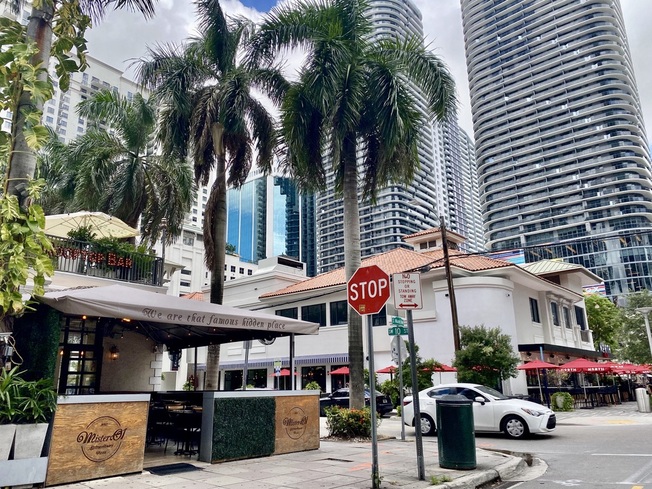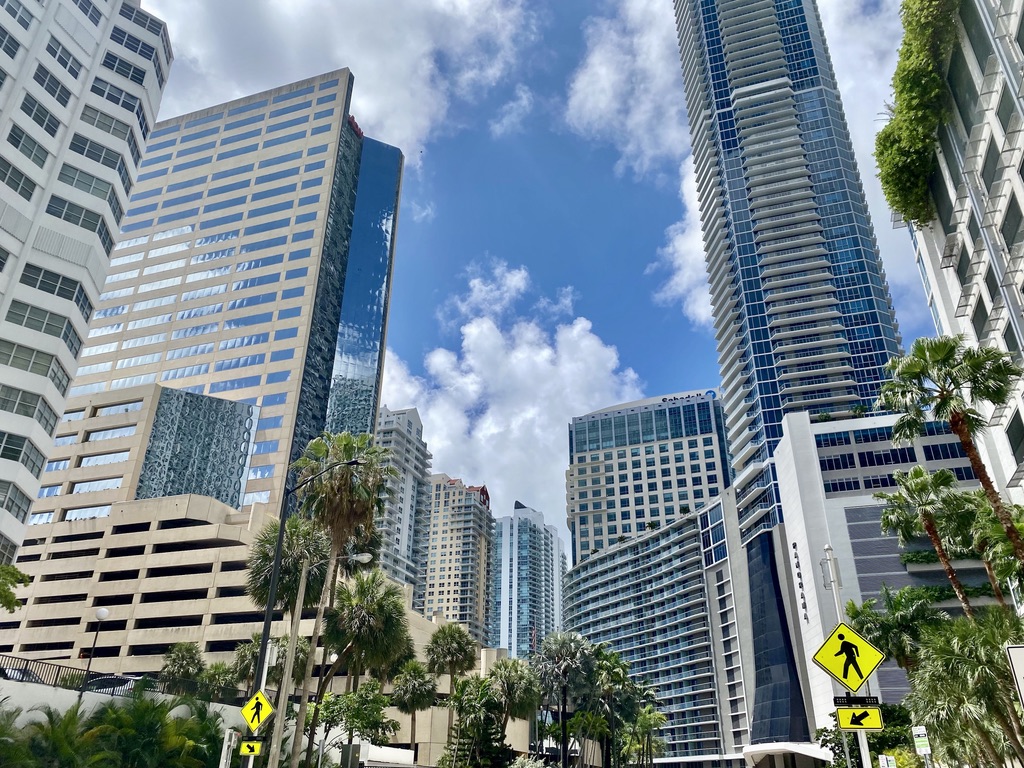 ---
| | Median Rent | Median Sqft |
| --- | --- | --- |
| Studio | - | - |
| 1 Bed | $3,100 | 795 sqft |
| 2 Beds | $5,850 | 1,279 sqft |
| 3+ Beds | $7,475 | 1,600 sqft |
Home to Miami's financial district, Brickell is also one the oldest and chicest neighborhoods in Miami. With its sparkling Biscayne Bay views, towering high-rise office buildings, banks, foreign consulates, five-star restaurants, swanky bars, and some of South Florida's most desirable condominiums and apartments, Brickell is a desirable place to live, work, and play.
It's hard to believe that Brickell's dynamic cityscape filled with glittering skyscrapers was originally a settlement for Tequesta Indians. While not much is known about their time here, we do know that the Tequesta Indians were forced out by homesteaders from the northern United States who settled in Miami in the late 1800s. One such couple was William and Mary Brickell, who are still considered Brickell's founding couple (hence the name Brickell). They built a home and trading post on the mouth of the Miami River, establishing a trading business and amassing extensive real estate in both Brickell and nearby Coconut Grove.
With the arrival of the railroad in 1896, Miami's popularity surged, and by 1920, grand winter estates of the world's elite lined Brickell Avenue, giving the neighborhood its own "Millionaire's Row." Continuing to play to the affluent audience, big-name developers eventually transformed these estates into the high-rises Brickell is known for today. Businesses moved in, and by the 1970s, this cosmopolitan neighborhood became the financial center of Miami. And thanks to its location near the Port of Miami, Brickell also emerged as the unofficial head of financial operations between the US and the Caribbean and Latin America.
If you're in town to strike your next big business deal, eat good food or enjoy a fun, sophisticated night out in Miami, Brickell is where you want to be.
With the Miami River to the north, Biscayne Bay to the east, Rickenbacker Causeway to the south, and I-95 to the west, Brickell is pretty accessible. Plus, Miami is a grid system, which makes it easy to find your way around once you're there. Brickell Avenue runs through the heart of the neighborhood, lining Biscayne Bay and eventually turning into Biscayne Boulevard when it hits Downtown Miami. Cross streets run through in numerical order.
One of the draws of Brickell is the fact that it's incredibly pedestrian-friendly. In fact, some residents of the area don't even bother owning a car. It's not uncommon to see the neighborhood's wide sidewalks filled with passersby on their way to work, lunch, the gym, or out walking their dog.
Visitors and residents who don't want to walk (or need to go a little farther) can get around using Citi Bikes, scooters, or the Metromover, a free, air-conditioned train that runs above Brickell and Downtown Miami. There is also a free trolley that runs down Brickell Avenue and to other neighborhoods, and of course, rideshare options abound. If you prefer to drive your own car, parking in Brickell is no problem with plenty of street parking and garages choose from.
There's no shortage of bars and restaurants in Brickell. Take your pick from trendy eateries, award-winning dining experiences, steakhouses, happy-hour watering holes, power lunch locales, rooftop hangouts, and more. From casual to fine dining, you'll find delicious food and drink options here.
Reflecting its surroundings, Brickell's restaurant and bar scene is very international. At Stanzione 87, get traditional Neapolitan pizzas topped with speck, burrata, broccoli rabe, smoked mozzarella, and more. Another casual European outpost, La Sandwicherie, is a French-owned sandwich shop and a mainstay in Miami that's open until 2 a.m. Go here for mile-high sandwiches with ingredients like Camembert, fresh mozzarella, prosciutto, saucisson sec, fresh-cut vegetables, and duck liver pâté on crusty French bread. Don't skimp on the hot pickled red peppers, cornichons, or La Sandwicherie's signature Dijon-based French vinaigrette — you'll understand once you've tried it.
Get a taste of that "see and be seen" Miami life when you book a table at nightclub guru David Grutman's Asian-influenced restaurant and lounge, Komodo. (Dress to impress: While you indulge in Peking duck, you might see one of Grutman's celebrity friends dining nearby.) Edge Steak and Bar, a farm-to-table steakhouse, sits on the seventh floor of the Four Seasons Miami and has a menu of favorites like foie gras and truffle bonbons, Australian lamb chops, house-made charcuterie, and charred cauliflower steak. At the Mandarin Oriental Miami, on Brickell Key, the elegant La Mar by Gaston Acurio serves Asian-Peruvian fusion dishes with unbelievable skyline views.
Miami's oldest bar, the iconic Tobacco Road, closed in 2014 after 102 years in business. In 2021, the team behind Kush (known for some of Miami's best burgers) paid homage to the dive bar with the opening of Tobacco Road by Kush. Go here for a down-home vibe and drinks like "This Ain't the Real Tobacco Road" and a menu of "craft," "draft," or "sh_tty" beers. In a sea of bougie bars and restaurants, Better Days is another casual bar with reasonable (Miami) drink prices that makes you feel like you're hanging out in someone's very popular basement. Wind your way through the crowd, and there's free popcorn in the back.
Take advantage of Miami's year-round warmth at The Wharf, an outdoor bar on the Miami River where you can arrive by car or yacht. There are plenty of food trucks, including Garcia's, where you can get fresh stone crab claws when they are in season. Located on the 40th floor of the East Miami hotel, Sugar is Miami's swankiest rooftop bar and lounge. Designed to look like a Balinese garden, it attracts glamorous people and has one of the best sunset views in the Magic City.
For groceries, there is a Publix, a Presidente Supermarket (for Latin food staples), and a weekend farmer's market. The three-story Luna Park, Brickell City Centre's Italian food hall and market, sells local and imported Italian artisanal goods.
Opened in 2016, Brickell City Centre has become the heart of shopping here. Spread across three blocks and three levels, it has a mix of beauty, home decor, jewelry, food, and clothing stores from popular chains (i.e., Sephora, Zara, Lululemon, Victoria's Secret, and Apple) to high-end boutiques (i.e., Trousseau, Mirto, Le Roy Rene, and C'ART). It's anchored by a 107,000-square-foot Saks Fifth Avenue.
An ode to the neighborhood's founding family, Mary Brickell Village was the first mall to open in Brickell. When you're not at one of its bars for happy hour, peruse this open-air mall's trendy storefronts, like the Miami-born Blush Boutique, Edward Beiner, or The Village Humidor, a premium cigar shop and lounge.
After a weekend day shopping at Brickell City Centre or brunching and bar hopping with friends, treat yourself to a luxury movie experience (complete with chairside cocktail service) at CMX Cinemas.
While most people don't think of cosmopolitan Brickell as an outdoor destination, it actually has some beautiful parks. The 7.8-acre Simpson Park, a quaint tropical hardwood hammock, is one of the only remnants of Brickell's original days. Get a dose of Brickell history at the bayfront Brickell Park, which has a pre-Colombian archeological site and the Brickell family mausoleum, both of which are protected by the Historic Preservation Society of Miami. Miami Circle Park is named for its perfect limestone circle that measures 38 feet in diameter and has 600 post molds with 24 holes or basins cut into the limestone bedrock. Historians believe this structure was built by Brickell's original inhabitants, the Tequesta Indians, some 1,700 to 2,000 years ago.
Want to get your adrenaline pumping? Go to the Soccer Rooftop at 444 Brickell Avenue, which is exactly what its name implies. On the roof of a Brickell skyscraper, you'll find two turf soccer fields where locals can play weekly pick-up games or start their own match of six on six. Join the locals running along Biscayne Bay and over Brickell Key Bridge to the neighborhood's private island, Brickell Key. On its southern tip, Brickell Key Park is a quiet, outdoor waterfront space with swaying palms and jaw-dropping views of both the Miami Beach and mainland Miami skyline.
Brickell Avenue has outposts of Babson College and Florida International University's College of Business and School of International and Public Affairs. Just nearby, in Downtown Miami, there are campuses for Miami-Dade College - Wolfson and Miami International University of Art & Design.
We rate and sort every listing based on fair market rent.