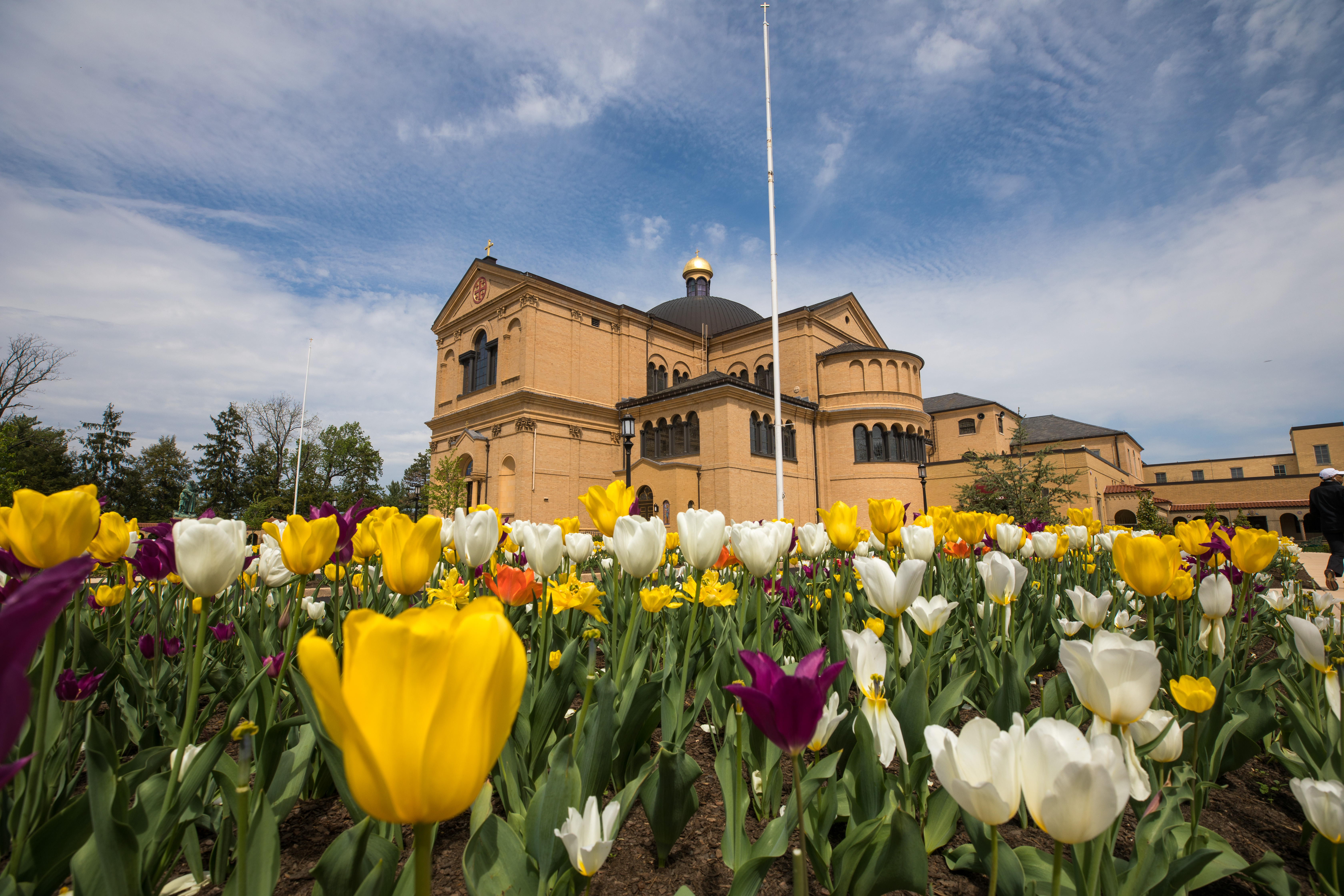 ---
| | Median Rent | Median Sqft |
| --- | --- | --- |
| Studio | - | - |
| 1 Bed | - | - |
| 2 Beds | - | - |
| 3+ Beds | $7,000 | 1,805 sqft |
Situated in the northeast corner of the District of Columbia, the neighborhood of Brookland maintains a small-town vibe despite its proximity to the nation's capital city. More than a century ago, the area was all farmland. And though it's still quiet and tree-lined, recent projects have changed its landscape considerably. Monroe Market Street is one large-scale real estate development that blends a sizable apartment community in Brookland with restaurants and dining options on the ground floor, an on-site farmers market, and dozens of art studios. Its main building faces the Brookland-CUA Metro station announcing its presence with a giant mural reading "BROOKLAND."
Brookland's official boundaries are Taylor Street NE and Michigan Avenue NE to the northwest; Rhode Island Avenue NE to the southeast; South Dakota Avenue NE to the northeast; and Washington Metro's Red Line's tracks to the west. But even if you don't know where the neighborhood begins and ends, you can easily locate it by finding the Basilica of the National Shrine of the Immaculate Conception, the largest Roman Catholic church in the US and the second largest in North America. In fact, Brookland's nickname is "Little Rome" based on the density of churches, chapels, and monasteries within its boundaries.
Despite its growth and gentrification, the neighborhood has been insulated from big-box malls. Residents still enjoy a small business district made up of an assortment of local mom-and-pop shops and restaurants.
Living in Brookland means you can walk or ride a bike just about anywhere you need to go. There's a decent distribution of bike lanes and routes for cyclists. The Metropolitan Branch Trail, or MBT, is a popular ride for commuters. It's also well connected by public transportation. Metro buses (G8, H8, H6, and E2/E3) criss-cross the neighborhood anchored at either the Brookland-CUA or Rhode Island Avenue metro stops, easily accessible to Metrorail and other points. Drivers will find convenient access to US Routes 1, 29, and 50, which link to major highways, including Interstate 495.
Restaurants in Brookland tend to be intimate, locally owned establishments. A couple favorites include the Dew Drop Inn and Busboys and Poets. The former is a casual bar with a retro ambiance where guests can chill on a roof deck watching trains go by. The latter is a small local chain with eight locations in the greater Washington, DC area. Pop into Busboys and Poets any time for breakfast, lunch, or dinner; there's something for everyone here, including vegan, gluten-free, and even certain allergy-related items.
For a step-above culinary experience, 8,000 square-foot food hall, Tastemakers, saves you the trouble of searching for what to eat. That's because, in addition to fixed kitchens, a series of roving vendors mix up the eateries in six-month rotations. Come often to try a variety of flavors, from Captain Cookie gourmet ice cream sandwiches to Taiwanese Bun'd Up and modern Mexican Taqueria del Barrio.
Not too far from Tastemakers, Menomale bakes up some of the best Neapolitan pizza pies in DC. Don't take our word for it. The owners are officially recognized by the Associazione Verace Pizza Napoletana as authentic pizzaioli, otherwise known as certified pizza makers in the old country.
For a different kind of tasting, residents of Brookland have options for ever-growing popular craft beer. Right Proper Brewing Company sells pours on the weekends, which you can sip from one of a few spread-out tables inside and out. Stay a while and sample a flight of the brewery's core as well as seasonal beers, or take a growler to go. Another brewery, Brookland Pint, focuses strictly on American craft beer on draft. You can also sample from a seasonal menu with nibbles sourced from local and regional farms.
The 560-unit apartment complex and mixed-use Monroe Market Street attracts shoppers near and far. Its retail space houses pottery, painting, and artisan galleries along a brick-paved walkway. Open on weekends, not only can you buy one-of-a-kind creations, you can witness the artists in action.
Once you've had your fill of visual eye candy, duck into the nearby Barnes and Noble for some quiet time. Browse the latest bestsellers while you sip a foamy latté from the bookstore café. Top the day off with a visit to Wardman Wines, especially on Fridays when they host free tastings. You can even pick up charcuterie and crackers to go with your bottle of red, white, or bubbly.
Besides massive Monroe Market Street, most of Brookland still maintains a small-town feel. So if you're looking to stock up on staples, you might do better driving a few miles to nearby neighborhoods for stores like Costco, Giant, Whole Foods, and Target. You won't find many major retail chains within the community.
What you can find are fabulous specialty grocery stores in Brookland, like Salumeria Italiana owned by the same proprietors of Menomale next door. This neighborhood deli and market brings cured meats, cheeses, oils, vinegars, and pastas just like you'd find along the cobblestone streets of Naples, with one exception. Health code forbids them from hanging cured meats from the ceiling. You might have to cross the Atlantic for that one.
For locally sourced and organic products, wander the aisles in Good Foods Market for fresh quality produce, prepared foods, even beer and wine. Shop for yourself while knowing you're contributing to their special mission to offer access to healthy, sustainably grown produce to everyone in the community.
You can't really know "Little Rome" without a tour of the Basilica of the National Shrine of the Immaculate Conception. Rising up to 329 feet, this architectural marvel stands among the 10 largest churches in the world and as the tallest habitable building in the nation's capital. Pay a visit and join in the footsteps of notable names like President Harry Truman, Robert F. Kennedy, Pope John Paul II, and Pope Benedict XVI.
For a different spiritual experience, take a walk through the 44-acre Franciscan Monastery of the Holy Land in America. Regardless of your religion, it'll be hard not to succumb to its serene and contemplative atmosphere with landscaped gardens and replicas of sacred shrines.
Greenspaces are plentiful in Brookland. Enjoy the National Arboretum, a 446-acre "living museum" of trees, shrubs, and various plants with a winding nine-mile bike path. Relax in Noyes Park, where you can gather with friends at a picnic shelter on the grounds. For little ones, there's also a playground here. Or take breaks at Fort Bunker Hill Park, the former site of a Civil War fort that features walking trails and remarkable views.
For days you'd rather burn some energy, hit Taft Field and the Turkey Thicket Recreation Center, where you can work out in a gym, weight room, and indoor pool or play basketball, baseball or tennis on any of its courts and fields.
And for indoor fun, see what's happening at Dance Place, a performance hall putting on 100-plus events a year through mainly edgy, modern choreography. Take a class on your own or catch a South American salsa troupe or traditional African dance show.
Brookland is home to Catholic University, the only Catholic college founded by US bishops. Its 12 schools offer PhD or appropriate professional degrees in 66 programs, Master's Degrees in 103 programs, and Undergraduate degrees in 72 programs by six schools: architecture and planning, arts and sciences, engineering, music, nursing, and philosophy. Its beautiful tree-lined campus includes Romanesque stone buildings and a sprawling lawn for student recreation.
Trinity Washington University is located adjacent to the Brookland Metro stop (Red Line). The university enrolls more than 1,800 students in its undergraduate and graduate programs in six schools: the College of Arts and Sciences, School of Nursing and Health Professions, School of Education, School of Business, and Graduate Studies and School of Professional Studies. Trinity enrolls more DC residents than any other private university in the city and in the nation.
One of the largest undeveloped privately-owned parcels in Washington, DC, the Howard University East Campus site lies in the heart of Brookland. Set in a residential haven, this site is one of Howard University's three major campuses.
We rate and sort every listing based on fair market rent.