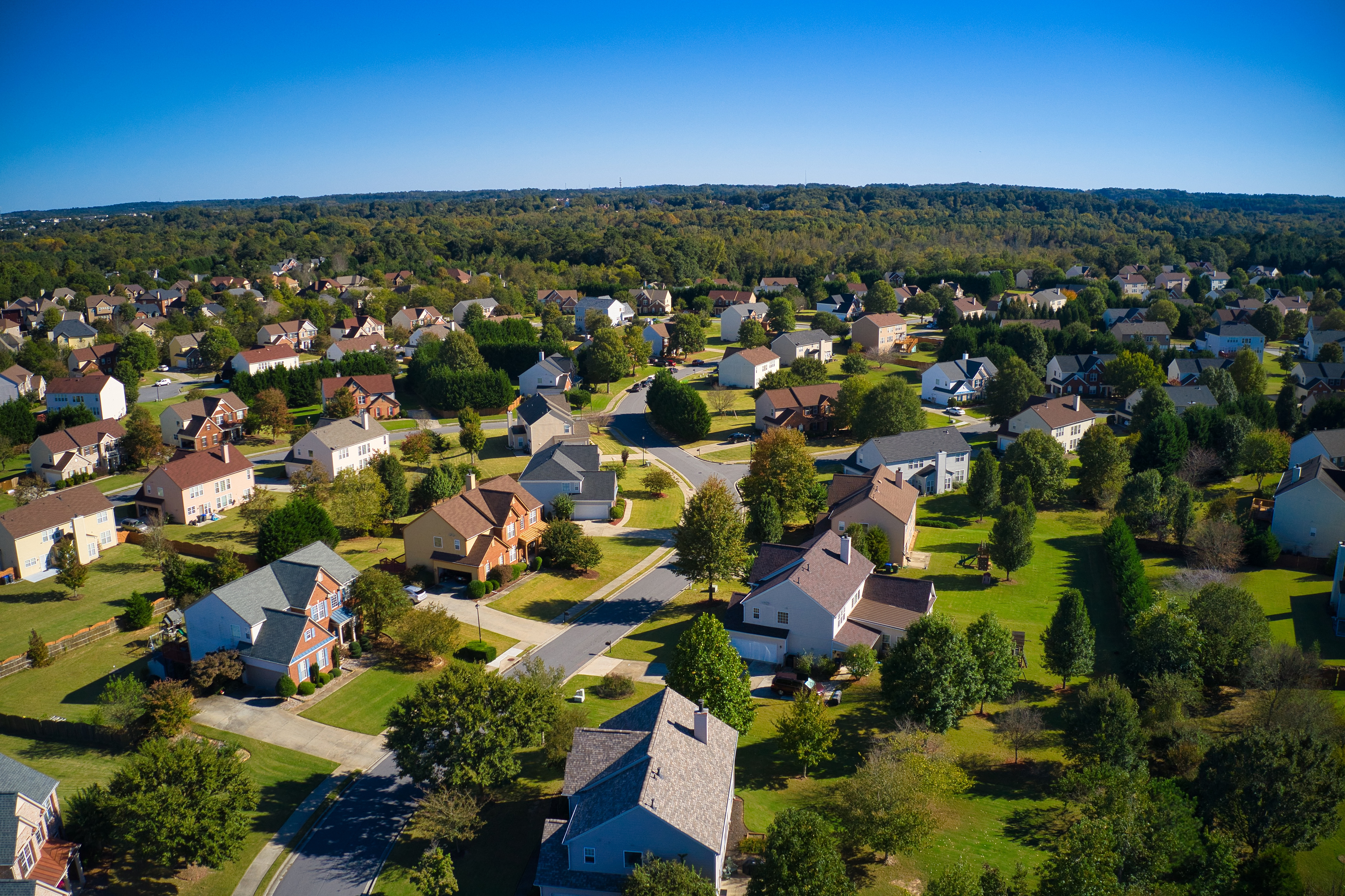 Built-For-Rent Homes Are Soaring In Popularity. Are They Right for You?
---
Two very similar three-bedroom homes sit an hour north of Atlanta, GA, in nearby Gainesville. They were both built in 2023, boast trendy finishes, have private backyards, and are between 1,500 and 1,800 square feet. But there's one key difference between the two single-family homes: price. Home #1 is for sale, and its $395,000 listing price works out to be $3,110 monthly (assuming a down payment of 6% of the home's loan value, the average nationwide), after mortgage insurance, home insurance, and property taxes are included. Meanwhile, a few miles away, Home #2 is part of a built-for-rent community by ARK Homes, and is renting for $2,350 a month — $760 less than the home that's for sale. With savings like this, it's no surprise that build-for-rent (also called "built-to-rent") housing is on the rise.
In the last six years, built-for-rent single family housing starts (AKA permits) have risen by 86%, according to the latest data from the U.S. Census. Though its growth has slowed in recent months (most likely due to rising interest rates on construction loans), built-for-rent construction is certainly still growing. It's most prevalent in Sunbelt cities across the Southeast and Southwest like Phoenix, AZ and Charlotte, NC, as these (relatively) low-cost-of-living areas continue to welcome more and more people. According to a National Home Builders Association analysis, built-for-rent housing currently makes up over 7% of all new housing construction, more than doubling from the 2.7% market share it held only 11 years ago.
Built-for-rent (BFR) housing brings some much-needed relief to the housing supply, which still sits at record lows, and it offers a third option for Americans who are hesitant to buy a single-family home in the current housing market but no longer want to live in an apartment. It's exploding in popularity in recent years for a few reasons. For many people, spending so much time at home during the pandemic led to a greater desire for a different type of rental home: one that was spacious and private, rather than a small apartment with shared walls. Additionally, the rise of remote and hybrid work meant that a long commute to a job in the core of a city was no longer (or at least, less of) a consideration than it was in years past. Built-for-rent housing, with its roomy floor plans and private backyards built on the edges of suburbs and cities, suddenly became a great option for renters.
"I think what really kicked it off was COVID with people wanting to just have more space and not have neighbors on top of them," says Nicholas Irwin, assistant professor in economics at the University of Nevada, Las Vegas, and housing and real estate expert. "I think investors then realized this pent-up demand and responded accordingly."
Additionally, soaring interest rates have made a mortgage payment much more expensive than it's been in past years. As far as affordability goes, BFRs present a much more attainable option. Some would-be first-time homeowners have been swayed from purchasing a single-family home, and instead see a brand-new single-family rental as a suitable alternative.
"Record-high interest rates have led to the [built-for-rent] industry's largest growth," says Jordan Karvana, founder and CEO of ARK Homes for Rent. "Additionally, the sustainability of work-from-home and hybrid work also continues to support high levels of rental housing demand outside metro urban cores." 
The Benefits of Built-For-Rent Housing
Built-for-rent homes offer potential renters that new home feeling without interest-bloated monthly payments — choosing that Gainesville rental referenced earlier over buying a similar home would save potential residents $9,120 a year, and that's not even including the substantial amount of cash required up front for a down payment and closing costs.
BFR homes are often a part of master planned communities, and many offer competitive amenities. One ARK Homes community outside Atlanta comes with splash pads, a swimming pool, a fitness center, and even a pet spa, while a Christopher Todd community outside Phoenix boasts a spa, smart home technology, and an event lawn for residents.
These homes also bring with them all the usual benefits of rental properties — low maintenance and low-commitment living. In fact, many built-for-rent homes have become a preferred alternative to homebuying, even within households that could afford to buy otherwise. "There is a larger shift of would-be buyers looking at BFRs as a credible alternative," adds Karvana.
Karvana also believes build-to-rent homes can create strong community ties for residents. In these rental communities, you can run into neighbors while out on a walk or wave at them from your porch or across your backyard. "There's a sense of community that encourages stronger bonds among residents and a greater sense of belonging," says Karvana. 
BFR homes have certainly become a welcome housing alternative in the real estate market amid soaring interest rates and elevated home prices. They combine many of the amenities of single-family living with the conveniences of renting. "You get all the benefits of having a house without some of those downsides of homeownership [like housing prices and maintenance]," says Irwin.
Where Built-For-Rent Housing Can Go Wrong (and Right)
However, sprawling build-for-rent housing can bring with it the same negative environmental effects that new spread-out single-family home construction does. Because of the land needed for new builds, most large-scale residential construction happens on the outskirts of cities and metropolitan areas, where there is ample land still available. The "exurban" areas outside of major cities have experienced a major new construction boom amid the current housing shortage. According to the Wall Street Journal, these areas "saw construction of single-family homes rise 20%" from 2020–2021 compared to the year prior. But new developments on the outskirts of a metro area, whether they're for rent or for sale, often lead to more car usage and greater suburban sprawl, both of which have been proven to have incredibly negative impacts on the environment. 
It is worth nothing, though, that the smaller scale of BFR housing can allow for a greater density than traditional suburban construction. "These houses do have a much smaller footprint typically, they're on much smaller lots, and they're a smaller size in terms of interior square footage," Irwin says. "You can pack out a lot more houses per acre than you could otherwise…[allowing] more land to go towards housing."
[BFR] houses do have a much smaller footprint typically, they're on much smaller lots, and they're a smaller size in terms of interior square footage. You can pack out a lot more houses per acre than you could otherwise…[allowing] more land to go towards housing.

— Nicholas Irwin
And not all built-for-rent homes are built on the outskirts of cities. While built-for-rent housing will most likely continue to be added to the outer suburbs of growing cities, smaller-scale built-for-rent development is also happening in the inside of cities, where a small collection of BFR units, often townhomes or cottage courts, fill in small plots of land near the city center. This is called "infill" housing, and infill BTR brings with it just as many — if not more — benefits than large-scale exurban built-to-rent developments.
"The nice thing about built-for-rent housing is that because of its smaller footprint, it could actually be a solution to this chronic problem we have with infill development — [figuring out] how to build in those little two- or three-acre plots of land that aren't perfectly shaped," says Irwin. "We could put BFR houses there, within existing communities as a way to build more housing in areas that are probably in fairly high demand."
Though they may provide fewer amenities and smaller floorplans than BFR homes in the suburbs, infill BFR housing is a great way to provide more rental units in these in-demand urban areas. Harmon Five Points, a 76-unit built-for-rent community just west of downtown Charlotte, NC, provides a neighborhood trail to a nearby playground and is within walking distance of a light rail stop. Meanwhile, the ABODE | Downtown Collection in downtown Raleigh, NC, promises 73 new built-for-rent units in a combination of single-family-homes and townhouses, spread throughout Raleigh's downtown core.
Is BFR Housing Right For You? 
While built-for-rent housing is a great way to get the benefits of owning a single-family home without the steep costs, living in built-for-rent housing may mean living far away from the core of your city and driving more often than you'd like, increasing your transportation costs. The premium they offer in space and privacy also comes with a premium in price compared to multifamily unit rentals.
It all comes down to your values and priorities when it comes to your housing: If you value space and privacy, look for a BFR single-family home. However, if you want to live in a more walkable area and don't mind the tradeoff of shared walls and a smaller space, look for infill built-to-rent housing or the classic multifamily unit. Housing is a deeply personal — and deeply important — choice. Don't let the latest real estate trends or assumptions stop you from making the housing decision that's best for you.
We rate and sort every listing based on fair market rent.