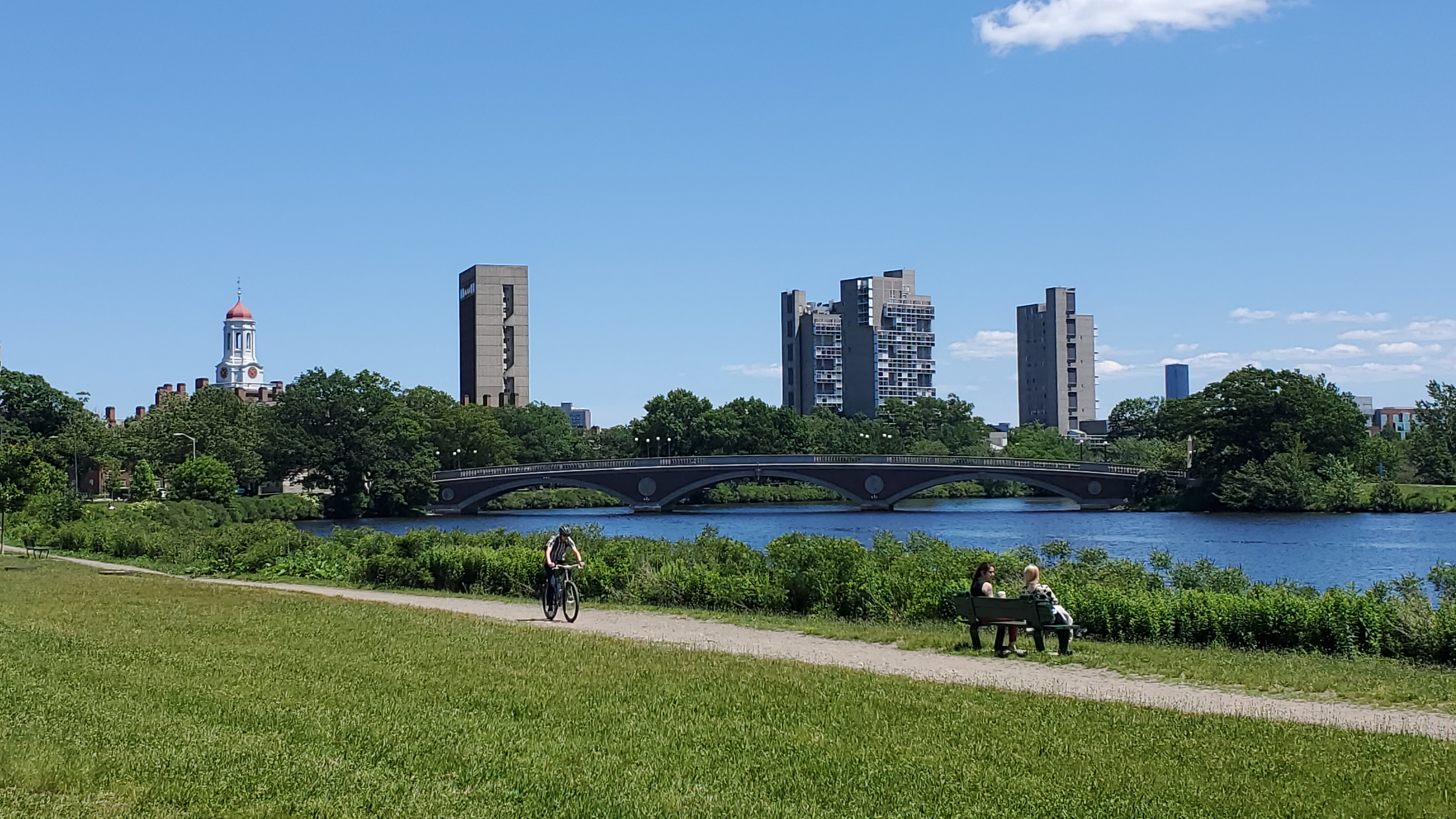 ---
| | Median Rent | Median Sqft |
| --- | --- | --- |
| Studio | $2,600 | 450 sqft |
| 1 Bed | $2,893 | 702 sqft |
| 2 Beds | $3,578 | 979 sqft |
| 3+ Beds | $5,208 | 1,495 sqft |
Most residents of Cambridge respect and love Boston as their hometown, but that doesn't mean they feel the need to cross the river daily to go there unless, of course, they're commuting for work. That's because Cambridge residents enjoy all the benefits of a big city — diverse and educated population, myriad dining and drinking possibilities, and rich culture — without the hassles (parking aside).
There's a wide variety of houses and apartments in Cambridge, ranging from newly renovated lofts in urban Kendall Square to historic single-family homes in West Cambridge and other upscale residential areas. The majority of Cambridge rental units can be found in low-rise apartment buildings, as well as in duplex and triple-decker homes.
Harvard University and the Massachusetts Institute of Technology (MIT) are the backbones of the city. A large part of the population of Cambridge is affiliated with the universities in one way or another. In addition to the tens of thousands of students they enroll, the schools are also the largest employers in Cambridge. This makes for a highly educated population, old Cantabrigian academic families and young immigrant scholars alike. Harvard and MIT also provide the community with a huge array of resources, from libraries and learning to performing arts and speaker series to sports facilities and sporting events to innovative architecture and public art.
Besides academia, Cambridge is a center for the booming biotech industry and home to many technology start-ups, most based in Kendall Square. Thanks to these industries, Kendall has been dubbed "the most innovative square mile on the planet." It may be the City of Cambridge that coined that phrase, but there's probably something to it.
Cambridge is located on the north shore of the Charles River, so the river defines the southern boundary. In the west, the city line is marked by a series of greenspaces — Alewife Brook Reservation, Fresh Pond Reservation, and Mount Auburn Cemetery. The northeastern boundary follows Massachusetts Avenue and Cambridge Street. Sidewalks and greenery mean that the whole city is well set up for pedestrians.
The MBTA Red Line runs from Boston, across the river, and right through Cambridge, with stops at Kendall Square, Central Square, Harvard Square, Porter Square, Davis Square (technically in Somerville, but not far from the city line), and Alewife. The E branch of the Green Line terminates at Lechmere in East Cambridge (though an extension to Somerville and Medford is scheduled to open in 2021). Most of the city of Cambridge is accessible from the T.
That said, there are a number of useful bus lines, which may be more efficient than the T, depending on where you're going. No 1 runs the length of Massachusetts Avenue, from Boston to Cambridge to Arlington. Nos 66 and 86 go from Cambridge straight across the river to Allston/Brighton, avoiding the detour into Downtown Boston. Nos 71 and 73 go from Harvard Square out to West Cambridge, Belmont, and Watertown.
Cambridge has made big improvements for biking infrastructure in recent years, and cyclists will enjoy pedaling around most parts of town. Drivers, on the other hand, may be frustrated by the excess of one-way roads and the lack of street parking in the commercial centers. That said, permitted residents should have no problem finding street parking near their homes in residential areas.
Restaurants in Cambridge offer much of the diversity and deliciousness of dining in Boston, but on a smaller scale. The student hubs of Harvard and Central Square specialize in food that is fast and affordable (and sometimes even healthy), including many international options. Coffee shops and cozy pubs are also ubiquitous on these crowded streets. Hungry patrons will also find more than a few national chains like Shake Shack and Chipotle. That said, Harvard Square must also meet the needs of faculty, visiting parents, and plenty of tourists, so there is no shortage of upscale establishments as well. In recent years, Kendall Square has sprouted an urban landscape with many new buildings and businesses — and just as many restaurants to cater to the new working population.
Cambridge has many international restaurants sprinkled throughout the city, but there are also a few pockets of ethnic flavor, such as the Porter Exchange at Porter Square for Japanese food, Cambridge Street in East Cambridge for Brazilian and Portuguese, and Central and Inman Square for Indian favorites.
Harvard, Central, and Inman Squares also host drinking establishments of all types, from cozy pubs to fancy cocktail lounges. Lamplighter Brewing Co and Cambridge Brewing Co (both near Kendall) cater to beer-lovers with their many varieties of craft beer.
Harvard Square is an attractive shopping destination in Cambridge, with dozens of independent and chain stores lining the streets in the vicinity of the university campus. Longtime Cantabrigians complain about the "mallification" of Harvard Square due to the arrival of many national brands (not to mention CVS outlets and bank branches). But this academic-minded area retains its independent streak, thanks to the bookstores, vintage clothing stores, and quirky shops, as well as upscale boutiques.
CambridgeSide is a traditional shopping mall in East Cambridge, with more than one hundred stores and restaurants, including Best Buy and TJ Maxx. The Porter Square Mall is a smaller strip mall with a smattering of useful stores, including a beloved local bookstore and a popular shop for natural body products.
The city of Cambridge sits on the north shore of the Charles River, just across from the city of Boston. As such, it sometimes feels like a Boston neighborhood, accessible by a quick trip on the Red Line. Cambridge is, in fact, an independent city, with history, culture, and entertainment to rival many larger metropolises.
Many of the things to do and places to see in Cambridge revolve around the two prominent educational institutions that anchor this vibrant city. Both Harvard and MIT are replete with museums, sports, performing arts, and special events. Most notably, the Harvard Art Museums combines three collections under one remarkable roof (designed by Renzo Piano). The Peabody Museum of Archeology and Ethnology shows off the university's impressive collections of Native American cultural relics, as well as archeological artifacts from all over the world. The Harvard Natural History Museum is famous for its comprehensive collection of glass flowers, which is at once art and science. MIT is home to the fantastic (and sometimes fantastical) MIT Museum, now in a brand new space in Kendall Square, as well as the List Center for Visual Arts. MIT also boasts a fabulous collection of public art, with hundreds of famous and not so famous pieces scattered about the campus.
Both universities offer a full calendar of performing arts events. Harvard events often take place at the gorgeous Sanders Theater at Memorial Hall, with its amazing acoustics. Just across the square, the American Repertory Theater (ART) is arguably the most innovative and celebrated theater company in the Boston area, earning a slew of Tonys and other awards in recent years.
Fortunately, there are many opportunities for Cambridge academics to take a break from their studies and get outdoors. In West Cambridge, the Fresh Pond Reservation is a delightful retreat for walking, running, or golf. Another walking/biking path follows the north shore of the River Charles for about 10 miles from the Charles River Dam to Watertown Square. The Minuteman Bikeway also connects through North Cambridge, en route from Somerville to Arlington and out to Lexington and Bedford. For less action and more contemplation, Mount Auburn Cemetery offers gorgeous landscaping and great birdwatching, not to mention its peaceful setting.
Located just a few miles away from each other, Harvard and MIT are the big names here. Much of life and commerce in Cambridge revolves around these two institutions, which have a combined total of about 43,000 students enrolled. But there are a few smaller colleges and universities around town, including Lesley College, just north of Harvard Square; Longy School of Music of Bard College, northwest of Harvard; Cambridge College, between Harvard and Central; Cambridge School of Culinary Arts, at Porter Square; and Hult International School of Business in North Point. Tufts University is located a few miles north of Cambridge on the Somerville-Medford Line.
We rate and sort every listing based on fair market rent.