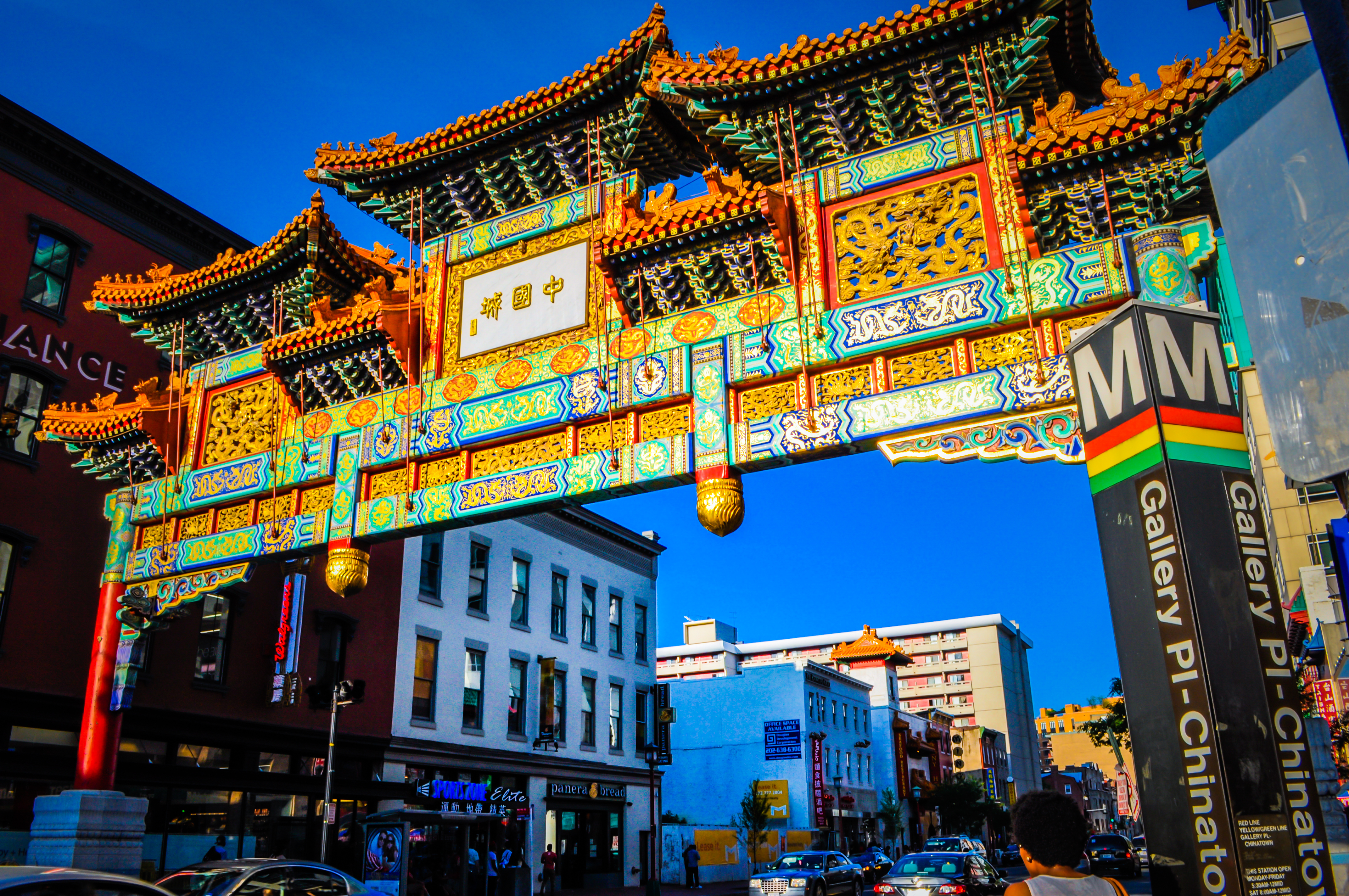 ---
Washinton DC's Chinatown wasn't always a center of Asian community and culture. In the early 1900s, German immigrants populated the neighborhood. Chinese immigrants only started moving to the area decades later after the building of the Federal Triangle government office complex took over Pennsylvania Avenue, which was Chinatown's original location. Like other local neighborhoods, Chinatown's population dwindled after the 1968 riots. Residents fled to suburban areas away from rising crime and a falling business climate. It wasn't until 2004 that Chinatown underwent a $200 million renovation, transforming it into a bustling neighborhood for nightlife, shopping, and entertainment. The area's revitalization gave rise to many new large and well-appointed apartment buildings in Chinatown. Renters looking for more affordable options can also find apartments in buildings that pre-date the 1968 riots or were built in the 1980s.
If you want to live in the middle of everything, Chinatown is the place for you. Know that living in the thick of the action also includes surrounding yourself with all the noises that make up dense urban life. Located between 6th and 8th streets, and G and H streets NW in the nation's capital, Chinatown is marked by its red and green lamp posts and Chinese and English road signs. You'll also see all kinds of eateries serving up a medley of international cuisine — not just Chinese cooking. Though the area was once home to thousands of Chinese immigrants, the numbers have dwindled in more recent years. And, the boundaries that used to span nine blocks in the mid-80s have shrunk to just a few today.
The new face of Chinatown is diverse, in part due to major real estate developments like Capital One Arena and Megaplex, Gallery Place. An unusually mixed crowd of urban dwellers of different races and ages gravitates to the mix of restaurants, bars, theaters, and shops attached to these venues. The all-walks-of-life community also includes the homeless, panhandlers, and rowdy teenagers. For those wishing for an escape from the hustle and bustle, not to worry – there are plenty of greenspaces within walking distance (more on that later in the Things to Do section of this guide).
If you live in Chinatown, you can walk most places you need to go. The neighborhood is also easily connected to and from anywhere in the city via all lines of the D.C. metro. The red, yellow, and green lines all pass through the Gallery Place-Chinatown stop, which is the closest metro station. If you're riding the blue, orange, or silver line, use the Metro Center stop. It's just an eight-minute walk to or from the landmark Friendship Arch, a traditional Chinese gate designed by local architect Alfred Liu and dedicated in 1986 to reinforce the neighborhood's Chinese character.
During weekday rush hour, there are two different Green lines. The Green Line on the Red Line platform goes to Greenbelt while the Green Line on the Yellow Line platform goes to Anacostia and U Street.
If you want to travel to New York, Boston, or Philadelphia, there are convenient and cheap Chinatown bus lines that pick up riders near the intersection of 6th and H Street.
If, for some reason, you need to drive in Chinatown, unsurprisingly, finding street parking in Chinatown is very difficult, especially when there is a sporting event at the Capital One Arena. However, there are at least five parking garages in Chinatown, including the parking garage at the Capital One Arena. Resident drivers must have a Residential Parking Permit (RPP) to park for an unlimited time in the parking zone of your vehicle's registered address.
Restaurants in Chinatown hit every price point. On the cheap end of the spectrum, try Astro Doughnuts & Fried Chicken. But once you taste a hot honey butter chicken breakfast sandwich, you might have to add Astro to your regular routine. Their donuts have flavors like PBJ and creme brûlée. And you can get your chicken sandwich on a savory donut made with the region's Old Bay seasoning.
Go to China Boy for a no-frills, quick meal. The diner is hole-in-the-wall small and has limited seating, but you can always get takeout. Order pork belly buns and the shrimp rice noodle crepe for under ten bucks. If you're in the mood for authentic Chinese soup, head to Reren Laman & Bar. Their specialty, lamen bowls, are similar to ramen but use traditional handmade Chinese ingredients. They boast fresh, never-frozen food and don't even have a microwave on the premises.
If Mediterranean is on your mind, you can't go wrong at Zaytinya. You might forget you're in Chinatown seated in the Santorini-inspired dining room in hues of ocean blue and white. Bring your friends because the tapas-style meals mean sharing a bunch of small plates. The restaurant even has large communal tables for groups and stacks of warm, soft pita on them for pre-course nibbling. At lunch, you can feast on substantial sandwiches like the spit-roasted lamb gyro stuffed with Greek fries and house-pickled vegetables. Or splurge on four courses of mezze, a tasting menu of appetizer-like dishes. At dinner time, be sure to make a reservation because tables are hard to come by after 6.
Looking for a night out? You could hit the neighborhood Jackpot. That's the name of an old-timey bar located in a basement, worn walls and all. There's no food service here, so come after dinner unless you plan to fill up on the free popcorn. The beer menu lists 24 drafts from all over the country, including a Kanaha Blonde Ale from Hawaii and a Blood Orange Cider from Austin, TX. Continuing with the basement theme, Rocket Bar resembles a rec room with rocket decor. Enjoy your beer with a game of billiards, darts, shuffleboard.
Wine lovers will appreciate Flight Wine Bar for its outstanding wine program recognized as a James Beard Award semifinalist. Find an extensive wine list from around the world, tucked into 22 pages that highlight the aromas, palate, finish, and origin of each selection.
You won't find traditional residential amenities such as dry cleaners, hardware stores, or big grocery stores in Chinatown. But if you need something for your apartment, you can find home goods at retail chains, Bed, Bath & Beyond and Urban Outfitters located in Gallery Place.
For a mish-mash of items from Chinese herbs and tonics to teas, vitamins, and oriental furniture, Da Hsin Trading Inc. might help in a pinch. They carry some canned goods, sauces, snacks, and cooking supplies. Chinatown Market is also a small convenience store carrying a limited selection of veggies, snacks, and cold drinks.
Just a hop, skip, and a jump outside Chinatown, you can shop in CityCenterDC, technically in Downtown, where you can rack up your credit cards at stores like Hermes, Louis Vuitton, Gucci, and Chanel.
Hands down, the most exciting time to be in Chinatown is during the Lunar New Year. Celebrations abound during the Chinese New Year, which usually falls around the end of January or early February. It's a time when the streets light up with lion dancers, firecrackers, and dragons to drum up happiness, health, and good fortune. Residents have a front-row seat to the annual parade through the neighborhood.
Apart from just taking in the urban street culture in Chinatown's two-block radius, living here means you're walking distance to some of the city's best museums. The National Portrait Gallery and the Smithsonian American Art Museum are just across from the Capital One Arena at the south end and are free to visit. Just a couple of blocks further are two historical sites, Ford's Theater and the Petersen House, where Abraham Lincoln was famously shot.
Also nearby is Franklin Square Park, a recently renovated 189-year-old park. Walk over to relax by the central fountain, or stroll its winding paths looking for a shady spot to enjoy a brown bag lunch or read a book. If you're lucky, you may stumble upon some live music put on by the Downtown DC Business Improvement District to help revitalize the space.
Another destination within walking distance of the neighborhood is the National Mall. Though it may seem touristy, residents make good use of the land that's home to many of our country's most iconic memorials. Its sidewalks are filled with walkers and joggers, and the lawns are often dotted with games of softball or frisbee. Nearby, the Tidal Basin reservoir is visited by locals and tourists alike for its blossoming cherry trees.
Just a few blocks away from the Capital One Arena, Georgetown School of Continuing Studies (SCS) campus serves as the home for Georgetown's graduate programs in fields such as Applied Intelligence, Journalism, Public Relations, Real Estate, Sports Industry Management, and Urban & Regional Planning. The current building nestled in Chinatown includes 30 classrooms, a 125-person auditorium, a digital media lab, a broadcast studio, an interfaith chapel, and a dedicated library.
James Madison University offers a Washington Semester program that enables students to explore the wealth of political and cultural opportunities at their fingertips in the Washington DC area. University-arranged student housing is available near the Gallery Place/Chinatown Metro Station though classrooms and faculty offices are located at the JMU Washington Center, located in Dupont Circle.
We rate and sort every listing based on fair market rent.