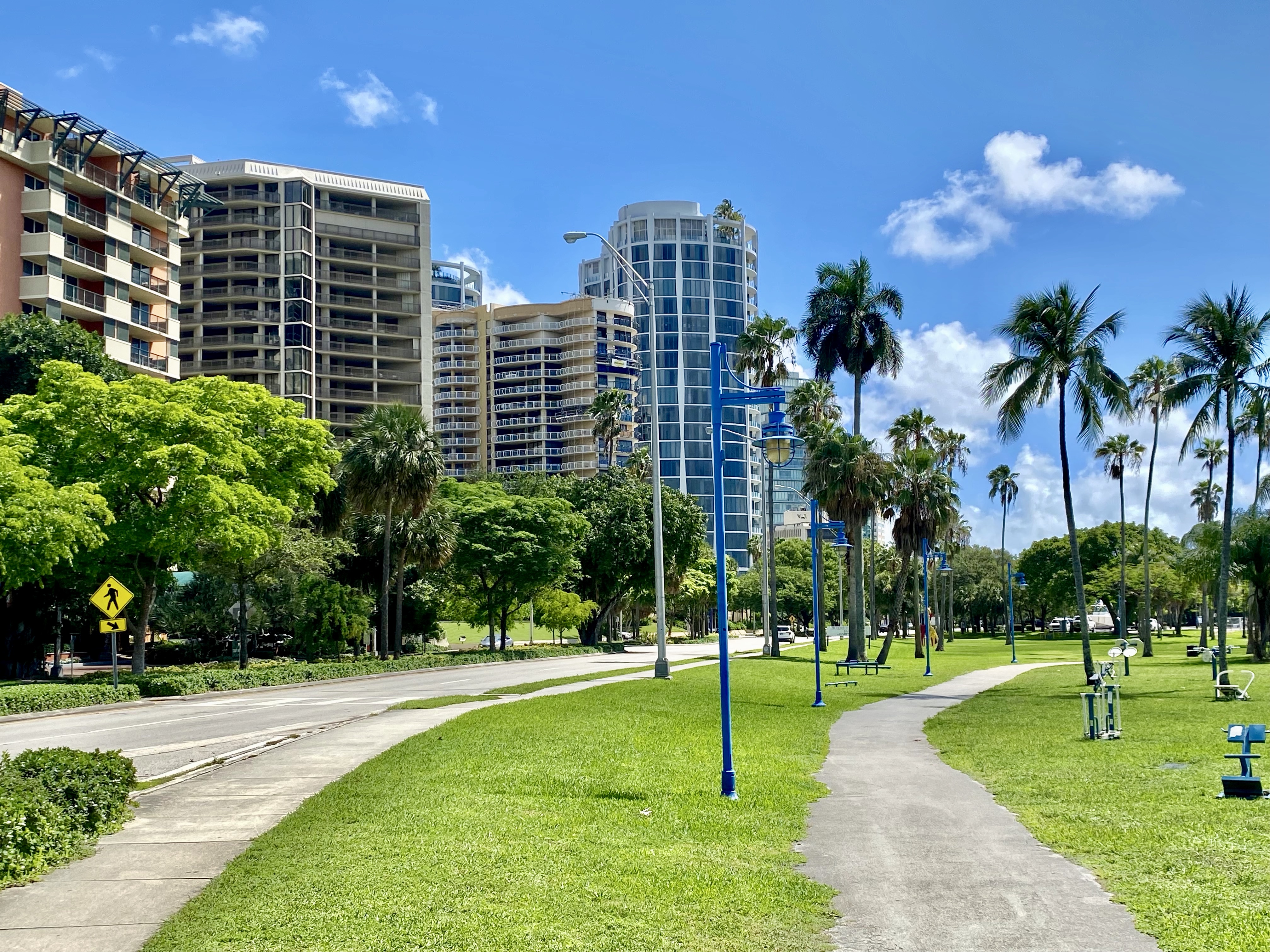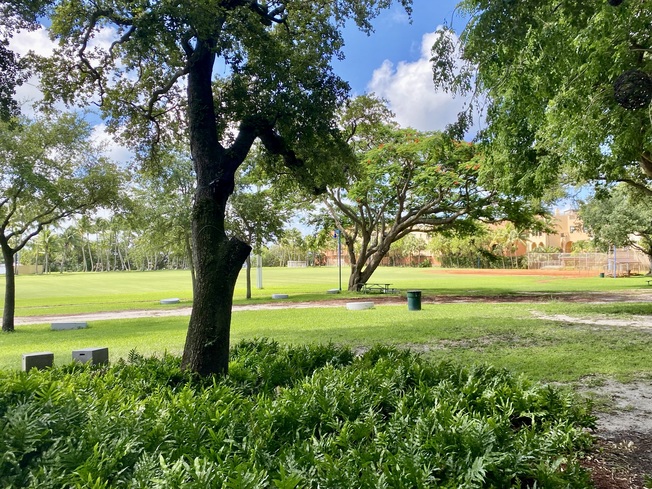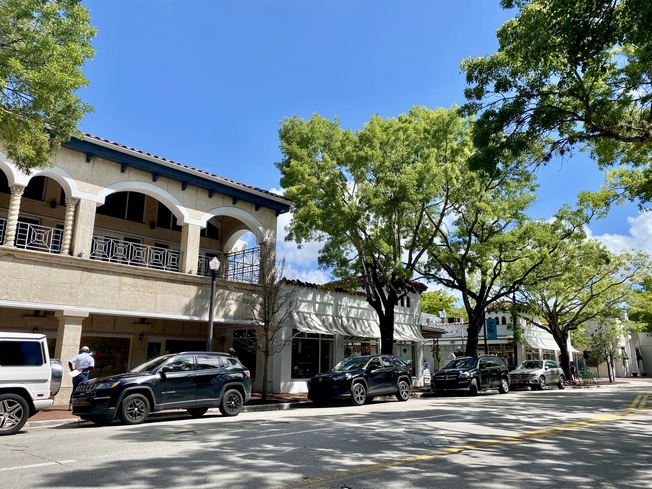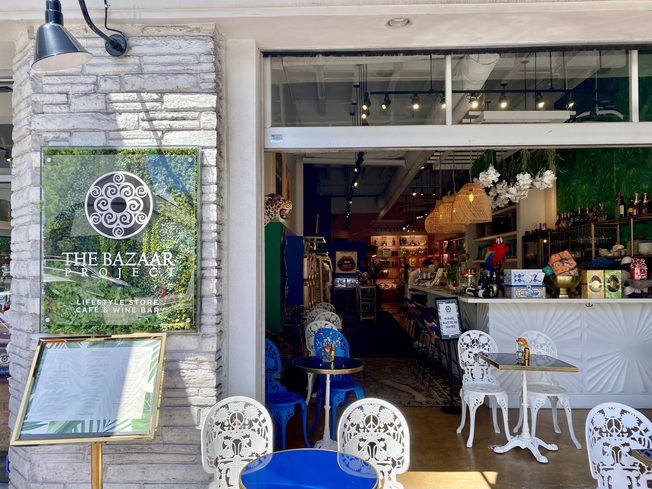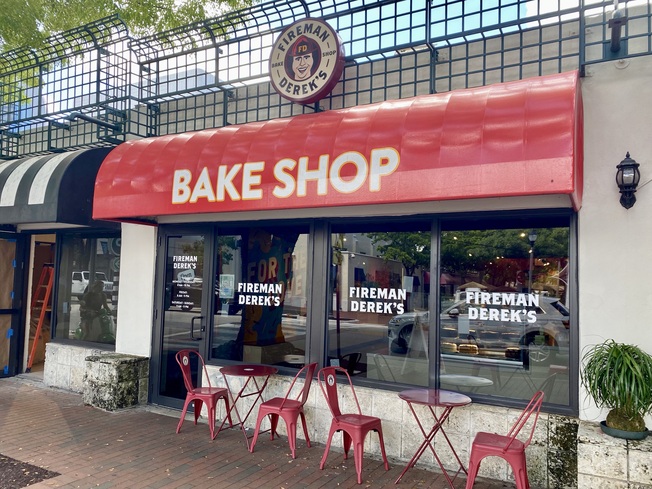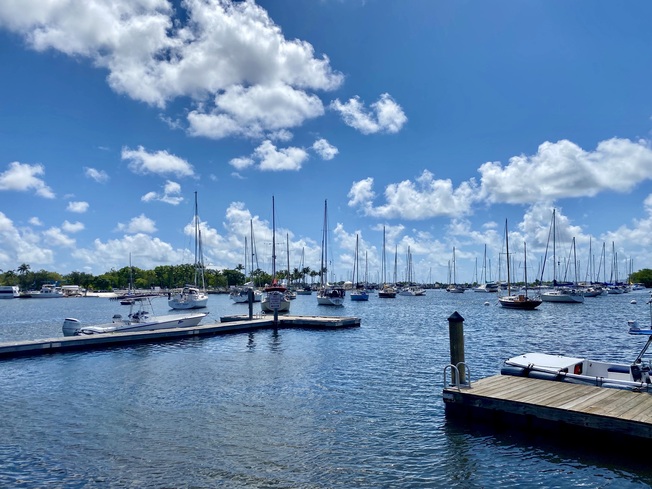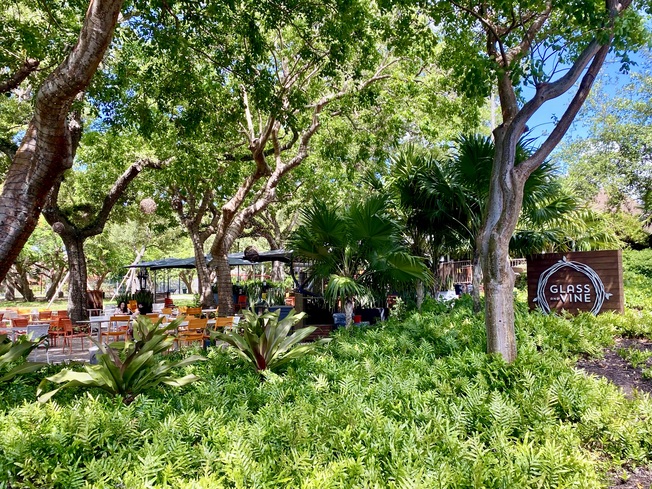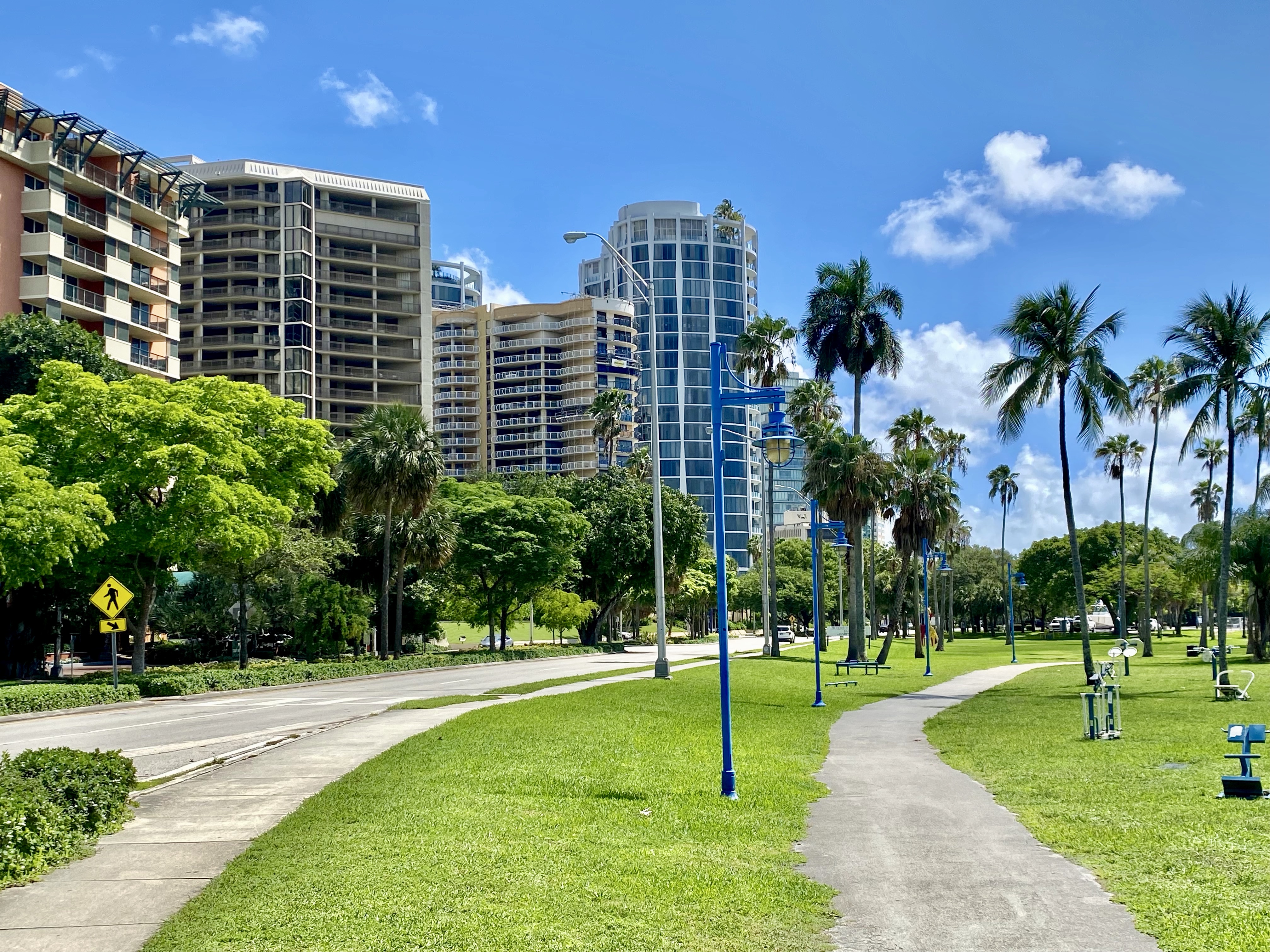 ---
| | Median Rent | Median Sqft |
| --- | --- | --- |
| Studio | - | - |
| 1 Bed | - | - |
| 2 Beds | $3,950 | - |
| 3+ Beds | $10,000 | 3,104 sqft |
With its tropical foliage, boutiques, artsy vibe, waterfront Biscayne Bay views, and tasty restaurants, historic Coconut Grove is the oldest permanent settlement in Miami-Dade County. In this beautiful enclave of Miami, peacocks roam wild under oak and banyan tree canopies, giving this neighborhood an inherent "intellectual charm" you won't find anywhere else.
Called "The Grove" by Miami locals, Coconut Grove comes with a storied past. In the 1870s, a large Bahamian population moving to South Florida made this neighborhood their home. It was the site of South Florida's first-ever hotel in 1882. When the Florida East Coast Railway came to Miami in the early 20th century, affluent settlers came to the neighborhood and lined the streets with their winter estates. Not long after, artists like Robert Frost and Tennessee Williams drew inspiration from the area. Fast forward to the 1960s, and Coconut Grove became a mainstay for alternative hangouts like indie coffee shops, art galleries, and smoke shops. In recent years, the neighborhood has seen the arrival of plenty of luxury condos and apartments. But the bohemian feel remains, alongside the Grove's vine-covered mansions, historic Black churches, art galleries and festivals, farmers markets, parks, boating, international restaurant scene, and free-roaming artists. Given its beauty and intrigue, Coconut Grove is a trendy neighborhood in Miami, so you can expect housing prices here to be on the higher side.
The best way to get to Coconut Grove is by car, Metrorail, or City of Miami trolley, the latter of which takes visitors from other Miami neighborhoods and the Metrorail station to the trendy heart of Coconut Grove. The Metrorail stops on 27th Avenue, about a mile from the neighborhood's shops, restaurants, and activities.
With its shady tree canopies and wide, lush tropical plant-lined streets, Coconut Grove is a great place to explore by foot or bike. In fact, it's not uncommon to see these sidewalks filled with passersby popping in and out of shops, indulging in one of Coconut Grove's delicious restaurants or bars, or taking a break and enjoying beautiful views of boats sailing past in Biscayne Bay. Visitors and residents who don't want to walk (or need to go a little farther) can get around using Citi Bikes or scooters. Rideshare services are popular. Driving around Coconut Grove, you'll find plenty of street parking, parking garages, and public lots.
The inherent creativity of Coconut Grove spreads into its restaurant and bar scene, giving it no shortage of tasty eateries, award-winning restaurants, happy hour spots, and waterfront bars where friends, couples, families and visitors can find delicious food and drink. Because of the neighborhood's direct proximity to Biscayne Bay, menus here tend to offer many seafood options. Bars and restaurants in Coconut Grove have an international feel, reflecting Miami's diverse residents.
At Kush by Spillover, get plates made with Florida ingredients, like alligator bites, grouper Reubens, an award-winning key lime pie, or the Frita by Kush burger with guava jelly, potato sticks, and bacon. (It was voted one of the top 52 burgers in the US.) If you have a dog, bring him or her along — Kush even has a doggie menu.
Get a taste of that "see and be seen" Miami life when you book a table at Bellini, the chic rooftop restaurant at the Mr. C Coconut Grove Hotel, part of the Cipriani family empire. Its glamorous decor and white-jacketed waiters swirling around with its bubbly namesake drink will have you feeling like you've stepped back in time, while indulgent Italian fare like baked polenta and truffle pasta will take your breath away. Another excellent option, Tigertail + Mary, is James Beard Award-winning Michael Schwartz' tribute to Coconut Grove's bohemian vibes. The menu is very Florida- and vegetable-heavy, with options like roasted grouper with charred eggplant, oysters, octopus quesadillas, mushroom pizza, and an oven-roasted corn with a jalapeno aioli. Don't miss dinner at Ariete, where Miami's favorite Michael Beltran whips up innovative Cuban-American plates like foie gras with plantain pave cocoa nibs, a frita-style eggs benedict, and beef heart tartare with a smoked oyster aioli. Planta Queen is a plant-based restaurant with a crispy bang bang broccoli that carnivores and vegetarians alike need to try.
Other Coconut Grove go-to restaurant experiences include fresh-caught seafood and rum drinks at Monty's Raw Bar, brunch on a throne-like red velvet couch at GreenStreet, Indian food at Bombay Darbar, and inventive sharing plates with a view at Glass and Vine. Cap off your day or night in Coconut Grove with a trip to Fireman Derek's Bake Shop, where a former fireman whips up Miami's best pies.
If you're just meeting someone for a drink, drink wine to your heart's content at Vinos in the Grove, get cheap beer at Sandbar or Barracudas or head to any of the restaurants we just mentioned and more and take a peek at their cocktail menu. Wherever you go, it won't disappoint. When you want to stay home and cook for yourself, fill up on groceries in Coconut Grove at Milam's, Fresh Market, or Publix.
In Coconut Grove, shopping revolves around boutiques. Shop for decor and ladies clothing at The Showroom, or head to The Bazaar Project to find rare home accessories from all over the world. At the Midori Gallery, art and culture lovers will find artifacts from the Far East, as well as paintings, porcelain, sculptures, furniture, textiles, and folk art.
For clothing, get one-of-a-kind dresses, jeans, and designer threads at Azul Boutique or fashionable white, grey, black, and denim staples at Market Boutique. Agua Bendita specializes in handcrafted swimwear made by Colombian artisans and luxury clothing for the whole family. Men can find everything from casual clothes to suits at Bonobos. If you're a bride looking for a wedding dress, look no further than Ever After, a couture wedding gown shop that's owned and operated by veteran seamstress and designer Camille Russler.
The Grove has always been a mainstay of artists and intellectuals, so it's fitting that Miami's most popular independent bookstore, Books & Books, has an outpost there. Go here to hear authors speak, or grab a cup of coffee or a glass of wine and peruse the vast collection of book titles and genres. If you plan to be on the water, as many people do in Coconut Grove, stop by Catch A Wave Surf Shop and get everything from wetsuits and t-shirts to surfboards, skimboards, boogie boards, goggles, masks, and more. Before you leave, do yourself (and your home) a favor and get a colorful, exotic bouquet of flowers from The Blonde Tulip.
Lush Coconut Grove has plenty of beautiful outdoor spaces where you can enjoy a day in the South Florida sun. The historic Vizcaya Museum & Garden, which was built by industrialist James Deering in 1922, is on the National Register of Historic Places for its 10 acres of Italian-inspired gardens and its museum (once Deering's home) filled with rare antiques and art. Spread across five acres, the waterfront Barnacle State Park sits right on Main Highway and has a diverse tropical hardwood hammock that's home to a large population of local and exotic birds. Walk or bike along the five-mile Commodore Trail, which is lined by decades-old oak and banyan trees. For a relaxing treat, have a picnic or go for a stroll along the boardwalk at the nine-acre waterfront Peacock Park. If you want a more active day, play basketball or do yoga in that park, or hit one of the neighborhood's popular yoga and Pilates studios like Dharma Yoga Studio or Pilates in the Grove.
Speaking of the water, Coconut Grove is a boater's paradise. Try it yourself when you charter a boat from one of the many boat vendors along Dinner Key Marina or learn how to sail through classes at the Coral Gables Sailing Club.
Of course, art activities abound in Coconut Grove. Take your family to Art Box for a series of painting, sculpture, drawing, installation, and craft workshops designed to help children unleash their creativity. The Grove's most popular annual event is the Coconut Grove Arts Festival, which features booths by 360 internationally-recognized and jury-selected artists and attracts thousands of people every Presidents' Day weekend. Other can't-miss neighborhood events include the Grovetoberfest beer festival and the King Strut Mango Parade, a tongue-in-cheek festival that has filled Coconut Grove's streets with satirical costumes, marching bands, and quirky, irreverent floats for more than 30 years.
There are no colleges or universities in Coconut Grove. However, with the neighborhood's proximity to Coral Gables, it offers easy access to the University of Miami. Coconut Grove has unofficial ties to that university, as it is a popular hangout for University of Miami students.
We rate and sort every listing based on fair market rent.