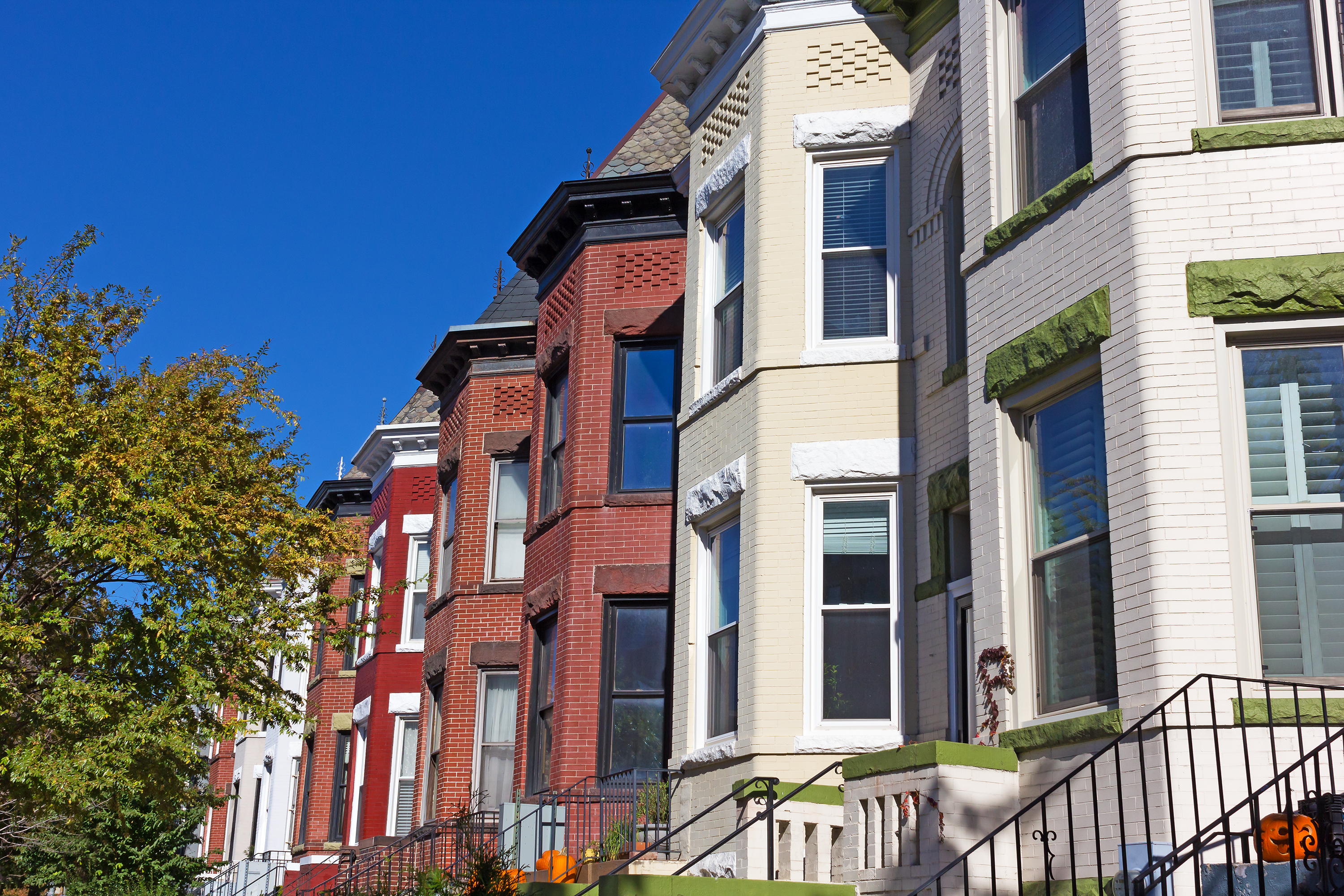 ---
| | Median Rent | Median Sqft |
| --- | --- | --- |
| Studio | $1,865 | 471 sqft |
| 1 Bed | $2,113 | 631 sqft |
| 2 Beds | $2,861 | 919 sqft |
| 3+ Beds | $4,650 | 2,400 sqft |
Columbia Heights is highly regarded for its diversity, trendy restaurant scene, and pleasant residential areas that border Adams Morgan and Howard University. Dynamic Latin influences can be found within the area's embassies and cultural destinations, like the GALA Hispanic Theater located in a landmark Art Deco building. Along the streets, you'll hear people not only speaking English and Spanish but also Amharic and Tagalog. Walkable, bikeable, and Metro friendly, Columbia Heights is filled with coffee houses, bookstores, yoga studios, and one of the city's most popular parks, Meridian Hill/Malcolm X Park, featuring Instagrammable cascading fountains.
Writers and creatives have long been drawn to the eclectic mix of townhomes and turn-of-the-century apartment buildings in Columbia Heights. The neighborhood is also home to newer condo and apartment highrises, which are more affordable than say, the sleek facades at The Wharf or NoMa. Duke Ellington lived here, as did Marvin Gaye and the poet Jean Toomer. The addition of big-box retailers in the DC USA shopping mall, which included the District's first Target, gentrified the area in the early 2000s. Along the 11th Street corridor, you'll discover some of the city's best restaurants, a veritable melting pot of deliciousness ranging from Filipino at Bad Saint to Malaysian at Makan, Laotian at Thip Kao, and Mexican at Anafre DC. Just don't call this part of town sleepy: hip bars and nightspots like the Wonderland Ballroom make Columbia Heights an anytime destination — and one that's definitely worth a closer look.
Located in the Northwest quadrant of the city, Columbia Heights is bordered by 16th Street NW to the west, Spring Road to the north, Sherman Avenue to the east, and Florida Avenue NW to the south. It's framed by the neighborhoods of Adams Morgan, Mount Pleasant, Petworth, and Shaw.
Bicyclists will find dedicated lanes along 14th Street NW and 11th Street NW, plus bike paths in Meridian Hill Park and nearby Rock Creek Park.
Mass transportation options include numerous Metro Bus lines, such as the H2, H4, H8, 52, 54, 64, 70, 72, 79 routes, with stops on 14th Street NW, 16th Street NW, and Columbia Road. The DC Circulator rolls through the neighborhood as well. There are two Metro Stations within the neighborhood, Columbia Heights and Georgia Avenue/ Petworth Metros. Both are on the Green and Yellow Lines.
Columbia Heights has a dense, urban feel, so it's best to leave your car at home. If you must drive, parking in Columbia Heights can be found in garages located around the DC USA mall. In addition, many of the apartment buildings have underground garages for an additional monthly fee.
11th Street NW is the place to go for some of the best food in Columbia Heights — not to mention the entire city. There's no shortage of ethnic eateries here. Bad Saint may be the most popular Filipino restaurant in America. It only has 24 seats and doesn't take reservations, but that doesn't deter diners hungry for its famed roasted pork belly, sauteed clam soups, and sweet potato fritters. They'll happily wait hours in a line that snakes around the block. For Malaysian comfort foods, try Makan, where chef James Wozniuk serves up dishes from his childhood, like beef rendang, which are short ribs cooked in a sumptuous coconut curry sauce, made with cinnamon, lemongrass, and other spices. For Thai creations, head to Thip Kao opened by chef/Owner Seng Luangrath at age 40. She learned how to cook while a refugee in Thailand, fleeing Laos with her family, and eventually immigrating to DC. Her menu has earned raves for its spicy flavors. Try Naem Khao, which are lettuce wraps filled with coconut rice, sour pork, and peanuts. The restaurant's name comes from the woven containers that its rice is served in. Anafre DC focuses on the fine flavors of Mexico, especially its seafood, such as delightful grilled oysters finished with crab and spicy peppers. Meat is also on order, from chicken mole to lamb shanks and a pizza el pastor. An open kitchen and upbeat music add to the atmosphere. And if meat (or dairy) is not your thing, NuVegan Café on Georgia Avenue is a popular spot: one bite of their vegan mac & cheese, and you'll swear you're eating the real thing. They do a great job with BBQ, too.
The Wonderland Ballroom is consistently found among the lists of best nightlife in DC, with its friendly bar to hang out in, upstairs event space, and an outdoor beer garden. Trivia takes place on Mondays. The food is great, too. Order a batch of loaded tater tots to go along with your beer.
Craving a sweet treat? Mi Casita Bakery & Deli has a huge selection of Mexican pastries, pasteles, pan dulces, conchas, and cookies. Their burritos are fried to perfection. Tacos, nachos, and milkshakes are also on the menu. Pull up a bench at one of their outdoor picnic tables painted the colors of the Mexican flag.
Coffy Café is a great mom-and-pop coffee shop with espresso drinks, coffees and teas, and fresh fruit smoothies. Its sandwiches, salads, and crepes will go nicely with your java, and the bi-level seating area is a community gathering space.
Columbia Heights' claim to fame is the DC USA shopping mall, which has Target, Bed Bath & Beyond, Washington Sports Club, Old Navy, DSW Shoe Warehouse, and Marshall's, to name a few.
Since the neighborhood is close to Howard University, there are a wealth of independent booksellers in the area, particularly on U Street. And it was in Columbia Heights where the city's first black-owned bookstore, Drum & Spear, was located. While it closed in 1974, its spirit lives on at Sankofa Video Books & Café, founded by filmmakers Haile and Shirikiana Gerima and specializing in books and films about people of African descent. Popular author events take place online and in its on-site cafe. It's been a Columbia Heights standout since 1998. In addition to the expected selection of books, the Barnes & Noble at Howard University is the place to get Howard U apparel, like sweatshirts, tees, and jackets, as well as textbooks and school supplies.
For more apparel options, head next door to Mt. Pleasant. Frugalista is a fun thrift store on 16th Street, and El West is a family-owned clothing boutique with clothing and accessories.
Grocery stores in Columbia Heights range from small Hispanic food markets like el Progreso Market to the organic Streets Market on 14th Street NW. There's a Giant near the DC USA shopping mall and a Whole Foods on Florida Avenue, by Howard University. The FRESHFARM Columbia Heights Farmer's Market takes place across from the Metro on Wednesday afternoon and Saturday morning from April-December.
Columbia Heights was named after Columbian College, which opened on College Hill (now Meridian Hill Park) in 1821 before moving to Foggy Bottom and changing its name to George Washington University in the early 1900s.
In addition to its modern, Hispanic demographics, Columbia Heights is a historically black neighborhood. After the assassination of Civil Rights leader Martin Luther King Jr. in 1968, race riots destroyed many of the businesses here and along the U Street Corridor. Meridian Hill Park was the site of peaceful civil rights protests, and activist Angela Davis petitioned to have the hilltop park's name changed to Malcolm X Park in 1969. Today, its terraced, Italian-style gardens are a neighborhood center and a popular place for picnickers, sun worshipers, dog walkers, and kids of all ages. Joggers love to climb the steep staircases as part of their early morning workouts. The park's cascading fountain has thirteen basins, making it the longest of its kind in North America. There is an eclectic mix of sculptures here, devoted to everyone from Joan of Arc, President James Buchanan, and the goddess of Serenity.
Presented by Cultural Tourism DC, the Columbia Heights Heritage Trail is a self-guided tour of 19 street signs that detail the area's colorful history. The tour begins at 14th Street NW and Irving, across from the Columbia Heights Metro, and ends at 14th Street NW and Columbia Road. It takes about an hour to complete. For more exploration on foot, Hola Cultura offers free 60-90 minute walking tours of Adams Morgan, Columbia Heights, and Mt. Pleasant, conducted in English and Spanish. It includes interviews with area artists and activities. Reserve your spot by visiting their website.
The mission of the Mexican Cultural Institute is to highlight the friendship between the U.S. and Mexico through art, films, musical performances, and special events, like the very popular Day of the Dead celebration. Recent exhibitions featured paintings and photographs from Latinx and Afro-Mexican artists. The center is located in the beautiful 16th Street mansion, which was designed by the same architect behind the White House's West Wing. Along its walls is a gorgeous, three-story mural by Mexican artist Roberto Cueva del Río.
GALA Hispanic Theater, which stands for Grupo de Artistas Latino Americanos, is one of the oldest Hispanic theatre groups in the nation. Performances, which are held in Spanish with English translations, take place in the beautiful Tivoli theater, an Art Deco playhouse that is one of the neighborhood's defining landmarks.
And while they aren't open to the public, notable institutions in the area include the Ecuadoran Embassy, the Embassy of Cuba, and the official residence of the Ambassador of Spain, which can all be found on 16th Street NW.
In addition to Meridian Hill/Malcolm X Park, the area's many greenspaces include the Columbia Heights dog park and Rock Creek Park, an urban gem that's nearly 1800 acres long, extending from Georgetown to Silver Spring. There are trails for hiking and biking, historic mills to explore, places to go horseback riding, and even a planetarium for stargazing.
The Yard at Howard University is the college's main quad and home to three beautiful landmark buildings: Frederick Douglass Memorial Hall, the Andrew Rankin Memorial Chapel, and the Founders Library. It was here that Thurgood Marshall did much of his legal research leading to the Brown v. Board of Education Supreme Court case, which led to the desegregation of the country's public schools in 1954.
Don't miss one of the city's best vantage points for photographers, which can be seen from Cardozo Education Campus (formerly Cardozo High School).
Howard University, one of the largest historically black universities in the country, is located on a hilltop on 6th Street NW. Vice President Kamala Harris and actors Chadwick Boseman and Taraji B. Henson are a few of its noteworthy alumni; the university is also known for its STEM research and programs in business and communications. Students will find affordable housing in the leafy neighborhood of Columbia Heights — its turn-of-the-century townhomes and apartment buildings around Meridian Hill/Malcom X Park, in particular, are larger and less expensive than in other parts of town.
We rate and sort every listing based on fair market rent.