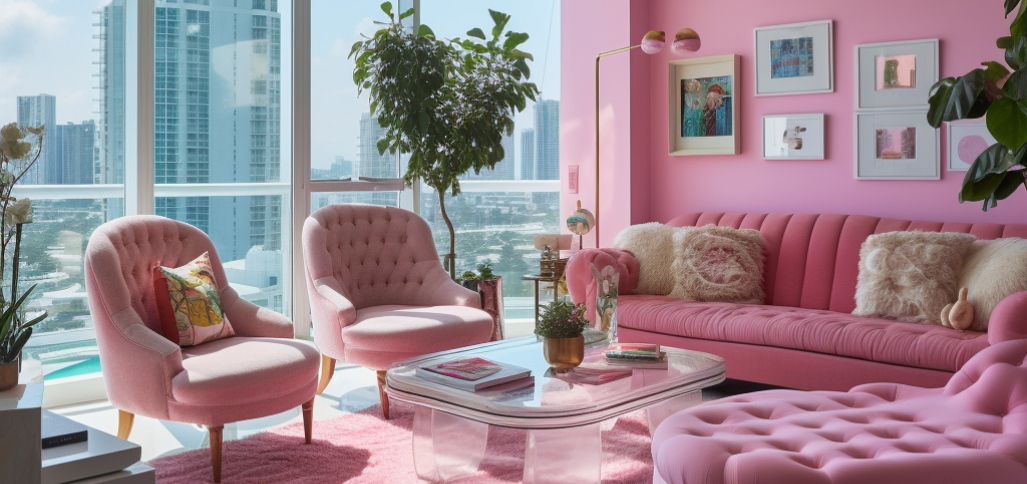 Create Your Own Barbie Dreamhouse With These Renter-Friendly Design Ideas
---
This Barbie style is affectionately called "Barbiecore," and in addition to putting bright pinks and bold patterns on the forefront, it also embodies the idea of being unapologetically yourself. (Don't forget one of the original Barbie slogans was: "Be who you want to be.")   
So, do you want to join in on the fun of Barbiecore?
We spoke with a few interior designers to get some DIY home decor tips on embracing your inner Barbie and creating your own renter-friendly Dreamhouse — right in your apartment.
Your Wall is Your Canvas — Even If You Can't Paint
Some apartments have strict rules against painting walls or making alterations. While you might not be able to paint your walls Barbie pink, you can still make some renter-friendly alterations. "Use removable wall decals for an impactful yet temporary change." Jason Yama of Parlun Building says. This can give your wall a dynamic pop — whether you go with a solid color or a playful pattern like florals, stripes, or chevron. If you want to go all in on the Barbie branding, you may even want to put up a logo or the iconic Barbie silhouette.
If you're nervous about adding a decal to your wall, don't fret. A little creativity is what makes Barbie who she is. Consider a vibrant focal point such as an art piece that can help you incorporate Barbie into your apartment. If you're not into the Barbie branding but want to embody her style, look for artwork that features vibrant interpretations of your favorite things, like pop art pieces. If you are interested in doing some DIY crafts, you can even make your own art. Remember: Barbiecore is about embracing yourself and your passions. Mix and match art pieces, like mirrors or photos, with other hanging wall items. 
Think Pink, Even Beyond Pantone 219
Pink is Barbie's signature color. The specific shade of may vary depending on who you ask, but Pantone Pink 219-C was deemed the shade of choice by Mattel, which made a new doll using the color, and by the Barbie film director Greta Gerwig, who used so much of it designing the movie's set the color allegedly experienced a shortage.
But shortage or not, Pantone 219 isn't the only Barbie-approved shade, Amber Shay, National VP of Design Studios at Meritage Homes, says: "Traditionally, brighter shades of pink, like raspberry and magenta, are used as accents in items such as accessories, pillows, and accent wall paint. These exciting pink tones also frequently occur in flower arrangements and floral patterns on fabric or fun wallpaper. Neutral pink tones, like beige pink, tend to occur in marble and other natural stones, which is a popular choice for the bathroom. Incorporating pink via paint, accessories, fabric, and floral accents is an easy way to incorporate color on a budget."
Barbiecore is about being maximalist, but keep some level of shade-matching in mind during your Barbie apartment makeover. Too much-clashing color in your room decor can be overwhelming to the eye.
Consider Reflective and Glossy Finished Pieces to Enhance Your Design
Barbiecore rides a line between whimsy and sophisticated glamour. Whether you lean more in one direction or the other, use details in your apartment to make the look really come together. Texture is just one way to design with Barbiecore in mind, Yama says. "Think high-gloss finishes, reflective surfaces, and a hint of sparkle. Mirrored furniture or metallic finishes can add that touch of glamor associated with Barbiecore."
A mirrored or metallic piece of furniture can also make an elegant statement. You can incorporate metallic surfaces in statement pieces, like a disco ball planter. These details can add texture to the surfaces of everyday items you might have or want to have in your apartment already.
Invest in a Few Smaller Pieces If You're Dreamhouse Might Be Moved
Details are a designer's best friend. If you are worried about getting big pieces of furniture into your apartment or not planning on staying in your space for much longer, focus on smaller details rather than big projects like painting or redoing your whole living room. Getting a few small details right is all it takes, according to Yama. "Invest in versatile pieces of furniture and decor that can move with you," he says. You can spread these pieces out around your apartment to give every room a Dreamhouse feel, with less of a commitment.
There's More Than One Kind of Barbie
Part of embracing Barbiecore is figuring out what kind of Barbie matches your style best. There are hundreds of different kinds, after all. Are you a plant Barbie or a corporate one? A modern Barbie or a traditionalist? Think about your own personal style as you incorporate the tenets of Barbiecore into your apartment. You'll be loving your new digs in no time.
We rate and sort every listing based on fair market rent.