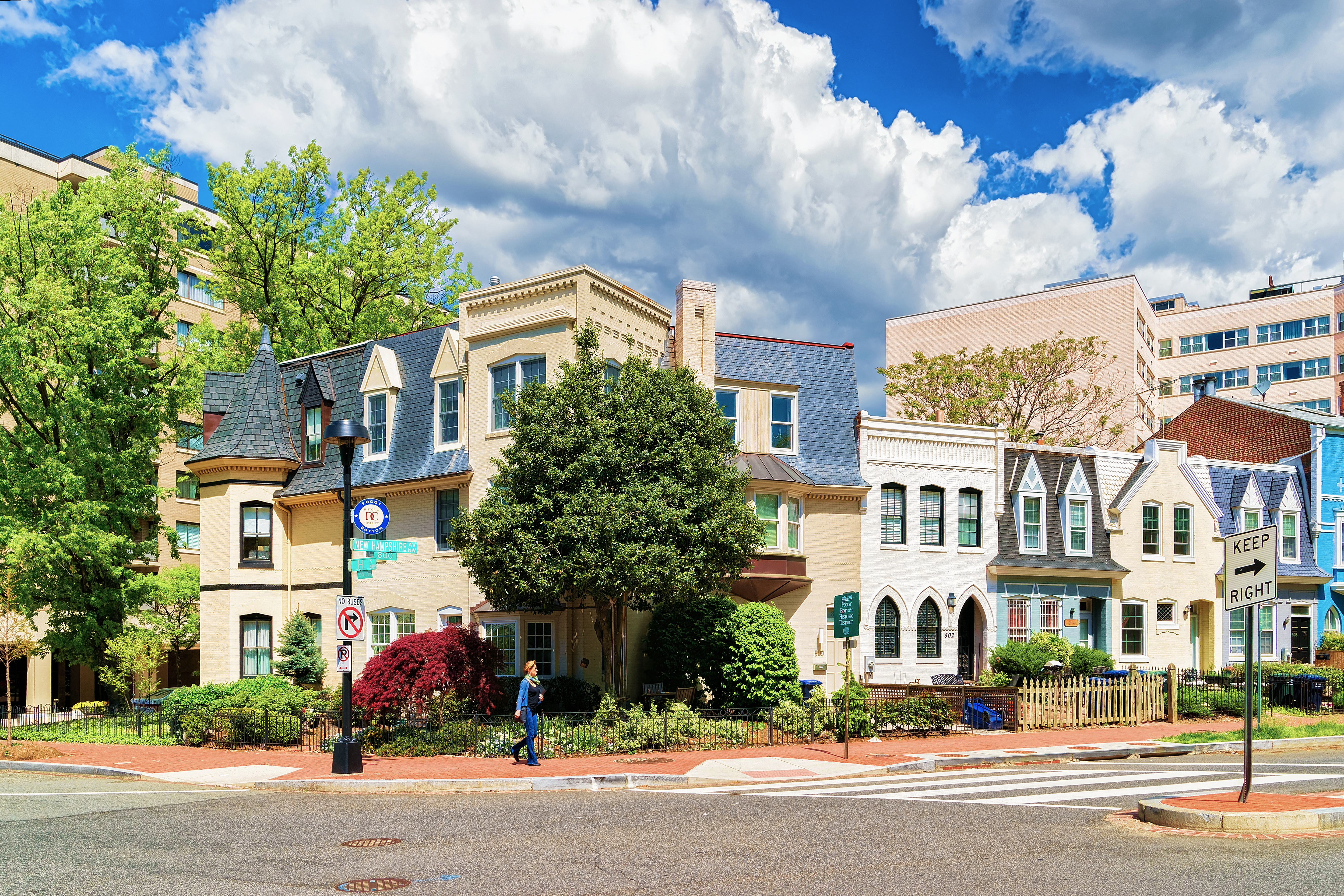 ---
| | Median Rent | Median Sqft |
| --- | --- | --- |
| Studio | - | - |
| 1 Bed | $2,667 | 782 sqft |
| 2 Beds | - | - |
| 3+ Beds | - | - |
Foggy Bottom owes its name to the Potomac River's morning mist as well as the smoke that once rose from factories lining the waterfront. Amidst the fog, this neighborhood has emerged as a vibrant place to live. Replacing the old factories are some of the city's most significant cultural attractions, like the John F. Kennedy Center for the Performing Arts, home to the National Symphony and the Washington Opera. Today, Foggy Bottom's skyline is filled with Modernist buildings — including the infamous Watergate Hotel, which recently underwent a multi-year, multi-million renovation, and reopened to great acclaim.
Foggy Bottom is a neighborhood of young professionals and students, with more renters than homeowners. George Washington University, known for its health, business, and communications programs, is located here. Sleek new residential towers — some aimed squarely at its student population — have gone up in the past few years. Really, why live in a residence hall when apartments in Foggy Bottom offer hardwood flooring, quartz countertops, gyms, and rooftop decks with spectacular views of the Potomac River and the Washington Monument? To add to the appeal, you'll find plenty of trendy bars and restaurants in Foggy Bottom.
Bounded by the Potomac River to the west, K Street and Pennsylvania Avenue to the north, 19th Street to the east, and the National Mall (Constitution Avenue) to the south, Foggy Bottom is laid out in a grid, making it easy to navigate on foot. For cyclists, there are dedicated bike lanes along Constitution Avenue, at Route 66, which crosses the Theodore Roosevelt Memorial Bridge, and along the Rock Creek Trail.
The Washington Metro's Blue, Orange, and Silver Lines have stops in the neighborhood at Foggy Bottom – GWU Station. And the Metro Bus Routes 31, 32, 36, 37, 38B, 39, 80, H1, L1, N3, S1, and X1 all cross through the neighborhood.
For those traveling by car, garage and lot parking in Foggy Bottom can be found near George Washington University and the Watergate complex.
The neighborhood's best dining and nightlife scenes are all located in one place: The Watergate Hotel. Accessed by a black marble staircase that was original to the building, the terrace-level Kingbird restaurant serves handmade pastas and seafood specialties in a beautiful waterfront setting.
Follow the line to the Next Whisky Bar, named after a Doors' song, and witness more than 2,500 bottles of the heady spirit, artfully arranged in a nautilus pattern. The rooftop-level Top of the Gate cocktail bar was a favorite of Barack Obama's, which says volumes given his reputation as a foodie. Hive Bar's menu is slightly more in line with student budgets, but it too features a lovely rooftop setting, craft cocktails, and build-your-own pizzas. The basement-level Bottom Line bar feels like a nicer version of your typical college pub — it's home to the city's most popular-voted bartender, and it's where many of the soccer teams who play on the National Mall hang out after their games.
Befitting a college town, casual eateries abound in Foggy Bottom and offer up an array of homey flavors, from flatbreads and salads at CIRCA Foggy Bottom to spaghetti and meatballs at North Italia, veggie bowls at Flower Child and comfort foods galore at the Founding Farmers collective (think Yankee pot roast and chicken pot pies).
The neighborhood's best dessert spot has to be the appropriately named Captain Cookie and the Milkman. It started out as a food truck that became so popular with George Washington University students that it opened its first brick-and-mortar location here. It features a dozen varieties of fresh-from-the-oven cookies like Funfetti and Snickerdoodle, all washed down with your choice of milk from local creameries or sandwiched between a scoop of ice cream.
There are also loads of coffee shops and java kiosks around George Washington University. Some of the best include the artisan espresso creations at Compass Coffee and the rocket-fuel-strength brews at La Colombe Coffee Roasters.
Foggy Bottom isn't much of a shopping destination. But boutique shopping is plentiful just a few blocks west in Georgetown. In addition to dozens of independent retailers, Georgetown is also the location of an Urban Outfitters and an Anthropologie.
What Foggy Bottom lacks in retail clothing stores, it makes up for in gift shops. The Kennedy Center Gift Shop is a great place to find a special DC-themed gift, from reproduction pearls worn by Jackie Kennedy to Hamilton recordings and Kennedy Center t-shirts, tote bags, and Christmas ornaments. Meanwhile, the George Washington University Campus Store, on 21st Street, is the place to shop for GW-branded t-shirts and hats, along with school supplies and textbooks. Another notable bookseller, Reiters Books, is located at the corner of 19th and G Streets. With a focus on scientific and medical textbooks, it's one of the country's few women-owned independent booksellers.
For groceries in Foggy Bottom, visit the Whole Foods on I Street. Duke's Grocery is a fun bodega with a wall-sized graffiti mural. It sells gourmet products and serves sandwiches and drinks in its cafe.
The best way to experience the John F. Kennedy Center for the Performing Arts is to take in a performance: with more than 2,000 events per year, it's one of the busiest venues in the country. It hosts everything from rock stars to jazz ensembles, opera singers, theatrical performances, ballet troupes, and symphony orchestras. Free hour-long tours of its three theaters are given by knowledgeable volunteers; they always conclude on the rooftop terrace, which offers city-wide panoramas.
Next door to the Kennedy Center is The Watergate, a 10-acre office and residential complex with a throwback hotel. This hotel was the scene of an infamous burglary during the term of Republican President Richard Nixon, which eventually led to his resignation in 1974. Visitors can actually book a night in the room where the scandal took place; all 336 rooms and suites have a fantastic retro-modern design with midcentury furniture, mirrored finishes, and luxe Austrian white oak paneling.
It's no secret the State Department offers one of the best tours of any government agency: visit its website to book an hour-long tour of its diplomatic reception rooms, located on the Eighth Floor of the Harry S. Truman Building. These rooms are chock full of American fine and decorative artworks from the Federalist period.
Take Route 66 across the Potomac, and you'll find Theodore Roosevelt Island, a 90-acre woodland park managed by the National Parks system. Dogs are welcome, and there are more than 2 miles of hiking trails; plus, guided tours are offered by Park Rangers and even include kayak tours along the Potomac River.
Other neighborhood parks include the green terraces and quads within George Washington University, like the University Yard and Veteran's Park. Nearby Rawlins Park is especially lovely when the cherry blossoms are in bloom; plus, the National Mall is the neighborhood's southern boundary — its closest landmark is the Vietnam Veterans Memorial.
Foggy Bottom is home to George Washington University for undergraduate and graduate students, as well as medical and law students. The recently redeveloped neighborhood is central to all the city's action, enticing many students to remain here long after they've received their diplomas.
We rate and sort every listing based on fair market rent.