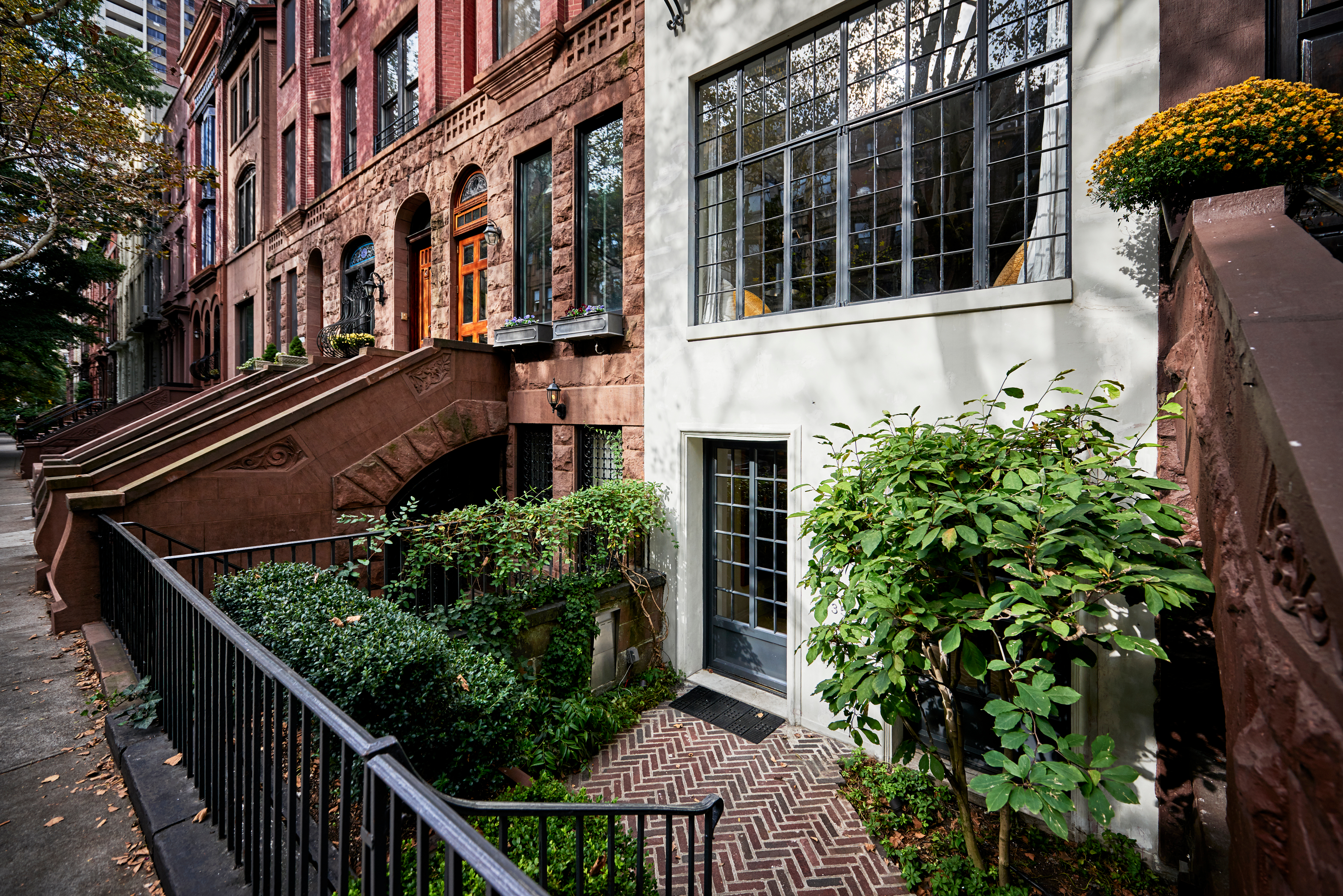 Garden Level Apartment: The Definition, The Pros, & The Cons
---
If you've been looking for rentals and coming across listings for garden-level apartments, you may be wondering where the green space is. In real estate, the term garden level is actually used interchangeably with ground level, so you've actually been looking at an apartment building's lower-level dwellings. However, a garden-level apartment typically does have a small front or back garden area or patio.
If you're wondering whether a garden-level unit is right for your new home, read on.
This article will tell you what you need to know about garden units, from the pros to the cons, so you can decide if this kind of apartment meets your needs.
What is a garden-level apartment?
Garden apartments are units generally located on the ground level in an urban area, partially below the street, between the basement and the ground floor of a multi-family building. You'll usually have direct access to a garden unit via a door with either at street level or down two or three exterior stairs.
If you're standing in a garden apartment or on the patio, your head will probably be about even with the sidewalk. So, think of a garden unit's location as partially below grade, but not at basement level.
Many brownstones, townhouses, and historic buildings across the United States offer garden apartments. You may find them in some high-rise residential complexes across America, but this isn't usually the case.
Garden-level apartments are also referred to as:
Ground-level apartments
Garden apartments
Garden units
What's the difference between garden-level apartments and basement apartments?
Many renters confuse garden apartments with basement units. Basement units are residences actually converted from a basement. Meanwhile, garden apartments are located above the basement, partially but not entirely below ground, essentially between a basement and the first floor of a building.
Generally, garden units offer easy street access through a small private gate off the main entrance to the apartment complex. The gate typically leads to a private patio, where you'll find the apartment's front door.
While basement apartments are also sunken from street level, they are, by definition, units converted from a basement, and they are not characterized by having access to private gardens or patios.
What's the difference between garden-level apartments and parlor-level apartments?
While basement-level apartments are slightly below garden-level apartments, parlor-level apartments are slightly above them. With a garden-level apartment, you'll typically descend a short flight of stairs to get to the entrance. However, with a parlor-level unit, which is typically on the first floor on older building like a townhouse or brownstone, you'll ascend a short flight of stairs to get to the entrance. Parlor apartments are slightly above the street level.
Because parlor-level apartments are usually only found in older, historic buildings, they have architectural details that can be desirable to renters. For example, they often have high ceilings, original crown moulding, fireplaces, and other historic features.
What are the pros of garden-level apartments?
There are many reasons renters love garden-level apartments, and depending on your lifestyle, they may be a perfect option for you.
Don't want to haul your groceries (or furniture when moving in) up several flights of stairs? Garden units offer easy accessibility to your home. Plus, thanks to this quick exterior access, you can come and go without disturbing others if you rent a garden apartment. This is especially helpful if you keep odd hours.
Landlords and property managers often promote garden-level apartments based on the sense of adventure they bring. Renters who like city life and all it encompasses, such as nightlife, sociability, and walkable access to almost anything may find garden units appealing.
With their separate entrance, ground level apartments may also appeal to renters who like to keep to themselves and don't wish to make chit-chat in building common areas.
Pet owners may prefer a garden unit, so their furry friends have quick access to outdoor potty pads and other areas to take care of business. Walking dogs is easy, too, if you live in a garden unit — just feet from the sidewalk. However, not all garden-level apartments are dog or cat friendly. To find out if pets are allowed, filter your apartment search on our site accordingly, and check out our article on How to Find a Pet-Friendly Apartment.
A private garden or patio in a big city can be hard to come by, so if you want to feel like you've secured a treasure, consider a garden apartment. Garden-level units can be great if you like to read, sip coffee, and host small dinner parties outside. Love greenery? They don't call these units garden apartments without reason. Garden level residences offer the benefit of a front or back patio that you can fill with plants. Many of these apartments sit at eye level with beautiful bushes and trees that are part of the complex or city's landscaping.
Since garden apartments generally offer less square footage, they're often more reasonably priced than other units — so you can save money by renting a garden apartment. Budget-conscious renters may want to consider the monetary advantages of living in a garden level apartment. Thinking about this kind of residence as cozy instead of cramped — and good for the bank account — may be what some renters need to convince themselves garden unit living offers the best value.
What are the cons of garden-level apartments?
Garden units aren't everyone's first choice, so you'll need to think about whether you can enjoy living in this type of apartment. Below are some cons of living in a garden-level apartment.
The Hustle & Bustle of Passersby
Given the fact that garden units are located at or just below street level, your windows will likely give you a view of all the comings and goings outside your apartment (unless your unit happens to be at the back of the building). With the hustle and bustle of passersby can come extra noise.
Some renters think that garden-level apartments are dungeon-like. This is certainly not always the case, as some garden units feature large windows and even have entry doors that let in natural light. Yet, diminished light can be a problem for many of these spaces. Garden-level homes are often darker than first-floor units and have. However, what they lack in ceiling height, they make up for in coziness.
Garden apartments are typically on the smaller side. A typical floor plan will include just one bedroom, a modest kitchen, a single bathroom, and a tiny living room. And you'll be hard-pressed to find a garden apartment with a high ceiling. The good news is that there are plenty of ways to make the most of limited space, as noted in our article Storage Ideas for Small Apartments.
Most garden apartments have bars or window locks on the window to secure the residence. However, you might have to closely monitor any furniture or belongings you place on a garden unit patio. Additionally, a garden-level apartment may have more of an issue with dampness and mold or water damage than, say, a first-floor apartment. When you are touring apartments, make sure to check for signs of excess moisture or mold, which can include peeling or "bubbled up" paint and water stains. If you are considering renting a garden-level apartment, you should also make sure to ask your potential landlord or property manager about their pest control policy, as some can have more issues with bugs or small pests.
Some renters need to install a land phone line in their garden level apartment due to a lack of cell reception. This adds to monthly costs and can be inconvenient if you don't want to give people two numbers.
Garden apartments usually have thick walls, floors, and ceilings. So, some of these units stay warm during summer and cold during winter. When looking at a garden apartment, consider its amenities, or lack thereof, like fans and air-conditioning units. Think about your costs if you have to buy your own cooling equipment.
The Bottom Line
If you're looking for easy access, a patio with greenery, and savings, garden apartments can be a great rental choice. These units also offer the advantages of being pet-friendly, thanks to private entrances. While garden level units aren't for everyone, these apartments have a lot to offer for the right renters.
We rate and sort every listing based on fair market rent.