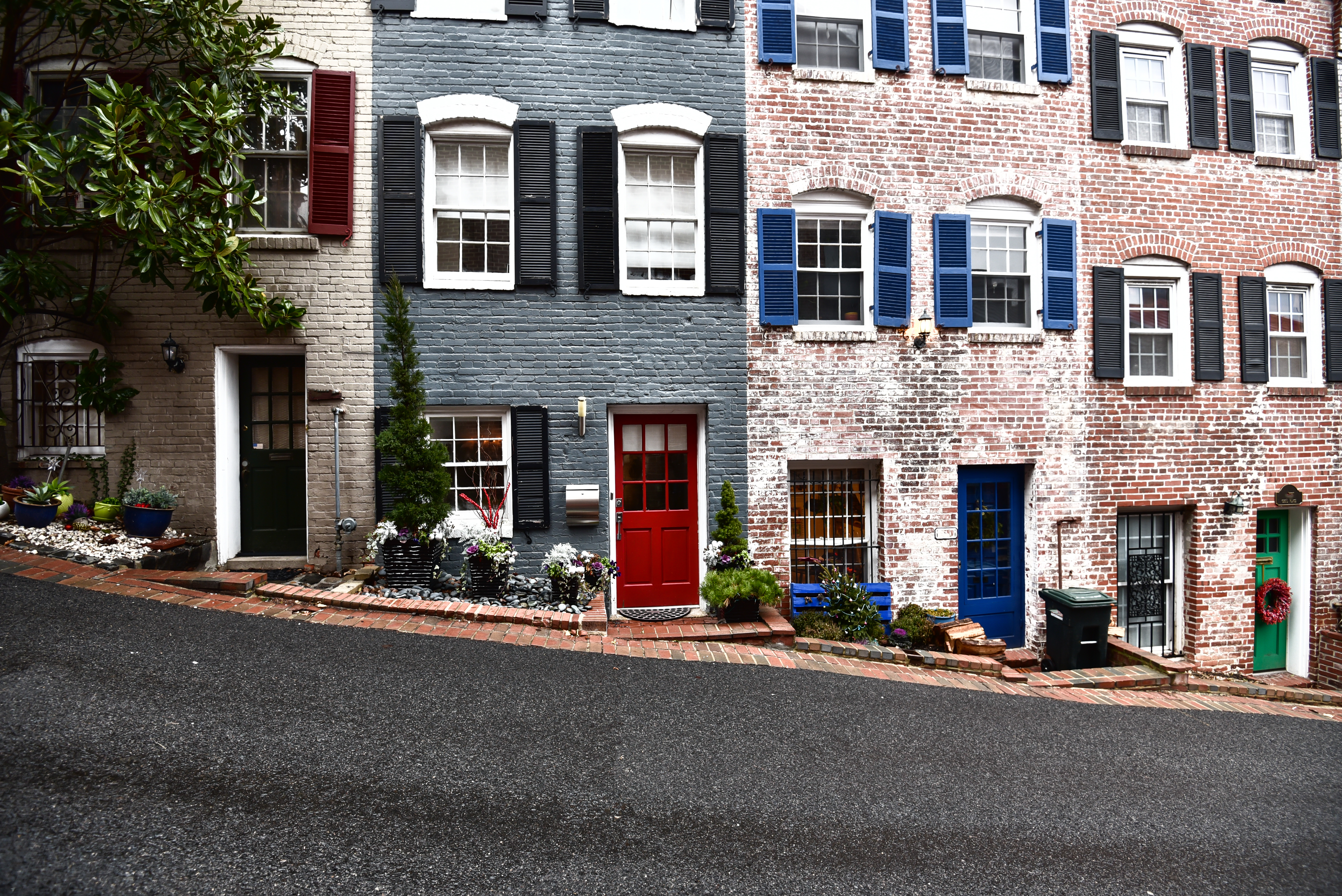 ---
| | Median Rent | Median Sqft |
| --- | --- | --- |
| Studio | $8,500 | - |
| 1 Bed | $2,020 | 650 sqft |
| 2 Beds | $4,188 | - |
| 3+ Beds | - | - |
Georgetown has long been considered one of DC's most desirable neighborhoods. A walk across the Key Bridge showcases Georgetown's many charms, from its riverside location to its hilltop landscape of elegant architecture, bustling shops, and the timeless beauty of Georgetown University, all dotted by the neighborhood's many church steeples, which seem to reach for the sky.
Georgetown is ideally situated next to the Potomac River and is surrounded by plenty of greenspaces: Glover Archibald Park, Dumbarton Oaks Park, Rock Creek Park, and Georgetown Waterfront Park all border the neighborhood. While it may be the oldest part of the city, Georgetown's M Street boutiques, upscale restaurants, and the constant hustle and bustle of cars and people give it a youthful, vibrant feel. Of course, the neighborhood is also home to Georgetown University. Between its student population and a half-dozen embassies near the waterfront, Georgetown also has an international flair. And ever since JFK and Jackie Kennedy moved here in the 1950s, it's had a reputation for having the city's best social scene, both for politicians and politicos alike.
Once a playground for the elite, today Georgetown is about evenly divided between renters and buyers, and its shopping and restaurant scenes are among the Washington DC's best. Homes and apartments in Georgetown can be found in a range of styles from modernist condo buildings to turn-of-the-century townhomes, many of which have recently been subdivided into apartments. Students and young professionals have flocked here as a result. From young to old, everyone loves Georgetown because there's always something to see or do (or buy) here.
Georgetown is bordered by natural boundaries like the Potomac River to the south, Glover Archbold Park and Dumbarton Oaks Park to the west and north, and Rock Creek Park to the east. Its main thoroughfares are M Street, which runs east to west, and Wisconsin Avenue, which bisects the neighborhood from north to south. Although there are plenty of parks, Georgetown has an urban "city" feel, and pedestrians abound. Parking in Georgetown is limited; in fact, street parking along M Street is not permitted during rush hour Monday-Friday. There is a public garage at the Shops at Georgetown Park as well as one on the campus of Georgetown University at the intersection of 37th and O Streets.
Cyclists will find bike lanes along 33rd, 34th, and 37th Streets and on the Key Bridge; in addition, the C&O Canal towpath has a lovely bike path that follows old rail tracks, stretching all the way into Silver Spring. It's called the Capital Crescent Trail.
One thing lacking in Georgetown is a metro stop, but it's an urban myth to say that resistance from affluent Georgetown residents prevented the Metro's arrival here in the 1960s. The real reason has more to do with area geography, as it would have been too costly to dig deep enough into the riverfront soil to support the rail system. Those who want a Metro stop in Georgetown shouldn't lose hope, as feasibility studies are being conducted which could add a new leg of the Blue Line, connecting Union Station with Georgetown, and thus ease some of the area's above-ground congestion.
In the meantime, mass transportation options are limited to buses, although they are plentiful at that. Every ten minutes, you can catch the DC Circulator, which travels in a loop down M Street and along Wisconsin Avenue to Union Station. In addition, the WMATA Metrobus G2, 30N, 30S, 31, 32, 33, 36, and 38B cross through the neighborhood.
You can also get to where you need to go by water, as the Potomac Riverboat Company operates water taxis that connect Georgetown to The Wharf, Alexandria, and National Harbor.
Restaurants in Georgetown range from Michelin-starred experiences to corner taquerias.
Across from the Ritz-Carlton, Chez Billy Sud offers fine French gastronomies in an intimate courtyard setting. Chef Brendan L'Etoile expertly prepares garlicky escargot and steak frites along with seasonal specialties like lamb Merguez and duck confit. Another French eatery, Lutece, fuses contemporary flavors like gnocchi, corn and Poblano peppers along with more traditional charcuteries and sandwiches like a savory Croque Madame. Brunch time, offered Friday through Sunday, is prime time for this bistro, and reservations are recommended.
The menu at Reverie classifies their food as "New American," but we picked up Nordic, Japanese, and Chesapeake influences on the 8- and 10-course tasting menus. Chef Johnny Spero worked alongside culinary greats like Jose Andres and John Shields before opening his own restaurant in 2018.
The tortillas at the vegetarian taqueria, Chaia, are handmade daily, then filled with mouth-watering flavors like creamy potatoes, mushrooms, corn, and queso, before microgreens are added as the finishing touch. You won't even miss the meat at this storefront, which is located in an old carriage house and has a dining area upstairs. Vegetable quesadillas, enchiladas, and tostadas round out its menu.
Georgetown Cupcakes gained fame on TV — just one bite of its fluffy, light-as-air confections, and you'll know why. Flavors change daily, and bakers roll out delightful creations according to the season. The cherry blossom cupcake, made with Madagascar vanilla cake and topped with cherry frosting, is a special treat.
You can get your morning jolt of java at Grace Street Coffee, which is located along the C&O Canal towpath. Its single-origin beans are roasted in-house, guaranteeing the freshest brews.
For nightlife in Georgetown, head to the Georgetown Waterfront at Washington Harbour, which has an array of restaurants that offer outdoor seating around a central fountain, which turns into an ice rink during the winter. It's the perfect spot for a cocktail before or after a Potomac sightseeing cruise, which also departs from the area.
Georgetown is known for great bars in historic settings, such as The Berliner, a German beer hall with a Bavarian-inspired menu. You'll find the Sovereign's Belgian brews by heading down an alley off Wisconsin Avenue. Church Hall is not located in a church but nevertheless gets plenty of character from its wood-paneled walls and sports-themed arcade.
Georgetown is a shopper's delight; truly one of DC's best shopping destinations, it's where you'll find everything from high-end boutiques to large name-brand stores.
Cady's Alley is a bi-level outdoor shopping plaza that's home to small clothing and home design retailers like Baker Furniture, Design Within Reach, and Relish.
The Shops at Georgetown Park features an Anthropologie (with a bridal section), H&M, and TJ Maxx, while other big names in the area include Gap, Madewell, Free People, and Urban Outfitters, all found on M Street and Wisconsin Avenue.
Some of the best boutiques include Barbour Boutique, purveyor of British knitwear; Aritzia for designer clothing, the throwback toy store, Tugooh's Toys, and one of DC's best consignment shops, Pretty Chic.
Georgetown's nearest grocery store is the lovely Whole Foods on I Street, next door in Foggy Bottom.
It's fun to meander Georgetown's cobblestoned streets and watch the housing styles change, from the flat Federalist facades that line the sidewalks to grander Victorian homes of the 19th and 20th Centuries. Even the neighborhood's trash incinerator has a fascinating backstory, and today has new life as one of the area's poshest hotels, a Ritz-Carlton. DC by Foot offers free walking tours of the neighborhood; Georgetown University also offers campus tours open to the public. They cover everything from the construction of the Gothic stone Healy Hall to newer, Brutalist styles like the Lauinger Library.
A stop on any Georgetown itinerary should include the Old Stone House, located on M Street, operated by the U.S. Park Service as an 18th Century House Museum. There's a lovely garden out back, too.
Along the neighborhood's northeast corner, the fascinating Dumbarton Oaks features a free museum displaying artwork from the Byzantine, Pre-Columbian, Western Medieval, and Renaissance periods. Seeing the artworks unified here highlights their many similarities and makes one think about how we're all connected. The exceptionally landscaped gardens, designed in the 1920s by Beatrix Farrand, are tourable.
Not far from Dumbarton Oaks is the Mount Zion Cemetery, the final resting place for the neighborhood's large African American population, who worked in the area's shipping and tobacco industries. Georgetown University recently published information about 272 slaves who were sold by Jesuits in the 1830s to pay off the school's early debts. The school has tried to make amends for its past by removing the names of the school presidents who facilitated the sale. Alumni raised funds to create the Georgetown Memory Project, recently employing genealogists to locate the descendants of the slaves, with hopes to offer scholarships to their children.
Georgetown's natural wonders include Glover Archbold Park and Rock Creek Park, expansive outdoor wonderlands that have trails for walking and biking, as well as spots where you can throw a frisbee or walk your dog.
The C&O Canal towpath begins at Rock Creek by 29th Street in Georgetown and runs for 184 miles to Cumberland, Maryland. There are plenty of opportunities for hiking, boating, picnicking, and fishing here, and you can even ride aboard a replica canal boat in Great Falls (near Potomac), Maryland.
The Thompson Boat Center is a hub for boaters and kayakers, located along the Georgetown Waterfront. You can rent kayaks, paddleboats, and stand-up paddleboards, join in a sculling class, or take a sightseeing lunch or dinner cruise along the Potomac — the springtime Cherry Blossom tour is especially beautiful.
The center of the neighborhood is its namesake, Georgetown University, where thousands of undergraduate and graduate students pursue higher education in the fields of political science, international relations, law, and medicine. With its exceptional shopping, nightlife, and dining scenes, students and alumni alike delight in the college's location within one of DC's best neighborhoods; it's also home to students from neighboring institutions like George Washington University.
We rate and sort every listing based on fair market rent.