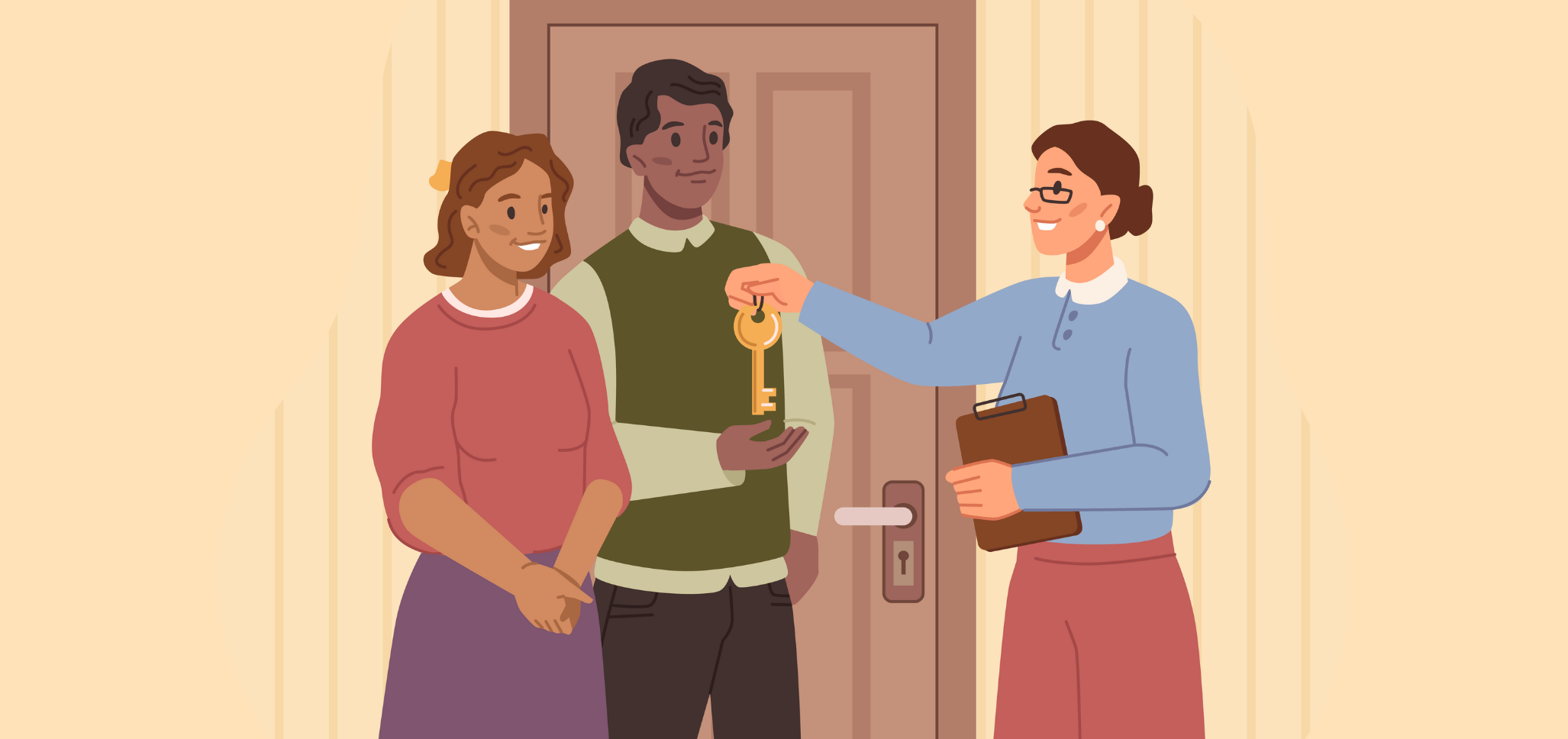 ---
In a competitive rental market, finding the perfect apartment can feel like an uphill battle. Between touring spaces, meeting different landlords and brokers, watching countless video tours, and more, the hunt is overwhelming for a renter. So, once you find the right place for the right price, there can be some urgency to secure the apartment. Sending in a strong application is one of the best ways to ensure you stand out from other applicants and get approved for your dream apartment.
But what does a good rental application look like, anyway? There's a few ways you can work on strengthening your application — some can be fixed quickly and others may take some time — but figuring out what areas you need to focus on is a great first step.
Read on for our list of tips for getting your rental application approved and for smoothing out the rental application process — for you, your real estate agent, and your future landlord or property management company.
Get Your Documents in Order
First things first, in a competitive rental market, you should come to an apartment tour ready to fill out an application. Even if you are planning on touring multiple places, prepare your documents as if you will need to send them to the landlord, property manager, or leasing agent that day. That way, if you tour an apartment that you think is perfect for you, you'll be able to get your application in early and heighten your chances of getting approved before someone else does.
Typically, along with your rental application, when applying for an apartment you will be required to present: an ID in the form of a driver's license or passport, a bank statement or paystubs to serve as a proof of income, a social security number, a detailed rental history, a list of references, and your employment history. In many rental markets, you will also need to be prepared to pay an application fee when you submit your paperwork.
Come to the tour with documents in tow to expedite the application process.
Prep Your References
Most properties will require you to provide the landlord or property manager with a list of references, who can speak to what kind of tenant you are. You will be expected to either provide contact information or a written and signed letter about why you would be a good tenant. Typically, they are expecting your references to be previous landlords or property managers, who can confirm that you paid them rent on time. Another option is to give a current employer as a reference, who can speak to your professionalism as well as validate your income. If the apartment that you are applying for would be your first time renting (meaning, you don't have any former property managers or landlords to give as a reference), then try to find a personal reference, like a family friend, who can speak on your behalf. Stay away from using direct family members as references because they can come across as biased.
You don't want to be chasing down your references in the final stages of a rental application, so write down a list of their names and their contact information prior to starting the apartment hunt process. If you want to be extra diligent, reach out to them and let them know they may be hearing from another property soon about your tenancy.
Provide at least two references as a rule of thumb, but if you want to strengthen your application even more, up the amount to three or four. But make sure quality comes before quantity. For example, positive references from two previous property managers in this context are more valuable than four family friends.
Know Your Credit Score
Even if a rental application asks you to self-report your credit score, they will almost certainly run a credit check once you submit your paperwork. While there's not much you can do to improve your credit score on short notice, it can be valuable to know what your score is before you start your apartment hunt. An up-to-date credit report can help you stay realistic about the kinds of properties you are applying for, and save you time by ruling out properties that are currently out of your range.
There is no shame in having a lower credit score, and there are even ways to strengthen your application if you do in fact have a lower score. A bad credit history is not the end-all, be-all factor of your rental application. One way is to find a co-signer or guarantor, which is someone with good credit who is willing to sign the lease agreement guaranteeing that they will pay rent on your behalf in the event that you are unable to do so. Another option is to co-apply with a roommate who has a high credit score to offset a low credit score. Some properties will allow you to rent a property with a lower credit score if you offer to pay more of the rental costs upfront, as well.
Knowing your score is the first step in the battle — and being honest about it on your rental application will help you establish trust with your future landlord or property manager.
Write a Cover Letter
While it's not required, a cover letter can put your application over the edge in a competitive market. If you are already a very strong applicant, use your cover letter as an opportunity to explain why you would be a great fit for this apartment, what you love about the property or neighborhood, and what you will bring to the community as a tenant. It can be a very powerful personal touch, and can make your application seem more human. Cover letters — or, if you are applying to an apartment digitally, emails — are one of the best ways to make a good first impression on a potential landlord.
If you are worried that you are a less-than-strong applicant, then a cover letter is your chance to explain why you would be a great tenant, anyway. Use it to explain why you may have gaps in employment or rental history, why your credit score has taken a hit, and what you are doing to improve your score. This is where you can make a case for why you would be a great tenant despite those parts of your application, by emphasizing your cleanliness, respect for neighbors, plan to make monthly rent payments on time, and more. If you have no history of eviction and a steady employment history, make sure to let your potential landlord know.
Don't go overboard in terms of length or complexity — a simple, one-page letter should suffice. And don't forget to spell check!
The Bottom Line
Filling out a rental application can be stressful, especially for first-time renters, but it doesn't have to be. Getting your documents in order, coming to the apartment search with a list of strong references, knowing your credit score, and writing a cover letter are all ways that prospective tenants can make a good first impression on their potential landlord and strengthen their rental application.
We rate and sort every listing based on fair market rent.