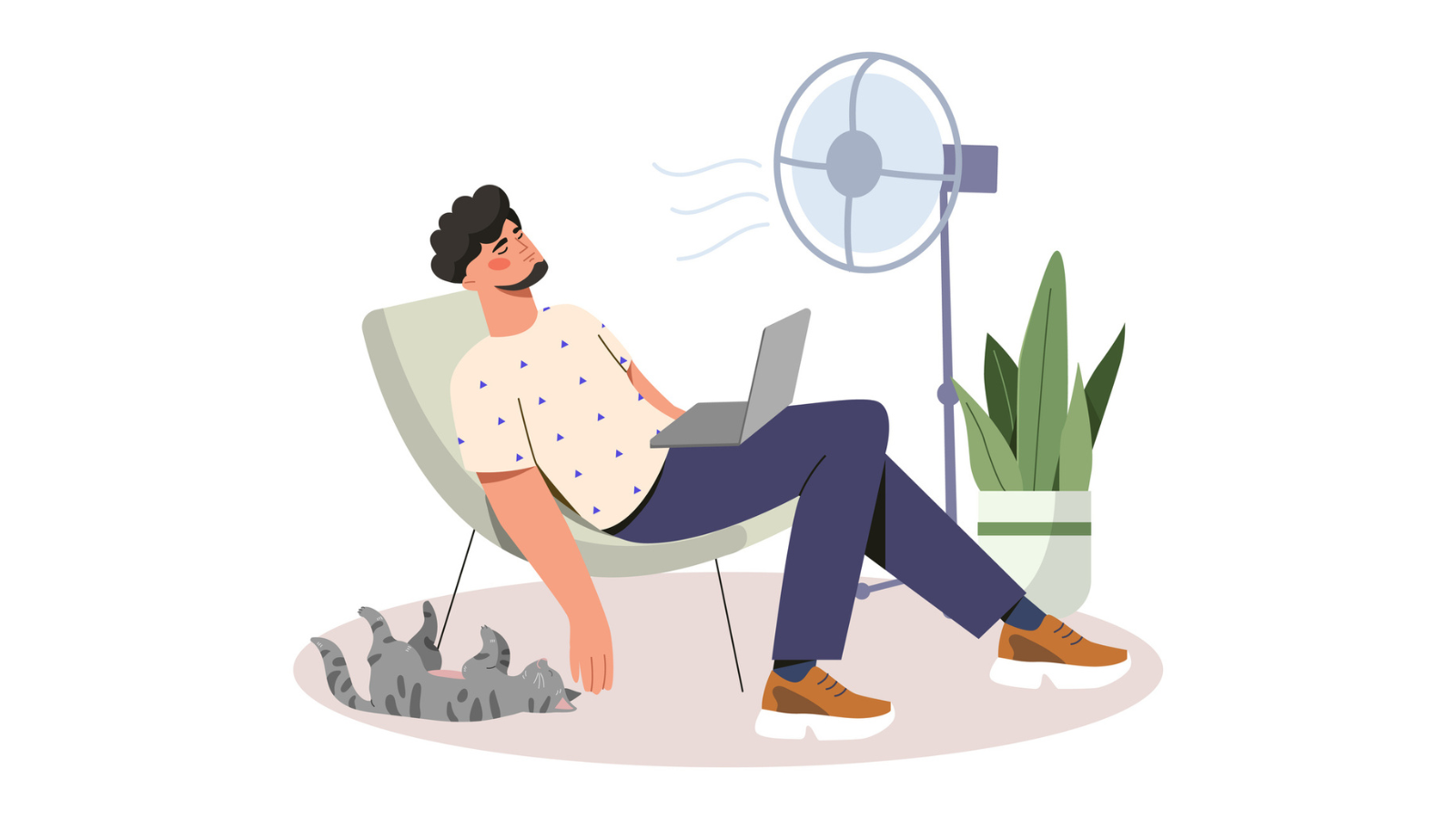 ---
Summer is approaching — and with it comes hot weather that can make your apartment feel closer to a sauna than an oasis. Depending on where you live, central air conditioning may not be an expected standard in your apartment. Window units and other portable air conditioners can be lifesavers in these cases — but they can also be expensive to purchase. Not to mention, they can drive up your electric bill. Plus, in midst of the hot summer months, when everyone wants to cool off, they can sell out quickly and become hard to find in stores.
Whether you need a quick fix until you can find an AC unit or want sustainable, cost-effective ways to stay cool without air conditioning in your apartment all summer long, we're here to provide guidance on lowering the temperature in your home. Read on for our renter-friendly, low-cost tips on cooling down an apartment.
Keep the Sun Out
If your apartment is feeling stuffy, your instinct may be to open windows and try to let some outside air in. However, if it's hotter outside than it is inside, this may be counterproductive — and you may accidentally end up letting warm air in. Keeping your windows as well as your curtains or blinds closed can help preserve the cool air in your apartment as well as prevent any of the sun's heat from coming in. Blackout curtains can be especially effective.
If your current curtain setup isn't inspiring much confidence, then there's a few DIY hacks you can try. For example, if you have more than one set of bedding, then pin some sheets up over your windows. It may not look great, but you'll be one step closer to a cooler space. You can also make this easier by focusing on keeping one room cool rather than your whole apartment.
Keep your windows closed and covered during the daytime and open them again when the outside air is cooler at night to let in some fresh air.
Create Airflow
If you don't feel comfortable with splurging on a portable air conditioning unit, then a few fans can be a more cost-effective option. Just make sure you're using them correctly. For those who have ceiling fans built into their apartments, make sure they are running counterclockwise. There should be a switch that allows you to change the direction of your ceiling fan, as the clockwise motion pushes hot air downward — and you'll want to do the opposite in the summer to circulate the cooler air toward you.
If it's hot enough outside that you are keeping your windows closed and covered, then investing in an oscillating fan — which moves back and forth on its own — could make a big difference in your room because it creates airflow, helping to rid your space of that stuffy feeling. Another cheap hack you could try is to place a bowl of ice cubes in front of a fan, creating a makeshift air conditioner.
Unplug Your Electronics
Appliances, electronics, and even lightbulbs give off some amount of heat — so if you want to go the extra mile to keep cool, consider unplugging any electronics that you aren't using and turning off the lights. If you're not a fan of sitting in the dark, you may want to swap your lightbulbs out for LED bulbs, which use less electricity and will generate slightly less heat than traditional bulbs. Plus, using LED light can help lower your energy bill.
The biggest temperature difference will result from abstaining from using kitchen appliances like the oven or stove — which, unsurprisingly, generates a lot of heat. You can't avoid cooking forever, but a particularly hot day can be a great excuse to order takeout.
Swap Your Sheets
Falling asleep in a hot room can feel impossible. If you are finding yourself tossing and turning while sweating through your sheets, it may be time to swap them out. Check the labels on your bedding to see what your sheets are made of. Flannel and fleece sheets are a cozy option for the winter, but trap body heat and provide too much warmth for the summer. Try a more breathable textile like cotton, linen, or bamboo for the summer — or opt for a moisture-wicking sheet set made of eucalyptus that will do more to keep your body cool at night. This may be a pricier option, but it'll be well worth it if you want a good night's sleep in the summer heat. A cooling pillow can also provide relief — especially since your head and neck play a big role in your body temperature regulation.
The Bottom Line
Cooling your apartment doesn't have to be expensive. If you are suffering from a heat wave and don't have air conditioning in your apartment, then consider a few low-cost, free, or DIY hacks to keep the temperature down. Focus on keeping the outside heat out by closing and covering your windows, invest in a fan or two to create air circulation, and consider swapping your sheets out for a textile that's breathable and moisture wicking. All of these hacks are renter-friendly, budget-friendly, and energy-efficient, and will keep your apartment cool and your utility bill low.
We rate and sort every listing based on fair market rent.