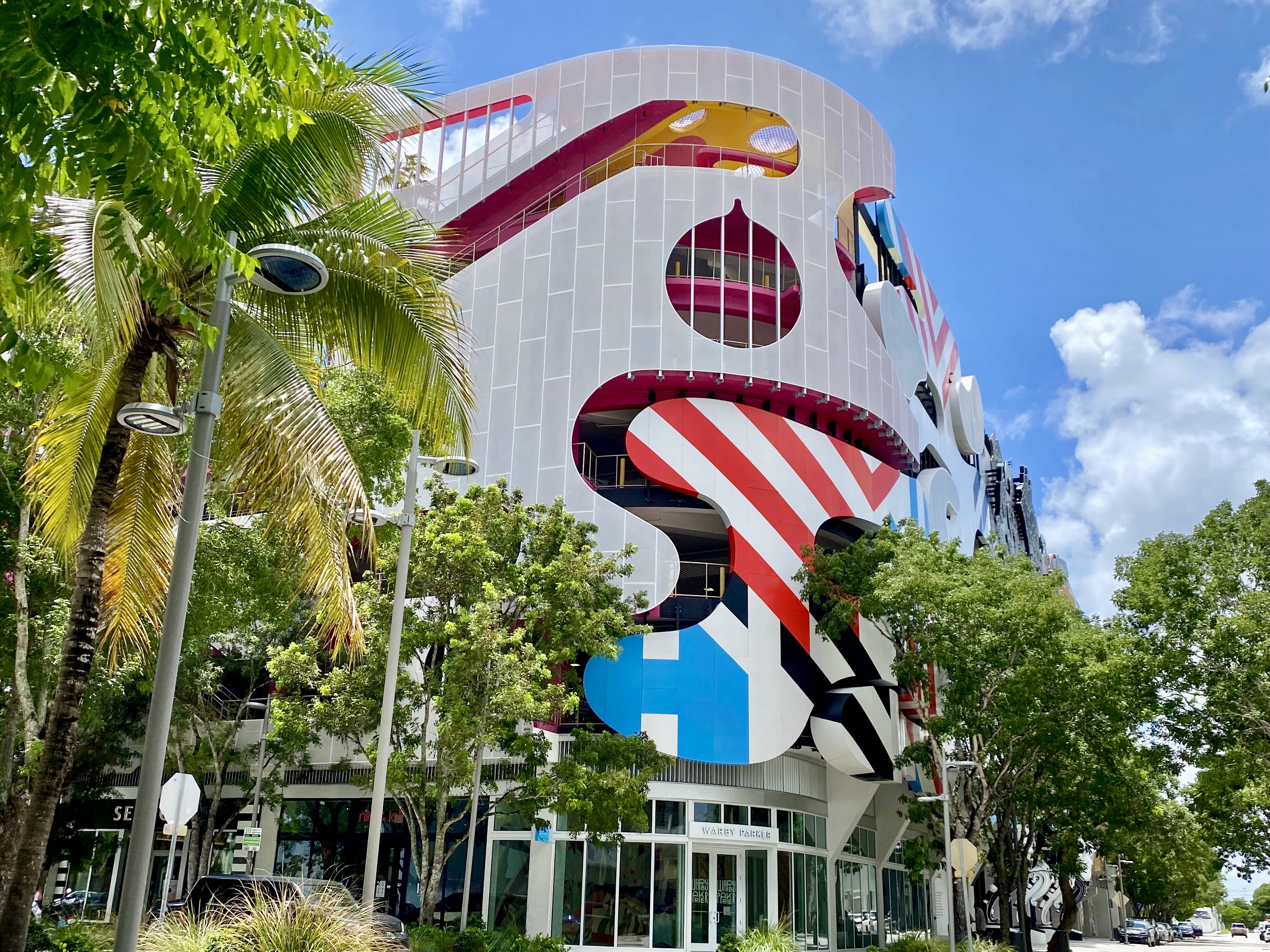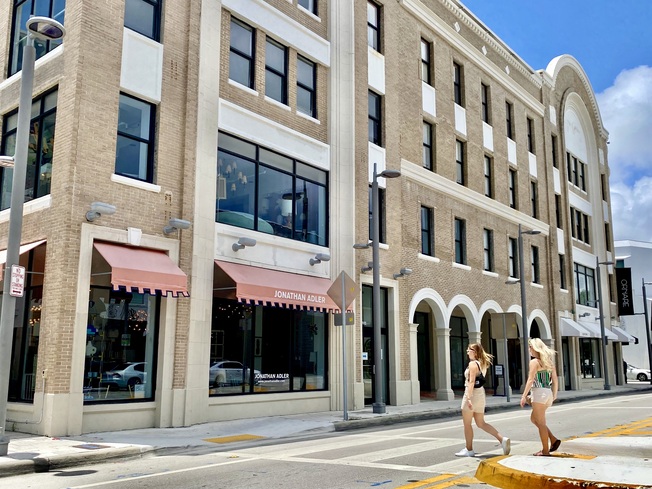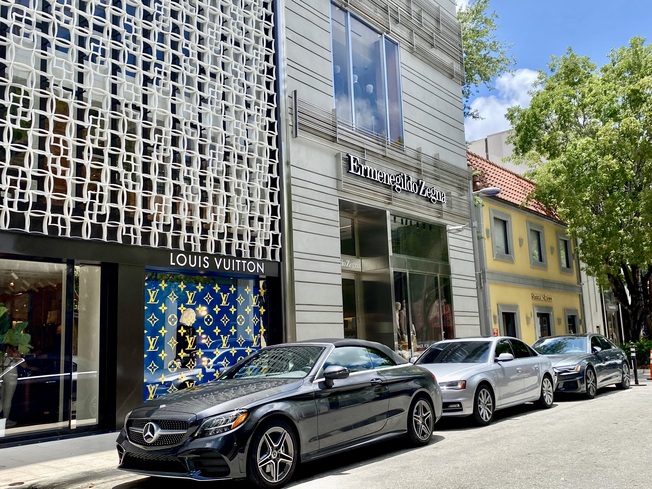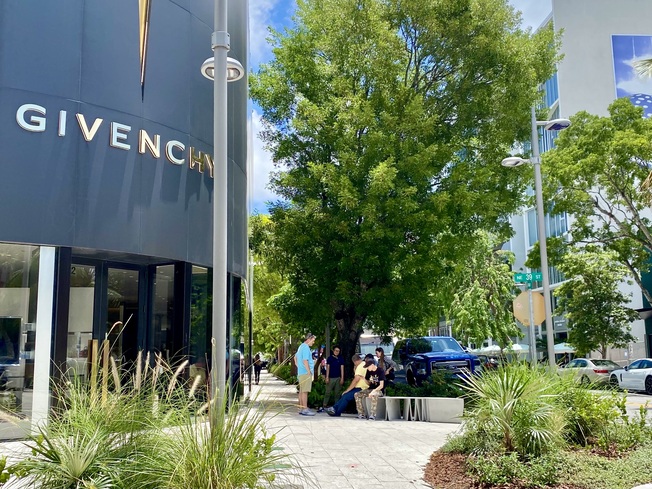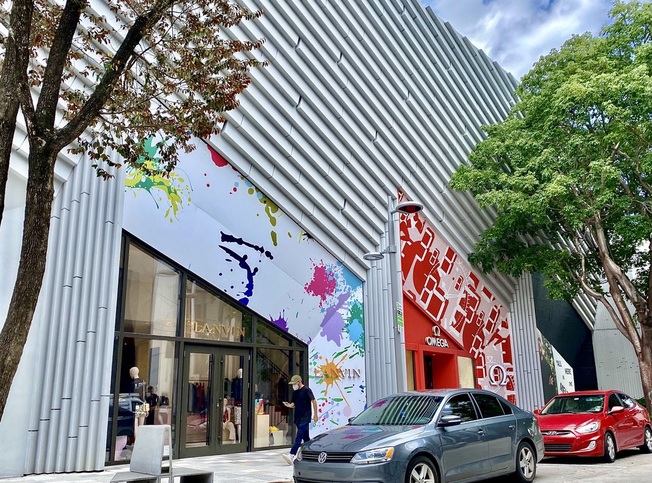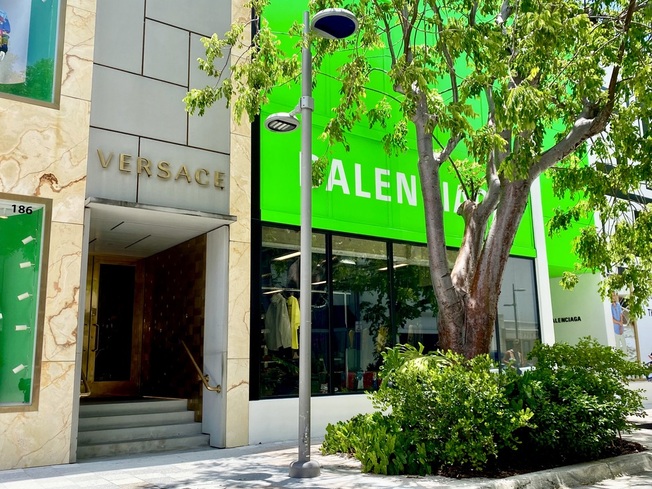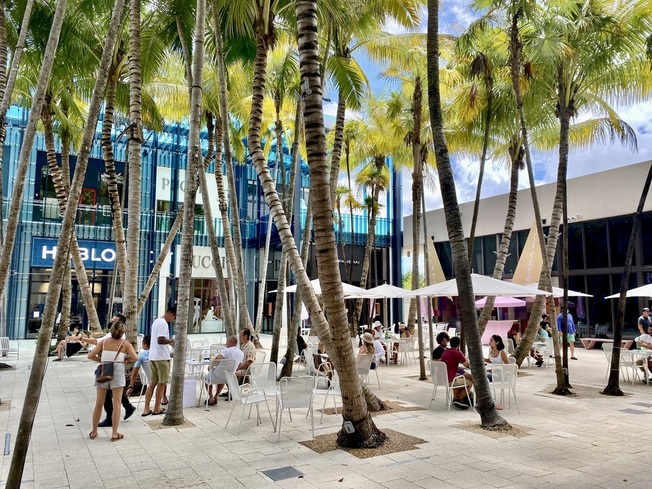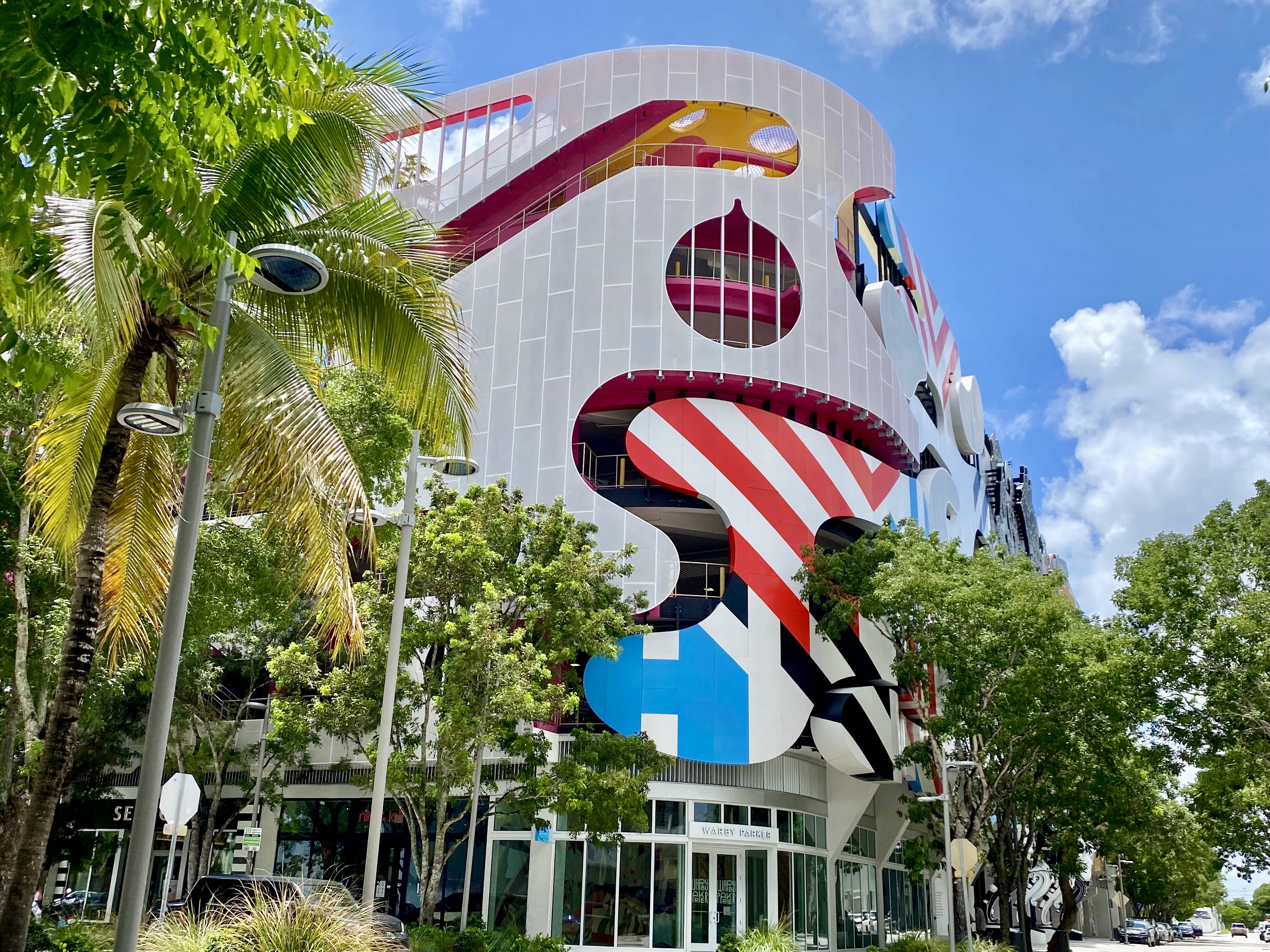 ---
In the early 2000s, developer and art enthusiast Craig Robins saw potential in an undesirable neighborhood near Downtown Miami, so he started buying buildings to transform it. And transform it, he did. Today, those 18 palm-lined blocks are called the Miami Design District, an international hub of luxury shopping, fine dining, art galleries, and public art, design, and architecture. Home to more than 120 high-end stores — like Hermes, Fendi, Dior, Cartier, and more — this is one of the world's most glamorous shopping destinations.
Apartments in the Miami Design District run the gamut, from affordable to expensive options. Look around, and you'll find some of the best architecture in the country (even the parking garage is a work of art). In this part of Miami, every building is a blank canvas for the next big artist.
Just north of Downtown Miami, near both Wynwood and Midtown, Miami Design District runs from North Miami Avenue to North Federal Highway and Northeast 38th Street to Northeast 42nd Street. This neighborhood is very accessible. By car, take I-195 to the NE 36th Street exit, and you'll be just blocks away. Ride-share options are also popular ways to get here, and the free City of Miami trolley (which runs every Monday through Saturday, from 6:30 a.m. to 11 p.m.) has a stop at 39th Street in the heart of the Miami Design District.
One of the draws of Miami Design District is the fact that it's incredibly pedestrian-friendly. If you drive, valet your car at one of nine interchangeable valet stands or park in one of four parking garages. The courtyards and sidewalks are spacious and filled with Miami's most fashionable shoppers, socialites, and diners perusing the shops, having a glass of wine, or getting a bite to eat. There are also a few Citi Bike stations here for those who want to explore the area by bike.
From a casual food hall with some of the best local chefs in South Florida to a collection of sophisticated cafés, eateries, restaurants, and bars, the food and drink scene in Miami Design District has something for everyone. James Beard Award-winning chef and restaurateur Michael Schwartz put the neighborhood on the map when he opened his farm-to-table concept, Michael's Genuine Food & Drink, in 2007. Go here for a top-notch wine list and inventive seasonal "neighborhood bistro" cuisine like crispy pig ears with chili and lime, braised rabbit with yucca mash, and shrimp toast "bahn mi." Later, Schwartz opened Harry's Pizzeria, where he serves his signature thin-crust pizzas topped with spicy pepperoni, short rib, pesto, and more.
Given the chic vibe of the neighborhood, it's no surprise that swanky restaurants in Miami Design District are the norm. Famed chef Joël Robuchon has two upscale ingredient-driven restaurants here: L'Atelier de Joël Robuchon, a modern French restaurant with à la carte dishes and tasting menus, and Le Jardinier, a casually sophisticated, vegetable-forward spot with seasonal ingredients grown on the restaurant's own rooftop garden. See and be seen at Swan and Bar Bevy, a restaurant and lounge concept by nightlife guru David Grutman and the Grammy Award-winning Pharrell Williams, or immerse yourself in the Mediterranean with an intimate, romantic date night at Mandolin Aegean Bistro.
If a quick bite to eat is what you crave, Miami Design District has casual dining options, too. Get an acai bowl at the health-conscious Pura Vida, or try The Original Cuban Tacos™ at the Caja Caliente food truck. For something light, start your day with tea and pastries at the garden Dior pop-up café. Head to MIA Market, a food hall concept in Palm Court, and try fried chicken sandwiches in from-scratch buttermilk biscuits at Coop, handmade ravioli at Dal Plin, Israeli specialties at Jaffa, and Vietnamese pho at Tran An. Wherever you go, don't leave without dessert — try alcoholic ice cream at Aubi & Ramsa, ice cream "cakesicles" at Frohzen, Night Owl Cookies, or treat-filled popsicles at Ladyfingrs.
For drinks, do a wine tasting at Abaco Wines & Wine Bar, or grab an haute cocktail from Bar Bevy or Baccarat Boutique B Bar & Lounge.
There are no grocery stores in Miami Design District, but there is a Publix less than a mile away in Upper Buena Vista.
When it comes to high-end shopping in Miami, Miami Design District is where you want to be. Synonymous with glamour and luxury, this dazzling neighborhood is Miami's version of Beverly Hills' Rodeo Drive, the Champs-Élysées in Paris, or NYC's Fifth Avenue. For runway-worthy fashion, spend your day shopping at some of the most sought-after storefronts in the world, from Gucci, Hermès, and Christian Louboutin to Balenciaga and Balenciaga Men's, Dior Homme, Zadig & Voltaire, Rag & Bone, and more. Get the latest handbags at Louis Vuitton, Céline, or Prada, and then treat the special man or woman in your life to jewelry or a watch from Harry Winston, Hublot, Bvlgari, and Sevan Biçakçi.
Looking for furniture and home decor? Shops by Adriana Hoyos, Armani/Casa, Jonathan Adler, Mitchell Gold + Bob Williams, Monica James, and other top designers have just what you need. The neighborhood has long been regarded as a top home design and furniture destination, with showrooms filled with upscale, contemporary furniture, lighting, custom kitchens, luxury flooring, outdoor living spaces, interior design services, and more.
While the main draw of Miami Design District is shopping, the area is packed with plenty of other ways to entertain yourself, too. As its name implies, art is big here — and the slew of art installations, sculptures, building murals, art galleries, and museums prove it. Start at the neighborhood's top museum, the Institute of Contemporary Art (ICA), which showcases ever-evolving exhibits of modern art by local, emerging, and brand-new artists. Within ICA, there's a Sculpture Garden filled with works made out of stainless steel, aluminum, and even various found objects. The Hatian Heritage Museum offers a peek into Hatian arts, culture, and history.
For galleries, start with the out-of-the-box Locust Projects, Miami's longest-running nonprofit alternative art space, which occupies a large warehouse and is filled with experimental art from artists worldwide. On the other end of the spectrum, Markowicz Fine Art is a three-story gallery with head-turning, sophisticated creations by established artists like Metis Atash, Arno Elias, The London Police, and Kai Artist. For something truly unique, visit Swampspace, which showcases both visual and performance art by creators of all ages, from high school students at Miami's top arts schools to more renowned artists like Daniel Arsham.
In Miami Design District, you'll see art installations and murals everywhere you turn. Architect and inventor Buckminster Fuller created the Fly's Eye Dome in the heart of Palm Court — if you park on the bottom level of the Palm Court Garage, you'll literally walk through the middle of the installation to come out onto Palm Court. Likewise, Museum Garage is an art piece in itself; don't forget to check out the exterior as you drive by. Inside the historic 1921 Moore Building, the late Zaha Hadid created Elastika, which looks like a piece of chewing gum stretched between different floors. See all of these and more with a free guided art tour of Miami Design District, which takes place at 5 p.m. on two Saturdays every month.
Visual art isn't all the Miami Design District is known for. Live music nights take place monthly, and the Miami Design District Performance Series brings free Friday night concerts produced by Grammy Award-winner Emilio Estefan to Palm Court. Taking place each fall and winter, this series includes performances by the likes of the Miami Symphony Orchestra, Gloria Gaynor, Dominican singer Johnny Ventura, The Wailers, Emily Estefan, and more.
Perfect for all ages, the district also hosts a monthly, themed Family Day with educational and interactive art activities for all ages.
For fitness lovers, try yoga at Ahana Yoga Studio, do Pilates at Aviva Pilates, or break a sweat at Rise Nation or DBC Fitness. Treat your body to the ultimate recovery with a massage at OC Spa.
There are no colleges or universities in the Miami Design District. The neighborhood is in close proximity to Downtown Miami, where Miami-Dade College - Wolfson and Miami International University of Art & Design are located.
We rate and sort every listing based on fair market rent.