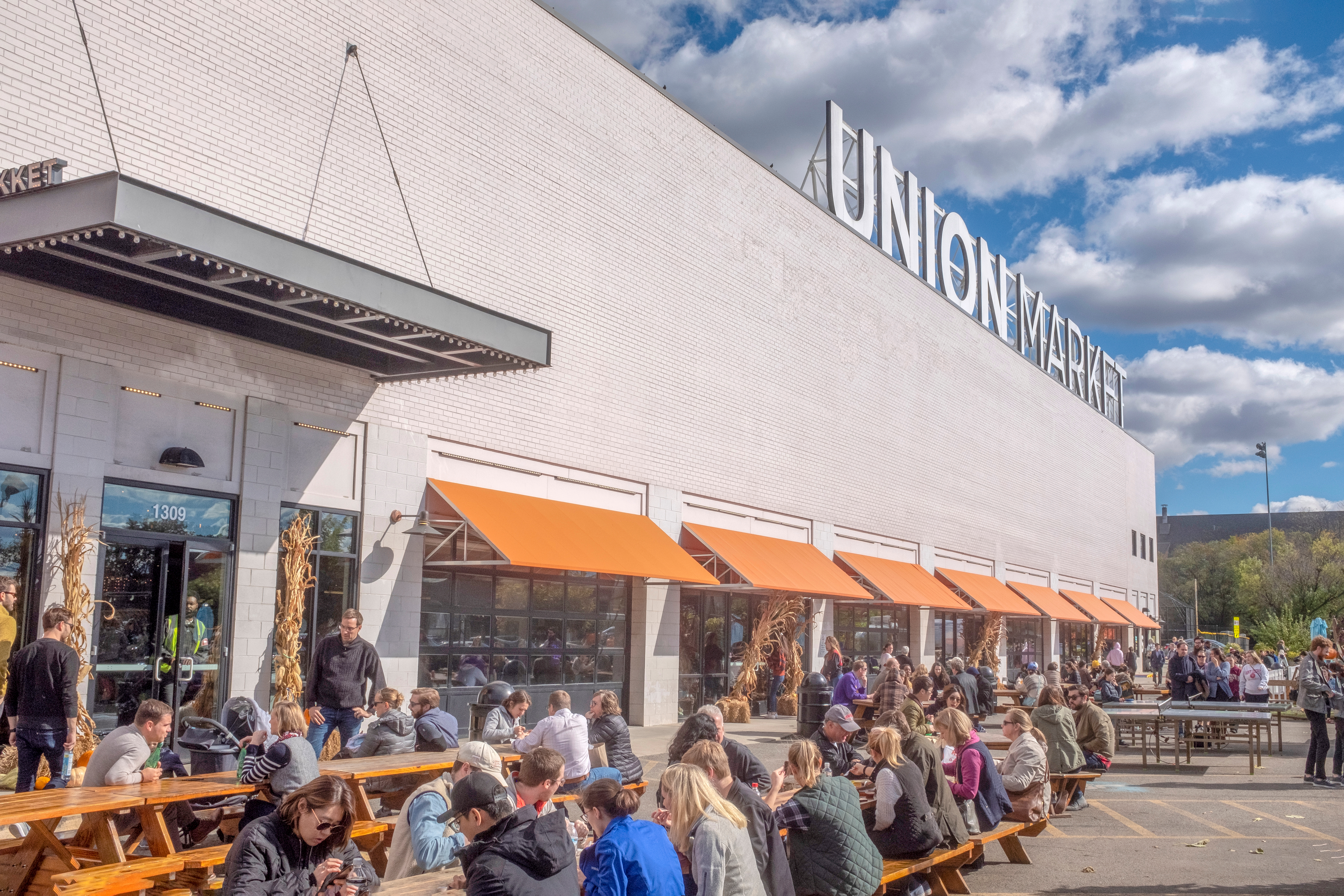 ---
| | Median Rent | Median Sqft |
| --- | --- | --- |
| Studio | - | - |
| 1 Bed | - | - |
| 2 Beds | - | - |
| 3+ Beds | $3,675 | 1,500 sqft |
Near Northeast is a dense, urban neighborhood in the northeast quadrant of Washington, DC bounded by 15th Street to the east, Florida Avenue to the north, North Capitol Street to the west, and H Street to the south. With a history of immigrant settlers, Near Northeast was built around African-American communities. The area was hit hard during the 1968 riots that destroyed roughly 1,200 buildings in the city, leaving the neighborhood in disrepair for decades. But after the turn of the century and major efforts to revive the neighborhood, Near Northeast has been transformed into a popular destination for locals and visitors alike.
The H Street Corridor on the southern end has been undergoing a renaissance as developers have made significant investments in the arts and entertainment offerings. With many new venues springing up along H Street, this lower area of Near Northeast has been branded as the Atlas District, a nod to the revitalized Atlas Theatre that underwent a $22-million renovation in 2004.
Apartments in Near Northeast can be found within walking distance to bars, restaurants, coffee shops, and other lifestyle amenities. The neighborhood is also conveniently located for those attending and working at Gallaudet University.
Near Northeast is walkable, bikeable, and well-served by the public transportation system, especially with the Red Line stopping at Union Station, one of the major public transportation hubs in the city. Residents also have the choice to take the New York Avenue Metro Stations.
Several bus lines also pass through the neighborhood, including the X2, B2, 90, and 92 Lines. The DC Streetcar operates from Union Station down H Street NE, through the Atlas District, running every 10–15 minutes Monday through Saturday.
Though residents can get by without a car in Near Northeast, it's the most common mode of travel, with Routes US-1 and US-50 close by for eastward trips towards the I-495 Capital Beltway.
Those who live here embrace the density of the area since it offers a buffet of dining, bar, and cafe choices. Some restaurants in Near Northeast are known well beyond the neighborhood all across DC. For example, Panda Gourmet, tucked into a Days Inn, has a reputation as serving the most authentic Sichuan and northwest Chinese food. Diners rave about the dumplings and garlic bok choy and the warm hospitality of the staff. It's also great for take-out.
A quirky neighborhood spot, Old City Market And Oven serves food made in a wood-fired oven. Locals appreciate the reasonably priced sandwiches and pizzas made fresh to order and with high-quality ingredients. Try the Mexican pizza for a bit of culture-clash fun. And while you wait, browse the collection of gifts, wine, local craft beer, and packaged food items from around the world. A community space, the owners welcome canine friends, too, and offer bacon treats for four-legged guests.
FarmBird is another restaurant known throughout the city with two other locations besides the one in Near Northeast. It's billed as a fast-casual chicken restaurant where locally sourced chicken breasts and thighs are trimmed, brined, and grilled to order. Get adventurous flavors like the lemon Tzatziki chicken thigh with avocado chickpea or BBQ Ranch chicken breast with roasted sweet potatoes.
When you're looking for a study spot or java jolt, Near Northeast has every kind of café, from the reliable Starbucks and Dunkin' Donuts to the higher-end chain, La Colombe, and specialty Sidamo Coffee and Tea. Sidamo is a family-owned and operated business that serves quality, unique, and a wide variety of beans and leaves from their homeland of Ethiopia.
For an afternoon nosh, evening dessert, or even a night out, head to Pie Shop. This independent, woman-owned, small but mighty bakery whips up sweet and savory pies and quiches for sweet tooths, meat lovers, and vegetarians and vegans, too. Ask for whipped cream, free of charge upon request. The shop is also an independent live music venue dedicated to supporting the local music and arts community.
For nightlife, walk to Bar Elena, where you'll find a menu sure to surprise and delight. Hit items include fiery nachos and spaghetti sandwiches which you can wash down with a draught beer from a rotating beer list. There's also a short wine list and cocktails featuring local distilleries. Fittingly, the fun menus are complemented by skee ball and pinball machines. But when spectator sports are in order, grab a burger and beer on game night at The Big Board. Gather your friends but be sure to plan carefully. The high-concept pub has fluctuating prices based on demand.
Lastly, for a healthy fix, head to Turning Natural, a small smoothie shop on an H Street corner. Considered a pioneer amongst the vegan food scene establishments, the menu is small but packs a carb punch. Try the "Bob Marley" smoothie with hemp protein and veggie patties with a nice curry kick.
There's plenty of grocery stores in Near Northeast. Stock your fridge at your choice of major chains to health specialty stores in the neighborhood. There's Giant for all your everyday foods and a Whole Foods Market when you want to splurge on a hot bar. And for serious foodies, Udderly Nuts sells things like all-natural sprouted cold-pressed almond milk, finely ground almond flour, and creamy almond butter. And Dynamic Health & Wellness carries hard-to-find nutritional ingredients like mango and turmeric sea moss and Shea butter (with or without scents).
Keep the healthy spirit by shopping at REI for any kind of outdoor sporting good you can think of. Though you can probably jog or bike over, there's an attached parking garage, and REI will validate your ticket. For serious cyclists, The Daily Rider sells stylish bicycles, a wide selection of useful panniers, bags, and baskets, plus offers repairs and maintenance on-site.
When you're exercising your mind, Solid State Books has your back. This black-owned, independent bookstore and coffee bar has a deep and diverse selection of fiction and non-fiction titles, as well as gifts for all ages. You can also attend author readings and signings, book groups, local interest panels, political conversations, and more. Stay a while and have a pastry and a cappuccino from the coffee bar — that also stocks beer and wine.
One of the best things about Near Northeast is that even though it's in the thick of the city, you can escape to the serene world inside the National Arboretum. Come here to experience the celebrated cherry blossom season with its extensive collection of over 30 different flowering cherry trees. Wander throughout the park's sprawling manicured gardens and discover the original columns from the Capitol Building's first incarnation, a Japanese garden, and an impressive bonsai collection.
Brighten up any day or night by taking in a performance at the Atlas Performing Arts Center, a historic and cultural anchor in the H Street area of Near Northeast. Get tickets to theatre, dance, music, vocal and choral work, spoken word, and more any time of year in each of its four performance spaces. In addition, visit a magnificent public art gallery and get treated to free events in the lobby.
For some eclectic visual arts, spend some time at Angelika Pop-Up at Union Market. Since its beginning in 1989, the Angelika Film Center in New York City's SoHo neighborhood has made a name for itself as one of the best and highest-grossing arthouses in the country. It's now open in DC, with an exclusive microcinema experience. Indulge in your choice of beer, wine, and non-alcoholic beverages along with movie-style popcorn, hotdogs, and other traditional snacks while you take in a film.
Near Northeast is located just southwest of Gallaudet University, the world's only university catering to the needs of the hearing-impaired. Aside from being the principal institution for teaching and learning American Sign Language, the 99-acre campus includes several buildings of fanciful North American High Gothic architecture and is a National Historic Landmark District. Its community hails from all 50 states and nearly 100 countries and boasts 23,000 alumni worldwide.
We rate and sort every listing based on fair market rent.