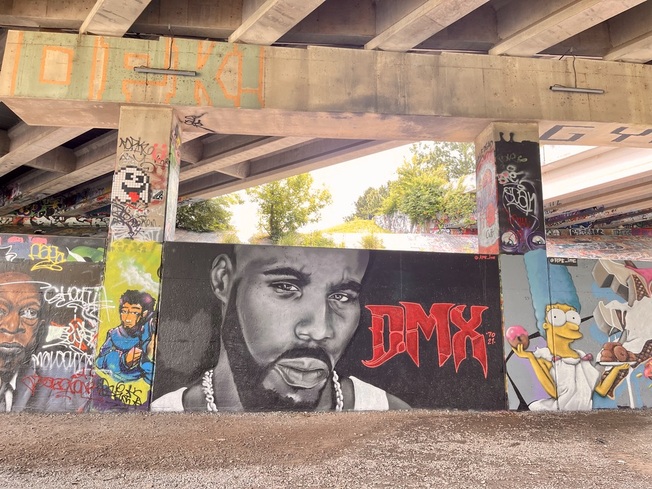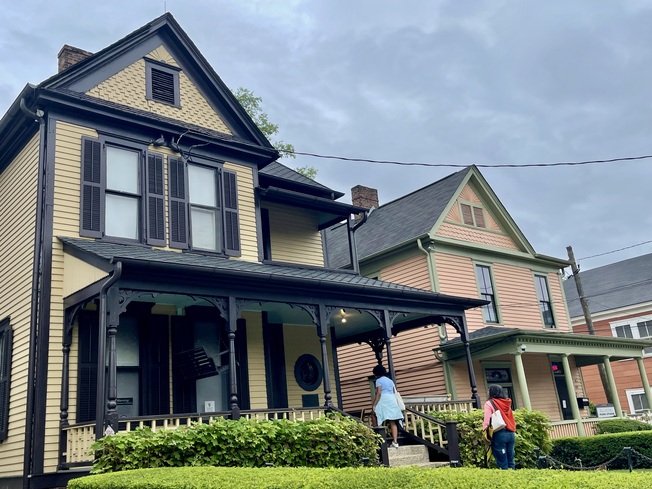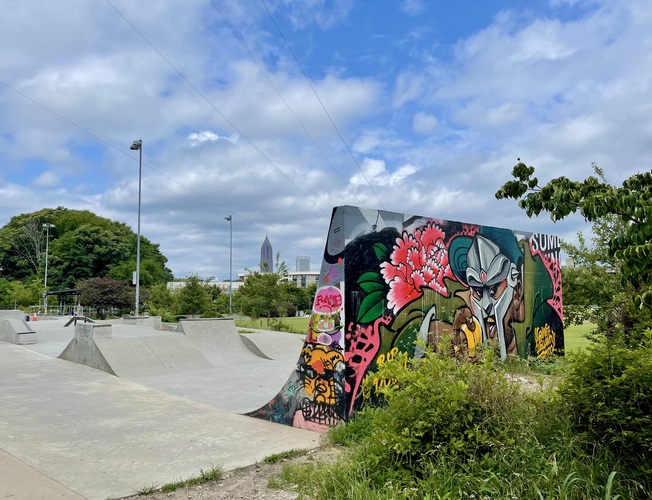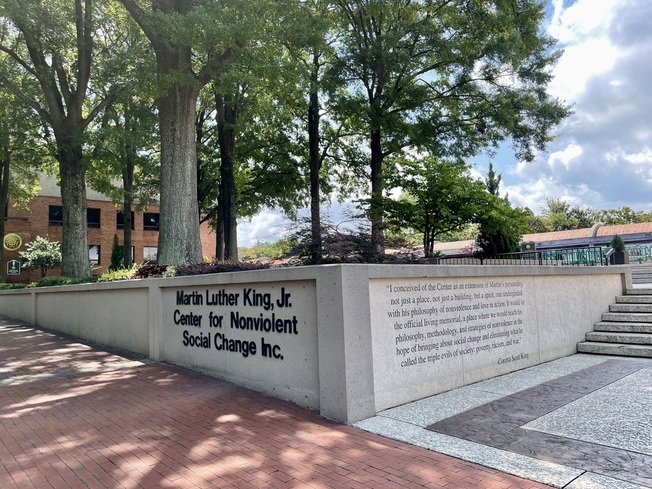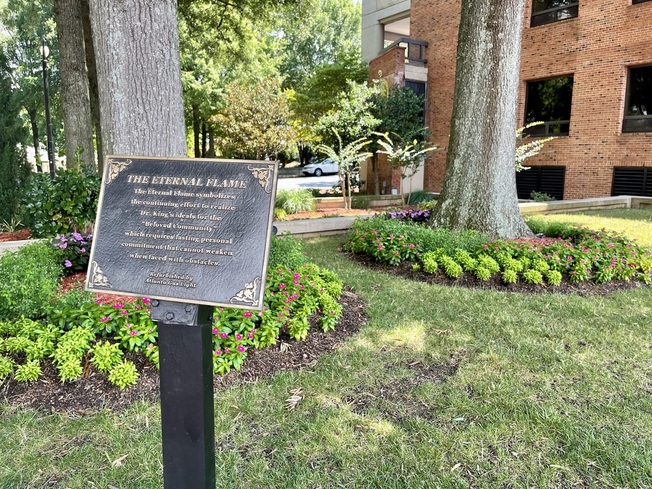 ---
| | Median Rent | Median Sqft |
| --- | --- | --- |
| Studio | $1,308 | 582 sqft |
| 1 Bed | $1,575 | 721 sqft |
| 2 Beds | $1,950 | 983 sqft |
| 3+ Beds | $2,095 | - |
Historic as it may be, there's nothing old about the Old Fourth Ward. O4W, as the locals like to call it, pulses with Atlanta's newest restaurants, retail, and residences. Apartments in Old Fourth Ward can be found in stand-alone complexes or above the fluttering boulevards below. It's where people want to see and be seen. It's even been known to be a temporary home for celebrities while in the city filming their latest flicks. Jon Hamm and Owen Wilson both set up interim digs in and around Old Fourth Ward in recent years. Whether it's the draw of Ponce City Market (PCM), Atlanta's version of NYC's famed Chelsea Market with an expansive retail and food hall featuring over 60 shops and restaurants, or simply the central location to Atlanta's other locales, Old Fourth Ward has become one of Atlanta's most desirable neighborhoods.
As one of the most historic sections of Atlanta, Old Fourth Ward has long been known for its commitment to being one of the city's most racially and socioeconomically diverse neighborhoods. It began as a largely Black neighborhood. It is here, in 1929, that Dr. Martin Luther King, Jr. was born and where the King Center, a museum dedicated to MLK's life and work sits. Old Fourth Ward is also where HBCU Morris Brown College had its first campus before moving to today's location in Vine City.
Visitors and residents alike flock to Old Fourth Ward not only to experience its interesting history but its vibrant present. It's the heart of the Beltline, where the Eastside Beltline Trail weaves neighborhoods together. It's the foundation of Civil Rights in Atlanta. It's thick with street art and creativity. Welcome to O4W.
If there's one neighborhood that's made for bicycle transportation, it's Old Fourth Ward. The Eastside Beltline trail zips through the neighborhood, connecting it to both Decatur and Downtown Atlanta. As the first finished section of the Beltline, Atlanta's train corridor turned pathway system, this part of the Beltline is the busiest and most complete branch. Those looking for a more dynamic, robust ride can also connect to the Freedom Parkway Trail as well as the Stone Mountain Trail from the Eastside Beltline trail. If you are an active person, O4W is the neighborhood for you. You can live in the heart of the city yet quickly be on a trail in a matter of minutes, or depending on where you put down roots, seconds. The Eastside Trail provides ample walking paths, too (just beware of cyclists zipping by).
For public transportation, your best bet is to take a MARTA (Metropolitan Atlanta Rapid Transit Authority) bus from the North Avenue Station. Bus 2 and Bus 102 both make stops at PCM, which is centrally located within other parts of the neighborhood. There is also the King Memorial Station. However, it will still require a bus or a walk to get easily to Old Fourth Ward. Buses that make stops from the King Memorial Station are Bus 899 and 809.
As with many of the Atlanta neighborhoods, Old Fourth Ward is prime for drivers, too. There is accessible street parking in Old Fourth Ward as well as plenty of parking deck access, much of which is monitored through the Park Mobile app.
Old Fourth Ward has a lively food and drink scene. The aforementioned Ponce City Market hosts the neighborhood's best selection of casual yet cultural dining. Here, you can find anything from Indian Street food, like the robust menu at Botiwala or Puerto Rican sandwiches from El Super Pan. There's also Bar Vegan, a vegan concept complete with Philly cheesesteaks and even burgers.
A few other notable Old Fourth Ward restaurants include Ruby Chow's, chef Guy Wong's Asian Fusian restaurant known as much for its incredible foods as its eye-candy interiors. Award-winning Staplehouse is around the corner, and while the restaurant is no longer serving its famed coursed-to-perfection menu, you can still enjoy dishes such as beef cheek hand pies and alkaline noodles. The neighborhood is also home to Atlanta's first distillery, well, it's first since 1906. Here, you can take a tour and belly up to the bar to try the fruits of its labor: bourbon, vodka, or gin.
Of course, no neighborhood guide would be complete without a few spots to imbibe. 9 Mile Station on Ponce City Market's Roof overlooks the city streets below. Another rooftop spot, The Roof at Hotel Clermont, is a quick walk down Ponce de Leon. Local drinking hole Sister Louisa's Church of the Living Room and Ping Pong Emporium is open until 1 AM and is known for its cheeky church-themed interiors.
Head down the Beltline or jump in a car to visit Ponce City Market. PCM, as it's referred to by locals, has a weekend Farmer's Market along with a vintage amusement park featuring classic games like mini-golf and skee ball on its roof. There are big-box brands such as Anthropologie, JCrew, and Lululemon all within its repertoire. If you're looking to support local, checkout boutiques such as Modern Mystic, a spot for all of your metaphysical needs, as well as The Village at PCM, a shop for and by Black-owned makers and businesses.
Old Fourth Ward is also nearby Virginia Highland. There you will find everything from women's boutiques like Dakota J's and houseware boutique, Urban Cottage Inc. It also bumps right into Poncey-Highland with neighborhood favorites Fig and Flower for green beauty and Highland Row Antiques, an expansive 15,000 square foot store specializing in 20th-century goods.
The main thing to do in O4W is to simply enjoy being outside. The neighborhood is an artsy one, and as such, there is ample street art to be found. Between the OuterSpace Project and Art on the Beltline, there are over 50 murals across the neighborhood. Add that to some of the sculptural as well as live performance art, and Old Fourth Ward is among Atlanta's most creative zones.
One of the best examples of neighborhood innovation is the annual Beltline Lantern Parade. Residents create illuminated paper lanterns in all shapes and sizes, then parade down the Eastside Beltline trail, lighting up their surroundings. It is one of Atlanta's most unique events, and a must-see (and must-participate!) each year. Another great way to explore the outdoors is to frequent Historic Fourth Ward Park. The park is 17 acres and includes a splash pad for kids, Atlanta's first skate park (Tony Hawk approved), and a lake.
As mentioned, Old Fourth Ward is one of Atlanta's most historic neighborhoods and serves as the Dr. King epicenter. Dr. King's birthplace on Auburn Avenue is a national park and is open for tours. Nearby, you can see Ebeneezer Baptist Church, where King was a pastor. Each of these two places, along with the main museum and Dr. and Mrs. King's crypt, all make up The King Center. Nearly one million people visit the center annually to continue to practice and learn about Dr. King's legacy and teachings.
While Old Fourth Ward doesn't have any colleges or universities of its own, its location makes it easy to get to Decatur to Emory or Agnes Scott College, Downtown for Georgia State University, or Midtown for SCAD and Georgia Tech. As previously mentioned, the various MARTA routes, as well as the Beltline, make traveling to and from various campuses a breeze.
We rate and sort every listing based on fair market rent.