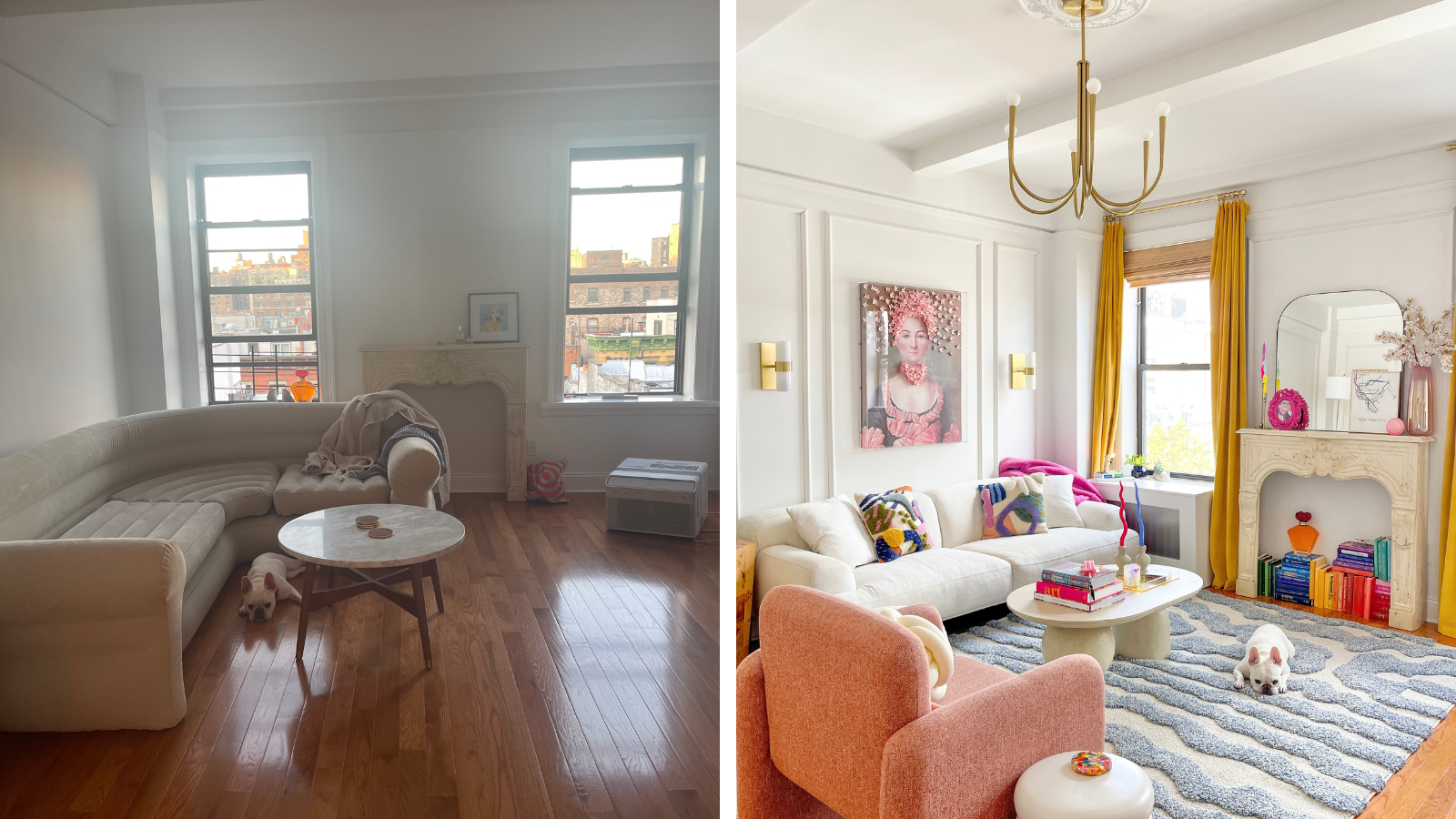 ---
As a renter, you may feel stuck with your rental apartment's overall look and feel. In many ways, you are; you often can't paint, you can't remodel or make any structural changes, you can't retile a kitchen that you hate. And even if you could, it may feel like a waste to invest any money in a place you don't own and are only living in temporarily.
We spoke to three renters who couldn't disagree more.
"It's an investment in my own wellbeing because this is where I spend 90% of my time. I want to be in a happy space that I'm proud of," says Katelyn Sailor, whose maximalist New York City apartment transformation went viral on TikTok. "I'm not like ripping out cabinets and countertops. I'm doing inexpensive peel-and-stick projects. It's a small investment for a big reward."
She believes that if you're willing to do the work, then your own creativity is the limit when it comes to decorating your rental. She's not alone.
We spoke to Sailor, Stephanie Black, and Chelsea Angelos to learn about how they completely transformed their rentals and learned all their hacks — from peel-and-stick removable wallpaper to changing light fixtures. Read on for their rental-friendly, DIY decor ideas that will keep your security deposit in tact.
Katelyn Sailor, 35, lives in an 1,100 square-foot, two-bedroom apartment in the Upper West Side of New York City with her husband and their French bulldog, Lou.
Click here to see the full transformation!
Katelyn Sailor packed up her house in Raleigh, NC and moved with her husband into her apartment in a pre-war building during the pandemic — fulfilling a lifelong dream to live in NYC. But when she got to her new place, she needed to make the space feel more like home. Here's how she did it.
A small change that made a big impact: Moulding. Adding renter-friendly wall moulding ordered off Amazon gives the space more dimension, and makes Sailor feel like she isn't living in a "white box." It took a few hours over three Saturdays to get the project done, and cost a couple hundred dollars. Plus, it's completely reversible.
The biggest project: Changing the color of her kitchen cabinets to match the peel-and-stick wallpaper she put up. When Sailor asked if she could paint her cabinets white, her landlord gave her the OK to use contact paper to cover up the color instead since it is easily removable. It was more time consuming, though. Over the course of 40 hours, Sailor cut out and stuck on the pieces of contact paper to fit her cabinets and drawers. "It's a night and day difference. That was my biggest project and I have no regrets."
Her favorite room: The living room. Sailor had always dreamed of having a fireplace in her living space. The only problem? Her NYC apartment doesn't have one. So, Sailor took to Facebook Marketplace and found a white marble fireplace mantel that is now the focal point of her living room. Since it's not a real fireplace, she decorated the inside with books.
Her go-to stores: Anthropologie, West Elm, Wayfair
Stephanie Black, 26, lives alone in a 350 square-foot studio in downtown Toronto, Canada.
Click here to see the full transformation!
Design has always been important to Stephanie Black, who saw a vision come to life as soon as she toured her studio apartment and home of two years. In fact, she asked the landlord if she was allowed to paint before signing the lease. She broke down how she maximized her small space to turn it into her dream home.
A small change that made a big impact: Painting the walls white. When Black toured her apartment, she wasn't into the beige walls (which were also a bit scuffed up and in need of a new coat of paint, anyway). She asked her landlord if she could paint them all white instead — and he actually gave her the money to buy the paint. A quick paint job made her apartment feel fresh, giving her a clean slate to work with when it came to design.
The biggest project: The kitchen. Even though her studio came equipped with a pretty small kitchen, transforming it was still a big undertaking. She painted the cabinets white, and use peel-and-stick floor tiles and contact paper to redo the floors and the counters. With the help of her mom, it took her about two days to complete her rental kitchen makeover.
Her favorite part: The balcony. Complete with a daybed and a papasan chair, the balcony in Black's apartment is her favorite place to hang out, especially in the summer. She even has a view of Toronto's CN Tower. "It feels like a second living room."
Her go-to stores: Facebook Marketplace, secondhand stores, Ikea
Chelsea Angelos, 33, lives in a 1,400 square-foot, three-bedroom apartment in New York City with her husband and three kids.
As a stay-at-home mom and part-time social media manager, Chelsea Angelos spends a lot of time in her apartment, so she wanted to make it really feel like home for herself and her family. However, she was also conscious of not wanting to spend too much money on a rental space. She shares decorating tips on redecorating her kid-friendly apartment on a budget.
A small change that made a big impact: Paint. In rooms where Angelos didn't want to change as much, all it took was a coat of paint to create the effect of a transformation. "I loved our living room when it had white walls, but it feels totally different now with light brown walls, and that was the only change I made."
The biggest project: Transforming the kitchen cabinets. Angelos got permission from her landlord to paint the pine cabinets in her kitchen, but it was not an easy undertaking. She couldn't traditionally sand the cabinets because of space and noise constraints, so she used liquid sandpaper instead. The process went like this: "I had to remove the cabinets and hinges, apply Citristrip [varnish remover], wait, scrape off the wood varnish, apply the liquid sandpaper, wait for it dry, apply primer, wait for it to dry, then apply 3-4 coats of paint with dry time in between."
Her favorite part: Her daughter's room. Almost every room in Angelos's apartment has peel-and-stick wallpaper, and her daughter's room is no exception. For about a year, the room had an accent wall — but everyone loved it so much, that Angelos was inspired to add a faux molding framing even more wallpaper. "It's so pretty and whimsical in there!"
Her go-to stores: Ikea, Amazon, West Elm, Kaiyo
We rate and sort every listing based on fair market rent.