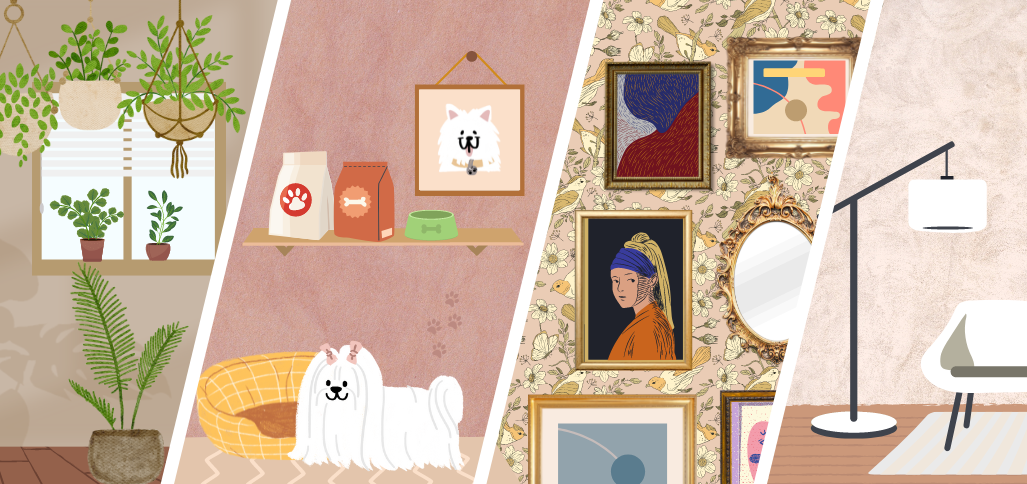 ---
Your apartment should be a reflection of you — regardless of the square footage. And with rent prices increasing nationwide, a smaller size may be the right option for you pricewise. Not only that but living in a smaller space can be more convenient for those who live alone, and it can be more sustainable.
We know that moving all your belongings into a smaller space can seem daunting. Good thing you don't have to do it alone. We rounded up our favorite small space design influencers to give you decorating ideas you need for your interior design journey, whether you are looking to reduce all clutter and embrace a minimalist lifestyle or go maximalist and design to the fullest.
For the Minimalist
smallspacebiglife TikTok
If you're looking to buy less, embrace the right design for your small apartment floor plan, and move toward a clutter-free life, then look no further than minimalist TikTok influencer Small Space Big Life. She regularly posts guides on caring for your belongings, cooking in a small kitchen, creating space-saving storage solutions, decluttering and clutter-free gift ideas, and tips on designing a small space that works for you. She also posts informative videos on how to furnish a small space based on its floor plan and square footage, where she accepts viewer submissions and walks through what she would do to make the most of the space. Follow her on TikTok and Instagram, or read her blog here.
For the Maximalist
imaniathome TikTok
From zebra-print wallpaper to gallery walls and a hanging disco ball, influencer Imani at Home is the go-to when it comes to marrying maximalism with small space living. She lets her personality sing in every inch of her apartment and knows how to make her space feel big. Imani also frequently speaks on how to make renting work for you. If you are feeling too restricted in your space, she is a great resource for design tips and information on what changes you can and can't make to your space when renting. Not to mention, her apartment is beautiful — so we can scroll her pages for hours. Follow her on Tiktok and Instagram, or read her blog here.
For the Green Thumb
alissavolkov TikTok
If your dream is to have your living room walls literally covered with hanging plants, a mini garden on your coffee table, or plenty of floor space dedicated to potted palms, then TikTok plant influencer Alissa Volkov is just the inspiration you need to get started. Volkov may potentially have more plants than belongings, and we support it. If you are a fellow green thumb and want to create an apartment jungle out of your living area, then you will want to check out her page to see her wish list of plants, watering routines, DIY planters, and more. Follow her on TikTok.
For the Climate Crusader
impactforgood TikTok
One great reason to embrace a smaller space is sustainability. Smaller apartments can have lower energy consumption and can encourage tenants to lower retail consumption as they will have less space to store unnecessary purchases. Jessica Clifton, a.k.a. Impact for Good online, wants to help you make this change with guides on sustainable swaps and hacks. Watch her videos on "deinfluencing," which is the process of helping others reduce their belongings rather than buy more of them, or her series on things in her small apartment that just make sense. Follow her on TikTok or Instagram.
For the Pet Parent
petartbyandrea TikTok
Trying to figure out if you can have a pet in a small apartment? New York City dog parent Andrea Cáceres, a.k.a @petartbyandrea, shows you how to make it work. With an entire playlist on her TikTok dedicated to what to do with dogs in a tiny apartment, she takes you step-by-step through adding enrichment to your home, daily walks, and keeping your dogs stimulated and healthy in a smaller space. Plus, if you want even more pet content, Cáceres is also a pet artist and has tons of examples of her work on her page—from illustrations to clothing items. Follow her on TikTok or Instagram.
Ready to take the plunge and look for a small space of your own? Start your search here. At ApartmentAdvisor, we give every listing a deal rating to let you know if an apartment is fairly priced for the market.
We rate and sort every listing based on fair market rent.